MLB.com Columnist
Mike Bauman
Zimm a great fit for Tigers' plans
First-year GM Avila doesn't hesitate to upgrade rotation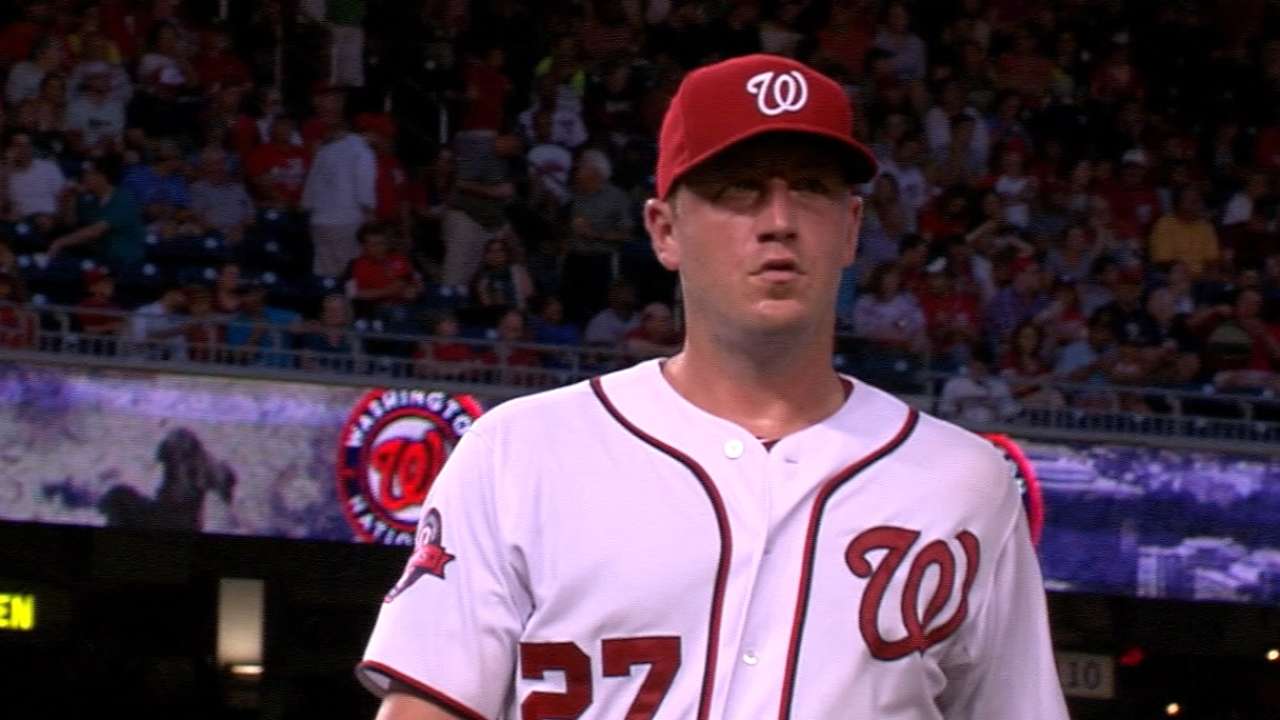 The Detroit Tigers have acted wisely and rapidly in signing free-agent right-hander Jordan Zimmermann.
In a market where the vast majority of clubs seek pitching, the Tigers have landed a pitcher who is no worse than the third-best available starter. The deal with Zimmermann is reported to be for five years and $110 million, giving it an average annual value of $22 million.
Zimmermann has been overshadowed by more prominent members of the Washington rotation; Stephen Strasburg initially, and then in 2015 by the acquisition of Max Scherzer, a former Tiger. But Zimmermann's performance has not been that of a secondary pitcher.
The 2015 season was not his best, but even that was more than presentable. His body of work in the last four seasons has made him one of the top talents in the current class of free-agent pitchers. He went 33-14 in 2013-14 with an ERA of 2.94. He tied for the National League lead in wins with 19 in 2013. He led the NL in fewest walks per nine innings in 2014 with 1.3. He threw a no-hitter in his final regular-season start of '14.
Zimmermann had Tommy John surgery in 2009, but the last four seasons he has been routinely durable. He's a strike-thrower and a tough competitor. Inclement weather can occur both early and late in the season in Detroit, but that will not bother Zimmermann. He is a native of central Wisconsin, and he still makes his offseason home there.
And he is only 29. The five-year deal does not take him to a point in his career where decline would be an automatic expectation. The deal is contingent upon Zimmermann passing a physical.
Zimmermann rejected a qualifying offer from the Nationals, so Washington will require Draft-pick compensation. However, the Tigers' finish this past season landed them the ninth-overall selection in the 2016 Draft, a protected pick. So Detroit will give up its second-round selection, while Washington will still receive a compensation pick near the end of the first round.
From the Tigers' standpoint, this is part of an aggressive beginning for the tenure of new general manager Al Avila. He replaced Dave Dombrowski, who subsequently went to the Red Sox as president of baseball operations.
Plenty of competition for Zimmermann's services could have been expected, from clubs with plenty of available resources. So acting this quickly was a move that was both proactive and prudent.
• Zimm deal narrows market for elite arms
The signing of Zimmermann also signals that the Tigers see their slide in the 2015 standings as a one-time occurrence. After winning four straight American League Central championships, the Tigers fell to fifth place. But this signing is not the work of an organization that sees itself as rebuilding.
The Tigers still have a core of impact players, including Miguel Cabrera, Victor Martinez. J.D. Martinez and Ian Kinsler. And now they have a top three in the rotation of Justin Verlander, who revived his career last season, Zimmermann and Anibal Sanchez.
They have four legitimate candidates for the other two spots in the rotation. They have already traded for a proven closer, Francisco Rodriguez. They can now pursue, if they wish, a starter for the lower part of the rotation and a proven setup man for the bullpen.
With the addition of Zimmermann, the Tigers have taken a major step forward. Zimmermann is a genuine frontline starter, who should add real stability to Detroit's rotation. We are still in November and Avila has already addressed his club's two largest areas of need, adding a quality starter and a proven closer. That's not only good work, but quick work.
Mike Bauman is a national columnist for MLB.com. This story was not subject to the approval of Major League Baseball or its clubs.