Bucs reward Moroff with spot on 40-man roster
After big season at Double-A, prospect among those protected from Rule 5 Draft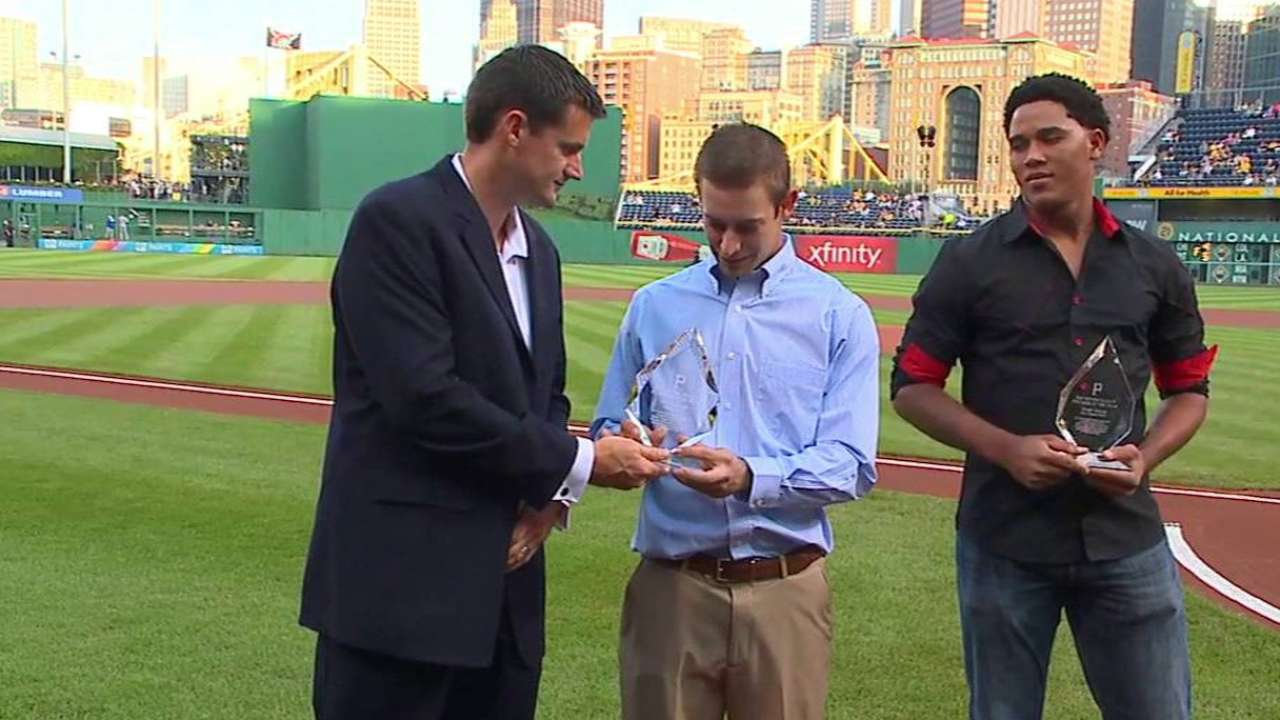 PITTSBURGH -- Earlier this year, you wouldn't have found Max Moroff's name on a list of top prospects, not even within the Pirates' organization. But after a breakout season, Moroff has earned a spot on an even more exclusive list of players.
The Pirates added Moroff -- along with top prospects Tyler Glasnow, Josh Bell and Harold Ramirez -- to their 40-man roster on Nov. 20, protecting them from the Rule 5 Draft. While Glasnow, Bell and Ramirez are three of Pittsburgh's top prospects, the 22-year-old Moroff also commanded a roster spot with his performance this year.
"I think it's fair to say that he opened some eyes of people outside of the organization," said Larry Broadway, the Pirates' director of Minor League operations. "Inside the organization, we have always believed in Max."
The Pirates invested heavily in Moroff, giving him a $300,000 signing bonus as a 16th-round pick in the 2012 Draft. They have aggressively pushed him through their system. Moroff has moved up a level each year, and he's been considered young for each league.
"That's the goal every year, to move up -- especially as a Minor Leaguer," Moroff said. "I want to be challenged as much as I can. Hopefully I can succeed at the higher levels."
This past season, Moroff put it all together with Double-A Altoona, assuring that he'll take another step forward, to Triple-A Indianapolis, in 2016. He batted .293/.374/.409 and spent most of the season at second base while occasionally playing shortstop and third base.
After a rough first week at the plate, he worked tirelessly before and after games with Altoona hitting coach Kevin Riggs. They focused on adding rhythm to his swing, keeping him loose in the batter's box.
The extra work paid off. His offensive numbers took a big leap forward, as his average climbed nearly 50 points and he showed off some power with seven home runs, six triples and 28 doubles.
"I didn't really focus on results as much this year. I tried to hit the ball hard every single time," Moroff said. "If I got out, I got out. I tried to stay even-keeled. I wouldn't get too down."
In the past, Moroff admitted, he might have carried his offensive struggles into the field. Not this year. And it's his defensive ability that helped him land on the Pirates' 40-man roster.
"We felt that he was one of those guys that, if selected [in the Rule 5 Draft], could do enough things to help a Major League team win that he might end up staying with another organization," Pirates general manager Neal Huntington said. "We like his versatility. We like his offensive ability and felt like it was a good protect for us."
Moroff had been a shortstop his entire life until 2014, when the Pirates asked him to move to second base. Broadway said he "took off defensively" at second, and Moroff agreed that it's now the most comfortable spot for him. But the Pirates plan to give him more time at third base, and Moroff looks forward to moving around the infield more often in the coming years.
"Definitely, I love playing different positions," Moroff said. "That's going to help me get to the big leagues faster, I think."
That ability helped catapult him all the way from unranked prospect status to the Bucs' 40-man roster. When he reports to Pirate City for Spring Training, he'll do so with the big leaguers -- a welcome reality that hasn't quite sunk in for Moroff.
"Not yet," Moroff said. "But that's where I want to be."
Adam Berry is a reporter for MLB.com. Follow him on Twitter at @adamdberry. This story was not subject to the approval of Major League Baseball or its clubs.