MLB.com Columnist
Bernie Pleskoff
Scouting profile: Adam Brett Walker II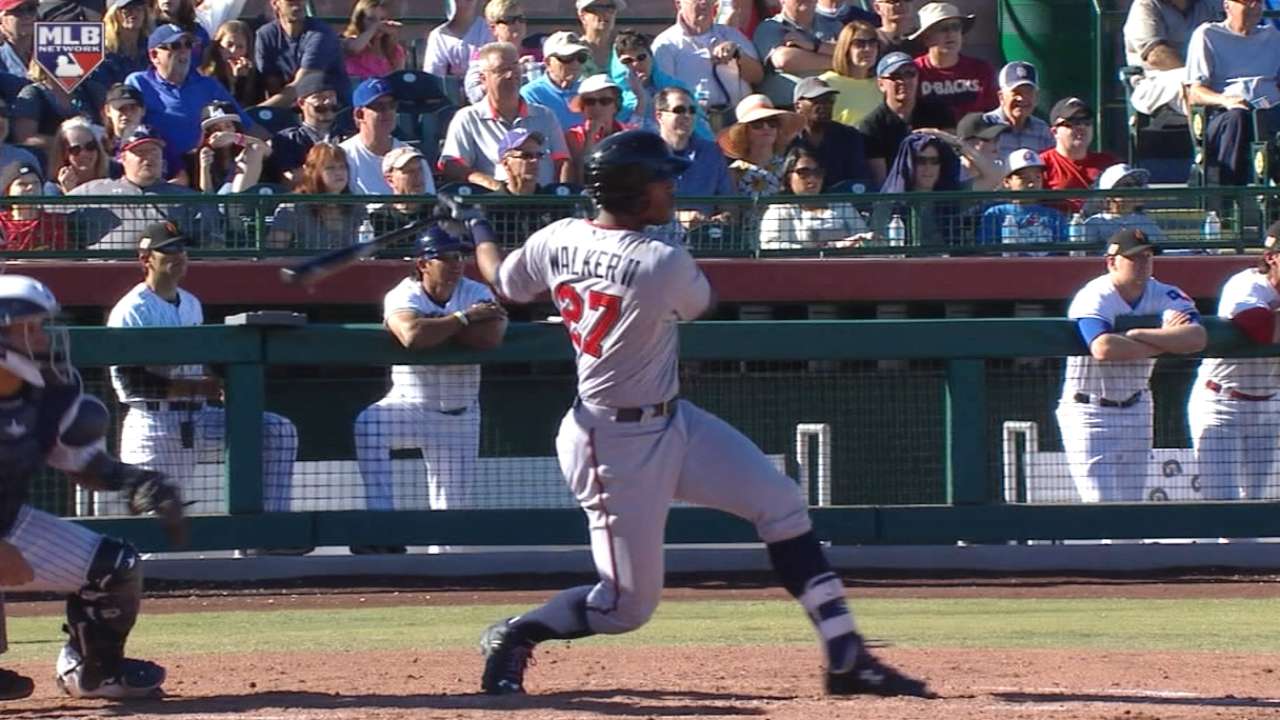 Background
Few young prospects in baseball have the raw power of Adam Brett Walker II, the huge 6-foot-4, 225-pound right-handed-hitting outfielder in the Twins organization.
I have just watched Walker compete in the 2015 Arizona Fall League. Having just turned 24 in October, Walker hit some very long home runs as the ball blasted off his bat in the unseasonably cool Arizona autumn.
He also struck out a great deal. And that dichotomy forms the basis of conversations regarding the big outfielder. Currently it is feast or famine; long home run bombs or swing-and-miss strikeouts.
The Twins selected Walker in the third round of the 2012 Draft. He had completed three years at Jacksonville University, where he showed his enormous power as a first baseman/outfielder. He also hit for a very respectable batting average, as his .343 in his junior year attests.
The son of former Minnesota Vikings running back Adam Walker, the younger Walker has inherited additional athletic genes from his mom Glynis. She was a champion high jumper and volleyball player at Carthage College in Wisconsin.
Walker is No. 10 on the Twins' Top 30 Prospects list.
Hitting
There have been plenty of players that have made contributions as a fence-busting, power-hitting home run masher while striking out in large numbers. They include players like Rob Deer (230 career homers and 1,409 strikeouts in 11 years) and Mark Reynolds (237 homers and 1,519 strikeouts in nine years so far) to name just two.
Especially in today's game, there is great value in power hitters. With home runs declining, a player like Walker can break a game open with one swing of the bat any time he gets his pitch. In Walker's situation, power is his most prominent tool at this point of his career. I have also seen good foot speed that can be used to steal bases or to take an extra base as needed.
Walker is lethal against fastballs. He scuffles against breaking balls, but he clobbers even the highest velocity fastballs.
Not counting the championship game in which he got two huge hits and drove in three runs for the winning Scottsdale team, Walker finished the Arizona Fall League with a .240 batting average, five home runs and 18 RBIs. He struck out 35 times in 83 plate appearances, walking eight times.
Defense
In parts of four seasons with the Twins organization, Walker has played all three outfield positions. He is an average defender with range and good tracking of the ball off the bat. His arm strength and accuracy are average.
Strengths
Without a doubt, Walker has raw power that can reach a 65 or higher on the scouting grade scale. His power is more prominent to his left field pull side. I have seen him strike out twice in a game and then homer. He can go deep at any time.
Walker has double-digit basestealing potential. He gets his big body going and gains momentum along the way.
Weaknesses
His lack of consistent contact is the biggest obstacle Walker faces going forward. If he can recognize pitches quicker he can avoid swinging and missing breaking balls that currently serve as his nemesis.
There were some at-bats I witnessed in which Walker was pressing and exaggerating his approach. When he is more relaxed and focused, his contact rate improves.
I find this interesting
In the past three years, Walker has hit 27, 25 and 31 home runs, respectively. Each year he led his league in homers. Three years, three leagues, three home run championships.
The future for Walker
The Twins are loaded with young and talented outfielders. Much depends upon his ability to cut down on his strikeouts and the Twins' tolerance for those whiffs. But his power is real. His power has been displayed every place he's played. There is no reason it shouldn't continue.
Walker in a word
Mighty
Bernie Pleskoff has served as a professional scout for the Houston Astros and Seattle Mariners. Follow @BerniePleskoff on Twitter. This story was not subject to the approval of Major League Baseball or its clubs.