MLB.com Columnist
Bernie Pleskoff
Scouting profile: Adam Engel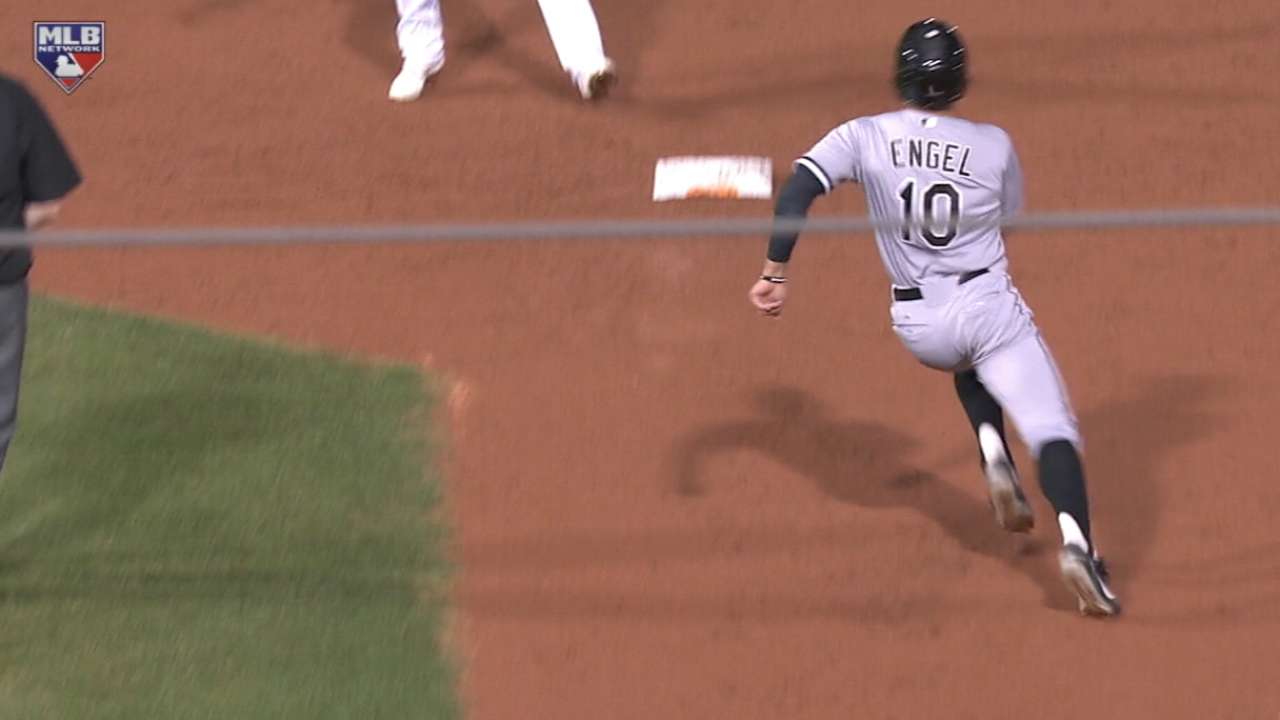 Background
Right-handed-hitting centerfielder Adam Engel was a three-time All Conference baseball player at Loveland (Ohio) High School. He hit .537 his senior year with 25 stolen bases. A very good athlete, he also played high school football and basketball.
Engel took his hitting and running skill combination to the University of Louisville. Scouts were able to see the highly regarded speed for themselves in his three years in college and his time in the summer playing in the Cape Cod League.
The White Sox selected Engel in the 19th round of the 2013 Draft.
I was able to scout the 6-foot-1, 215-pound solidly built and well-proportioned Engel in the recently concluded Arizona Fall League.
Hitting
Engel quickly became the talk of the Fall League with his consistent timely hitting and his speed on the bases. He was a dominant player. His performance in the league may have been a turning point in his career.
Prior to joining the Glendale Desert Dogs this Fall, Engel had completed parts of three seasons in the White Sox Minor League system. He finished this season with a .251 batting average at Class A Advanced Winston-Salem in the Carolina League. He had 23 doubles and seven home runs. He stole a league leading 65 bases in 71 attempts. He has a career .266 batting average with 135 stolen bases in 166 attempts, not counting this Fall.
Just how good was Engel in the Fall League? Good enough to win the title as the Most Valuable Player as voted by the managers and coaches in the six-team league. He finished second in doubles with nine, second in stolen bases with 10, first in on-base percentage with at .523, first in slugging percentage at .642, first in batting average at .403 and first in OPS at 1.165. This Fall he hit well for average against both right-handed (.395) and left-handed (.417) pitching.
Engel uses his good hands within his compact and measured swing.
This past season at Class A Advanced Winston-Salem, he struck out 132 times in 608 plate appearances. He made tremendous strides in Arizona, striking out only 11 times and walking 16 times in his 83 trips to the plate.
Defense
Engel is a top-notch center fielder. He is quick to the ball and anticipates the ball off the bat very well. He closes quickly on balls hit in the area with good range and great speed.
Strengths
Engel has two very quality tools: he can run and he can play solid defense. Based upon his Fall League performance, I believe his hit tool is really starting to emerge. He is patient and selective and he doesn't get himself out with foolish passes at pitches he knows he can't hit.
Weaknesses
His career to date does not illustrate extensive home run power. However, if he can hit either the left or right field gap, he can extend the play to an extra base by hustling a single to a double and a double to a triple.
I find this interesting
Engel entered the Fall League rather unheralded. He is No. 17 on the White Sox Top 30 Prospects list. As the Fall League has done for countless players, he may now be on the minds and "follow" lists of scouts and club front offices throughout baseball. He accomplished a great deal in two months in the desert playing before front-office executives of every Major League club.
The future for Engel
He may have once been just another name on an organizational roster. Today he is known and admired as a scrappy, high quality center fielder capable of getting on base, stealing a base or bases and scoring runs. Adam Eaton currently staffs the center field position on the White Sox big league roster. While Engel has development remaining, he controls his destiny. Was this Fall League performance an "outlier" or the real Adam Engel?
Engel in a word
Swift
Bernie Pleskoff has served as a professional scout for the Houston Astros and Seattle Mariners. Follow @BerniePleskoff on Twitter. This story was not subject to the approval of Major League Baseball or its clubs.