5 reasons J. Upton is highly coveted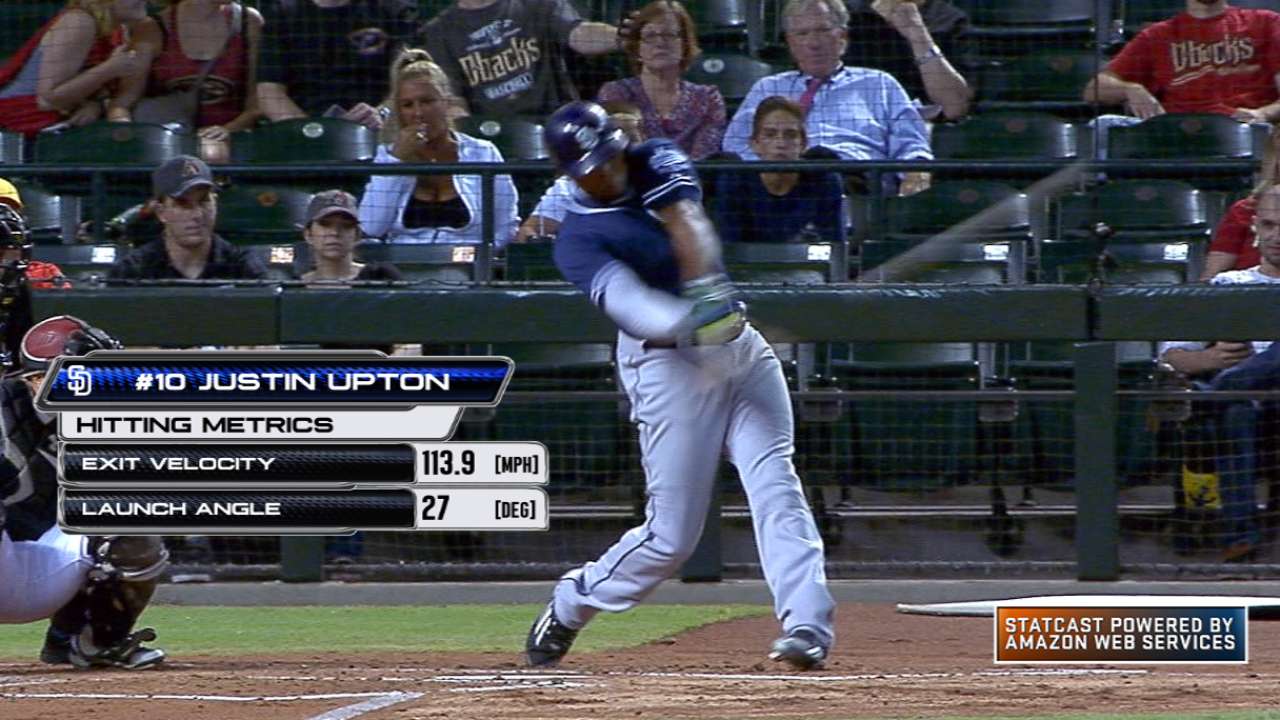 Though the only major moves so far this offseason have been trades, it's only a matter of time until the Hot Stove's free-agency burner begins to heat up.
A number of high-profile free agents are just beginning to test out this year's market, while the time will soon come for players and clubs alike to make potentially franchise-altering decisions. Each of those players brings a unique skill set to the table, something that will be highlighted in this space in the coming weeks.
Each day, we will showcase a new top-tier free agent by taking a look at five stats or pieces of information that could help indicate what's in store for his eventual new club. The first player to be featured in this series is Justin Upton, the former No. 1 overall pick in the 2005 Draft.
After spending his first six seasons with the D-backs, Upton could now be on his way to playing for his third team in three years, after spending the past two seasons with the Braves and Padres, respectively. Either way, here's a look at five stats from Upton's career that could be a sign of things to come for his 2016 team.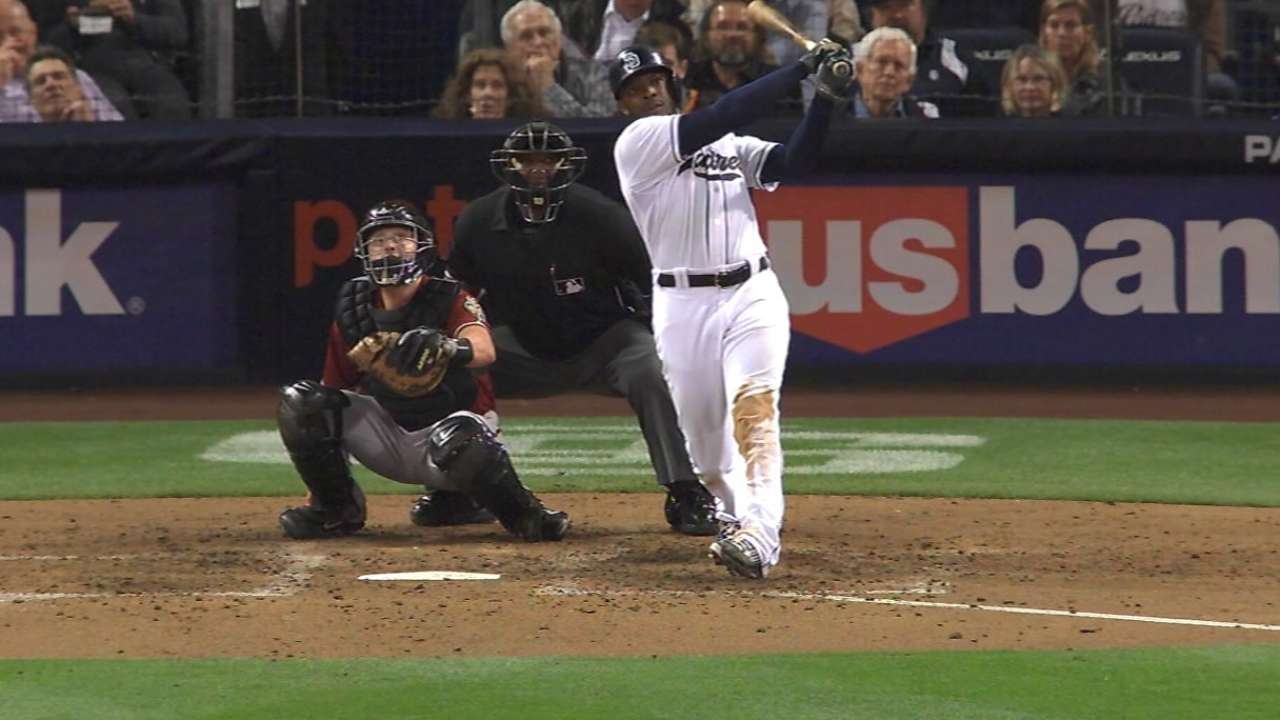 Exclusive 25-25 member
Upton recorded 26 homers and 26 doubles for the Padres in 2015, the third straight campaign in which he's tallied at least 25 homers and 25 doubles. That makes Upton one only five players -- along with Mike Trout, David Ortiz, Adam Jones and Edwin Encarnacion -- with at least 25 doubles and 25 home runs in each of the last three seasons.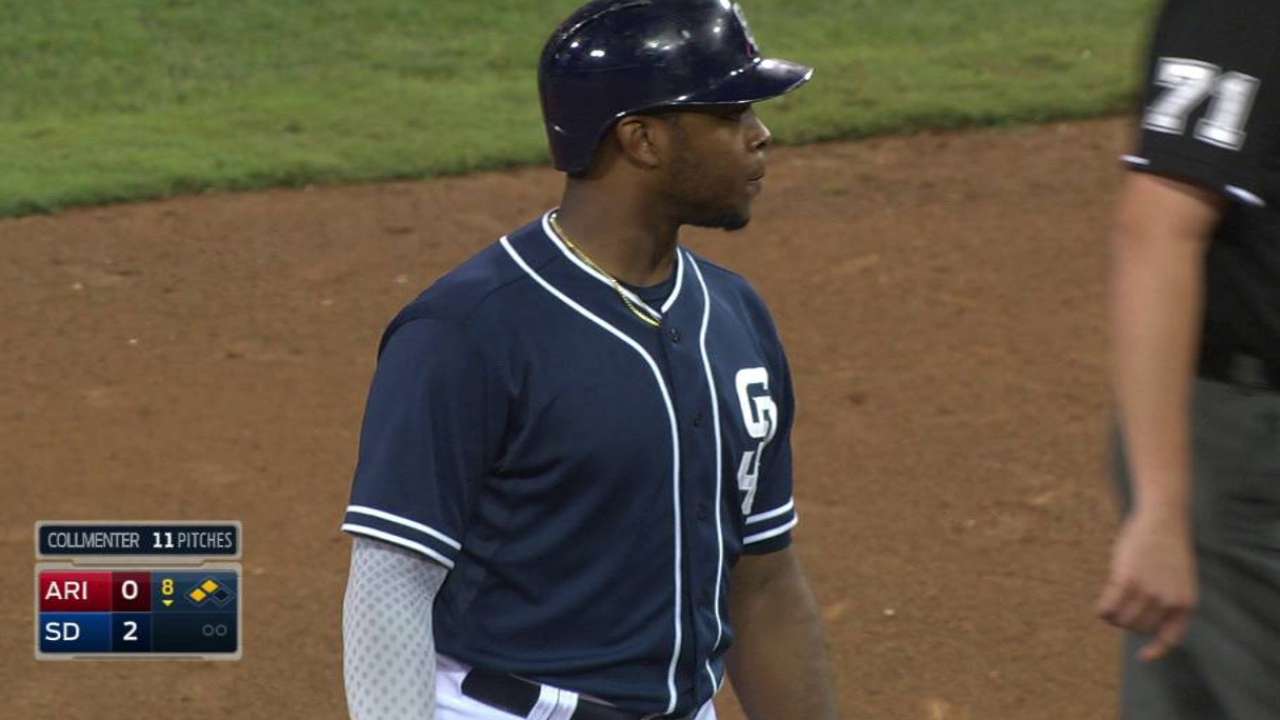 Good for (at least) 15
This past season also marked the eighth time in as many full campaigns that Upton has hit at least 15 home runs. He's one of only 10 players with 15-plus homers in each of the last eight seasons, though he's the only true dual threat within that group -- as evidenced by his 113 stolen bases over that span. None of the other nine players with at least 15 homers in each of the last eight seasons have stolen even 70 bases during that span. Upton's five 15-15 seasons over that period are also tied for the most in the Majors.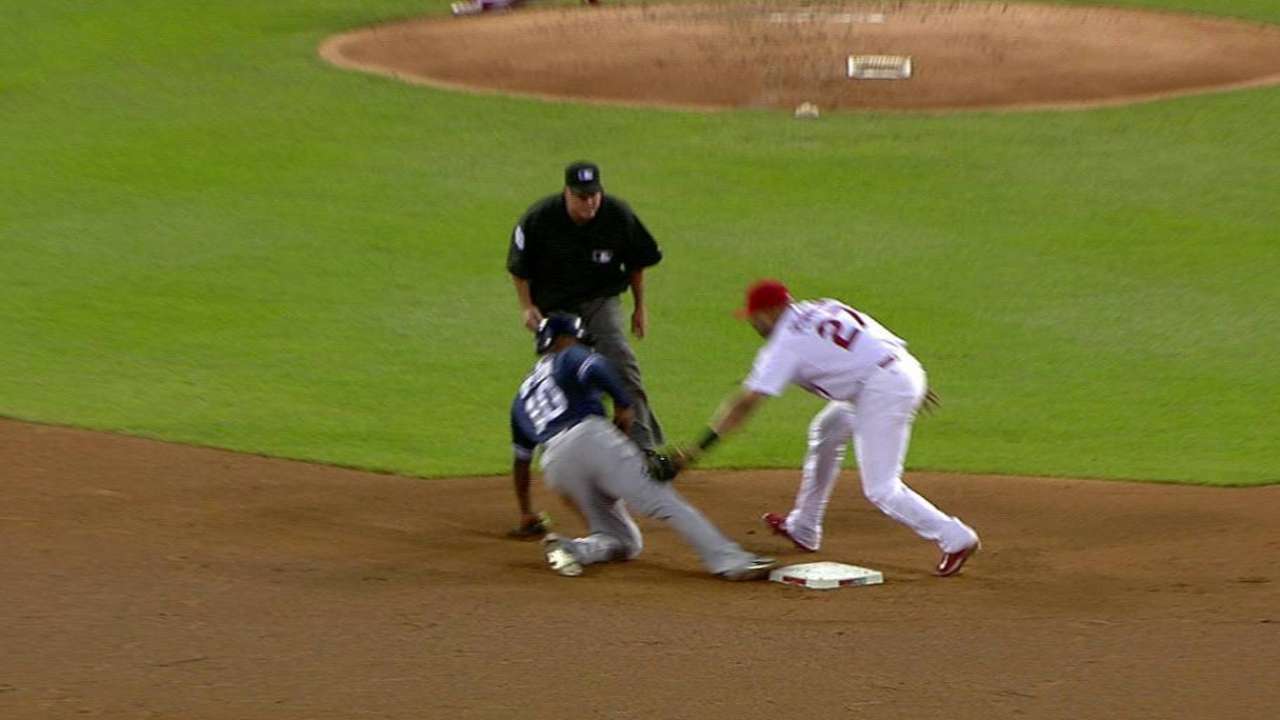 Home, sweet home
Despite playing his home games in pitcher-friendly Petco Park last season, Upton hit .277/.360/.506 at home, compared to .225/.312/.402 on the road. That's seemingly been a trend throughout his career, regardless of his home ballpark -- as he's a .296/.377/.530 hitter with 113 home runs in 592 career home games. By comparison, Upton is a career .248/.327/.419 hitter with 77 home runs in the exact same number of road games.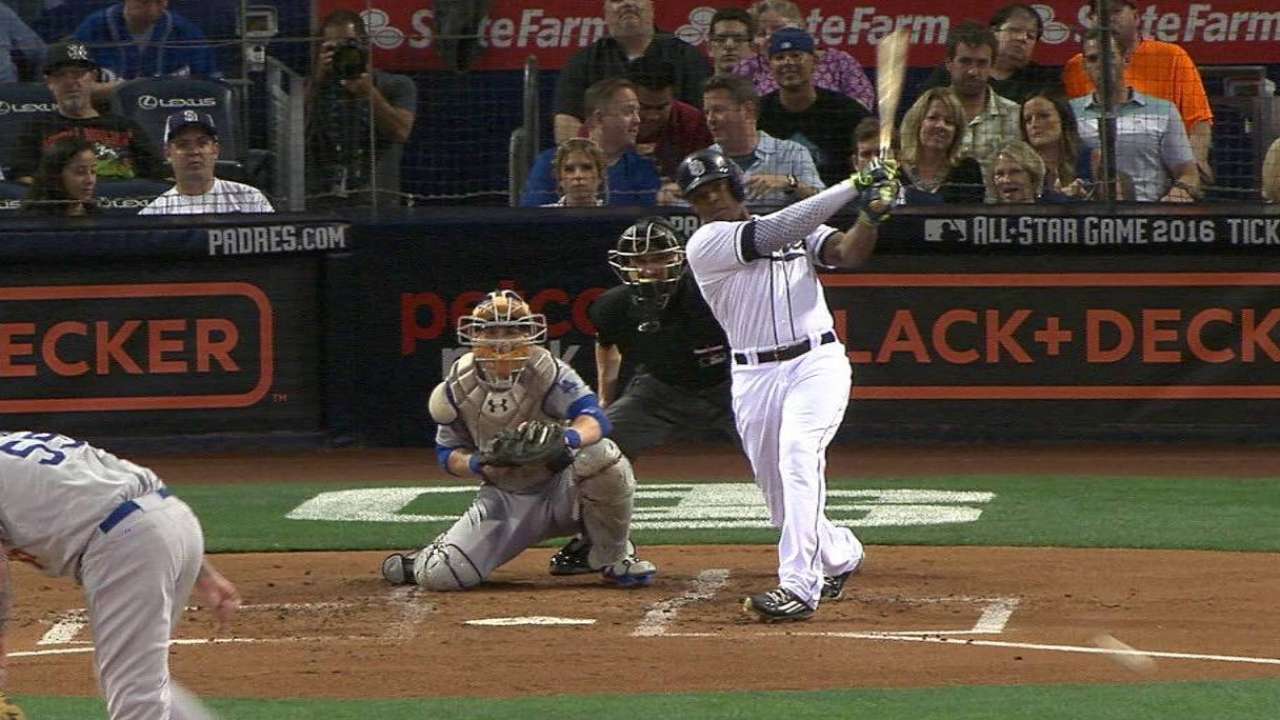 Durability
Upton has played a minimum of 133 games in each of the last seven seasons, including at least 149 in each of the last five. He's logged 1,033 games played dating back to 2009, the fifth-highest total among all outfielders during that span. The only outfielders to appear in more games over the past seven years are Ichiro Suzuki (1,077), Nick Markakis (1,056), Jones (1,037) and Andrew McCutchen (1,037).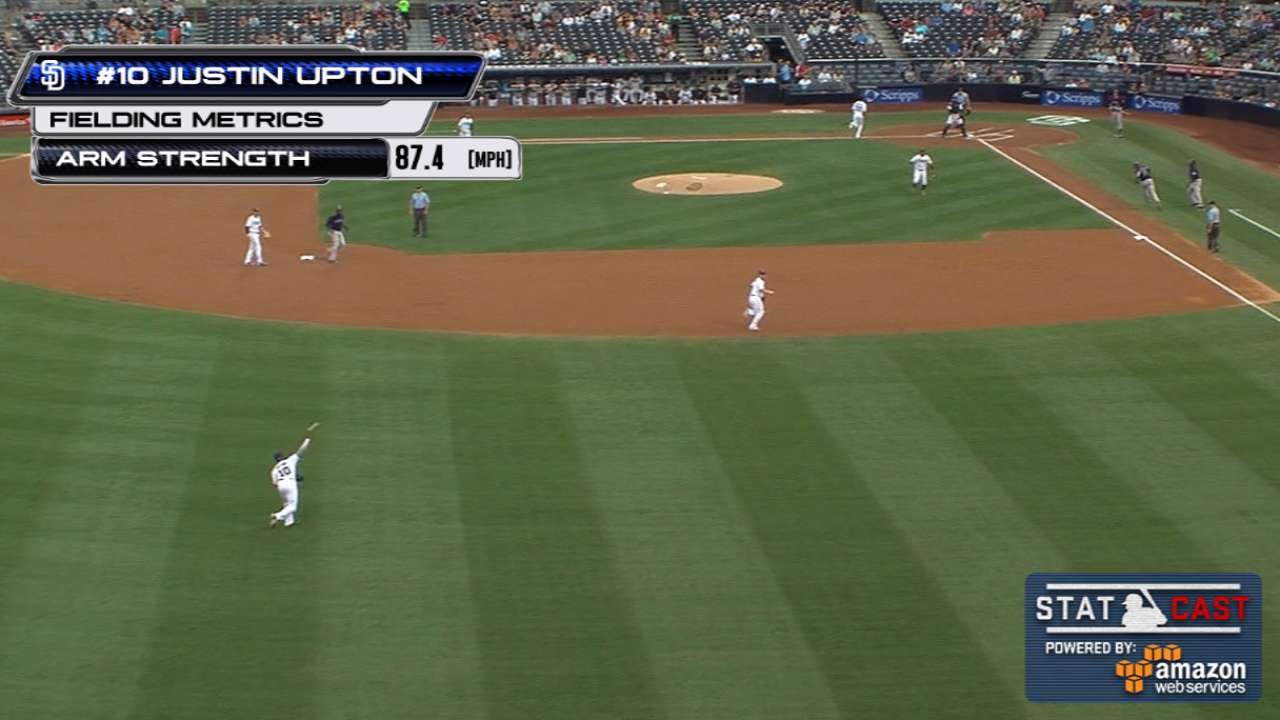 3-0 the way to go
Though this one is likely to have a minimal impact going forward, it's at least worth noting that Upton has a 2.332 OPS in his 143 plate appearances decided on a 3-0 count. Along with 117 walks, Upton is 13-for-26 with seven home runs on 3-0 pitches. His 2.332 OPS ranks as the second-highest all-time (min. 25 such at-bats), just percentage points behind Jim Thome (2.333 OPS).
Paul Casella is a reporter for MLB.com. This story was not subject to the approval of Major League Baseball or its clubs.