Hinshaw fine-tunes approach in Fall League
Angels' No. 13 prospect hit .349 in AFL action after reuniting with hitting coach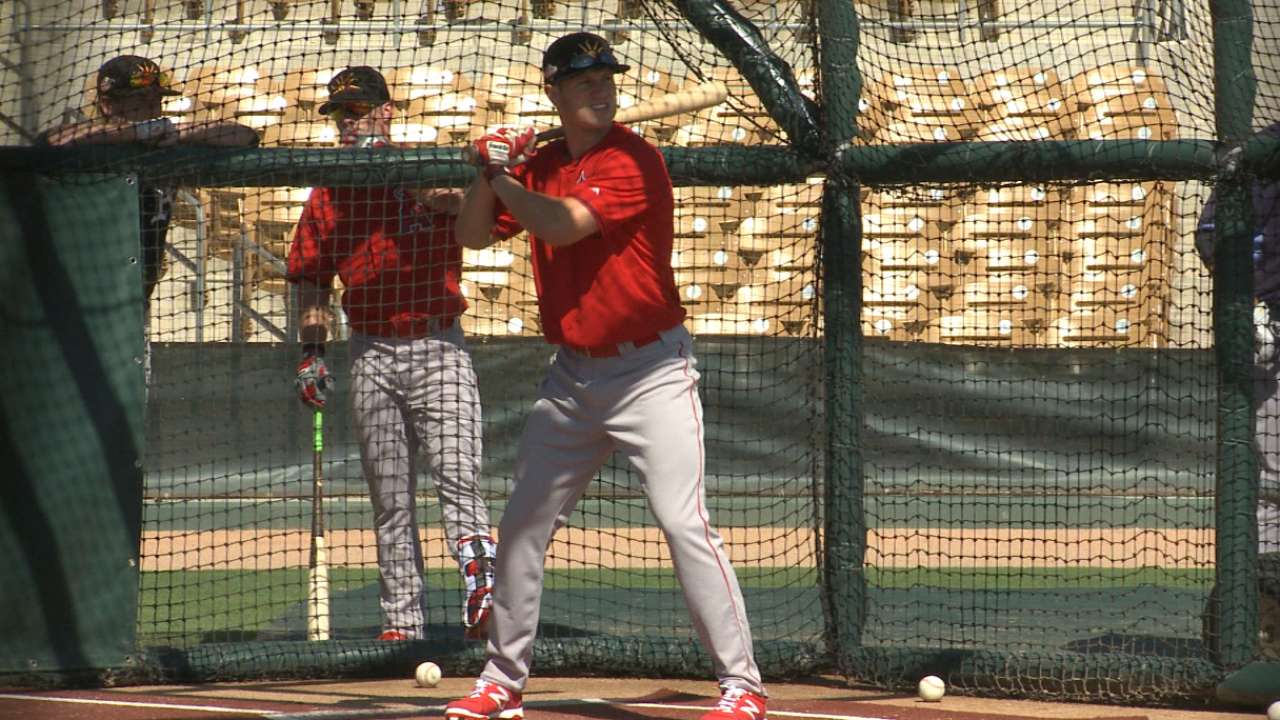 MESA, Ariz. -- Developing into a Major League-caliber hitter can be a long, arduous process, so some of the smaller adjustments can fly under the radar. But when a player takes as big a step forward as Chad Hinshaw did this season, people certainly notice.
A reunion with hitting coach Brenton Del Chiaro in the Arizona Fall League was part of the reason Hinshaw excelled.
"It's amazing," Hinshaw said. "I had him for half-a-year last year (at Class A Advanced Inland Empire). I really started to click then. We developed an unreal relationship and we get each other. Having him out here -- when I found out he was coming -- was amazing because I knew him and I could come together and make a lot of strides. I get him, he gets me and understands me as a hitter."
Hinshaw, ranked as the No. 13 prospect in the Angels' organization, was right -- the two were able to make progress together.
After batting a career-high .291 during the regular season, Hinshaw arrived in Arizona and continued to hit. The outfielder put together an impressive Fall League campaign and finished with a .349 batting average.
"I think his biggest goal is to get more consistent with his ability at the plate, but you see a guy that can make in-game adjustments, who has shown pull power, the ability to hit the ball to all fields and strike zone awareness," Del Chiaro said. "He's a real savvy hitter, [a] real cerebral hitter. When he's up there, he can apply it pretty quick and when you have that, you have a special talent."
The Angels selected Hinshaw in the 15th round of the 2013 Draft and he hit .268 across his first two professional seasons, but in 2015 -- particularly in the second half when he hit .306 -- something clicked.
"Just understanding my swing, the proper way to swing, understanding how to have a good approach at the plate, just all those things," Hinshaw said. "Gradually I've been becoming more of a professional hitter, leaving the 'just go up and hack' approach."
Del Chiaro agreed.
"Maturity, reps," he said of the factors responsible for Hinshaw's improvement. "I think he's understanding his type of swing, who he is as a player."
Now that Hinshaw has a better grip on who he can be as a hitter, he has to work on having everything come together day in and day out.
"We're at the point with Chad where he's refining his abilities, polishing them off, rather than making mechanical adjustments," Del Chiaro said.
And once everything is fine-tuned?
"I think he can be an everyday big leaguer, I really do," Del Chiaro said. "Right now, he probably projects as being a fourth outfielder in the big leagues, but I think we have a big league player on our hands. When it comes to that, it's more about opportunity -- the opportunity presenting itself and what he can do with it."
William Boor is a reporter for MLB.com. Follow him on Twitter at @wboor. This story was not subject to the approval of Major League Baseball or its clubs.