Braves bolster young rotation with vet Norris
Atlanta seeks rebound campaign from right-hander, who signs 1-year contract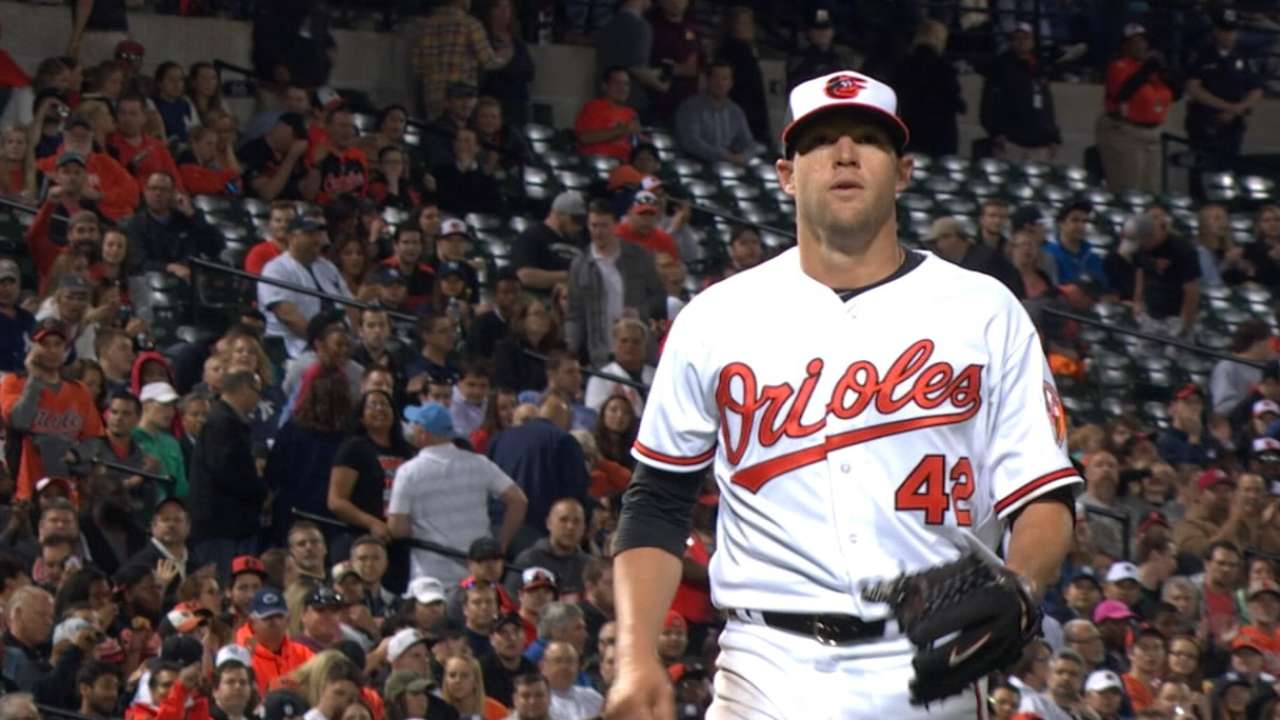 ATLANTA -- If Bud Norris bounces back from a rough 2015 season, he could prove to be the low-risk, high-reward starting pitcher that the Braves are seeking.
As Norris attempts to bounce back from the frustration he felt throughout this past season, he will have an attempt to be a real bargain within Atlanta's rotation. The 30-year-old veteran hurler signed a one-year, $2.5 million contract with the Braves after passing a physical on Wednesday afternoon.
• Hot Stove Tracker

"He's always had good stuff and he's pitched in tough pitcher's parks," Braves general manager John Coppolella said. "We feel good about his potential to be a good buy-low guy."
The Braves found some value in Jim Johnson, Kelly Johnson and some of the other buy-low acquisitions they made last winter. Now, as they find themselves with limited financial flexibility and multiple needs, they may continue to try to peruse the bargain aisle for upside guys like Norris, who produced a 3.68 ERA over 28 starts for the 2014 Orioles.
This year proved to be much different for Norris, who was released by the Orioles in August and then signed by the Padres, who used him strictly as a reliever. He produced a 6.72 ERA in 38 appearances (11 starts) for Baltimore and San Diego.
"Our scouts have always liked Bud Norris and we believe he has the potential to be a good bounce-back guy," Coppolella said.
As things stand, Norris is projected to join a rotation that will also include Shelby Miller, Julio Teheran and Matt Wisler. The final spot could be filled by Manny Banuelos, Mike Foltynewicz or Williams Perez.
Though the Braves have not ruled out signing another veteran pitcher, Norris provides the experience Atlanta has wanted to add to its young rotation. The righty has combined to make 196 career appearances (166 starts) with the Astros, Orioles and Padres.
After earning a pair of postseason starts in 2014, Norris lost his spot in Baltimore's rotation by the end of June. He allowed at least eight earned runs in two of his first three starts and never found a groove. Producing a 6.79 ERA over 11 starts for Baltimore, he allowed opponents to bat .311 with a .369 on-base percentage.
Norris entered this year with a 4.23 ERA over 155 career starts. In the process, he had allowed a .258 batting average and .352 on-base percentage.
Mark Bowman is a reporter for MLB.com. This story was not subject to the approval of Major League Baseball or its clubs.