Johnson solid candidate for White Sox rotation
Prospects Fulmer, Montas also could challenge for a spot in 2016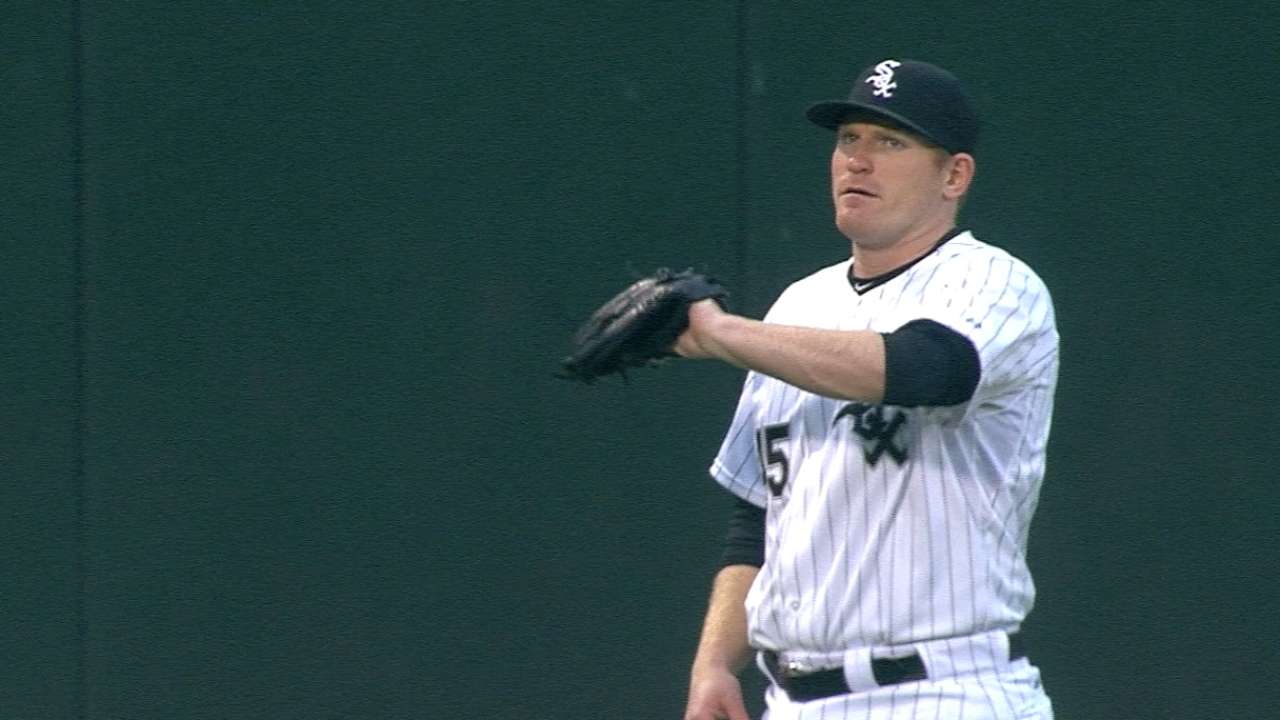 CHICAGO -- Right-hander Erik Johnson looks as if he'll get the first chance to replace Jeff Samardzija in the 2016 White Sox starting rotation, based on comments from general manager Rick Hahn during Wednesday's conference call to announce the free agent catching addition of Alex Avila.
"As we sit here today, I think it will be an opportunity for Erik Johnson to convert on sort of the return to form he showed back in 2015 when he was International League pitcher of the year for [Triple-A] Charlotte," Hahn said. "Obviously, he got some starts in September and continued to show the progress in Chicago he had shown in the Minor Leagues over the course of the last season.
"So if Opening Day were today, then I think Johnson is penciled in to that spot in the rotation right now. In all probability, once we get closer to spring, there will be some competition for him to earn that spot. But if we were strictly looking at today, then I would think Johnson has the inside track on filling Samardzija's innings."
The White Sox have a left-handed dominant rotation with Chris Sale, Jose Quintana, Carlos Rodon and John Danks, and Hahn admitted the team has had conversations about right-handed starters and looked at external candidates. Carson Fulmer and Frankie Montas, the team's Nos. 2 and 3 prospects respectively per MLB.com, could force the right-handed rotation issue at some point in '16.
But Johnson has earned the edge after bouncing back from a dismal '14 season to finish with a 2.37 ERA over 22 starts for the Knights in '15. He finished with 136 strikeouts over 132 2/3 innings, followed by a 3-1 showing with a 3.34 ERA over six big league starts.
• The addition of Avila came one day after the White Sox acquired right-handed reliever Tommy Kahnle via trade with the Rockies.
"He's got a big arm, swing-and-miss stuff, plus changeup to go with plus velocity," Hahn said of Kahnle. "It's just a matter of refining his fastball command and getting him a little more consistency. It's a nice deal to pick up another big arm option for the middle or back of the bullpen."
Scott Merkin is a reporter for MLB.com. Read his blog, Merk's Works, follow him on Twitter @scottmerkin and listen to his podcast. This story was not subject to the approval of Major League Baseball or its clubs.