Upton Jr.'s under-the-radar comeback season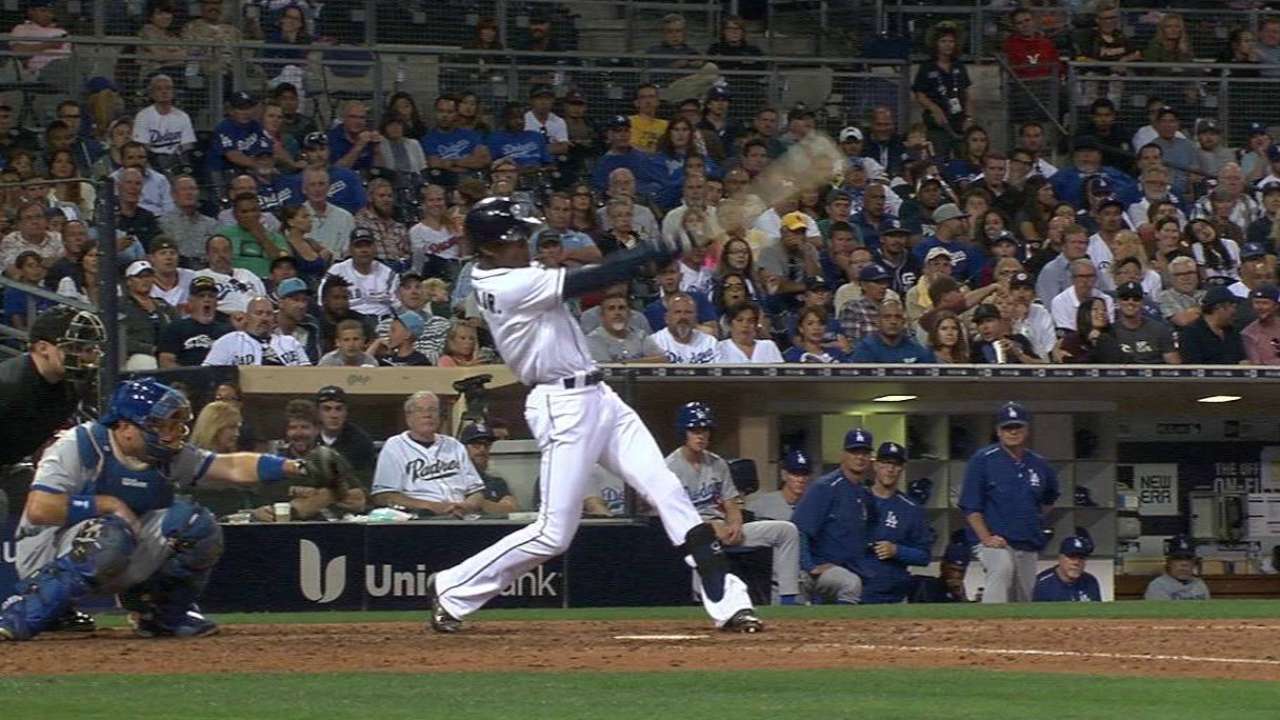 This was a big year for comebacks. Alex Rodriguez returned to the Yankees to crush home runs, Prince Fielder came back from a neck injury to lead the Rangers to the postseason while posting his highest OPS since 2012, and roughly 1,800 pitchers (rounding up … barely) returned from Tommy John surgery to throw 95-mph fastballs.
But there is one player whose impressive comeback you may have missed, despite getting traded and going through a personal rebranding: Melvin Upton Jr.
Lost amid the Padres' flurry of moves and disappointing season, the less-talked-about Upton brother went on to post his highest average since 2008, his highest on-base percentage since 2011 and his highest slugging percentage since 2012. Although it came in a small sample size of just 228 plate appearances due to a foot injury that cost him April and May, it came at a time when his Major League career looked to be in danger following a .593 OPS between 2013-14.
The 31-year-old Upton's resurgence could prove key for the Padres in 2016. With Justin Upton likely on his way out as a free agent, allowing Matt Kemp and Wil Myers to move back the corners, the team could be set in center if Upton can replicate his 2015 season.
Just compare these two players from last year:
Player A: .259/.343/.399, 105 wRC+
Player B: .259/.327/.429, 110 wRC+
Player A is Brett Gardner. Player B is Upton.
While Gardner struggled over the last two months, those numbers are in line with his career norms, and plenty of teams are rumored to be interested in him. At a year younger than Gardner and with his top prospect pedigree, it's not impossible Upton could repeat that line.
Although some may point to Upton's .348 BABIP as a sign of batted-ball luck that is likely to drop, he did set a career high with a 24.3 percent line-drive rate. Using a rough and simplified expected BABIP calculator says his batted balls should have dropped in at a .317 clip, and that may be underestimating the effect of playing in such a large outfield in San Diego.
But there's reason to be concerned, too. Part of Upton's success may have come, paradoxically, from not making contact. Or, specifically, Upton didn't make contact with pitches off the plate, so he wasn't inadvertently making weak contact. While Joc Pederson's 49.1 percent contact rate on pitches outside the zone was lowest among qualified batters in 2015, Upton's was just 41.2. In fact, going all the way back to 2010, no qualified batter has had a contact rate that low. Unless Upton has discovered a repeatable trait without the corresponding ability to lay off these pitches, that doesn't seem to trend well for next year.
If Upton can hold just some of these gains, though, the Padres could then use the left-handed Travis Jankowski to form a potential platoon partnership. With Manuel Margot -- the club's new No. 1 prospect -- in the system after the Craig Kimbrel trade, one good season may be all they need.
Michael Clair is a reporter for MLB.com. Follow him on Twitter @clairbearattack. This story was not subject to the approval of Major League Baseball or its clubs.