Rumor from the Bronx: Nova on the block?
The free agent and trade markets were both relatively quiet on Tuesday, but there's rumblings of several transactions to come, from coaching changes to big-name signings.
Following is a look at some of the top Hot Stove stories circulating around the big leagues:
Nova on the block?
Another potential trade piece has emerged in New York, as the Yankees are reportedly willing to deal right-hander Ivan Nova.
The New York Post reported on Tuesday that Nova is available for trade, noting that the Yankees could potentially package him with other assets to obtain a starter who has multiple years of team control remaining.
Nova, 28, is eligible to become a free agent at the end of 2016. He enjoyed his best season in 2013, posting a 3.10 ERA through 23 games (20 starts). His 2014 campaign was cut short after just four outings, when he tore the ulnar collateral ligament in his right elbow.
Nova got off to a strong start in 2015, rebounding from Tommy John surgery to limit his opponents to two runs or fewer in five of his first seven starts, but his effectiveness tailed off, with a 6.58 ERA from Aug. 8 through the end of the season.
Ozuna linked to Mariners
The Mariners are reportedly working to acquire outfielder Marcell Ozuna from the Marlins, according to ESPN.com's Jerry Crasnick.
Crasnick posted to Twitter late Tuesday evening that Miami would likely be seeking young starting pitching in exchange, noting that Ozuna "has fallen out of favor" with Miami owner Jeffrey Loria.
Ozuna has been rumored to be on his way out of Miami since he was optioned to Triple-A New Orleans in early July. His production dipped in 2015, when he batted .259 with 10 homers and 44 RBIs. He's a career .265/.311/.416 hitter through 346 games in the big leagues.
The Mariners have been among the most active clubs this offseason, negotiating three trades this month. Left-handers James Paxton and Roenis Elias and right-hander Taijuan Walker are among the potential young arms who would likely appeal to the Marlins.
Orioles keen on re-signing Davis
Though 29-year-old slugger Chris Davis is rumored to be attracting interest from numerous clubs, the Orioles are interested in retaining him.
Manager Buck Showalter confirmed Baltimore's strong interest in re-signing Davis on MLB Network on Monday.
"We're going to be competitive with it and, at the end of the day, he and his people will have a decision to make," Showalter said. "I try to leave those guys alone. Believe me, their agents want us to leave them alone. ... Chris is a grown man. We talked many times. We had plenty of chances to talk [during the season], and he knows how much we like him and would like to have him stay. We are going to make an attempt to stay competitive with it."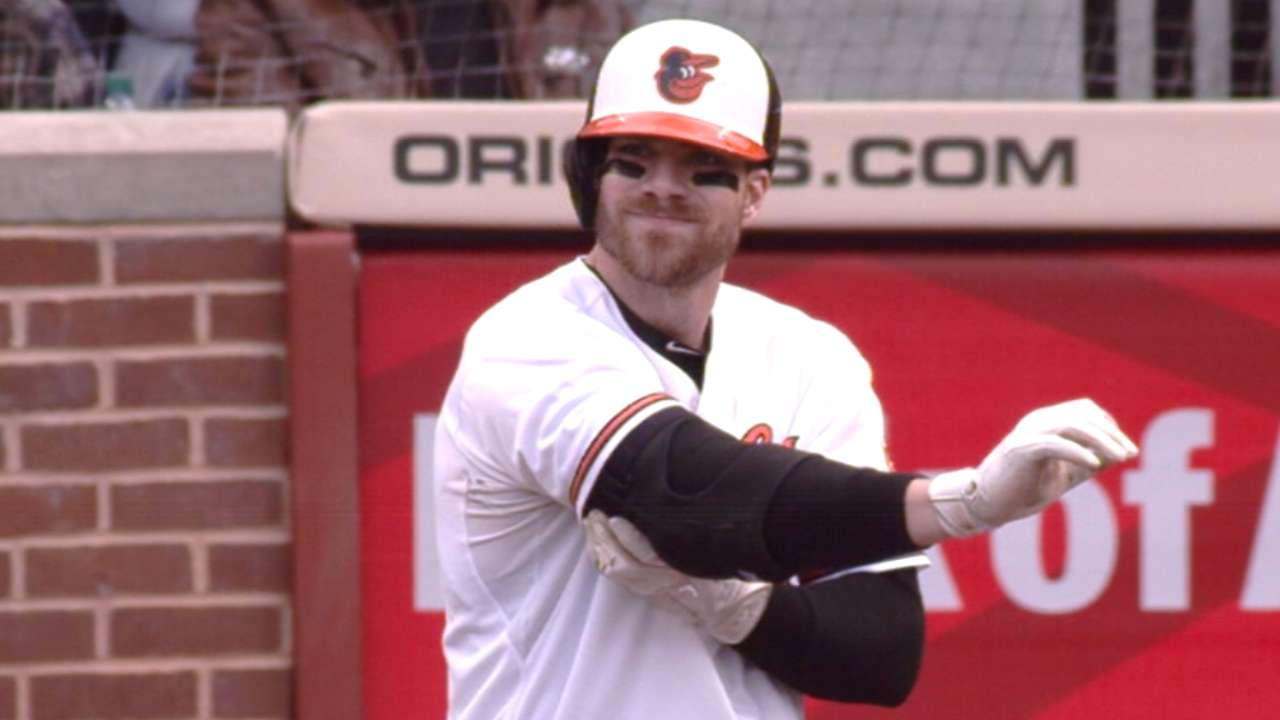 Davis is among this year's top free-agent targets. He led the Majors with 47 home runs last season, batting .262/.361/.562. He also led the league in 2013, homering 53 times. He is expected to net a contract valued at around $144 million this winter.
Maeda requests posting
Right-hander Kenta Maeda, of the Hiroshima Carp in the Japan Central League, may be on the verge of entering the free-agent pool, bolstering an already formidable cast of unsigned pitching talent.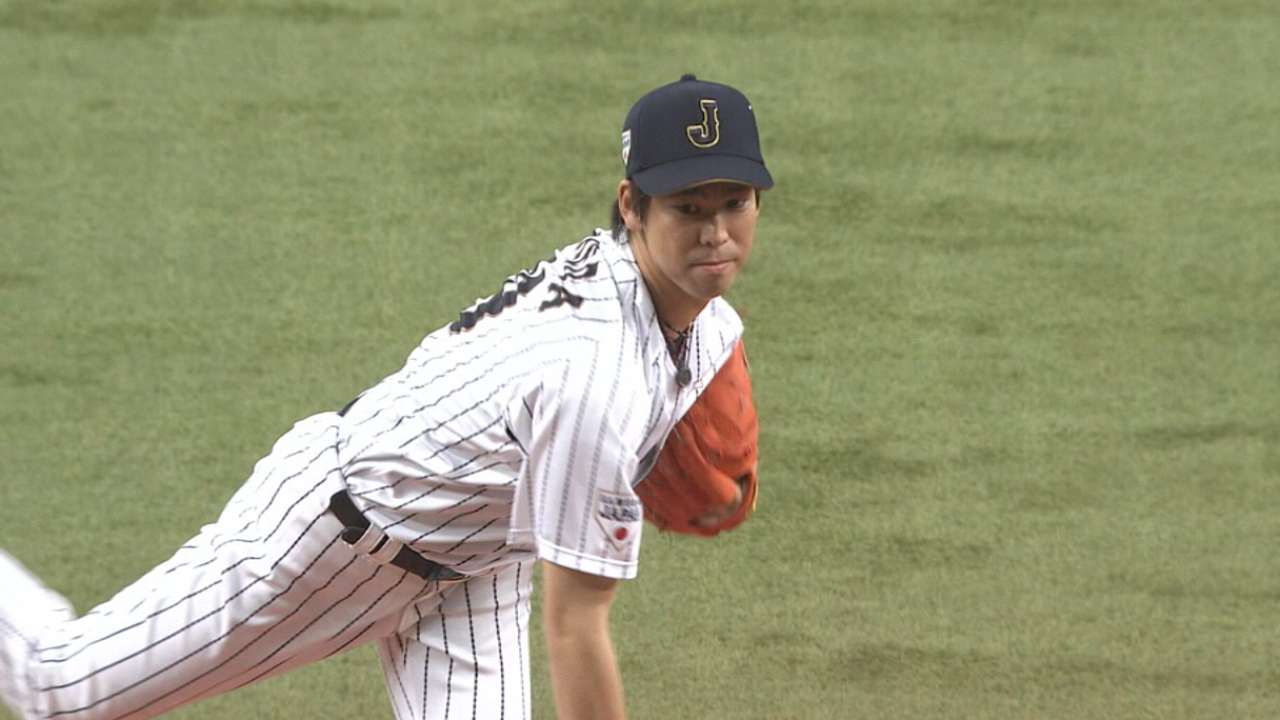 According to the Kyodo News, the 27-year-old Maeda has asked the Carp to post him, allowing Major League clubs to bid on his services. The report indicates that Carp general manager Kiyoaki Suzuki has suggested the request could be granted this year after it was rejected in each of the last two seasons.
"If we decide on a course of action around the end of next week, I think that will work," Suzuki said on Tuesday.
Maeda has gone 97-67 with a 2.39 ERA for the Carp since joining the team in 2008, twice winning the Sawamura Award, given to the league's best pitcher. He went 15-8 with a 2.09 ERA through 29 starts in 2015.
McGwire set to join Padres as bench coach
The Padres lost bench coach Dave Roberts to Los Angeles but may have found his replacement in the very same city.
San Diego is reportedly expected to sign former L.A. hitting coach Mark McGwire as Roberts' successor after Roberts was named the Dodgers' manager on Monday.
The club has yet to announce any coaching additions for first-year manager Andy Green's staff beyond the retention of pitching coach Darren Balsley and third-base coach Glenn Hoffman.
This would be McGwire's first stint as a bench coach, though he's spent six years on a big league staff, first as the Cardinals' hitting coach (2010-12) and then in the same role with the Dodgers the last three years until his contract expired at the end of October.
McGwire, a native of Pomona, Calif., played college ball in Southern California, at USC. He spent 16 years in the Majors with the A's and Cardinals, totaling 583 home runs.
Chad Thornburg is a reporter for MLB.com. This story was not subject to the approval of Major League Baseball or its clubs.