Angels sign catcher Soto to 1-year deal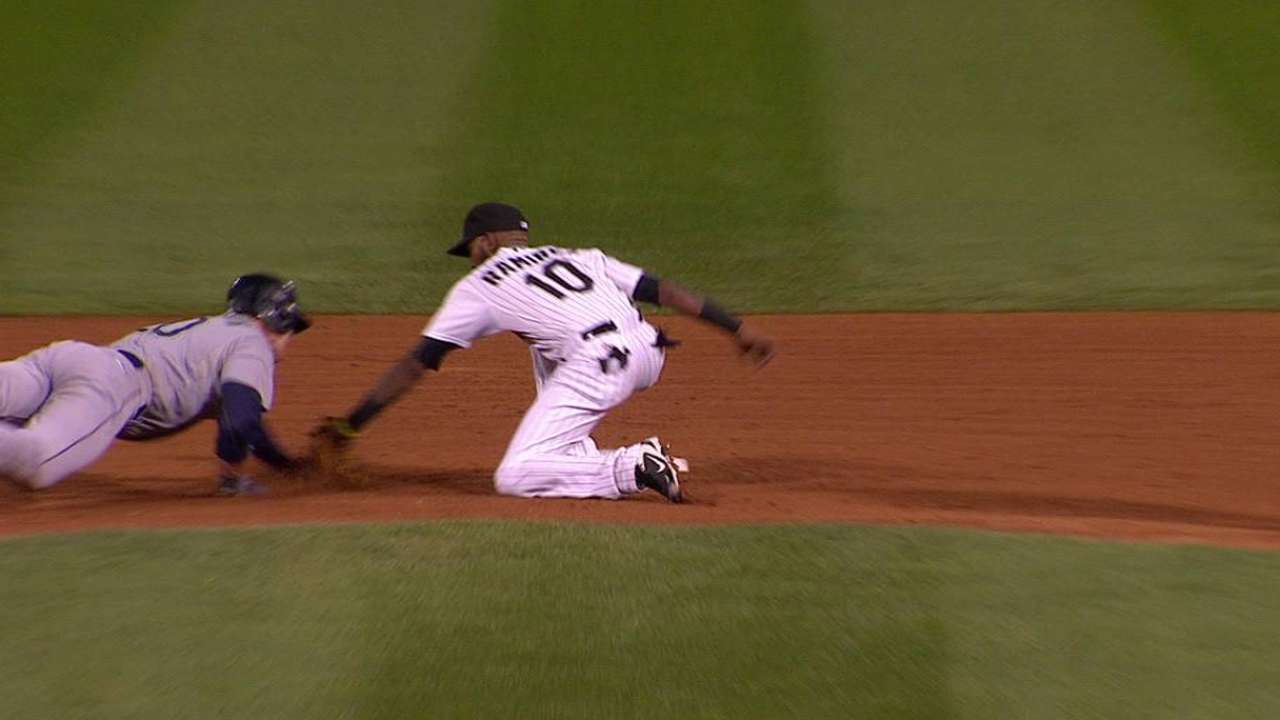 ANAHEIM -- The Angels scratched "catcher" from their offseason to-do list on Tuesday, signing Geovany Soto to a one-year, $2.8 million contract that gives them a veteran complement to the young Carlos Perez behind the plate.
General manager Billy Eppler said that Soto and Perez will compete to be the everyday catcher.
"It might end up a complete timeshare, it might end up that one guy takes more than the other," Eppler said. "We wanted to have someone with Geo's experience level, competitive makeup; also just his character, how he is with teammates and how he is in the clubhouse. We wanted to get that part of the culture. I think that will be good for Carlos. He and Carlos will be a tandem, and we'll see how the playing time ultimately ends up dividing itself."
Soto, an All-Star and the 2008 National League Rookie of the Year while with the Cubs, is a .246/.331/.434 hitter in his 11-year career. The 32-year-old right-handed hitter batted only .219/.301/.406 in 210 plate appearances for the White Sox last season but threw out a solid 30 percent of would-be basestealers in 73 games.
Soto has a 27.4 caught-stealing percentage since his first full season in '08, ranked fourth among players with at least 700 games at catcher during that time. The only ones better have been Yadier Molina, Russell Martin and Miguel Montero.
Soto finished within the top 20 in gaining additional strikes with his pitch framing from 2009 to 2012 but hasn't ranked any higher than 40th over the last three years, according to metrics used by Baseball Prospectus.
Soto's deal puts the Angels roughly $20 million below the luxury-tax threshold, with a hole in left field and a desire to upgrade at third base and second base. But the Angels could free some additional money by trading C.J. Wilson, who's owed $20 million in his final season before free agency.
The Angels liked what they saw out of Perez, who took the job from now-Mariners catcher Chris Iannetta down the stretch, and were only expected to add an accent piece behind the plate. They also have Jett Bandy and Rafael Lopez as Triple-A depth.
Eppler believes that Soto can help Perez grow as a catcher.
"That's a lot of the feedback we got on him and from people who have been with him," Eppler said. "People have a lot of good things to say about Geo -- who he is as a teammate and who he is as a baseball player. There's little doubt in our mind that he can help us in a number of ways."
Alden Gonzalez is a reporter for MLB.com. Follow him on Twitter @Alden_Gonzalez and Facebook, and listen to his podcast. This story was not subject to the approval of Major League Baseball or its clubs.