MLB.com Columnist
Bernie Pleskoff
Scouting profile: Raimel Tapia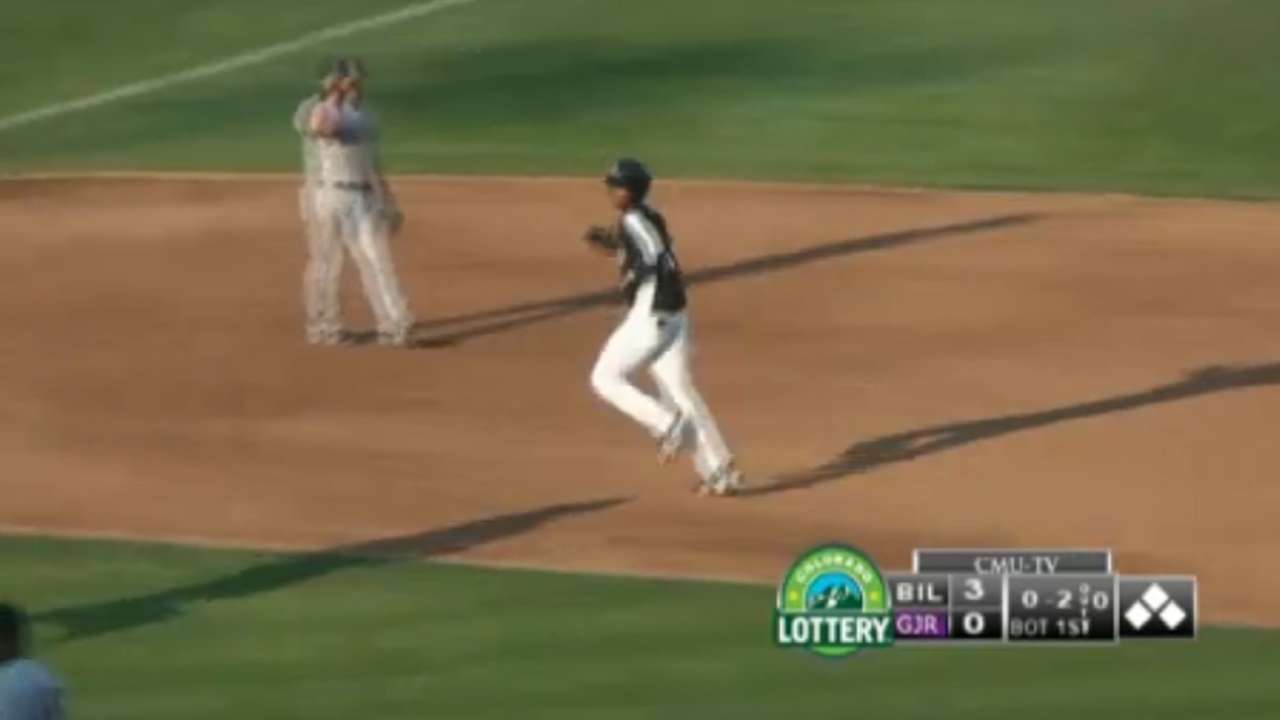 Background
Potential. That's left-handed-hitting outfielder Raimel Tapia. He has outstanding upside and is a very good athlete with pop in his bat that exceeds expectations for his thin 6-foot-2, 160-pound frame.
As I watched Tapia in the Arizona Fall League, I couldn't help but wonder what he will be like if he fills out that frame a bit. Still only 21 (but turning 22 in February), Tapia can certainly benefit from added weight and more strength.
The Rockies signed Tapia as an international free agent from the Dominican Republic in 2010. He spent his first three professional seasons playing Rookie-level baseball in the Dominican Summer League (two seasons) and at Grand Junction of the Pioneer League in 2013. That year, his transition year to stateside baseball, Tapia lead the league by hitting .357. He struck out only 31 times in 286 plate appearances.
Tapia has completed parts of five seasons in the Rockies organization, compiling a .314 Minor League batting average. He is ranked No. 8 on the Rockies' Top 30 Prospects list and is baseball's No. 99 overall prospect.
Hitting
Tapia has a very unique style at the plate. He is more of a slap hitter with excellent wrists, quick hands through the ball and a unique overall approach. He makes good barrel-of-the-bat contact and takes advantage of his arms and hands to guide the ball to all fields.
His excellent eye-hand coordination and his ability to recognize pitches help form the foundation of his solid contact. His swing is the result of discipline and self-confidence.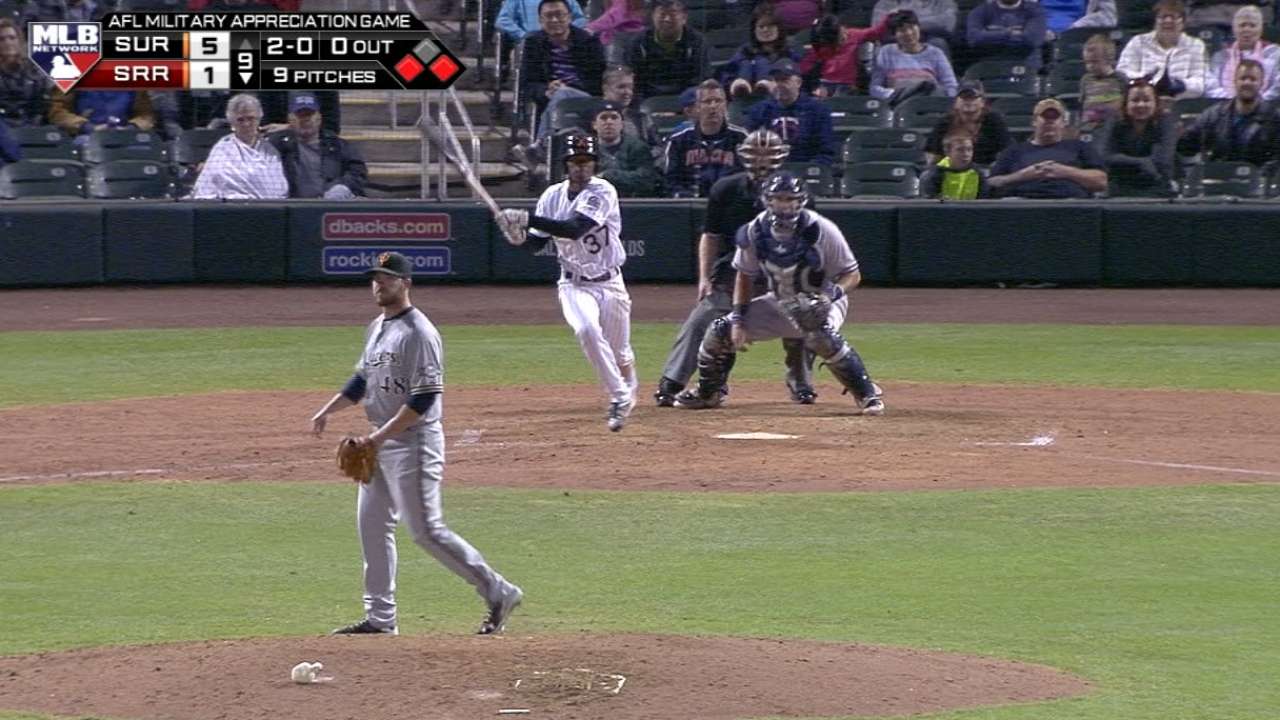 Currently a raw and inexperienced talent, Tapia has a very good feel for hitting and excels at turning on inside pitches and driving them to the gaps. His good plate coverage is an asset.
While his balance is good, he moves to an odd-looking low crouch with two strikes and just tries to make contact. It's unusual, but it works.
Defense
Tapia has the speed and arm strength to play all three outfield positions. While he has moved around in the outfield during his career, I saw him play mostly center field in the Fall League, but I also saw him in left. He has the speed to patrol the vast territory in center field at Coors Field. He should get better tracking balls with experience and repetition.
He had an errorless stint in the Fall League, a difficult task with the bright sun and the high skies of the Arizona environment.
Strengths
There is a great deal to like with Tapia. First and foremost, he's a good athlete. He is very agile and lithe, moving swiftly and gracefully on both offense and defense.
As he matures and sees increasingly better pitching, I believe Tapia's appropriately aggressive and at times quirky approach at the plate will pay dividends. He projects to hit for average, use his good speed to steal bases and drive in runs with gap doubles and timely hits. The home runs should come once his physical maturation is complete.
A solid wrist hitter, Tapia can make things happen by staying within his own limitations and not trying to pull every pitch or drive the ball out of the yard.
His doubles and triples in the Fall League were the result of his speed and very good baserunning and overall baseball instincts.
Weaknesses
I am concerned about Tapia's slight build and his ability to withstand hot, humid summers.
His power may increase with more upper-body strength.
I find this interesting
The great Henry Aaron was a 6-foot, 180-pound athletic outfielder with great wrists and quick hands. Never muscular, Aaron used his hands and wrists to hit himself into history. I see some of the same qualities in Tapia. But he needs to gain some weight.
The future for Tapia
I'm on the side that believes Tapia will become a true star. I think his current tools project eventual stardom. The Rockies will have to be patient and help him develop his baseball skills and overall strength.
Tapia in a word
Compelling
Bernie Pleskoff has served as a professional scout for the Houston Astros and Seattle Mariners. Follow @BerniePleskoff on Twitter. This story was not subject to the approval of Major League Baseball or its clubs.