Offseason innings give Paxton head start on '16
Left-hander big part of Mariners' rotation depth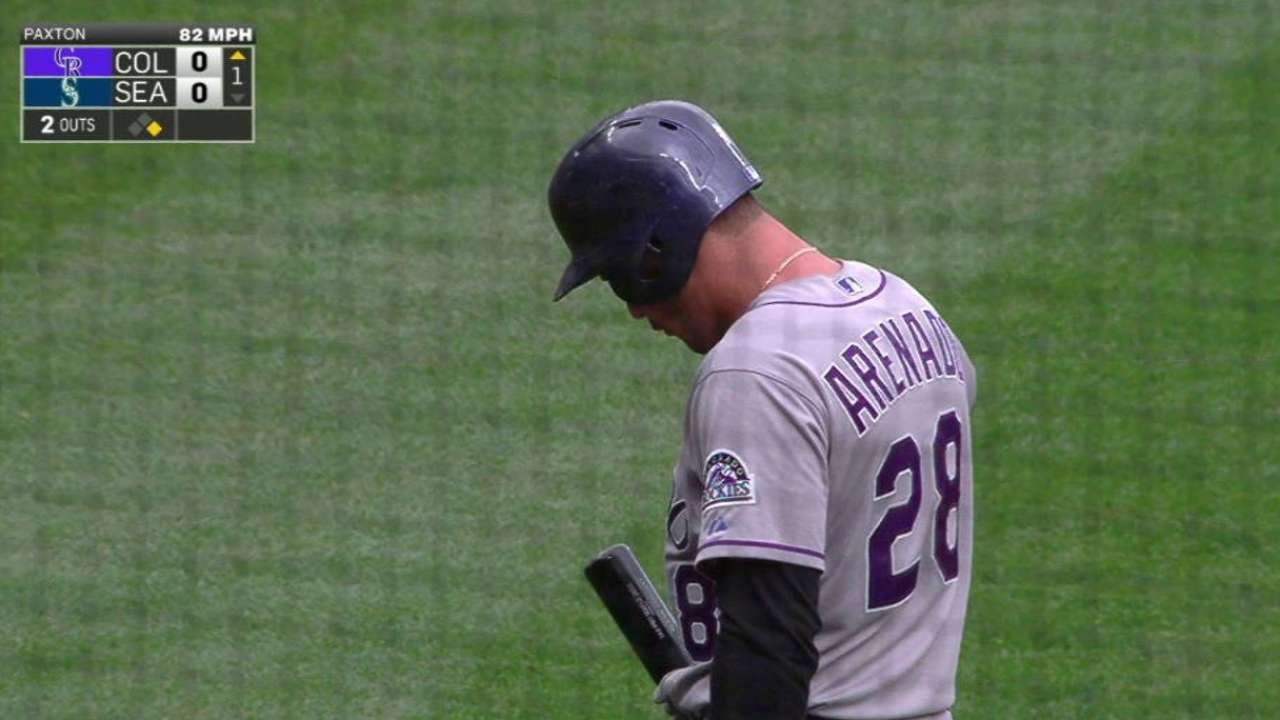 SEATTLE -- James Paxton is taking a quick break for Thanksgiving with family, but the Mariners' left-hander will be back on the mound Monday in Peoria, Ariz., to throw seven innings of a simulated game as he continues building up his arm following an injury-shortened 2015 season.
Paxton threw 29 1/3 innings in seven starts in the Arizona Fall League, then tossed a seven-inning simulated game on Monday and will complete his work with a similar outing next week against young Mariners prospects.
The Canadian southpaw posted a 2-4 record and 4.60 ERA in the Fall League while being limited to just fastballs and changeups in order to avoid any issues with the fingernail on the middle finger on his throwing hand, which is what caused him problems at the end of the regular season.
Paxton said he's saving his trusty curveball and cutter for Spring Training, when he plans to be fully healthy and ready to push for his spot in the Mariners' rotation. And that is exactly what the Mariners are hoping plays out with a pitcher who opened last season as the No. 2 starter behind Felix Hernandez, but was able to start just 13 games after missing 3 1/2 months with a strained tendon in that same middle finger.
When healthy, Paxton has been impressive, with a 12-8 record and 3.18 ERA in 30 career outings. But keeping him on the mound has been a challenge.
The goal is to raise Paxton's workload to a level where he can pitch a full season. He threw 67 innings in the regular season, another 6 2/3 with Triple-A Tacoma and is up to 36 1/3 this offseason. That adds up to 110 innings overall, not including a number of simulated games and bullpen sessions during his rehab stints.
"What we're trying to do is just build a higher diving board into his 2016 innings," Mariners general manager Jerry Dipoto said. "James is going to be 27 years old. We're not talking about a 22-year-old who is just ramping up into innings. He has pitched to a higher innings total in his career. It just hasn't happened in the last two years.
"We're excited about the physical upside there," said Dipoto. "We're looking forward to getting him on the mound on a more regular basis. The frustrating thing for James has been it's all little nagging issues rather than anything I'd consider to be significant or structural. The idea for us is to build his innings up as best we can before the end of the month, then let him go home and rest and come into Spring Training and compete for a spot in the starting rotation."
Paxton started just 13 games in 2014 as well because of a strained lat muscle, so Dipoto understandably isn't just penciling him into a rotation that is still being pieced together.
"Part of the appeal in acquiring Nate Karns so early in the offseason is that among Taijuan Walker and James Paxton and Nate Karns and [Roenis] Elias and [Vidal] Nuno, it gave us a modicum of depth behind Felix so that we didn't have to panic," Dipoto said. "We knew we could go out there and throw innings. Now all we need to do is focus on guys that can get a little bit closer to the top of the rotation than the back and continue to build that depth."
One X-factor is free agent Hisashi Iwakuma, who declined a one-year, $15.8 million qualifying offer. Dipoto said re-signing the Japanese standout remains his top priority. But he didn't rule out signing another veteran pitcher even if Iwakuma does return.
"Obviously, we'd love to have Kuma back, and we'll address what happens to the rotation as we go deeper in to the offseason," Dipoto said. "But I don't imagine you've seen the last addition in terms of starting pitching."
Greg Johns is a reporter for MLB.com. Follow him on Twitter @GregJohnsMLB, read his Mariners Musings blog, and listen to his podcast. This story was not subject to the approval of Major League Baseball or its clubs.