Inbox: What are the Cards' plans for Holliday?
Beat reporter Langosch answers questions from fans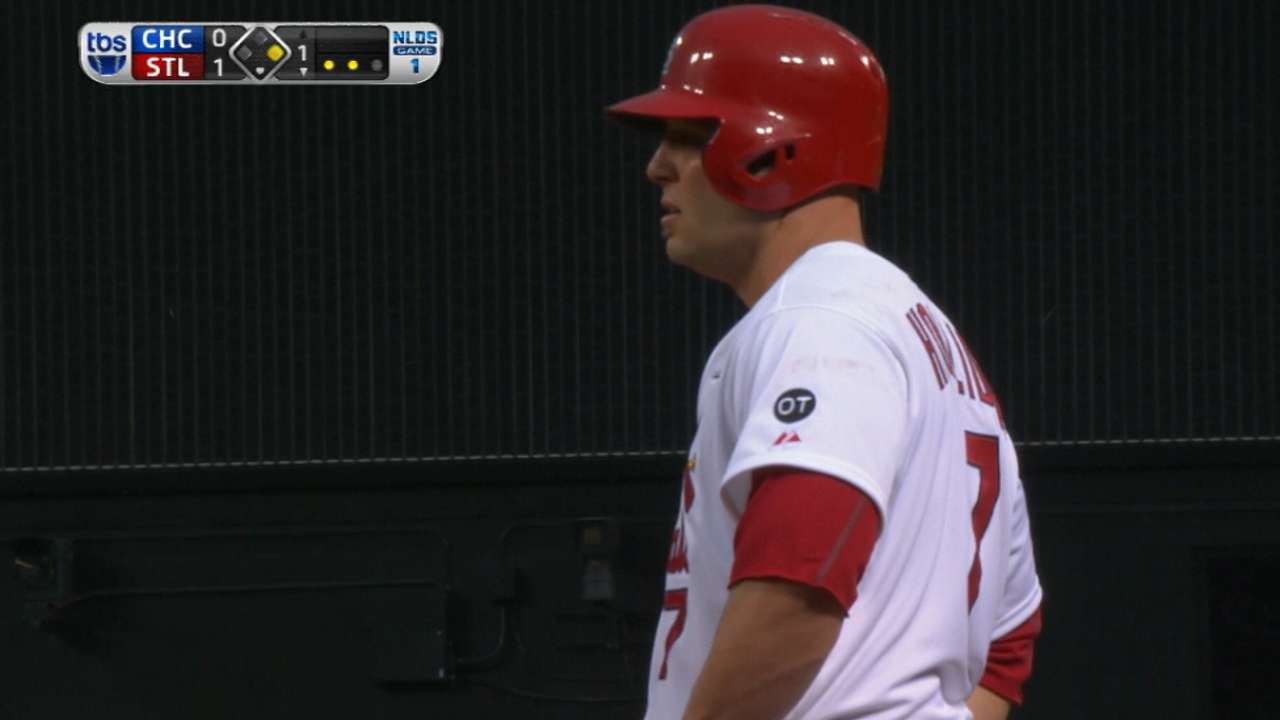 ST. LOUIS -- Before getting to your next batch of Hot Stove questions, let me remind you that if you want to submit a question for future Inbox inclusion, don't forget to provide your first name, last initial and hometown along with it.
Have the Cardinals considered moving Matt Holliday to first base, thus freeing up room in the outfield?
-- Dale J., Tipton, Iowa
This proposal is raised regularly by fans, but I have yet to see it gather any traction within the organization. In fact, here is what manager Mike Matheny said on the topic two days after his team was eliminated from the postseason: "We've been as aggressive as any team in baseball with taking guys from one position and putting them at another. But that's a slippery slope sometimes. There are some guys who are a little more able to do that, a little more flexible for it. And there are other players who will kind of play around with it behind the scenes and realize that this is probably not going to be best for our club or best for this player."
Right now, the Cardinals don't feel this is the right move for Holliday. They don't necessarily have to clear outfield space, either, when you consider that players like Stephen Piscotty and Brandon Moss have the flexibility to move to first base, if needed.
I wondered what the trade market might be for Holliday. I know he is a five-and-10 player and could veto a trade, but I wondered if someone would take his relatively reasonable contract remainder in exchange for a blocked high-end prospect at first base. Even with his injury this year, it is hard to forget he is a great hitter and clubhouse guy. That would create the room for the young outfielders we have.
-- David H., Indianapolis
Holliday has one guaranteed year ($17 million) remaining on his contract and another $17 million club option for 2017. Although it would be intriguing to see the interest he would draw if the Cardinals dangled him in the trade market or whether Holliday would even consider accepting a trade, let's remember that the Cardinals' biggest need this winter is offense. And trading away Holliday, even as he approaches his age-36 season, would sap the Cardinals of some substantial offensive potential.
Although Holliday might not be the best three-hole option the Cards have anymore, he still offers power potential (which the Cardinals don't have enough of) and contractual flexibility in that he won't block the organization's young outfielders for long. His return to the lineup in September changed how clubs maneuvered through the Cards' batting order, which is further evidence of the respect Holliday continues to demand and the Cardinals' need for him.
Yadier Molina is obviously a franchise player, but the last two postseasons the Cardinals did not win a game in which he didn't start. Is St. Louis considering another catcher to back him up?
-- Oswaldo H., Venezuela
Tony Cruz, who has been Molina's backup for the past four seasons, is arbitration-eligible for a second time, and I would expect the Cardinals to tender him a contract. He'll likely settle for a salary around $1 million in 2016, which is a fine price for what he offers in his role. However, that won't preclude the Cards from looking at other potential backup options. The difficulty, as has been the case for years, is that they don't necessarily have an attractive position to advertise.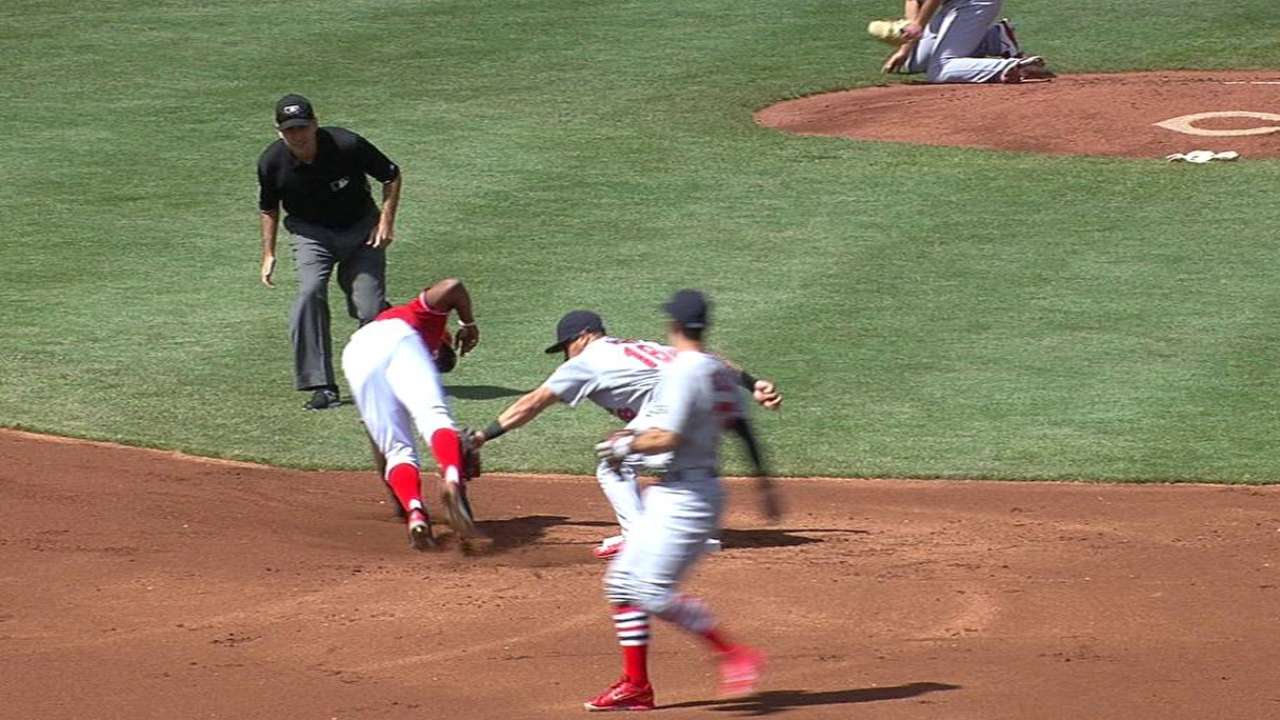 Molina is among the most heavily utilized catchers in the game, which leaves little opportunity for a backup to play. Catchers looking for work can find more playing time elsewhere, and that has hurt the Cardinals' sales pitch before. What will be critical for St. Louis moving forward is being more proactive in resting Molina early so he is on the field late. The Cards said they had plans to do so before each of the past two seasons, but they have not followed through.
Throughout the entire 2015 season, Cardinals hitters continuously failed in sacrificing themselves for the sake of moving runners over. In contrast, because the Royals' hitters rarely strike out, it seems they almost always had productive at-bats, forcing the other team to play good defense during the entire playoffs. Do you think Matheny and his coaches will emphasize better situational hitting in 2016?
-- Eddie L., Town and Country, Mo.
The composition of the Cardinals' offense played a role in this. St. Louis struck out a franchise-record 1,267 times in 2015, which accounted for 23 percent of their at-bats. Here are some other situational hitting numbers to chew on, courtesy of Baseball Reference:
• The club had a productive out percentage of 28, according to parameters of a statistic created by Elias/ESPN to determine the success rate in one of three possible situations -- a successful sacrifice by a pitcher with one out, advancing a runner with none out and driving in a runner with the second out of the inning. A failure, per this metric, is defined as making an out without advancing a runner.
• In situations with a runner on third and fewer than two outs, the Cardinals pushed that run home 48 percent of the time.
• With a runner on second and none out, the Cards advanced the runner (at least to third) 54 percent of the time.
These snippets of situational hitting show plenty of room for improvement, something the Cardinals already know about. Situational hitting is a regular focus of Spring Training drills, meetings and cage work, and it will continue to be so. Increasing those success rates becomes even more vital if this team plans to continue to operate with limited power potential.
Do you have an update on the Cardinals allegedly accessing the Astros' database?
-- Joe P., Clayton, Mo.
The investigation being led by the FBI and Justice Department is ongoing, so there is little to update at this time. Commissioner Rob Manfred told reporters in October that the U.S. Attorney's Office would have to issue findings before Major League Baseball follows up. The Cardinals' investigation, which was running concurrent to the federal one, was not expected to announce any results until the other investigation ended. There has been no timetable given for a resolution.
Jenifer Langosch is a reporter for MLB.com. Read her blog, By Gosh, It's Langosch, follow her on Twitter @LangoschMLB, like her Facebook page Jenifer Langosch for Cardinals.com and listen to her podcast. This story was not subject to the approval of Major League Baseball or its clubs.