KC rolls out blue carpet for premiere of Series film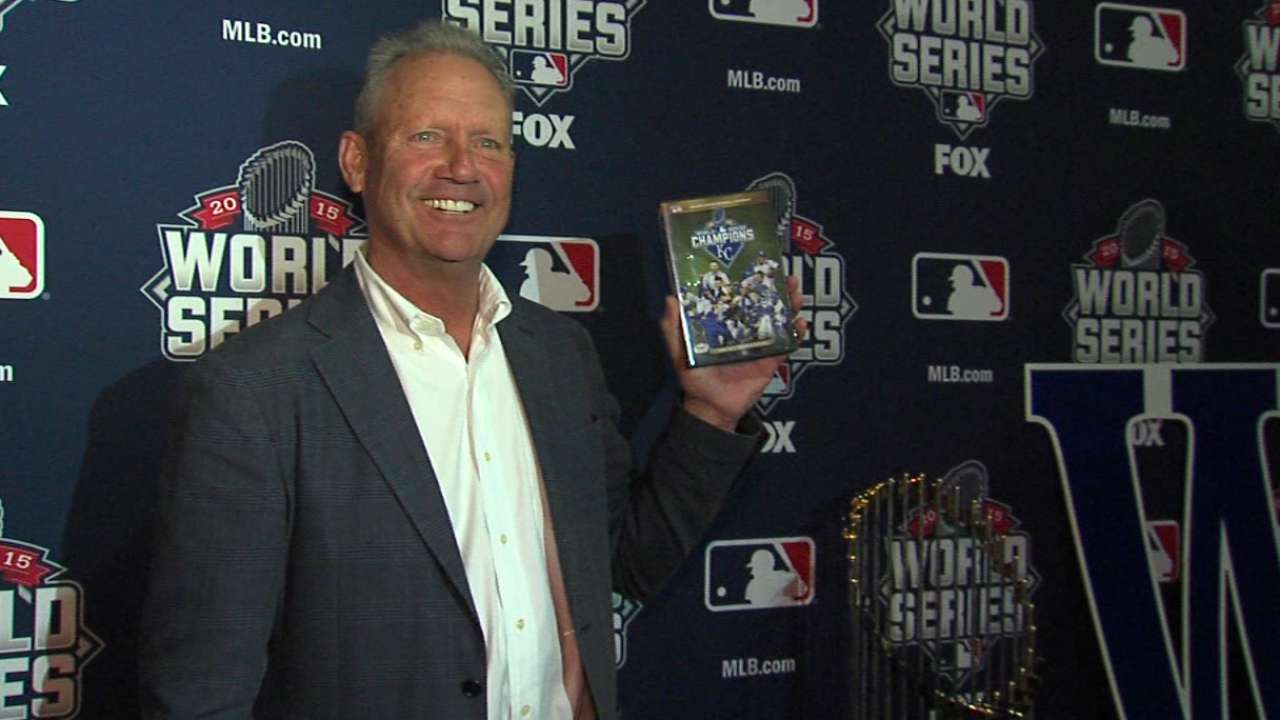 KANSAS CITY -- Royals owner David Glass has always enjoyed watching dramatic films with happy endings and thus could hardly wait for Monday's blue carpet premiere of "The 2015 World Series," produced by MLB Network.
"It's even more fun, knowing how it comes out," Glass said. "It got a little stressful as we were going through it. All the stress is gone now. I can watch the DVD and enjoy every bit of it."
• Order the 2015 World Series DVD
• World Series screening photos
Hollywood has its Oscars and red carpets. And just over three weeks removed from its first World Series championship in 30 years, Kansas City had blue carpet outside the Music Hall for a premiere showing that enabled Royals' officials and fans to celebrate and relive the five-game World Series triumph over the Mets, boosting the Royals to the top of the baseball world.
Joining Glass on the blue carpet for pictures and interviews were club president Dan Glass, general manager Dayton Moore, manager Ned Yost, Hall of Famer George Brett, first-base coach Rusty Kuntz and Royals broadcaster and emcee Ryan Lefebvre. Once everyone was inside the sold-out venue, the crowd broke out with the familiar "Let's Go Royals" chant, got a good look at the championship trophy on stage and heard from Moore and Yost.
When the ceremonial curtain went up, the crowd was fired up. No more nail-biting. Just smiles and satisfaction as those improbable eighth- and ninth-inning comebacks played out on the big screen.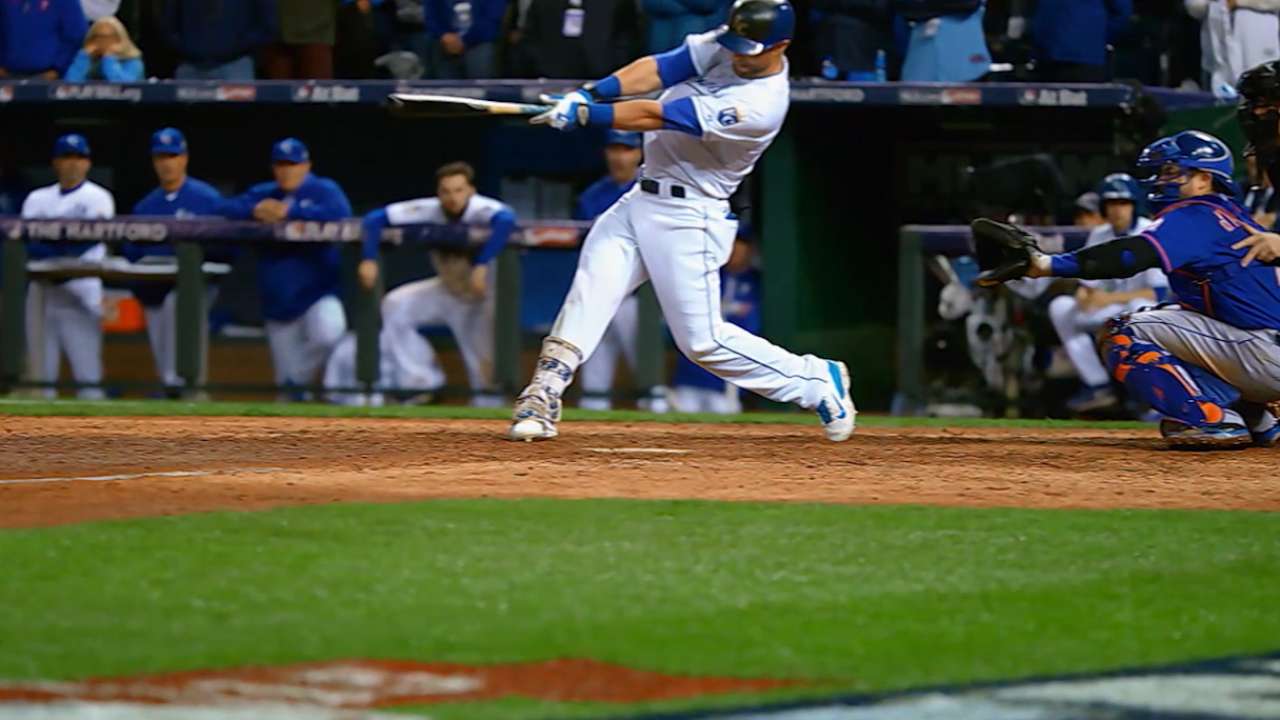 "This group of young players deserve all the credit," David Glass said. "It's all about them and their determination. They never wavered. They had the plan the first day of Spring Training and they finished it the last day of the season."
The 2015 World Series film, presented by Budweiser, is narrated by comedic actor/writer/producer Paul Rudd, an avid Royals fan. It tells a story of not only what happened in the Series, but why it happened. The film arrives Dec. 1 on Blu-ray and DVD, from A&E Networks Home Entertainment and Lionsgate Home Entertainment and will be available for the suggested retail price of $34.99 and $29.98, respectively.
The worldwide television premiere of The 2015 World Series is scheduled to air on FOX Sports 1 on Dec. 27.
Jed Tuminaro, the coordinating producer at MLB Network and director of the film, said the underlying themes that his crew wanted to bring out were the 30-year wait for the Royals between World Series championships and the resiliency that the 2015 team showed in fighting its way to the top.
"There was a resiliency to this team which was almost like nothing we had ever seen," Tuminaro said. "Game after game, their comeback ability stood out. You hear the word 'chemistry' a lot and it has almost become a cliché in sports. But this team was truly a tight team and that particularly showed in October."
The filmmakers went behind the scenes to explore such topics as how Edinson Volquez felt pitching the decisive Game 5 just days after his father had died. Or what Eric Hosmer was thinking when he took the calculated gamble to break for the plate with two outs in the ninth inning of Game 5.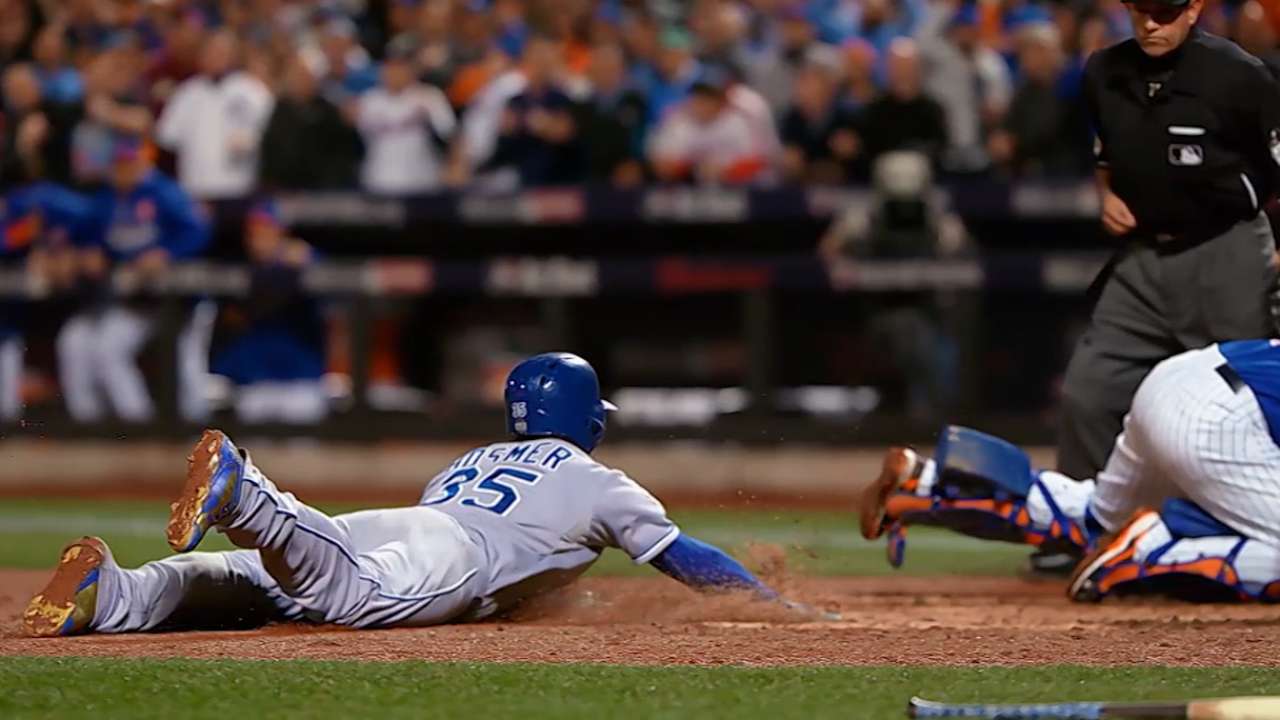 Tuminaro credited the Royals' cooperation in bringing context and depth to the film.
"These guys were incredible," Tuminaro said. "We had done a few projects with them throughout the year, so a lot of my staff knows them well. They were first class and it makes the product so much better when a team cooperates like that."
The film dedicates ample footage to the championship parade and rally at Union Station in which an estimated 800,000 fans turned out. For Brett, who has been an icon in Kansas City for decades, the massive turnout was a revelation.
"I was fighting back tears," said Brett, who reiterated his parade day opinion that the 2015 World Series champion Royals could beat the '85 World Series champion Royals. "That [parade crowd] was something I never thought I'd see in this town."
For Moore and Yost, the blue carpet premiere marked another joyous occasion in which the Royals and their fans could savor the memories before eventually turning their attention to what might be in store for 2016.
"It's been fun, just to have baseball enjoyed again and celebrated in Kansas City," Moore said.
Yost's wife, Deborah, was celebrating a birthday while taking in Monday's premiere. For Yost, it has been a whirlwind ride since the Royals hoisted the trophy at Citi Field.
"I never dreamed it would be like this," Yost said. "It still hasn't really sunk in. Everywhere you go, it's absolutely crazy. I was going on about four hours of sleep a night until about the last week."
Yost has no doubt his players will be looking to pen a sequel to Monday's film.
"This is a special group of guys that have tremendous makeup and desire," Yost said. "Last year, they felt like they had unfinished business. I'm sure when they get to Spring Training their idea is going to be back to back."
Robert Falkoff is a contributor to MLB.com. This story was not subject to the approval of Major League Baseball or its clubs.