McCann helps 'Rally' support vs. childhood cancer
Yankees' catcher's efforts continue in offseason with Wiffle Ball game, benefit bash
NEW YORK -- When Brian McCann brought his bat to Yankee Stadium two years ago, the slugging catcher carried a charitable mission with it. Each one of his trips around the bases has a special meaning, delivering another blow in the fight against childhood cancer.
McCann and his wife, Ashley, are proudly involved with the Rally Foundation for Childhood Cancer Research, a non-profit organization based in Atlanta that has been raising awareness and funds for childhood cancer research.
"It's a great feeling to know that every time that I do something on the field, it's helping other people," McCann said. "It's one of the best causes that you could possibly be interested in donating to. It's for the kids. These kids are fighting for their lives, and it's a special, special thing to be a part of."
McCann hit a career-high 26 home runs this season, and as a result, he raised more than $30,000 for the very worthy cause -- thanks to pledges of more than $1,160 per home run from fans.
"Brian and Ashley are awesome," said Dean Crowe, Rally's founder and CEO. "They're wonderful and huge to the foundation. Not only are they great spokespeople, but they really truly believe in the cause and they want to get to know the Rally families."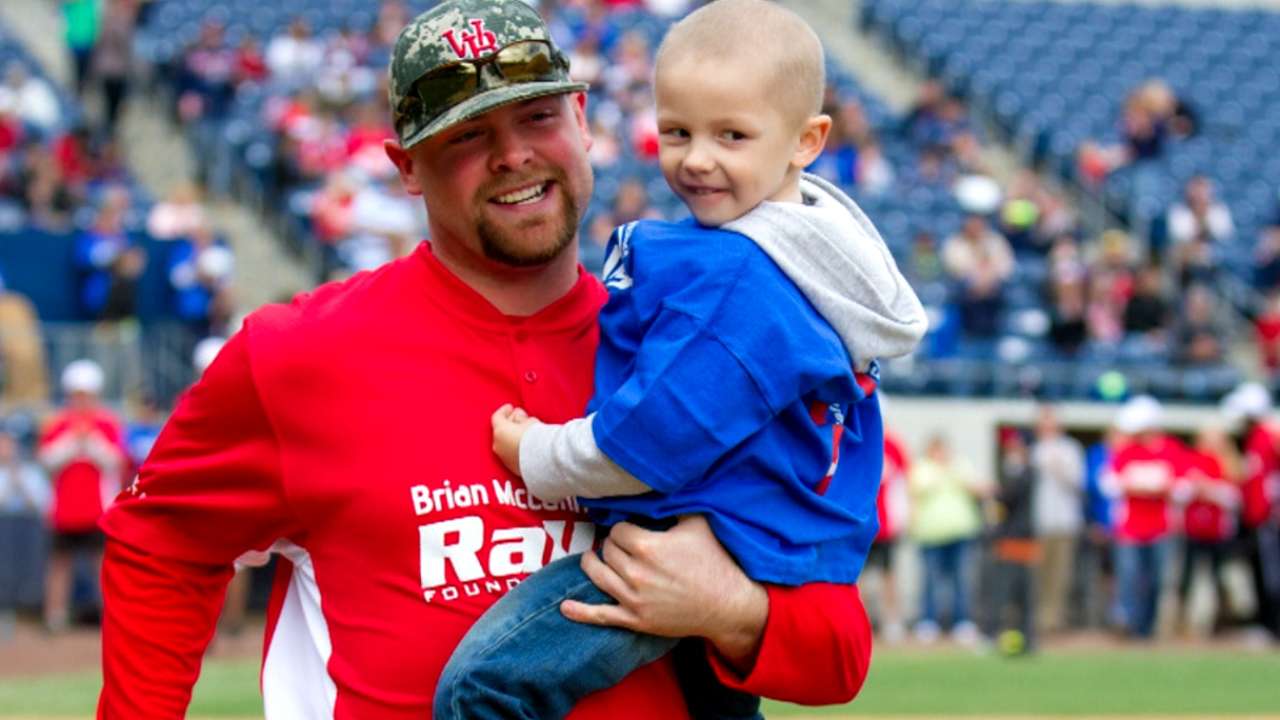 The 31-year-old McCann's charitable efforts have continued into the offseason. Earlier this month, McCann helped host his "Delta Double Play" events, participating in a Wiffle ball game and a Rally benefit bash held in Atlanta that raised another $775,000.
"The kids get to participate, they do a starting lineup and they run out," McCann said. "We just make the whole day about the kids. It's been a real success."
The McCanns have helped raise nearly $4 million over their seven years affiliated with Rally, developing close relationships with the children that the organization serves.
One of the first Rally Kids that the McCanns met was Alexa Rohrbach, who was diagnosed with cancer at the age of 1. Rohrback battled long enough to see the sixth grade, passing away in 2010, but she and the other Rally Kids that the couple have met continue to inspire them.
"When we played with the Braves, we would take all the Rally kids down to the stadium and got them on the field," McCann said. "One of the Rally kids sang the national anthem, which brought everyone to tears. There have just been a lot of good things over the years."
Fans can find out more about the McCann Home Run Challenge and all the ways the McCanns and thousands of other supporters help support and fund crucial childhood cancer research at www.rallyfoundation.org.
"I think once you meet the kids, it's the right thing to do," McCann said. "You meet the families and what they're going through. With the platform that we have to raise money for this cause, it's exactly where my wife and I wanted to put our time and efforts, into curing childhood cancer."
Bryan Hoch is a reporter for MLB.com. Follow him on Twitter @bryanhoch, on Facebook and read his MLBlog, Bombers Beat. This story was not subject to the approval of Major League Baseball or its clubs.