Chirinos, Andrus serve at Arlington Life Shelter
Both players enjoy giving back to community as they move past end to 2015 season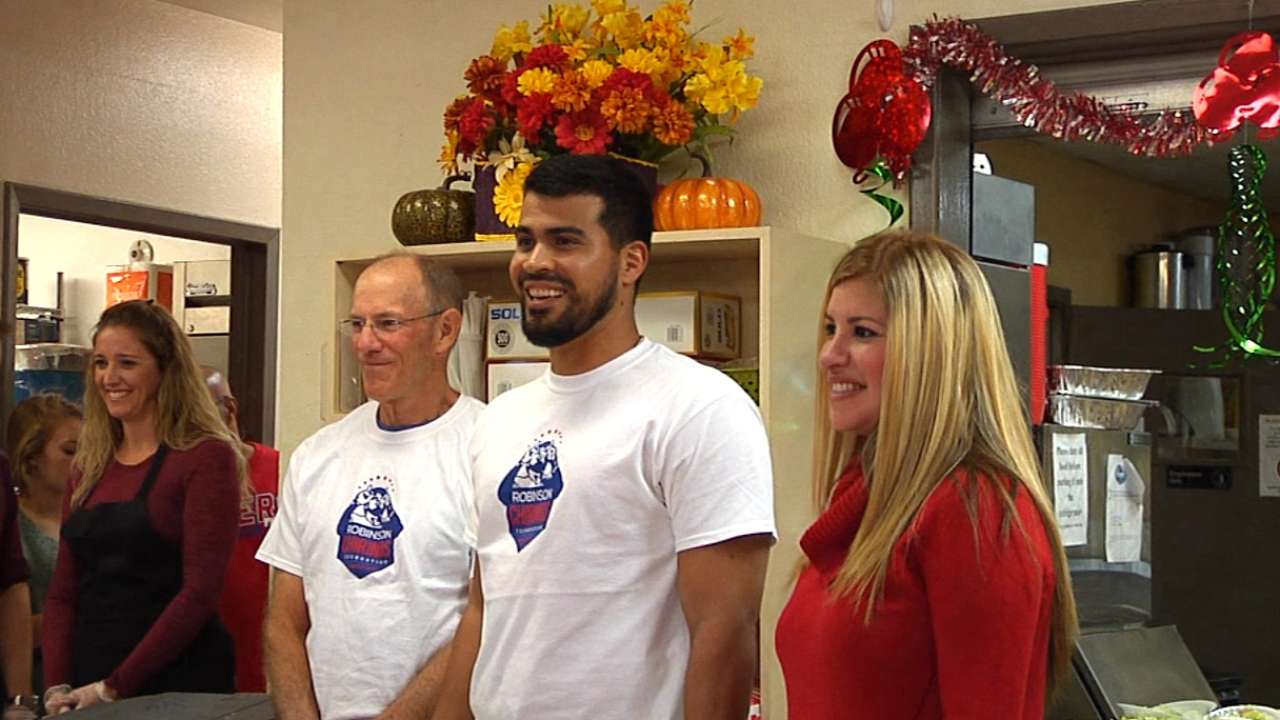 ARLINGTON -- Elvis Andrus and Robinson Chirinos are fine. The Rangers' shortstop and catcher are not sitting around and brooding over the way their season ended.
On Monday night, they took time out from their daily three-hour workouts at Globe Life Park to serve a holiday dinner at the Arlington Life Shelter. Chirinos was accompanied by his wife, Heidy, and their son, David, in an annual event sponsored by his foundation.
"I'm trying to do what I have been doing the whole season, and that is give back to the community and help people in need," Chirinos said. "It's a chance to do something for the community that supports our team. I'm happy and thank God he gives me a chance to do this."
Andrus was there as well. In addition to working out with Chirinos, he has been busy since the season ended with trips to Italy and Mexico. He took a tour of the Vatican in Rome, though he didn't get to see Pope Francis.
"It would have been nice, but he wasn't there," Andrus said. "But I was really glad we got to see the whole Vatican."
There are some who might think that Andrus would need a special papal blessing to get over Game 5 of the American League Division series. He committed three errors in the seventh inning, leading to four runs for the Blue Jays as they eliminated the Rangers with a 6-3 victory.
But Pope Francis can concentrate on more important matters.
"I'm fine," Andrus said. "I'm fine. I'm getting ready for next year. Every opportunity and everything that has happened in my career, I take the best and the bad things I learn from it and put it in the past. What happened last year, it's only going to make me work harder. It's in the past. It was a long process, but I'm in a good spot."
Andrus said he was helped by the support of friends, family and teammates after Game 5.
"It was nice to see," Andrus said. "People were worrying about me, but they know who I am. I was thankful for all the encouragement. There is nothing to be ashamed of. That's baseball. It's unfortunate it happened to me, but it is something I'll learn from."
Andrus and Chirinos were joined on Monday night by bench coach Steve Buechele, broadcaster Tom Grieve and former Rangers shortstop Michael Young. Tireless Ranger Captain was also there.
At the event, the Rangers received the 2015 Hero of the Homeless Award from the Arlington Life Shelter. The award is the highest honor presented annually by the agency and recognizes the significant impact of organizations and individuals supporting the shelter and affecting the lives of the community's homeless.
"We sometimes forget there are people in need," Chirinos said. "For me to do this and have my wife and son here is a blessing, helping me do what I love to do."
Chirinos' season also did not end well. He was the Rangers' catcher for the first four months of the season but missed most of the last two with a torn muscle in his left shoulder. He was also to play in the division series against the Blue Jays, but the Rangers' season came to an end after they had won the first two games.
But he still considers the season a success in his efforts to establish himself as a front-line catcher.
"I was able to do what I can do when I had a chance to play," Chirinos said. "I was passionate about the job and passionate about helping my pitching staff. Unfortunately I had an injury, but I was on the right path to have a great season."
Right now, Chirinos is the Rangers No. 1 catcher with Chris Gimenez still on the roster. But general manager Jon Daniels isn't ruling out the possibility of adding another catcher before the winter is out.
"That's something … I don't have to make that decision," Chirinos said. "J.D. and the front office … that's their job. My job is to get ready for next year. If I'm going to be the No. 1 guy, I'm going to do what I can to win a ring for this organization."
The holiday season is designed to ring out the old year. Chirinos and Andrus were busy on Monday night making it better for those at the Arlington Life Shelter, but their thoughts are already turning to 2016.
They are fine. The memory of 2015 is fading.
T.R. Sullivan is a reporter for MLB.com. Read his blog, Postcards from Elysian Fields, follow him on Twitter @Sullivan_Ranger and listen to his podcast. This story was not subject to the approval of Major League Baseball or its clubs.