Reds' All-Star community efforts in full swing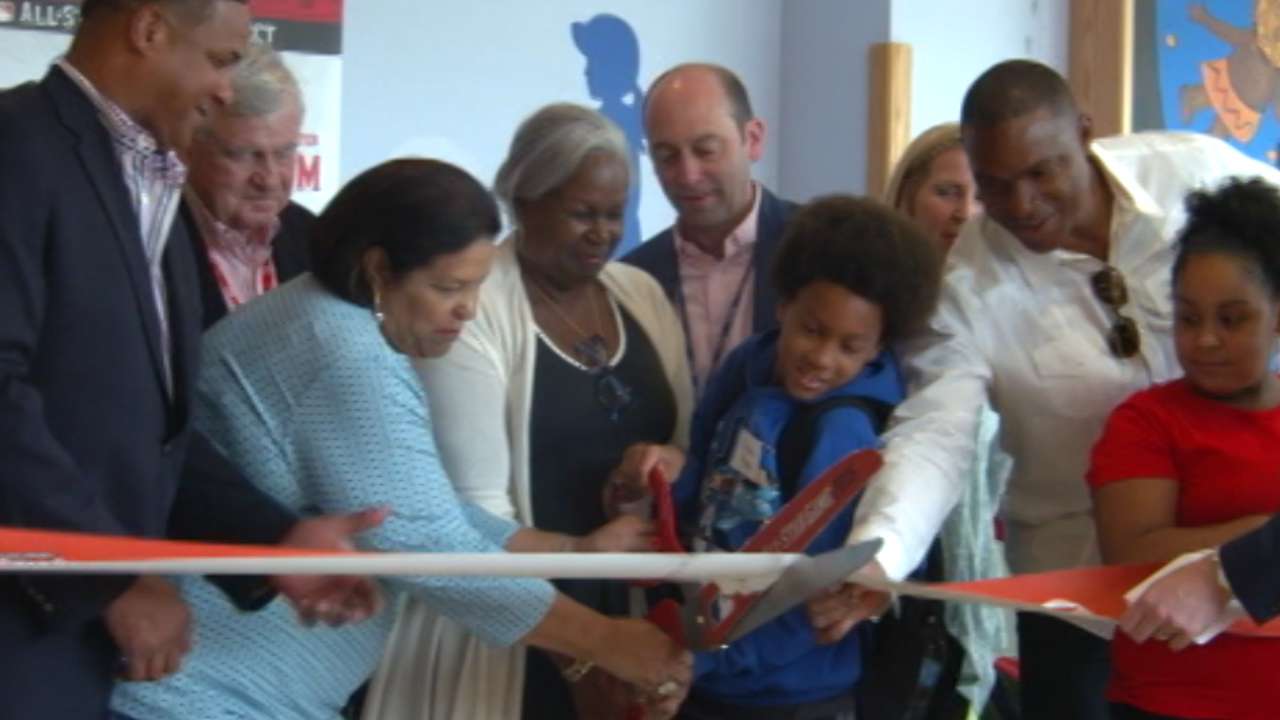 CINCINNATI -- Sure, the All-Star Game in Cincinnati has long been over. But its impact on the community is still being felt many months later -- and should for years to come.
A huge component for All-Star hosts and Major League Baseball is the opportunity to create lasting legacy projects that benefit the community and youth baseball initiatives. That vision was realized for Greater Cincinnati to the sum of more than $8 million worth of community investments for nine legacy projects.
Reds Community Fund executive director Charley Frank has recently paid visits to, or spoken with people, at the various sites. All the warm feelings gained from the week's worth of ribbon cuttings returned.
"The cumulative leave-behind still resonates with all of us," Frank said.
Because of donations of money, time and sweat equity, there is a new activity center at the Sheakley Boys & Girls Club, a 17,000-square-foot facility in the Price Hill neighborhood that features a multisport surface, batting cages and bleacher seating.
A processing and welcome center for veterans was opened at the CityLink Center in Cincinnati, which helps veterans become reintegrated into the community.
In the West End just outside of downtown, a dynamic community makeover was underwritten by P&G, the Cincinnati Zoo and the Reds Community Fund for Seven Hills Neighborhood Houses. More than 300 volunteers helped create a playground in a vacant space and upgraded the Dyer Baseball Fields.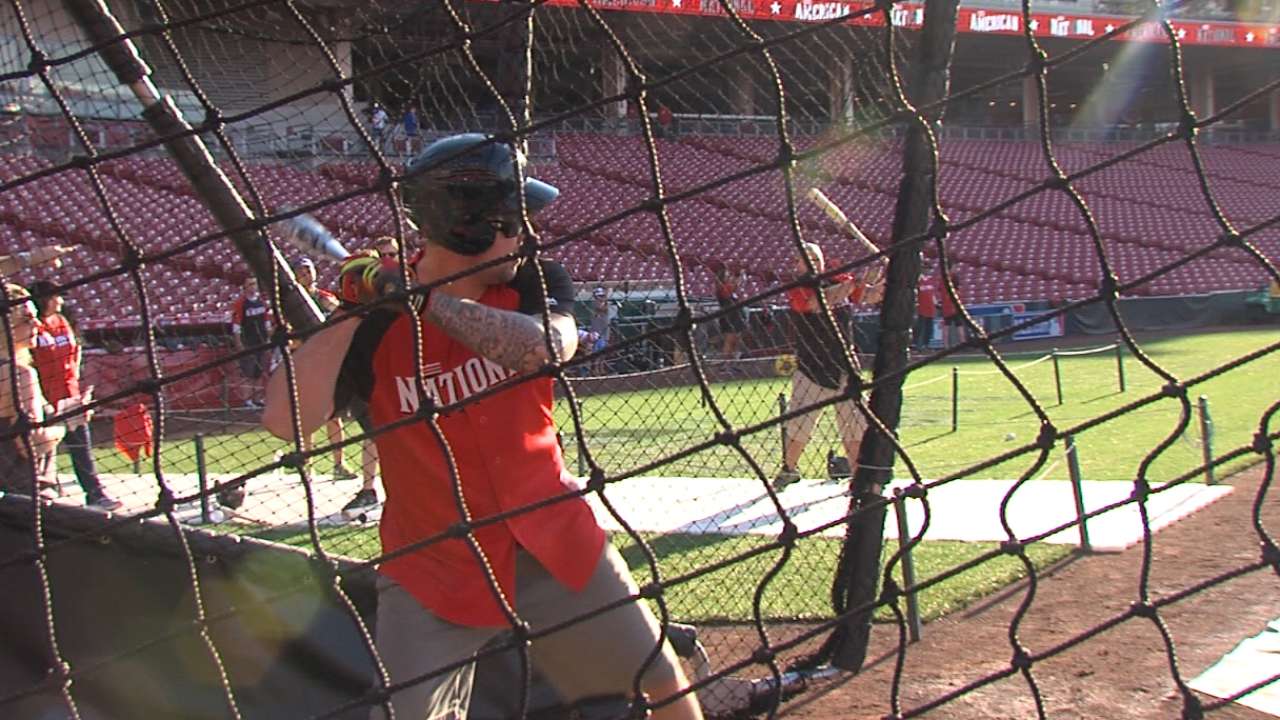 "It's one of the most significant things I've ever been involved with while with the Reds," Frank said. "The impact it's had on the West End neighborhood -- and can still have -- transcends anything baseball-related."
Nine ballfields in Ohio and Kentucky received makeovers and upgrades, which benefited eight area high schools.
A field at the MLB Urban Youth Academy -- Don Johnson All-Star Field -- was also given an upgrade, with better drainage and a new synthetic turf infield. The field was the site of the Junior RBI Classic and was a centerpiece of All-Star week. Eight baseball and four softball teams comprised of 11- and 12-year-olds participated in a friendly tournament.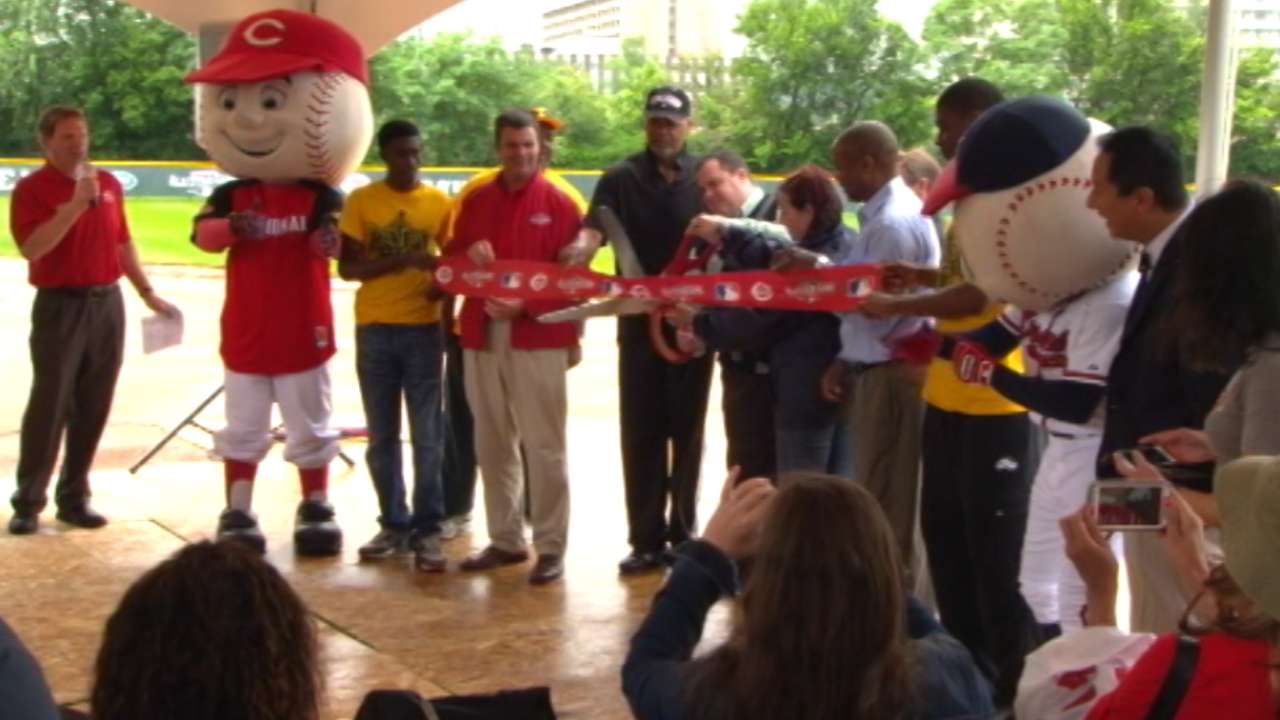 The waiting room for the Pediatric Primary Care Center at Cincinnati Children's Hospital was renovated, and a mobile "fun center" entertainment unit, featuring the latest gaming systems and built to roll bedside in hospitals, was donated by MLB and the Reds.
"Every penny that we raised went right into these projects," Frank said. "This was a one-time capital push. We're still making sure all of the partners are in place to protect the investments like we always do. Typically, we're investing in the project, but we're also operating it -- like the Urban Academy. Most of these, the keys are handed off to other users."
All of this came on the heels of the Reds Community Fund's biggest project, the construction and 2014 opening of the MLB Urban Youth Academy. That facility was also the site of many activities leading up to the All-Star Game, such as the Guinness World's Records largest game of catch, with 1,100 participants, a statue dedication for Chuck Harmon -- the Reds' first African-American player -- and the early rounds of a Wiffleball tournament.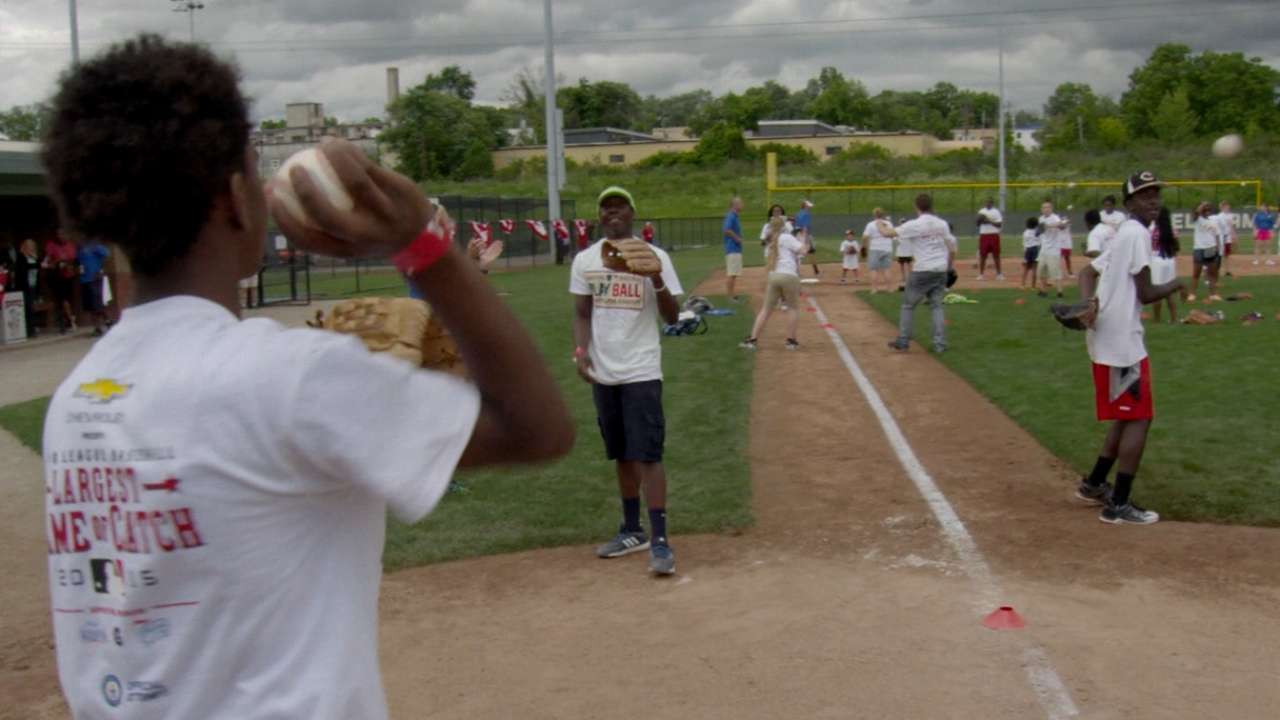 The volume of community events was remarkable, and even more impressive was the timeline in which they were completed. Frank and members of the Reds' front office closely watched how the Twins worked with their community projects and partners for the 2014 All-Star Game. Once that was completed, there was about a year to start formulating plans. But it took months to get projects approved, and even with the weather delays during the winter, the clock was always ticking.
"It was an extraordinarily tight timeline," Frank said. "[MLB] said, 'We're going to give you this big investment, but you've got to be able to deliver other partners and a finished product in time to cut a ribbon by July 9.' It was breathtaking. Nobody said no. People said, 'Oh my God, it's great. We'd love to be a part of it.' Some were really able to roll up their sleeves and get going on it. Other projects didn't come so easy. We were still working right up until the day of most of these ribbon cuts because that timeline was so narrow."
There were successes outside of the All-Star Game, especially as the programming at the Urban Youth Academy hit its stride. In the first year and a half of the facility's opening, there have been more than 950 games played. There has been a turnstile attendance of over 22,000 people this year alone.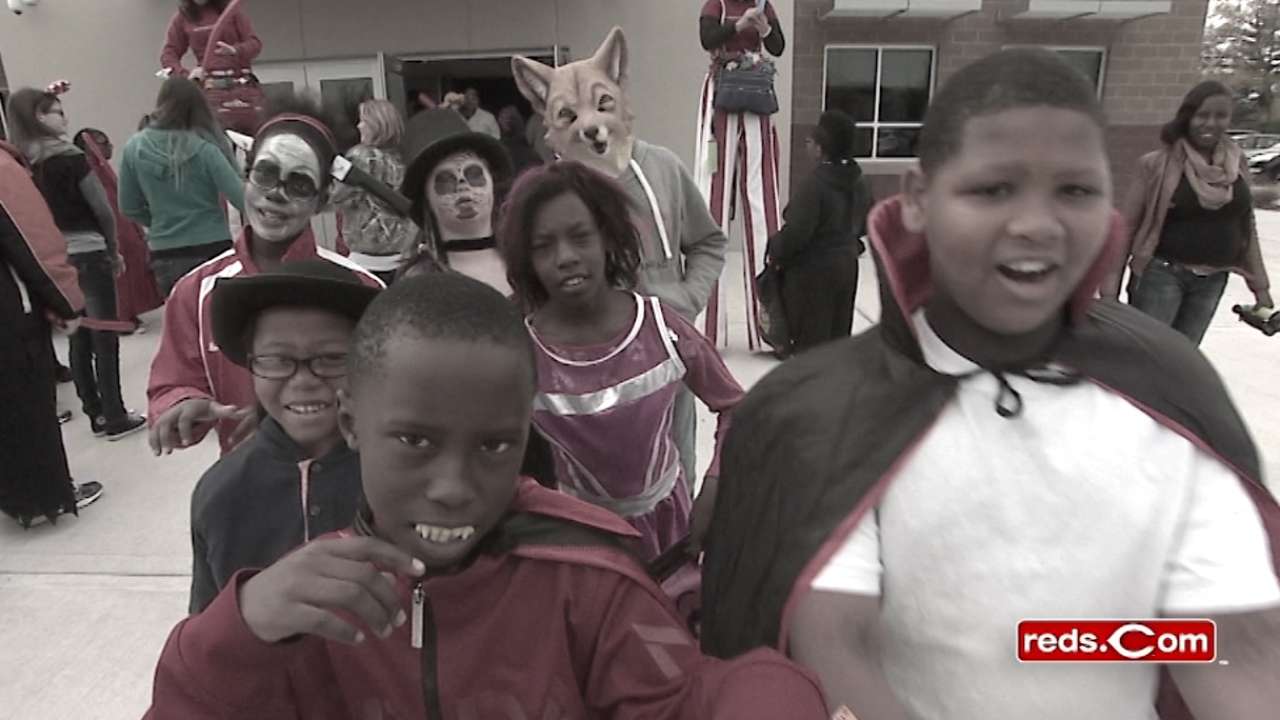 The Reds Rookie Success League now has a home at the academy and RCF's Match Program also has several events there. Eighteen RBI teams have a home now, with the biggest benefit being they have a place to train year-round. About 700 teams that are funded in the Reds youth baseball program have access to open gym time on weekends. A tee-ball program for 5-to-7-year-olds started on Saturdays and Sundays as well. The program will be holding its first winter camp at the academy Dec. 28-30.
An increased emphasis on education has also been fruitful. There have been college recruiting seminars, health and wellness education events, a two-day seminar with the Partnership for Drug-Free Kids, and even a Halloween party that hosted 750 kids. The University of Cincinnati expanded its presence to have some classes taught there two days. Students and faculty members are both there to help tutor and mentor kids.
"Our numbers are through the roof," Frank said. "Now is when we really have the time to focus our efforts on trying to maximize what this complex can be in terms of creating a safe haven for kids, launching kids from junior high to high school, high school to college."
Heading into 2016, baseball programming will add a focus to the elite level of the youth game.
"It used to be we would kind of cap our high-level baseball and softball at the RBI level," Frank said. "Now we're trying to raise the ceiling on that so there's an even higher level of coaching, competition and education and vocation to give kids a better chance to get to college and play professionally.
"Now we really have the opportunity to focus on this incredible complex that we've built."
Mark Sheldon is a reporter for MLB.com. Read his blog, Mark My Word, follow him on Twitter @m_sheldon and Facebook and listen to his podcast. This story was not subject to the approval of Major League Baseball or its clubs.