Surname bonds Brewers' Lind with soldier
MILWAUKEE -- The package was different than the hundreds of others addressed to Brewers first baseman Adam Lind. It arrived in June and did not carry the usual cargo -- baseball cards and a return envelope -- contained in the hundreds of other pieces of mail sent to Lind each season. Notably, this one was marked with bold letters: "U.S. ARMY AIRBORNE."
It was not an autograph request at all. It was a gift.
"I first heard of Adam Lind when I was overseas in Afghanistan," said Daniel Lind, who is not related to Adam but felt a bond when he heard about the Major Leaguer with the same last name. "We were fortunate to get Armed Forces Network over there, and it was probably 2 or 3 in the morning, and I saw some baseball highlights. All of a sudden, I heard the name 'Lind.'
"I didn't know there was a Major League Baseball player with the same name. I became a fan right off the bat."
Daniel Lind, 30, served in the 1st Battalion, 503rd Parachute Infantry Regiment, 173rd Airborne Brigade Combat Team from 2011-14. The late-night connection with the player who shared his name happened in 2012, when Daniel was working an overnight radio guard shift, and Adam was playing for the Toronto Blue Jays.
But Daniel Lind was a Brewers fan. He was raised in Arizona, but picked up an affinity for the Brewers because a few of his best friends in the military were from Wisconsin.
So it was good fortune when, last December, just as Daniel Lind was completing his military service, his favorite player joined his favorite team. The Brewers traded pitcher Marco Estrada to Toronto for Lind, hoping he could fill a void at first base that had existed since Prince Fielder left in free agency.
"I got an idea. I thought it would be nice to send him something to wish him luck," Daniel Lind said. "Watching the highlights and hearing his name, it kind of eased my time over in Afghanistan.
"I guess those guys don't realize it, but when you're over there, it's something to take your mind off stuff. They're just playing baseball, but for us, it's a chance to escape for a minute."
Those escapes were valuable, Daniel said. He was stationed at Forward Operating Base Warrior in Afghanistan beginning in July 2012 and regularly worked patrols off base, serving as a radio and telephone operator on some missions, as a gunner on others. He'd been trained to speak Dari, one of the languages of Afghanistan, which afforded Lind the opportunity to interact with locals. Many of them, he said, were thankful for the American presence.
"There are boys going out every night, putting their lives on the line, so it was a good feeling knowing you're doing something good over there," he said. "I miss the camaraderie. It's a lot like a sports team; you've got each other's back over there."
When he decided to send a gift to Miller Park, Daniel Lind decided it should be something with his name on it. He settled on his Army uniform, and included a letter addressed to Adam explaining each of the badges stitched into what Daniel referred to as his "jersey," including one earned during his first mission in Afghanistan.
"I was fortunate enough to meet some of my best friends and travel all over Europe because I chose to wear this uniform," the letter said. "I truly hope it brings you as much good fortune as it has brought me."
A special delivery for Adam Lind: http://t.co/SmftTl420Z #Brewers pic.twitter.com/WWZJpgUeid

— Milwaukee Brewers (@Brewers) June 24, 2015
Adam Lind had never received anything like it.
"It was a very touching letter and act of kindness from Daniel," he said. "It was extremely unique. I found myself feeling privileged, because I'd never seen anyone get such a gift from a veteran."
Daniel's wish for good fortune came true. In Adam Lind's first game after opening the package, he drove in the go-ahead run in a Brewers win over the Mets. A few nights later, Lind singled for his 1,000th career hit.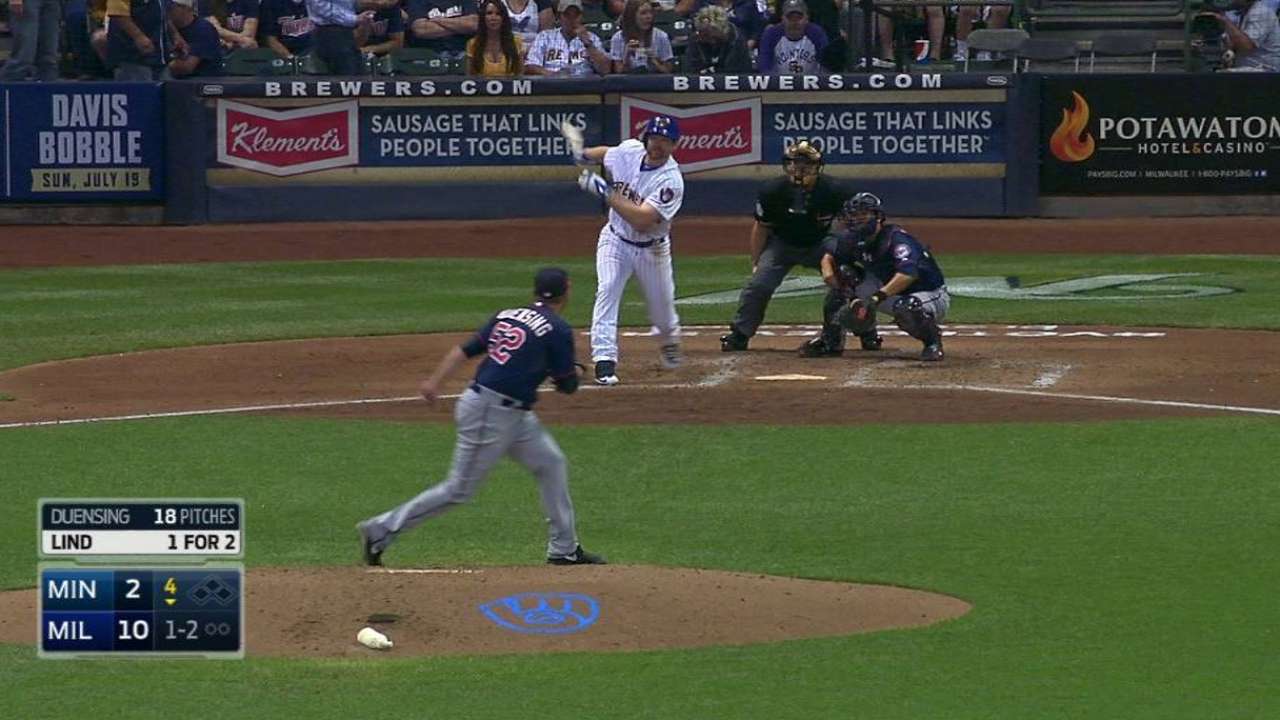 Instead of saving the jersey he wore that night for his personal collection, Adam autographed it and packaged it with other Brewers gear for Daniel.
"From one Lind to another," read the inscription on the back of the jersey, "Thank you for all your service."
Said Adam Lind: "His was 'game-used,' so I thought mine should be, too. That had some meaning to me, so I thought it was appropriate to give it to him."
That meaning was not lost on the recipient.
"When I got that jersey, I thought that was such a cool thing to do," Daniel said. "He could have just written a letter back, or sent a picture. But he sent a jersey that probably meant a lot to him -- his 1,000th hit in the big leagues. That meant a lot to me."
The two men have never met, but Daniel Lind hopes to change that next season. He has family roots in Scottsdale, Ariz., so a Spring Training visit is possible. Or, he may wait until the Brewers travel to nearby Miami in May.
Meanwhile, those uniforms will find a permanent home. Daniel has debated how best to display his, since the name and autograph are on the back, but a cool swath of dirt is on the front. Adam Lind is waiting for the completion of a man cave at home in Indiana, and plans to hang only one uniform on the wall: Daniel's fatigue.
"Usually it's the player giving his jersey to the veteran," Adam Lind said. "This time it was the veteran giving his jersey to the player. Pretty cool."
Adam McCalvy is a reporter for MLB.com. Follow him on Twitter @AdamMcCalvy, like him on Facebook and listen to his podcast. This story was not subject to the approval of Major League Baseball or its clubs.