Despite rivalry, Giants happy for Roberts in LA
New Dodgers manager finished playing career in San Francisco
SAN FRANCISCO -- With Dave Roberts becoming the Los Angeles Dodgers' manager, Giants past and present have renewed reason to respect their archrivals.
Competing against the Dodgers, who have won three consecutive National League West titles, is enough of a challenge for the Giants. Now they must also confront a club that's led by Roberts, who was held in high regard during a brief yet influential 2007-08 stint with the Giants that ended his 10-year playing career.
"As a rival, I have mixed emotions," said Randy Winn, who patrolled the Giants' outfield alongside Roberts and continues to serve the club in various capacities. "On a friendship level, it couldn't happen to a better guy."
Widely viewed as baseball's premier manager, Giants skipper Bruce Bochy gave Roberts his blessing. Roberts played for Bochy in San Francisco and from 2005-06 in San Diego.
"'Doc' has been on the bases and in the dugout coaching, so he has the experience," Bochy said Monday in a text message. "He's a people person with a daily positive attitude that will work well."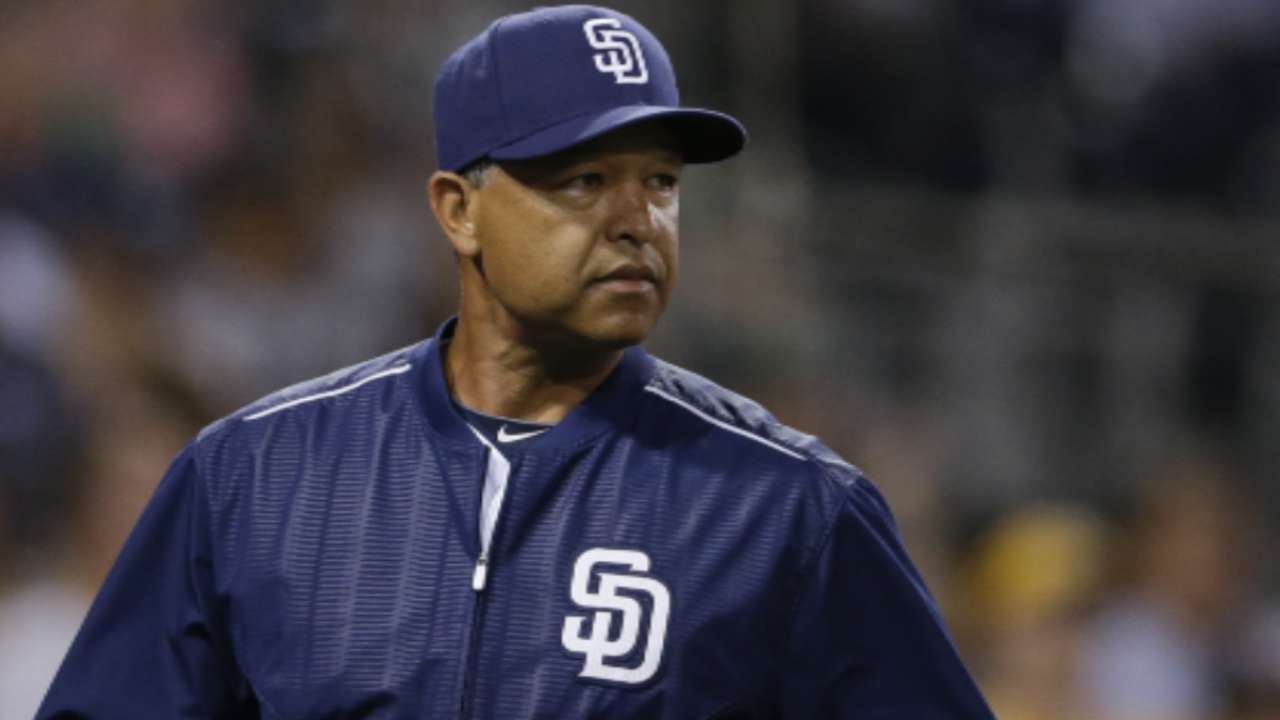 Among the Giants who benefited the most from Roberts was Matt Cain. The right-hander entered his second full Major League season when Roberts arrived in San Francisco as a free agent. Cain endured his most luckless campaign that year, as poor run support doomed him to a 7-16 finish despite a respectable 3.65 ERA. Recognizing the skill that would make Cain a three-time All-Star, Roberts urged the then-22-year-old to avoid feeling discouraged.
"He has a knack for relating to guys. That's something that is huge in this game," Cain said. "To be able to talk to everyone on your team, no matter if they play a different position, and to have that respect when he gives advice is really key. That's a quality not everyone has."
Ex-Giants outfielder Aaron Rowand recalled Roberts' knack for seizing upon teachable moments with others besides Cain: "We'd be going through one of those monotonous drills in Spring Training, and you'd look over and Dave would be with one of the young guys, explaining to him 'why.'"
Former outfielder-first baseman Mark Sweeney noted that Roberts had some of his most productive seasons toward the end of his career, which demonstrated that he's a "student of the game." Sweeney added, "When you're not a superstar, you try to maximize your strengths."
Cain agreed: "Doc is a huge fan of the game. He loves to study things that others don't, and that's why he has stayed around for so long."
Not only does Roberts lack managerial experience, but he's also taking over a team in an enormous market that's expected to excel each season. However, Sweeney observed that the signature moment of Roberts' playing career -- his stolen base in Game 4 of the 2004 American League Championship Series that seeded the Red Sox's comeback from a 3-0 series deficit against the Yankees -- proved he can cope with the challenge.
"The pressure is not going to scare him off," Sweeney said.
Though the Dodgers haven't always been known as a cheery, unified bunch, that could change under Roberts, who's universally known as a truly nice individual.
"There's not one guy in that clubhouse who's going to dislike him," Rowand predicted.
Chris Haft is a reporter for MLB.com. Read his blog, Haft-Baked Ideas, follow him on Twitter at @sfgiantsbeat and listen to his podcast. This story was not subject to the approval of Major League Baseball or its clubs.