MLB.com Columnist
Bernie Pleskoff
Scouting profile: Lucas Sims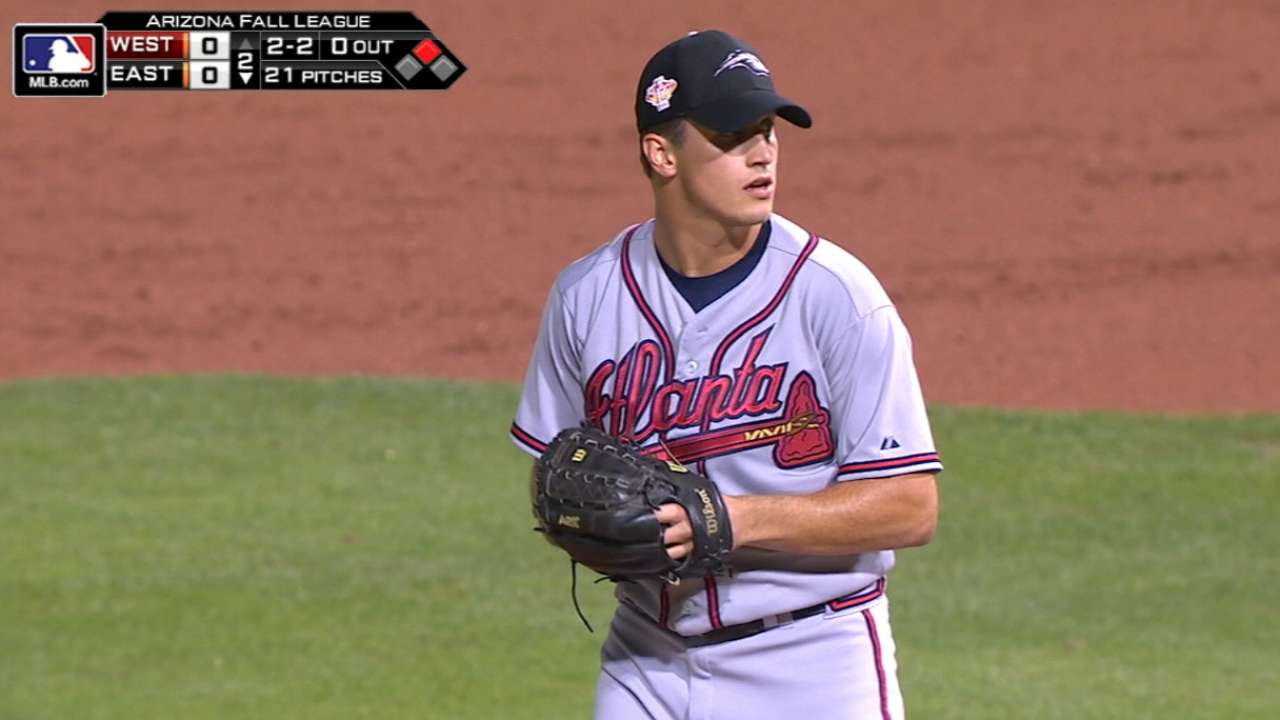 Background
Right-handed pitcher Lucas Sims has been a huge Atlanta Braves fan all his life. His parents took him to Turner Field when he was only four years old, and he has been a life long supporter. Today, he wears the organizational uniforms of his favorite team.
Although he had looked to attend Clemson University after finishing at Brookwood (Snellville, Ga.) High School it didn't quite work out that way. His beloved Braves selected the 6-foot-2, 225-pound Sims in the first round of the 2012 Draft. One day he will likely take the mound and pitch for the Braves, making a childhood dream come true.
I watched Sims in the Arizona Fall League. He made up for some innings he lost this past season. He injured a hip in a May accident when the team bus crashed while he was pitching for Class A Advanced Carolina.
Sims is No. 8 on the Braves Top 30 Prospects list.
Repertoire
Sims relies heavily on his fastball that he has been throwing between 91-94, but up to 96 mph. Sitting mostly at 93, his highly charged fastball is dynamic and has good life. He also throws a good 80-81 mph curveball, an occasional slider at 79 mph, and a changeup that comes in between 81 and 83 mph.
Basically, at this point of his development Sims has two quality pitches in his fastball and curve. However, the well-rounded total four-pitch repertoire provides a very complete and solid arsenal for his goal of becoming a big league starting pitcher. Clearly, the slider and changeup are works in progress.
Mechanics
In his Fall League starts I have seen a confident Sims with an ability to repeat a very smooth delivery with good extension and finish. In only one start did I see a more inconsistent Sims with a variety of release points and a lack of control. In general, his starts were sparkling.
Selected to start in the November Fall Stars Game, Sims worked two innings and yielded two earned runs on four hits. He also struck out four. In his next start, Sims went three solid innings, giving up two hits and no runs while again striking out four. He was in total command of his pitches. He looked in rhythm and self-confident. In consecutive starts, he looked like two completely different pitchers. That happens in the Fall League, but I have been convinced he can become a solid starting pitcher.
Using good balance with an easy, uncomplicated motion, it looks at times as though Sims tries to throw too hard. He is most effective when, other than a slight hesitation, he eases into his delivery without extraneous motion. The ball comes out of his hand with ease. His loose wrists and strong upper body do a great deal of the work.
Strengths
When he repeats his delivery, Sims looks the part of a quality rotation starter. When he reaches back for a little extra, his command and control seem to suffer. His secondary pitches, especially his curveball, are generally crisp and effective. His fastball/curveball combination keeps hitters guessing.
Weaknesses
Sims has to continue to work to find consistency in his release point and in the finish of his delivery. He gets hit when he leaves pitches up high. When Sims gets in a smooth groove and repeats his delivery, he's effective. When he commands his fastball, which is the secret of his success, he can dominate.
I find this interesting
The Braves found Sims in their own Georgia back yard. He is from Gwinnett County, the same place the Braves found former draft picks Jeff Francoeur and Brian McCann in the 2002 Draft.
The future for Sims
Sims will have to find more consistency repeating his delivery before he can take his place in the Braves' rotation. With the recent stockpile of young pitchers new to Atlanta, Sims will face some competition to get to the big league mound. However, his draft status as a first round selection will work in his favor.
Sims in a word
Explosive
Bernie Pleskoff has served as a professional scout for the Houston Astros and Seattle Mariners. Follow @BerniePleskoff on Twitter. This story was not subject to the approval of Major League Baseball or its clubs.