Simmons' stellar 'D' has dazzled for years
Angels' newly acquired shortstop impressed former coaches from the start with hard work, ridiculous plays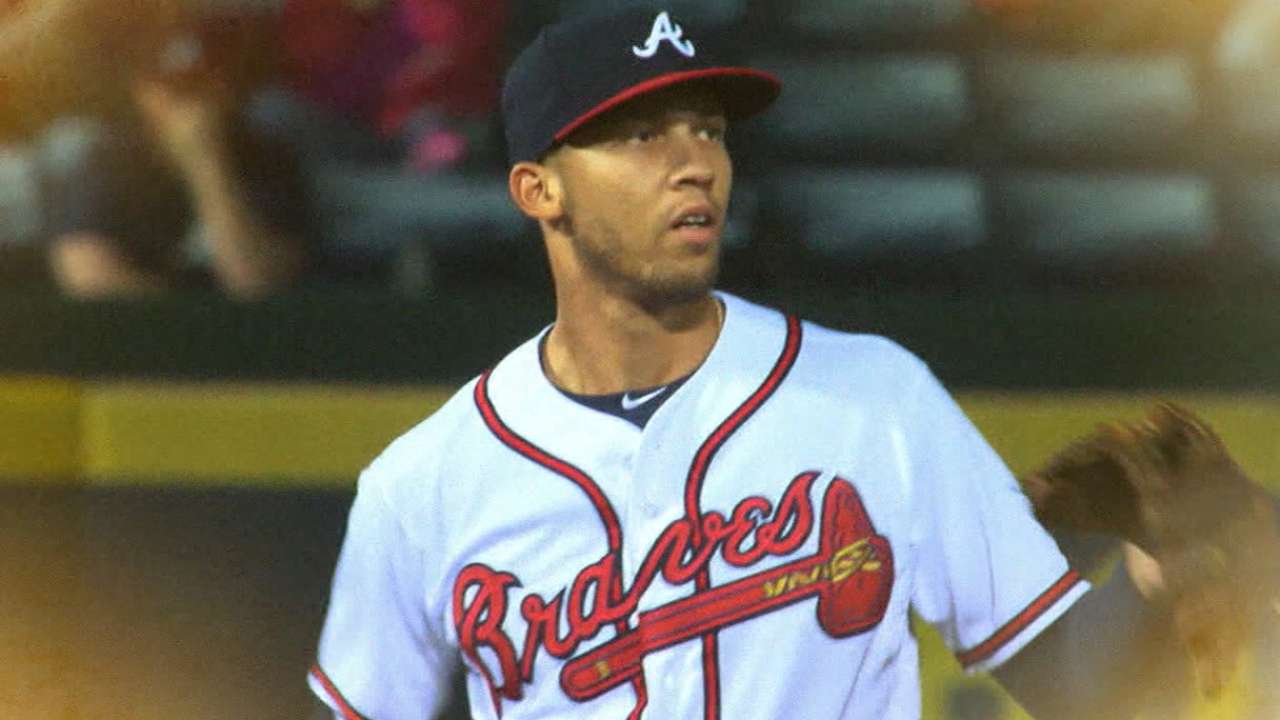 ANAHEIM -- Terry Pendleton calls Andrelton Simmons "one of my sons." In Atlanta these past four years, the current Braves first-base coach and former All-Star third baseman cared for Simmons as if he were one of his own. He disciplined him, encouraged him and supported him. And when the Braves traded Simmons to the Angels as part of their steadfast rebuilding efforts on the night of Nov. 12, "It hurt my heart," Pendleton said.
Pendleton shared an infield with the great Ozzie Smith in St. Louis for seven years, so he appreciates the benefit -- the luxury -- of a premier defensive shortstop. Pendleton watched Simmons single-handedly impact countless games with his glove, in much of the same way Smith once did. Through it all, Pendleton was constantly in awe of Simmons' unrelenting desire to work.
"Sometimes he works too much, to a fault," Pendleton said. "Seriously. And if he's not having success, he works even harder. Sometimes you need to relax a bit and let it come to you. He tries to attack it too much sometimes. But the bottom line is he wants to win. It doesn't matter what the cost is."
Kurt Russell, Simmons' coach at Western Oklahoma State College, recalled how he would make 10-15 diving plays during pregame batting practice. Gerald Turner, the scout who signed him, said Simmons would be "a 100" on a 20-80 scouting scale of preparation. Pendleton, the man who hit him all those fungos, estimates that Simmons fields 40 ground balls to one direction "before he even thinks about going the other way."
This season, Pendleton learned to walk away after hitting only a handful. It was his only way to make sure Simmons didn't work his way onto the disabled list.
"He'll continue, he'll continue, he'll continue," Pendleton said. "If you keep hitting them, he'll keep taking them."
Simmons basically has total recall, which allows him to speak four languages and helped make his initial psychological test for the Braves the stuff of legends.
His mind helps him anticipate events before they occur. His brief pitching career helped harness his rocket arm. His soccer skills produced exceptional footwork. And his maniacal work ethic brought it all together, refining a skill set that has made Simmons arguably the best defensive player in the game.
Simmons won the Rawlings Gold Glove Award in 2013 and '14 and has been the Wilson Defensive Player of the Year at shortstop each of the past three seasons, not to mention the overall Defensive Player of the Year in 2015.
But the awards don't do it justice. The metrics take it a step further. Defensive Runs Saved (DRS) determines a fielder's ability, relative to his peers, to convert balls into outs. Per Baseball Info Solutions, the brains behind DRS, a score of plus-5 is considered "above average," while plus-10 is "great" and plus-15 is "Gold Glove caliber."
In 2013, Simmons was a plus-41. Since that year, his first full season, the 26-year-old has compiled a 94 DRS that is easily the best in the Majors. Advanced fielding stats can be erratic at times, but all of them -- Ultimate Zone Rating, Defensive Wins Above Replacement, Defensive Index, you name it -- basically agree that Simmons is the pinnacle.
He also passes the eye test.
"He's almost like a freak of nature," said Turner, now an area scout with the Blue Jays. "He just does things that other people can't do."
Simmons has taken that jump throw in the hole, the one that became synonymous with Derek Jeter, to a whole new level …
He can range well to his left …
He is a master of the charging barehanded play …
He covers more ground on fly balls than most outfielders …
He shuts down a running game …
And he's a genius improviser. Exhibit A …
Exhibit B …
Russell discovered Simmons in Curacao and brought him to his small junior college for the spring of 2010. Simmons was 20 then, 6-foot-1, 150 pounds soaking wet and giving considerable thought to a career in soccer after Major League teams ignored him as a teenager. He missed more than half his freshman year with a foot injury, but Simmons was still drafted in the second round of the 2010 Draft and still made a play that will forever resonate with Russell.
It came against LSU Eunice, during the Junior College World Series. A towering fly ball was hit, but Russell's left fielder couldn't see it. It was lost in the lights.
"We look up, and freaking Simmons is running down the third-base line, full speed, slides and catches it on the warning track with a basket catch," Russell said. "He just thinks every ball that's hit is his."
Simmons made 38 pitching appearances in college and impressed scouts with an upper-90s fastball and plus slider. There were questions about Simmons' bat, and he missed so much time that evaluators felt more confident projecting out his arm. But Russell insisted that Simmons was more valuable as a shortstop, and Simmons was adamant about playing there.
When the Braves made Simmons the 70th overall pick that June, they announced him as a pitcher. Simmons refused to sign unless they promised, in writing, to use him as a position player. The Braves were hesitant, but Turner insisted that they move forward. He saw unteachable shortstop instincts from the moment he first laid eyes on Simmons.
It came in a game against Seminole Junior College. Simmons ranged behind second base to field a grounder up the middle and was about to fire to first base when his second baseman ran directly in front of him. Simmons dropped his arm slot down below his knees and still fired a bullet to get the runner out by a couple of feet.
"You just don't make plays like that," Turner said. "He was so far, lightyears ahead of everybody else. It's like he knew where the ball was going to be hit before they hit it."
Pendleton's favorite Simmons play never made the highlight reels and didn't even result in an out. It took place in the sixth inning at Rogers Centre on April 18, on a base hit by the speedy Devon Travis near the left-field line.
Off the bat, it looked like a sure double. But Simmons darted after it, running at a top speed of 19.8 mph, making a sliding catch and quickly firing a one-hopper to second base, which, according to Statcast™, stood a whopping 141 feet away.
Travis was held to a single and never scored.
"Some people would never understand that," Pendleton said. "The left fielder has to make that play. That's a double."
These are the types of plays that define Simmons. They're why he's considered a once-in-a-generation defender. They're why it's rather easy to look past his .256/.304/.362 career slash line.
They're why the Angels gave up so much -- their two best prospects, Sean Newcomb and Chris Ellis, and their lynchpin, Erick Aybar -- to employ Simmons as their shortstop for the next five years.
They're why Pendleton was so heartbroken to see him go.
Alden Gonzalez is a reporter for MLB.com. Follow him on Twitter @Alden_Gonzalez and Facebook , and listen to his podcast. This story was not subject to the approval of Major League Baseball or its clubs.