Bradley aiming to be Indians' next big slugger
No. 7 prospect leads Low Class A level with 27 homers, 92 RBIs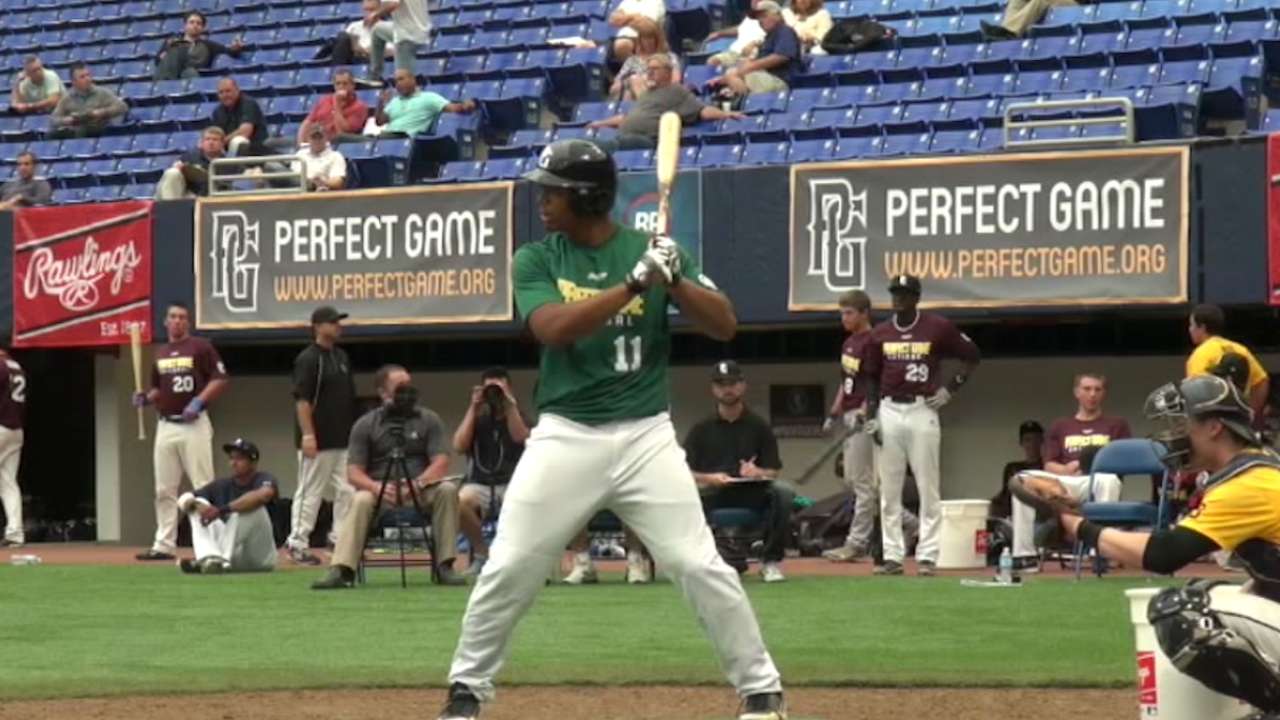 CLEVELAND -- Every Major League team is searching for the next great power hitter. The Indians have lacked that kind of prospect in the upper rungs of the farm system for several seasons, making the hunt for more thump in the heart of the order almost an annual exercise each winter.
Cleveland has not drafted and developed an impact power hitter since the days of Jim Thome and Manny Ramirez, but perhaps that drought will end a few summers from now. This past season, power was on full display roughly 18 miles east of Progressive Field at Classic Park, home of the Class A Lake County Captains.
That is where Bobby Bradley provided hope that maybe, just maybe, the Tribe has found its next great power hitter.
"Our goal," said director of player development Carter Hawkins, "is to have him be an elite Major Leaguer."
Bradley has yet to crack MLB.com's Top 100 prospects list -- he is ranked as Cleveland's No. 7 prospect and the eighth-best first-base prospect in baseball -- but the left-handed batter has cranked a lot of long balls. In 650 professional plate appearances, Bradley has clubbed 35 homers, while posting a .555 slugging percentage and a .264 Isolated Power rating.
This past season, the 19-year-old Bradley played 108 of his 110 games with Class A Lake County, where he was 2.4 years younger than the average Class A (low) position player, according to Baseball-Reference.com. His youthfulness did not stop Bradley from leading all of Class A (low) with 27 home runs, 92 RBIs and a .529 slugging percentage.
When compared to MLB.com's Top 100 list, Bradley's .254 ISO in 2015 would have ranked fourth, trailing only Texas' Joey Gallo (.280), Houston's A.J. Reed (.272) and Texas' Lewis Brinson (.269).
"I wouldn't say [I'm] surprised," Bradley said of his success, while at the Indians' fall development program at the end of the season. "It's more of realizing what I've done to actually get to this area where I am."
The Indians selected Bradley in the third round of the 2014 Draft out of Harrison Central High School in Mississippi. In his first taste of pro ball that season, Bradley took the Arizona Rookie League by storm, hitting .361 with eight homers, 50 RBIs and a 1.078 OPS in 39 games. His OPS led the league and Bradley was named the league's Most Valuable Player.
This past season, Bradley turned in a .264/.357/.518 slugging percantage in 110 games between Lake County and Class A Advanced Lynchburg, ending with 46 extra-base hits, 57 walks and 62 runs to go along with the homers and RBIs. As power hitters are prone to do, though, Bradley also struck out 150 times, accounting for 32 percent of his plate appearances.
"You look at most power hitters, they have high strikeout numbers," Hawkins said. "That, for the most part, is going to be something that's there during his career. So, in terms of how to curb that a little bit, the approach aspect of things will be huge. Understanding how guys are going to attack him and just staying within himself.
"He's 19 years old this year in the Midwest League. It's easy to get a little bit caught up in thinking about how many home runs you're hitting or trying to set teenage records in the Midwest League, or whatever was on his mind. I think as he grows and matures, he'll settle down a little bit."
Beyond gaining a better understanding of how pitchers will approach him, or adjusting to the idea that teams will implement defensive shifts against him, Bradley said he wants to improve in the field. He plans on using the offseason and spring to focus on his footwork around first base and also on the swiftness of his first step on ground balls.
Hawkins said Bradley's conditioning will also continue to be key in his development.
"When we're talking about a teenager," Hawkins said, "there's obviously a lot of different areas he can improve upon. One thing he's been really focused on, especially last season, was his body from a strength and conditioning standpoint. He really worked hard in our strength camps in Arizona."
At the plate, the key will be realizing that there is a lot more to becoming a true power hitter than just tape-measure shots.
"He's definitely not a guy that's going to slip under the radar at this point," Hawkins said, "so understanding the approach that pitchers are going to have against him and how he needs to react to that, at-bat to at-bat, game to game, week to week, will be something that will help him to take that next step in his career."
Jordan Bastian is a reporter for MLB.com. Read his blog, Major League Bastian, follow him on Twitter @MLBastian and listen to his podcast. This story was not subject to the approval of Major League Baseball or its clubs.