Rumor roundup: Papelbon, Storen on block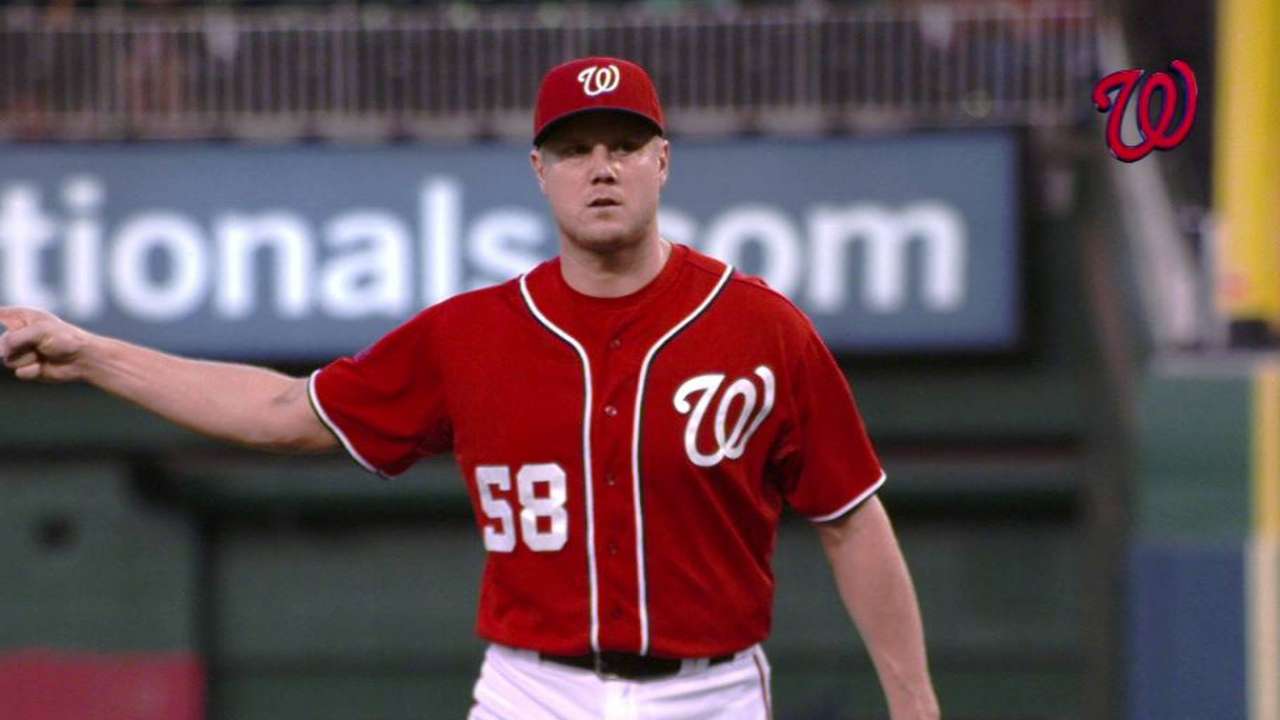 The Nationals reportedly emerged Sunday as one of two front-runners to land top free-agent reliever Darren O'Day, but that wasn't the only rumor regarding a possible bullpen makeover by the Nats.
With that in mind, here's a look at some of the top Hot Stove stories circulating around the big leagues:
Papelbon, Storen on trade block
In addition to their interest in O'Day, the Nationals are likely to move relievers Jonathan Papelbon and Drew Storen this offseason and are one of the clubs pursing Reds closer Aroldis Chapman, according to a FOXSports.com report citing baseball sources.
If Papelbon is dealt, it would be the second time the closer has been traded in less than a year. The Nationals acquired him from the Phillies in July, but Papelbon struggled with his new club and was suspended for the final seven games of the season -- three games by MLB for throwing at Orioles third baseman Manny Machado and four games by the Nats for a dugout altercation with teammate Bryce Harper.
Storen saved 29 games for the Nationals this year before being bumped into a setup role following the Papelbon trade. Storen was picked 10th overall by the Nats in the 2009 Draft and is under club control for at least one more season.
Astros to discuss extension with Keuchel
Dallas Keuchel is already in line for a significant pay raise this winter as he enters salary arbitration for the first time in his career, and the ace left-hander is expected to engage in talks with the Astros regarding a long-term contract extension, according to the Houston Chronicle.
Keuchel, who is coming off a brilliant year in which he won the American League Cy Young Award, could become a free agent as early as the end of the 2018 season. The Astros, though, seem open to at least talking about an extension.
"When we're talking about players entering arbitration, it's natural that process will lead to some discussion of either doing a multiyear [deal] to buy out the arbitration years or potential free-agent years," Astros general manager Jeff Luhnow told the newspaper. "It becomes more challenging with a high-profile Cy Young Award-winning type of player. ... But certainly from our standpoint, we believe it's worth having a discussion about it."
Red Sox targeting free-agent pitchers
The Red Sox have been linked to four top-flight free-agent pitchers -- David Price, Zack Greinke, Johnny Cueto and Jordan Zimmermann -- and club president of baseball operations Dave Dombrowski said Sunday he did not have a preference among the available starting pitchers and the Sox would be interested in any of them.
"There are a lot of quality starting pitchers out there, and I'm sure some organizations like some better than others," Dombrowski said in an interview on MLB Network Radio. "But I would think you would feel comfortable to say that any of them are under consideration for us."
It's clear the Red Sox are looking to the free-agent market to add a No. 1 starter to their rotation. Boston already traded away four prospects this month to land closer Craig Kimbrel from the Padres.
"I think right now with the market as flush as it is, the free agents is an area that we would pursue more," Dombrowski said. "But I think that I do feel comfortable with any names out there. We'd have interest in them, and hopefully someone will have interest in us."
Austin Laymance is a reporter for MLB.com. This story was not subject to the approval of Major League Baseball or its clubs.