Notre Dame prevails in Fenway football game
Iconic ballpark hosts Shamrock Series between Irish and Boston College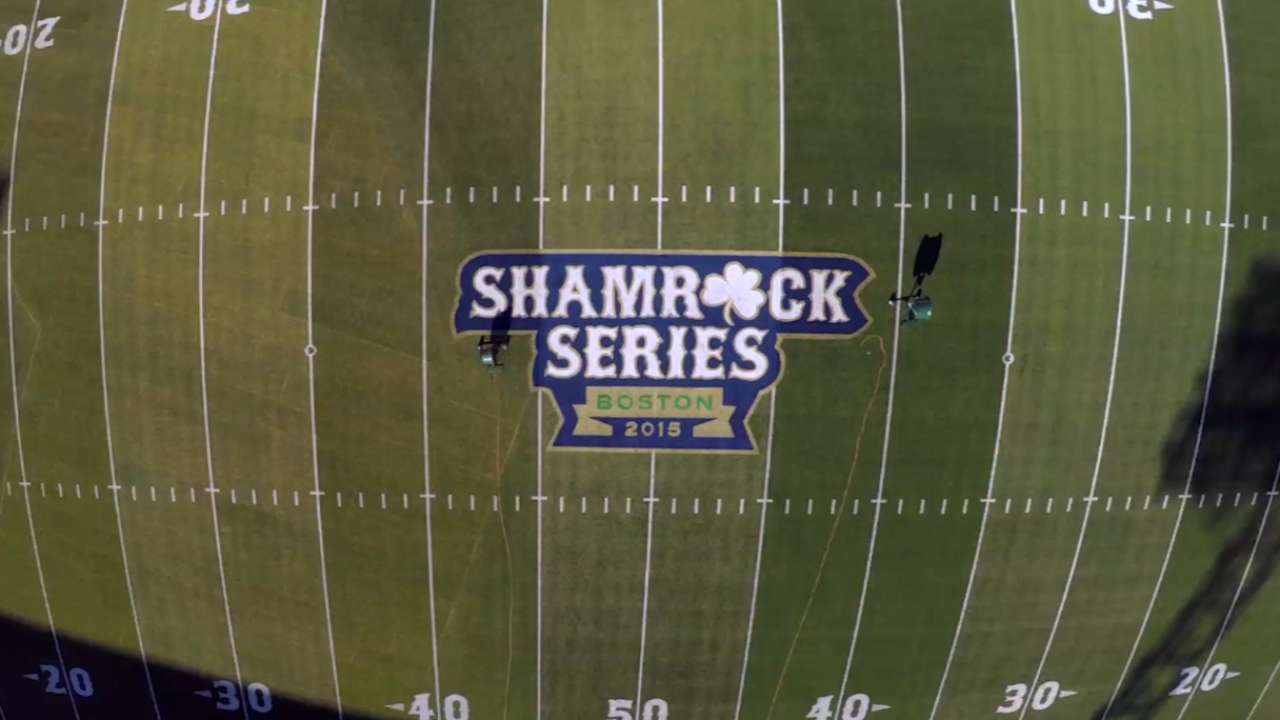 BOSTON -- Fenway Park was greener than usual. Rows of new sod gave only a hint of an infield. Notre Dame's green-suited mascot, the Leprechaun, pulled a glove from his gym bag and joined six of his cheerleading brethren in a game of catch near Pesky's Pole before the game. The Green Monster featured sponsor logos on green sheets and a logo for the Shamrock Series, Notre Dame's annual home-away-from-home game.
And then the Irish emerged from the Red Sox dugout, clad in emerald green from shoulders to ankles -- their heads and toes donned shiny gold helmets and cleats, respectively.
For the first time since 1968, Fenway Park hosted a football game on Saturday night, with Notre Dame defeating Boston College, 19-16. Brian Kelly, the head coach of the Irish, grew up in the Boston suburb of Chelsea.
"I came out a little bit earlier than I normally do," Kelly said after the game. "I came out 15 minutes earlier and just looked around and [at] the Fenway Park people. [Red Sox president] Sam Kennedy did a terrific job transforming the park into a football stadium. It really felt like a football stadium. … It just felt like a great venue. I think they should play more here."
Recently retired outfielder Torii Hunter was on hand to watch his son, Torii Jr., catch one pass for 11 yards for Notre Dame. The grab came in right-center field, about 40 yards from the spot where his father flipped over the wall into the Red Sox bullpen during the 2013 ALCS.
"This is Fenway," Torii Sr. said after the game, waiting for his son to finish dressing at the locker usually assigned to David Ortiz, who broke into the Majors with Torii and the Twins in 1997. "A lot of great ballplayers came here. I told my son just to enjoy it. Not many people have a chance to set foot onto this field."
Ayyyyyyy Good lookin out @davidortiz pic.twitter.com/vaCpUrudVu

— Torii Hunter Jr. (@THunterJr) November 20, 2015
• Papi gives locker to Torii Hunter Jr.
Boston College, playing a road game four miles from its Chestnut Hill campus, was relegated to the less-roomy visitors clubhouse. The Eagles chose to dress on their campus before boarding buses to the ballpark, where they utilized the indoor batting cages to spread out a little more.
It wasn't the prettiest of games -- sure-handed Notre Dame receiver Will Fuller dropped a likely touchdown in deep center field, a catch Mookie Betts makes easily -- but a game the Irish were expected to win by two touchdowns came down to the last minute.
Notre Dame turned the ball over three times in the red zone -- each time inside the 10-yard line -- mistakes that Kelly reflected on after the game.
"Well, it's like anything else -- I've been trying to prepare for this moment -- it's like leaving runners in scoring position," he said, drawing laughs. "Pretty good? Only so many times you can do that, right? You can't go down there and not come away with points."
But the Irish managed to come away with the victory by not allowing the Eagles to capitalize on the turnovers. Senior linebacker Joe Schmidt, who grew up a Red Sox fan in California, helped keep B.C. off the board.
"It's one of the great things about Notre Dame, to be able to play at a place like Fenway," Schmidt said. "I feel like we're so blessed to be living this life right now. We played at Notre Dame Stadium, which is incredible. We played at Fenway Park, couple years ago we played at Soldier Field. Yankee Stadium. It's why you come to Notre Dame, to play in venues like this, in front of a rabid Notre Dame crowd. It was great."
Dan Cichalski is a senior editor for MLB.com. This story was not subject to the approval of Major League Baseball or its clubs.