Giants prospects cogs on Fall League title team
Arroyo, Williamson fuel Scottsdale's championship win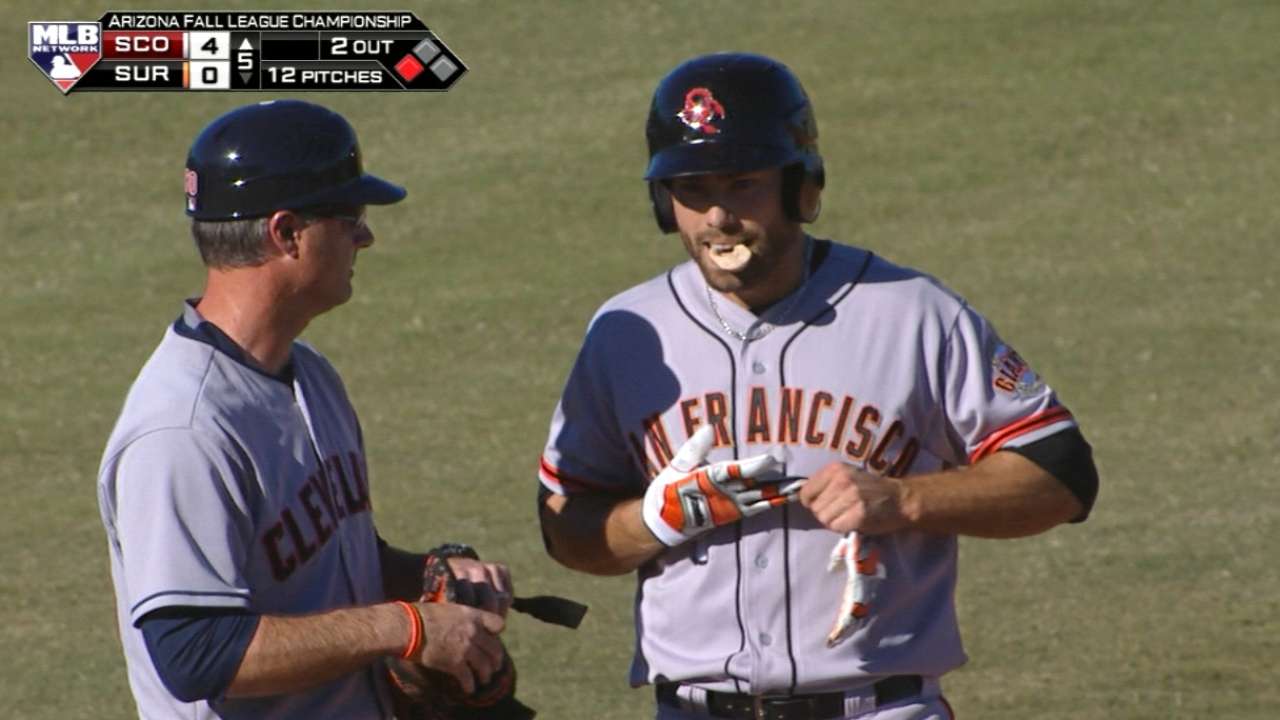 SCOTTSDALE, Ariz. -- It didn't take long after shortstop Christian Arroyo secured the final out of the Arizona Fall League championship game on Saturday for him to be in the embrace of Scottsdale Scorpions teammate and fellow Giants prospect, outfielder Mac Williamson.
Arroyo made a spectacular sliding catch along the warning track in left-field foul territory to clinch the 6-4 victory and rushed to the infield, where the rest of his teammates had already begun mobbing each other. But the first person he looked for was the man he had been rooming with the past six weeks in Arizona.
"The chemistry you've got within this team and especially the Giants organization, it's unparalleled," Arroyo said. "Since week two [of the AFL], it's been like we've played our whole careers together."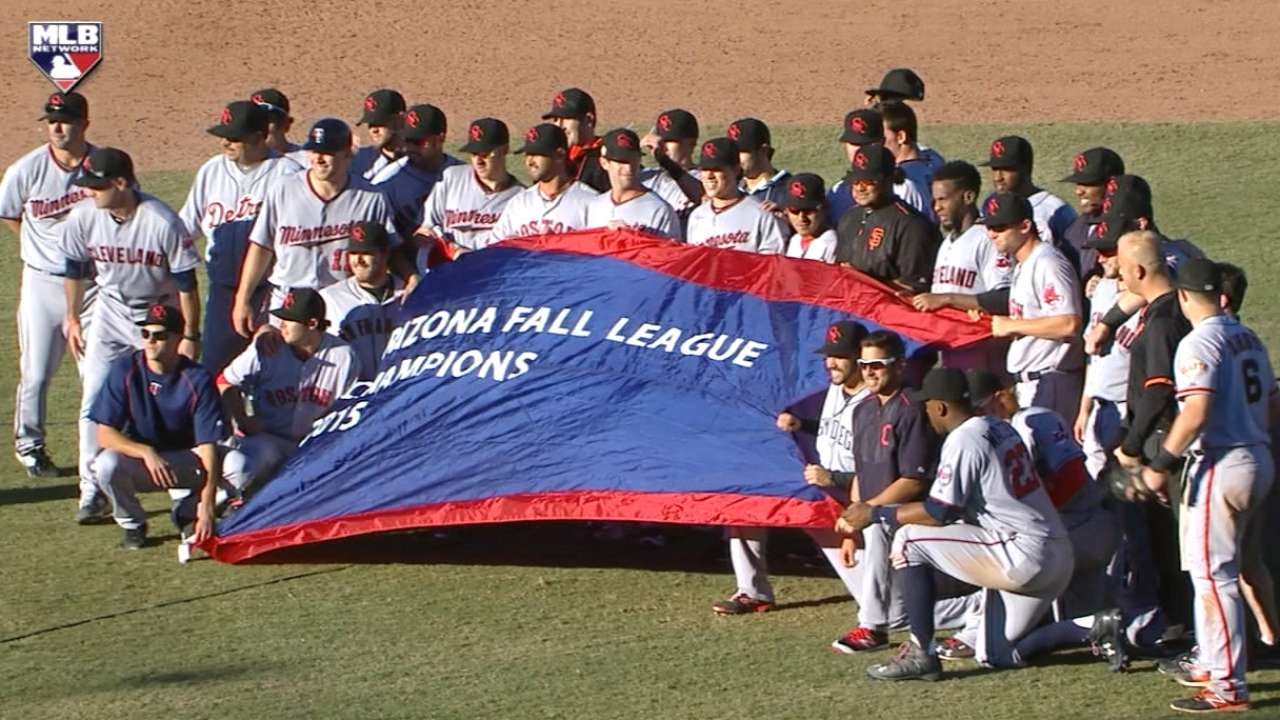 Arroyo was the Giants' first-round Draft pick in 2013, while Williamson was selected in the third round of 2012. After the past three seasons in the same organization, this fall was the first time Arroyo and Williamson had been teammates. Their friendship, however, dates back to last December, when they bonded during strength-and-conditioning workouts at Scottsdale Stadium -- the same facility they won an AFL title 11 months later.
• Team effort lifts Scottsdale to Arizona Fall League title
The pair of San Francisco prospects -- Arroyo is ranked No. 2 and Williamson 13th by MLBPipeline.com -- played an integral role in the Scorpions' championship.
"They preach a winning mentality from top to bottom with us," Williamson said of the Giants, World Series champions in the past three even-numbered years. "It's about what can you do to help the team win. No organization is stacked top to bottom with prospects, but the key for us is to know how to win ballgames."
That know-how was exemplified Saturday when Arroyo singled with two outs in the fifth inning. Williamson, batting cleanup behind Arroyo in the Scorpions' order, didn't swing for the fences or try to do too much. Instead, Williamson said he stayed calm in the batter's box, driving a triple into the right-center gap, knocking in Arroyo to increase Scottsdale's lead to 4-0.
Arroyo and Williamson accounted for three of Scottsdale's six runs in the win over the Surprise Saguaros. They each went 2-for-5, and Arroyo scored two runs, while Williamson scored one and had the RBI.
"To be batting three and four with that guy," Arroyo said, "all I'm trying to do is get on so he can drive me in."
Living together, Williamson and Arroyo have been able to grow closer both on and off the field. Williamson made his Major League debut in September, getting 32 at-bats in 10 games. The 25-year-old has been able to share what he learned in the bigs with the 20-year-old Arroyo.
"It's been really fun to see Christian grow over the last six weeks," Williamson said. "Being 20 years old, the youngest guy on our team, and coming off a really good year in [Class A Advanced] San Jose, I think he wanted to continue to prove he belonged. And he did more than that."
Arroyo finished the AFL season with a .308 average, three home runs and 13 RBIs. He was also named to the West roster of the Fall Stars Game, which included the AFL's best prospects. Williamson didn't receive a Fall Stars bid, but he was a finalist for the Joe Black MVP Award -- not a bad consolation prize after hitting .370 with two home runs and 14 RBIs.
Each plans to take a few well-earned weeks off after their AFL title. But in December, both will be back at Scottsdale Stadium, taking part in the same program that brought them together.
Evan Webeck is a senior journalism student at Arizona State University. This report is part of a partnership between MLB.com and ASU's Walter Cronkite School of Journalism and Mass Communication. This story was not subject to the approval of Major League Baseball or its clubs.