Twins at the heart of Fall League championship
Several prospects chip in, with Walker plating 3, Rogers earning win, Burdi collecting save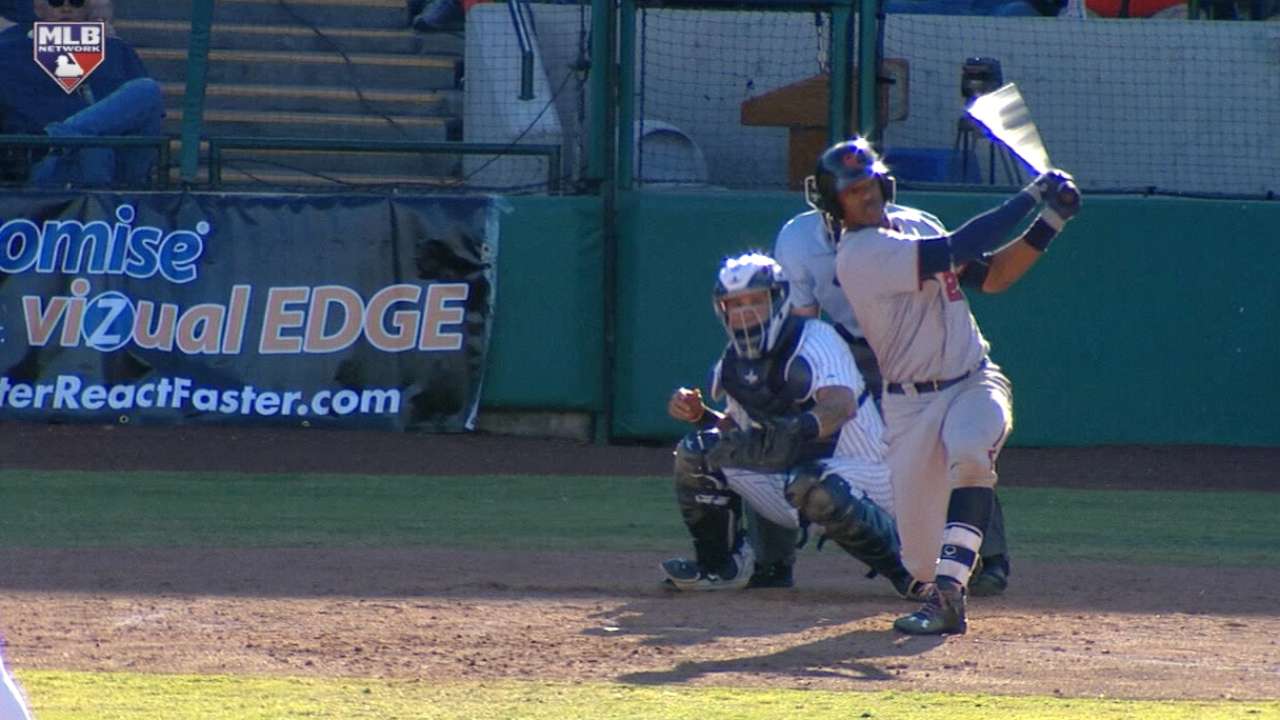 SCOTTSDALE, Ariz. -- The Scottsdale Scorpions earned the 2015 Arizona Fall League championship, beating the Surprise Saguaros, 6-4, on Saturday thanks in large part to the performance of several Minnesota Twins prospects.
Taylor Rogers, the Twins' No. 13 prospect, according to MLBPipeline.com, started the game for Scottsdale and held Surprise scoreless through three innings. Trevor Hildenberger, Jake Reed and Nick Burdi each backed Rogers with an inning of relief, combining to hold the Saguaros to one run over three frames, while Adam Brett Walker II starred at the plate, going 2-for-4 with three RBIs.
Rogers, who was 2-2 with a 2.88 ERA in six starts during the AFL's regular season, concluded his year with a strong start, giving up just two hits and striking out two to earn the win.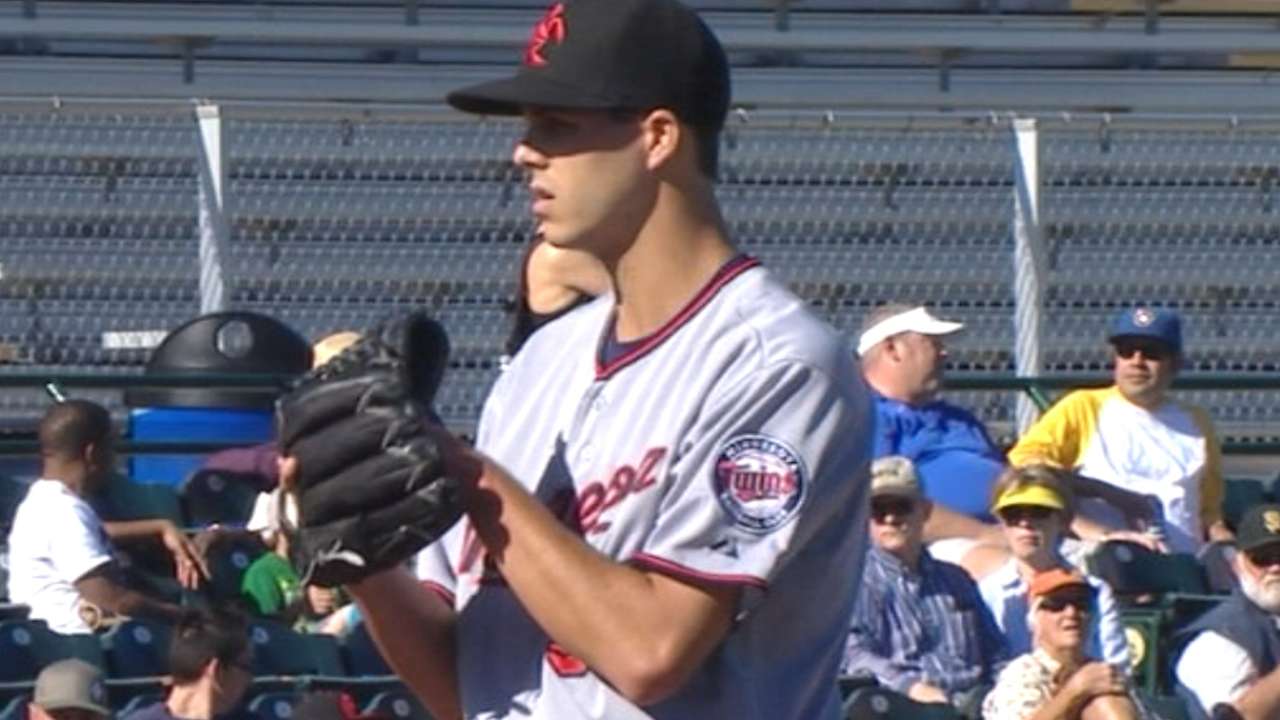 The 24-year-old left-hander retired the side in order in the first, then had to work around a bloop single and an error in the second.
"Errors happen, and so do walks," Rogers said. "If you just minimize those and make up for them, it should be all right."
Rogers' changeup was a pitch he hoped to improve on during his stint in the Fall League, and he found success with it during Saturday's outing.
"I was able to mix it in with the other two," Rogers said. "Hopefully it kept them off balance a little bit."
Facing the top of the Saguaros' order in the third, he utilized the changeup, getting Ramon Torres (Royals) and Yadiel Rivera (Brewers) to ground out before St. Louis' Aledmys Diaz hit a double to left. Staying focused, Rogers got Jurickson Profar (Rangers) to ground out on the second pitch of the at-bat.
Hildenberger, a 22nd-round pick of the Twins in 2014, replaced Rogers in the fourth, retiring the heart of the order on 16 pitches to cap a successful Fall League campaign in which he posted a 2.13 ERA with 12 strikeouts in 12 2/3 innings.
Reed, the Twins' No. 17 prospect, entered the game in the eighth, and just as Hildenberger did, faced the heart of the order. With the Scorpions up, 6-3, Reed had a rough start, walking Gary Sanchez on five pitches. But the Twins' 2014 fifth-rounder rebounded to strike out the next three batters -- Patrick Wisdom (Cardinals), Tyler Austin (Yankees) and Bubba Starling (Royals).
Walker, the Twins' No. 10 prospect, struggled during the Fall League season, hitting just .189, but he came through on Saturday, lining an RBI single in the fourth and ripping a two-run double in the eighth to extend Scottsdale's lead to 6-3.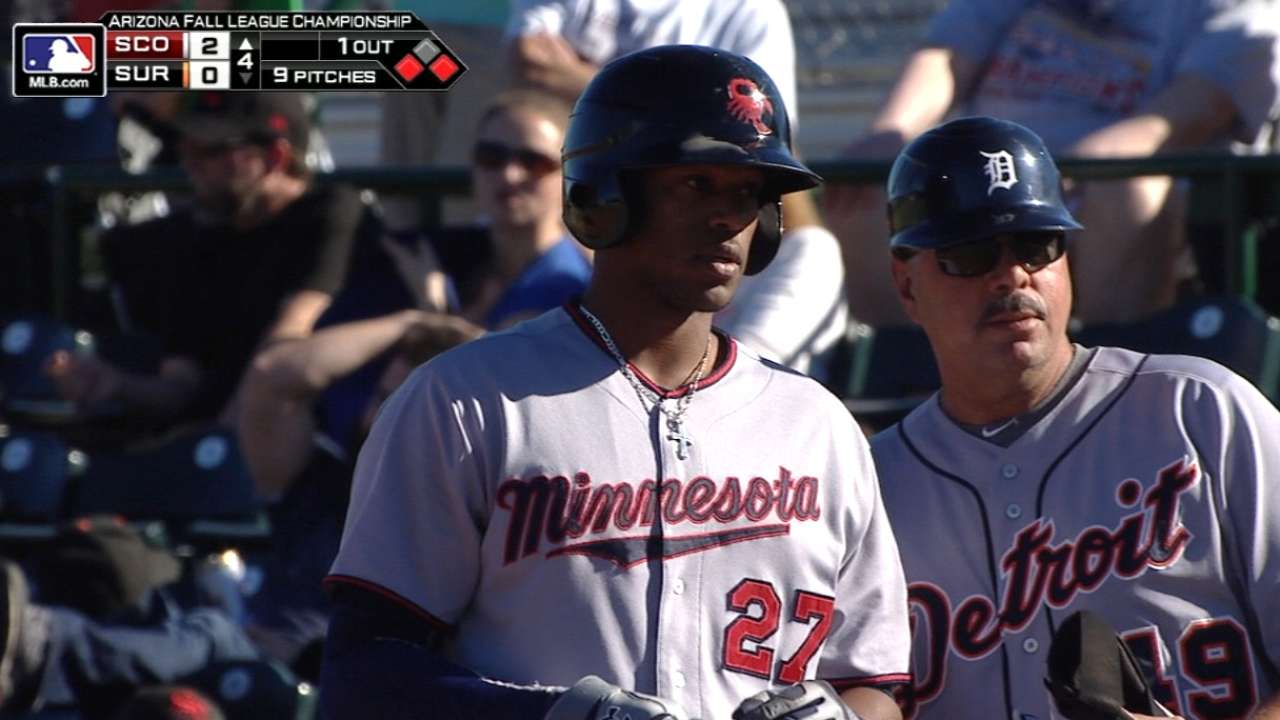 "It was definitely exciting to be able to come up and get some big hits for us," said Walker. "We won, so that's all that matters."
The Scorpions continued to rely on the Twins to the very end, bringing in Burdi, Minnesota's No. 12 prospect, to close the game.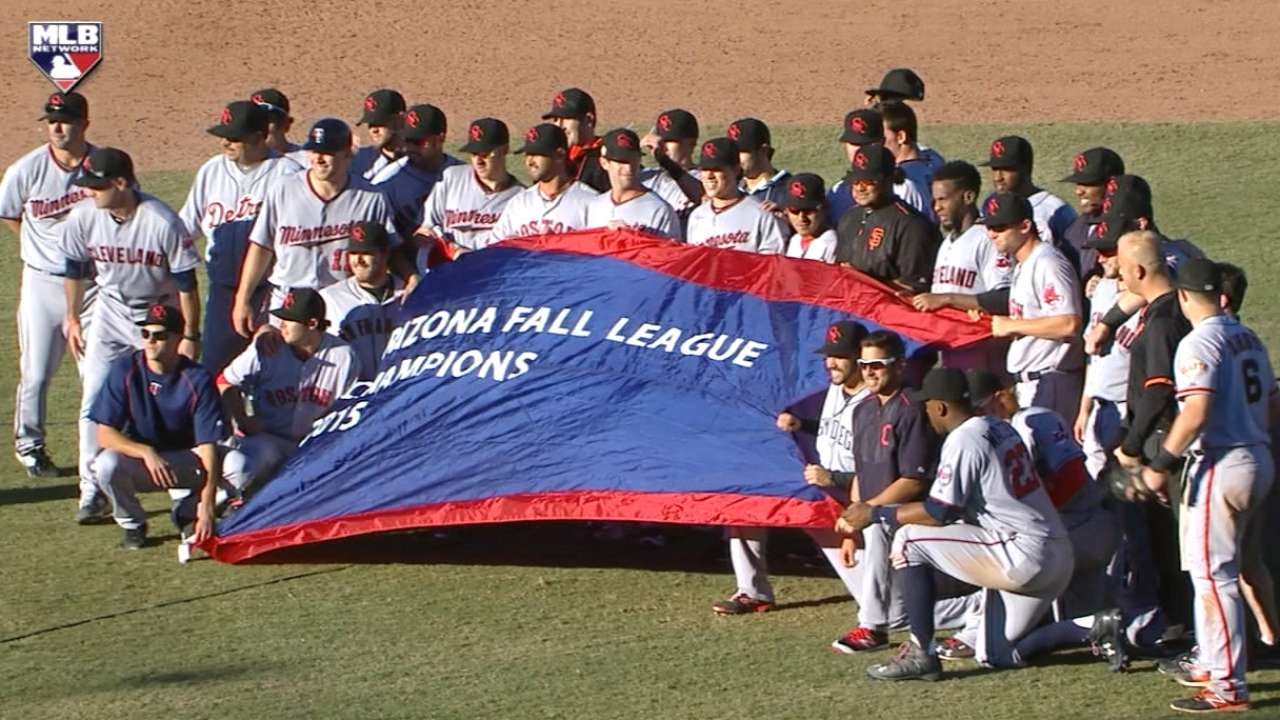 "There's 10 other guys in there that could have closed this game out," Burdi said. "Everyone pitched well, and it was just one of those moments where I was in the right place at the right time."
Burdi came on with a 6-3 lead and gave up a leadoff homer to Yankees prospect Dustin Fowler, but the 22-year-old right-hander retired the next three batters to seal the deal.
"For me, it's just about throwing strikes," Burdi said. "I have to pound the strikes in and get outs."
For Burdi, Reed and Walker, it marked their second championship of the year after they led Double-A Chattanooga to the Southern League title in September.
"I feel great right now, but we'll see after all the adrenaline winds down," Walker said. "Definitely exciting to end it all on a win. I'm going to enjoy the offseason, because it's going to be Spring Training before we know it."
Zuriel Loving is a senior journalism student at Arizona State University. This story is part of a partnership between MLB.com and ASU's Walter Cronkite School of Journalism and Mass Communication. This story was not subject to the approval of Major League Baseball or its clubs.