Engel earns Fall League MVP, batting crown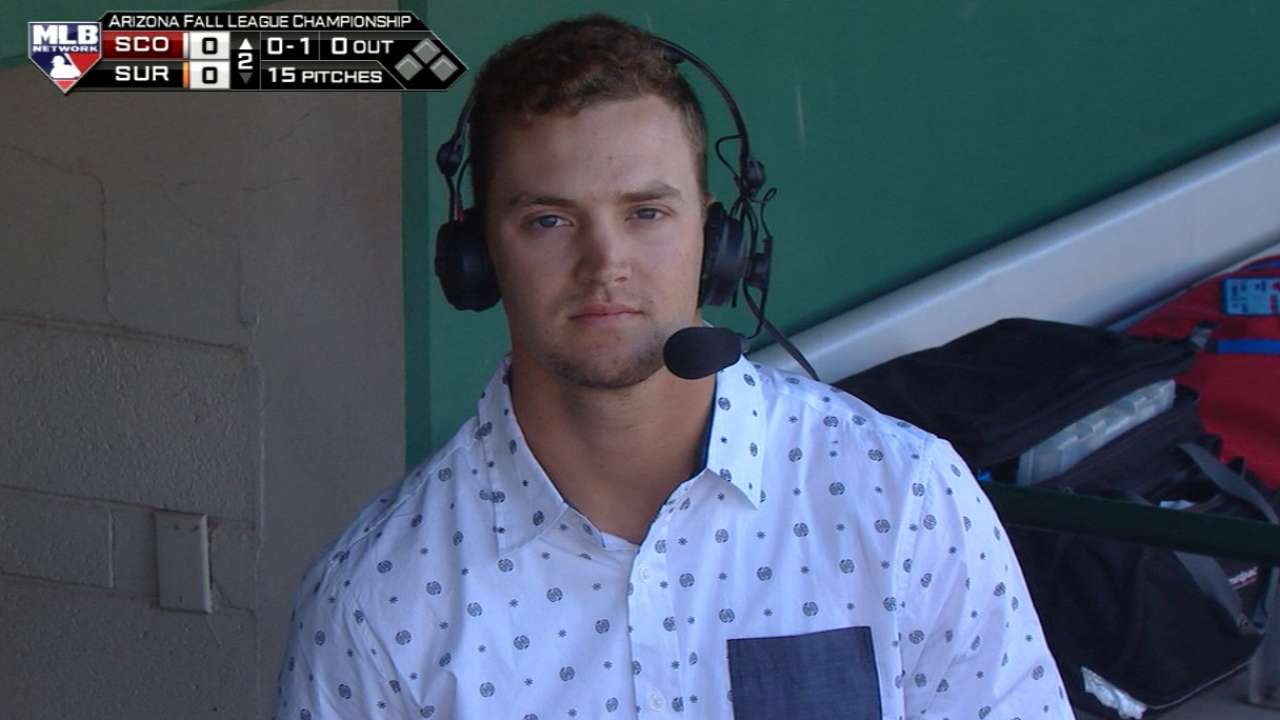 SCOTTSDALE, Ariz. -- Although his team, the Glendale Desert Dogs, wasn't on the field at Scottsdale Stadium on Saturday for the Arizona Fall League championship game, White Sox outfield prospect Adam Engel was there to accept two awards, including the Joe Black Most Valuable Player Award.
En route to his MVP honors, Engel also led the league in hitting, earning him the EyePromise vizual EDGE PRO Batting Title Award.
Arizona fall league MVPs
| Year | Player | Club |
| --- | --- | --- |
| 2015 | Adam Engel, OF | White Sox |
| 2014 | Greg Bird, 1B | Yankees |
| 2013 | Kris Bryant, 3B | Cubs |
| 2012 | Chris McGuiness, 1B | Rangers |
| 2011 | Nolan Arenado, 3B | Rockies |
| 2010 | Dustin Ackley, 2B | Mariners |
| 2009 | Grant Desme, OF | Athletics |
| 2008 | Tommy Hanson, P | Braves |
| 2007 | Sam Fuld, OF | Cubs |
| 2006 | Chip Cannon, 1B | Blue Jays |
| 2005 | Eric Duncan, 3B | Yankees |
| 2004 | Chris Shelton, DH | Tigers |
| 2003 | Jason Dubois, OF | Cubs |
| 2002 | Ken Harvey, 1B | Royals |
"It hasn't really sunk in yet," Engel said after receiving his trophy. "It's been a really fun time out here, and there's a lot of really good players. So just knowing the level of play that's out here, it's pretty special."
Engel, who is ranked as Chicago's No. 17 prospect, according to MLBPipeline.com, topped the Fall League with a .403 average in 19 games, becoming the first Fall League player to hit .400 since Angels first baseman C.J. Cron hit .413 in 2013.
The White Sox selected Engel in the 19th round of 2013 Draft out of the University of Louisville. Engel has spent time in Rookie ball and Class A before earning a callup to Class A Advanced Winston-Salem, where he spent the 2015 season.
Engel was assigned to the Fall League after hitting .251 with a .704 OPS in 529 at-bats for the Dash. In the Fall League, those numbers rose to .403 and 1.165, respectively.
"I just really bought into an approach and tried to stick with it every night," Engel said. "I worked with hitting guys all year and just put everything together."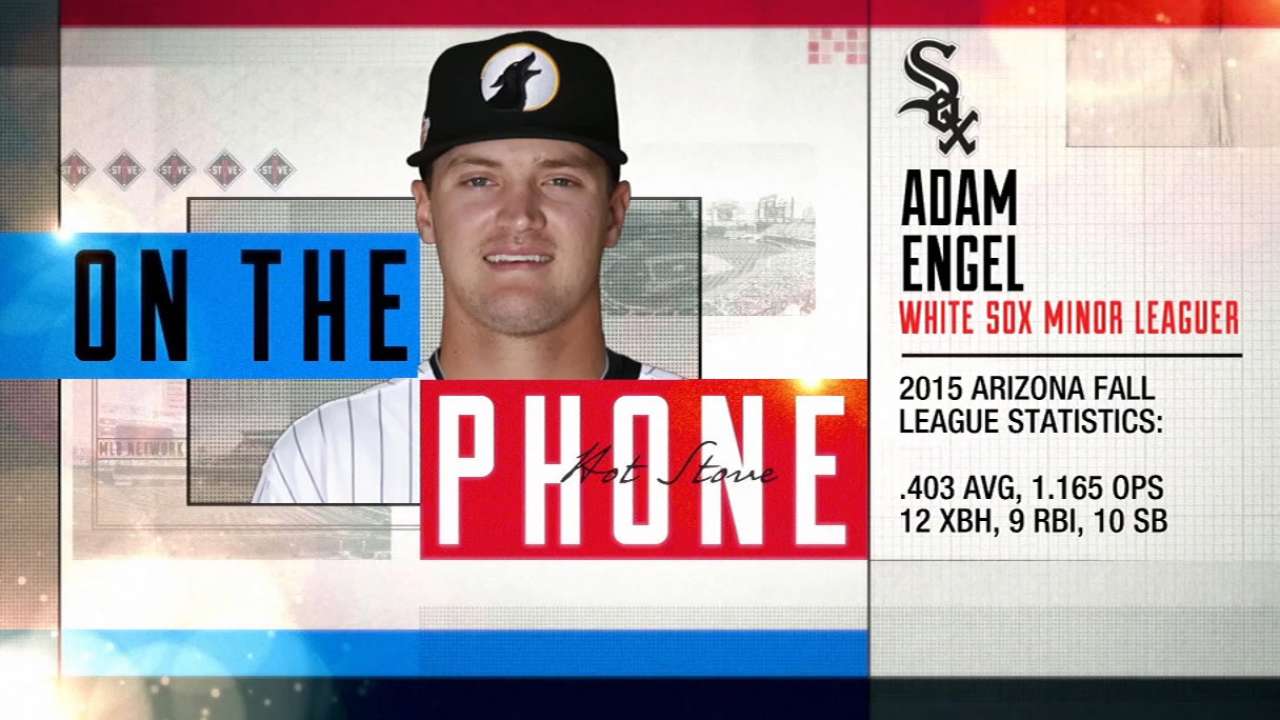 Engel raked across the board, ranking among the league leaders in eight categories, including batting average, on-base percentage (.523, first), slugging percentage (.642, first), stolen bases (10, second) and runs scored (16, third).
Engel earned honors throughout the six-week season. He was named to the West team in the annual Fall Stars Game, which featured the Fall League's best prospects, and last week he earned Player of the Week honors.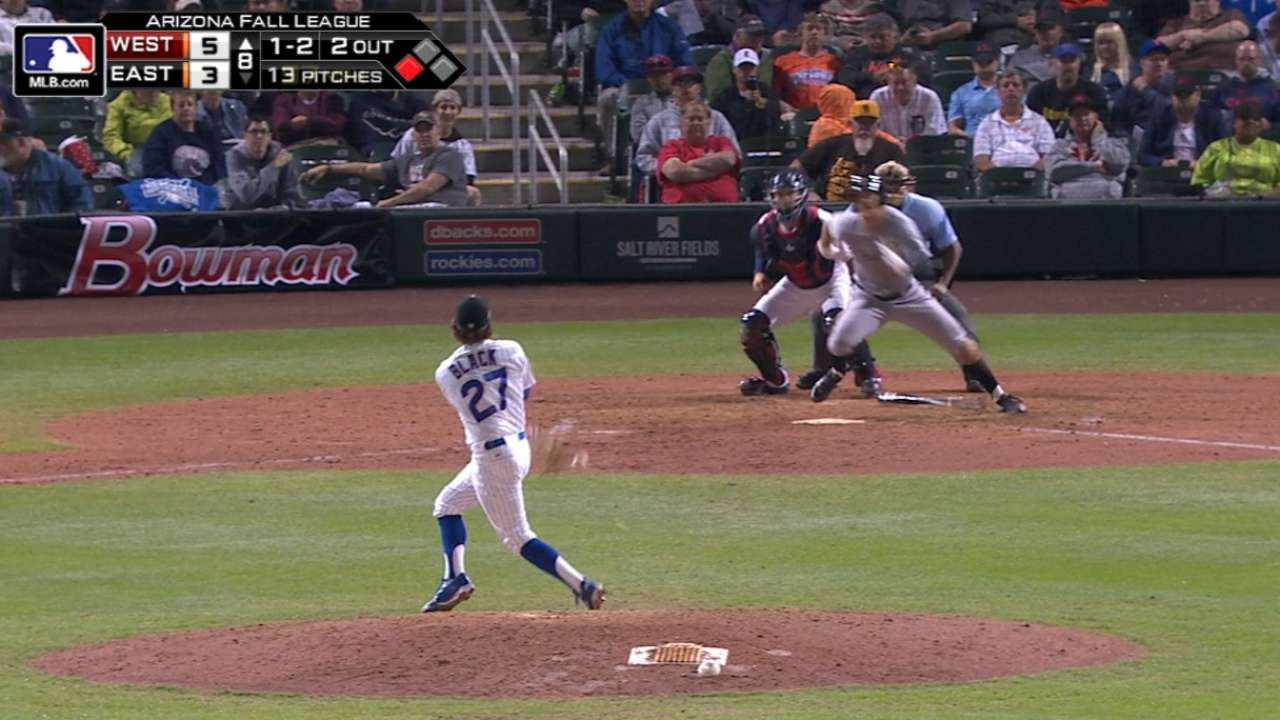 Engel said his primary focus during Fall League play was to improve his hitting, specifically his plate discipline. After leading the league in multiple hitting categories and drawing 16 walks -- fourth best in the league -- Engel feels he accomplished his goals, but he's not done yet.
Glendale's Adam Engel (@WhiteSox) accepts the #AFL15 Batting Title AND #AFL15 MVP awards prior to the Champ Game. pic.twitter.com/5OLUaSIbxf

— Arizona Fall League (@MLBazFallLeague) November 21, 2015
"Swinging the bat, you can always get a little bit better," Engel said. "I don't think that's something you ever really stop working on, but from an approach standpoint, I didn't want to swing at anything I couldn't really drive."
Despite the league's next leading hitter -- fellow Desert Dog outfielder Jacob Scavuzzo -- finishing 30 points behind Engel, the batting title came down to the final day of the season.
Engel sat out with a minor shoulder injury, while Scavuzzo -- who entered the game hitting .385 -- played. A 3-for-4 or 4-for-4 performance would have clinched the crown for the 21-year-old Dodgers outfield prospect. But instead, he went 1-for-4, finishing with a .377 mark and second to Engel.
"We actually knew the exact situation for each of us to win the title," Engel said. "Jacob's a great guy and I was rooting for him. If he ended up beating me, it couldn't hav happened to a better guy."
Despite Scavuzzo's .377 average, he was not among the finalists for the MVP Award. Those finalists were Peoria right-hander Ryan Butler (Padres), Mesa third baseman Jeimer Calderario (Cubs), Surprise catcher Gary Sanchez (Yankees), Salt River outfielder Raimel Tapia (Rockies) and Scottsdale outfielder Mac Williamson (Giants).
Williamson and Sanchez were on opposite sides of the Fall League Championship Game. Williamson finished third in the batting race with a .370 average, while Sanchez led the league in home runs and RBIs, with seven and 21, respectively. Sanchez also finished second to Engel in slugging percentage.
Evan Webeck is a student at Arizona State University. This story is part of a partnership between MLB.com and ASU's Walter Cronkite School of Journalism and Mass Communication. This story was not subject to the approval of Major League Baseball or its clubs.