Henderson, Yount recount milestone moments
Hall of Famers shared the stage at an event for La Russa's ARF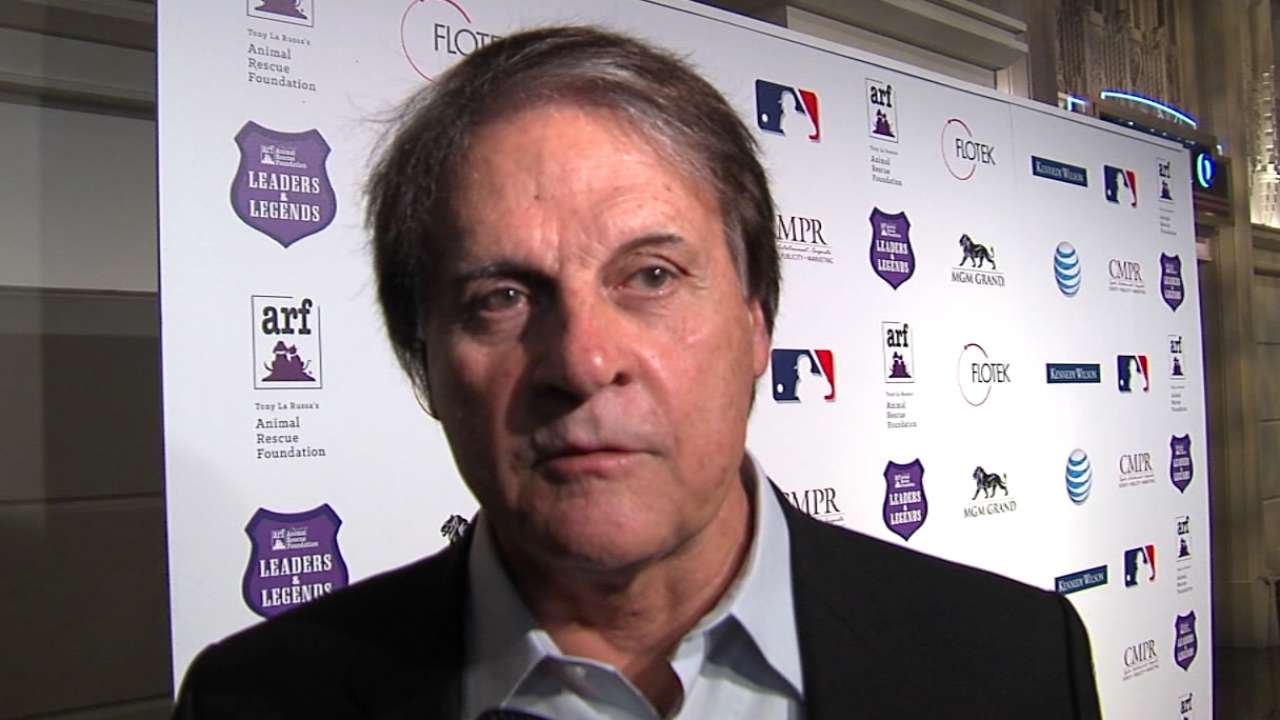 LAS VEGAS -- Rickey Henderson stole the bases -- 1,406, by far more than anyone else in Major League history -- but Robin Yount stole the show.
The two Hall of Famers, two of MLB's 29 historical 3,000-hit men, were on the stage of the Juniper Ballroom in the Aria Hotel on Friday, reminiscing about their careers in an installment of a lecture series that is a featured part of Tony La Russa's 4th Annual Leaders & Legends weekend to benefit the Pets for Vets program of his Animal Rescue Foundation (ARF).
Rickey was Rickey, when cued up by moderators Tim McCarver and Jeff Idelson, president of the National Baseball Hall of Fame. For instance, the former six-tool player -- his extra tool was an engaging personality -- reflected on why he slid feet-first into home plate, scoring the run that broke Ty Cobb's 73-year career record, after homering on Oct. 4, 2001.
"There were bets in the clubhouse on who would knock me in to score the record run," said Henderson, of the San Diego Padres at the time. "So I got a fastball [from Dodgers righty Luke Prokopec] right there and hit it out.
"And as I'm going around the bases, I'm thinking, 'What do I want to do when I go touch home plate? I know: let me slide feet-first," continued Henderson, renowned for exclusively going in head-first for all his steals.
"So all the guys come out, giving me hugs, and I'm just yelling, 'Where's the pot? Ain't nobody knocked me in but myself.'"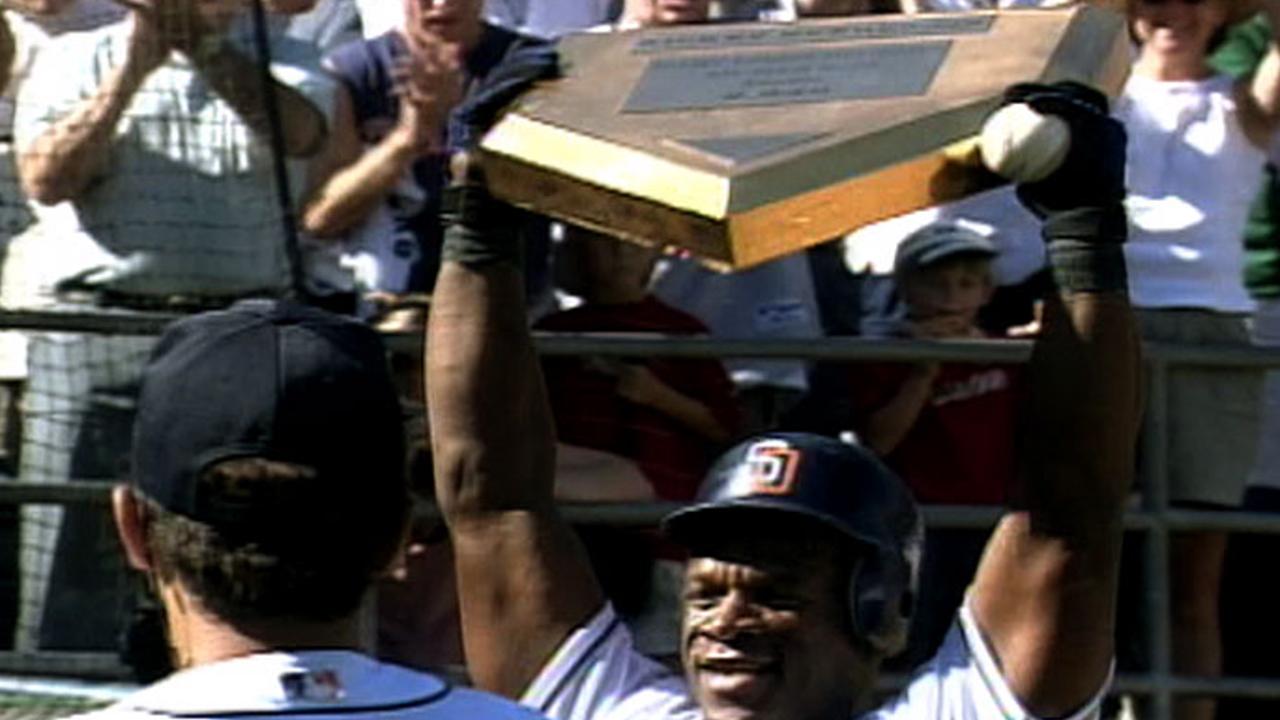 Not bad. Typical bubbly Henderson. On the day's main theme, however, it was all Yount, who, during his playing days, was a relative wallflower.
While occasionally glancing apologetically at Commissioner Emeritus Bud Selig, the former owner of Yount's Milwaukee Brewers who was also in attendance, the 1982 American League MVP Award winner spun the yarn behind his hits Nos. 2,998, 2,999 and 3,000 on Sept. 7-9, 1992.
The Brewers had returned home for a three-game series against Cleveland before again hitting the road. A sparse crowd of 11,925 had attended their previous home game -- but County Stadium brimmed with 41,348 on this Monday.
As Yount related, he was called into Selig's office prior to the series opener.
"Robin, as you know, you are three hits away from 3,000," the owner said. "We're going to have a really big crowd tonight."
"That's good, boss. We should. We're in a pennant race," Yount responded.
Selig: "If there's any way you can stretch this thing out …"
Yount: "What are you saying?"
Selig: "I'm not saying anything. But we could get a big crowd tomorrow, too. And we could get the biggest crowd on the third night."
Don't misinterpret: The preceding conversation was jovial, not conspiratorial, and "I may be embellishing some of the facts," Yount said with a broad smile.
Anyway … Yount gets one hit on Monday, a leadoff single in the fourth. He singles his first time up on Tuesday, with 39,650 fans in-house. They would later litter the field with 20,000 giveaway cushions when Yount drew a four-pitch walk in the eighth in his last at-bat of the game.
Fast forward to Wednesday. Yount was 0-for-4 when he came up in the seventh to face Jose Mesa. Yount turned to catcher Junior Ortiz and tried to make himself heard above 47,589 roaring fans.
"Remember those cushions they threw on the field last night? I know one thing: If I don't get a hit, someone's gonna throw something at me. So it'd be real nice if you can get Jose to throw something right here," Yount said, indicating his hot zone.
"And sure enough, a fastball right there," Yount said Friday, while a film of that 3,000th hit was projected on the screen above him. "I could've hit it with my eyes closed."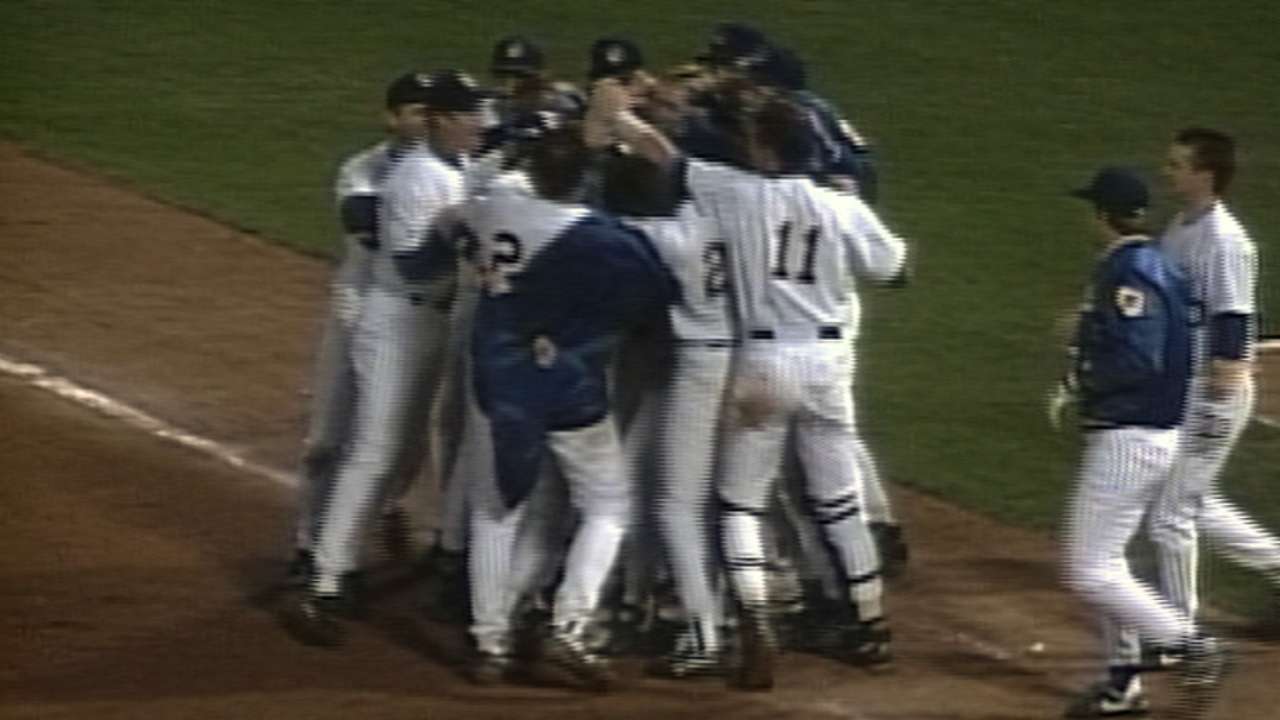 Yount and Henderson shared a couple of other notable observations with their audience:
On the prevalence of overshifting today:
Henderson: "I'd learn how to bunt. You want to get on base any way you can, and if they're giving you an opportunity, you have to take advantage."
Yount: "It's a shame the way defenses set up and offenses don't take advantage. Especially late in the game; to not give your team a better opportunity to win the game … it's a real shame what we're seeing. You have to lay down some balls and try to just get on base."
On playing the left field:
Yount, an All-Star shortstop forced to move there in 1985 when a shoulder injury impaired his ability to throw: "I really hated it. I was a butcher. Plus, it was lonely out there."
Henderson, a left fielder in 2,421 of his 2,826 career games: "It was lonely. That's why you always saw me talking to fans. And it wasn't trash-talk; I was trying to get them on my side."
Tom Singer is a reporter for MLB.com and writes an MLBlog Change for a Nickel. He can also be found on Twitter @Tom_Singer. This story was not subject to the approval of Major League Baseball or its clubs.