Harper the big winner in Esurance MLB Awards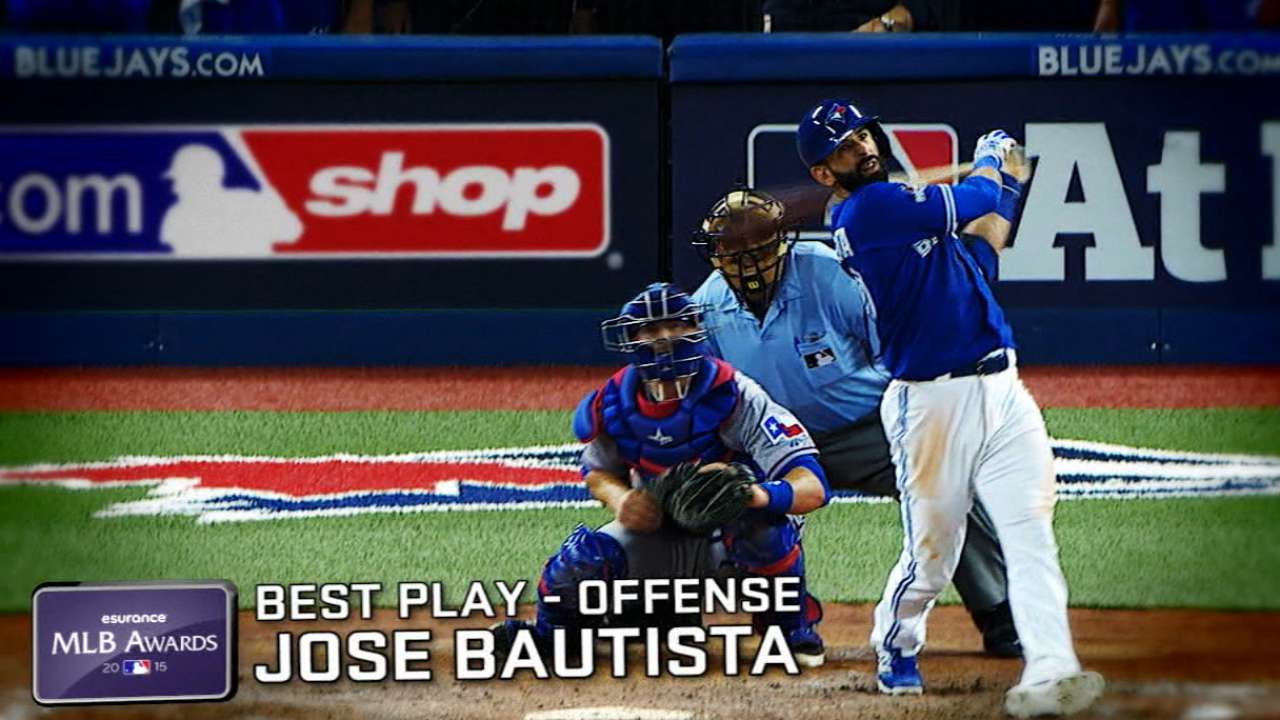 The Kansas City Royals won the 2015 World Series in relentless and unforgettable fashion, capping off a year with a baseball coronation for the ages. And while Kansas City was well-represented in the Esurance MLB Awards, which were unveiled Friday, the individual player with the most impact was the young man who hits in the heart of the lineup in our nation's capital.
Bryce Harper, the Nationals' talented and charismatic 23-year-old right fielder, won the two most significant honors of the 22 awards, which were revealed on MLB Network by hosts Brian Kenny and Dan Plesac and on MLB.com. Harper was named Best Major Leaguer and Best Everyday Player. These honors came a day after he locked down the National League Most Valuable Player award in a unanimous vote as a result of a remarkable, historic season for a player his age.
Harper, who turned 23 on Oct. 16, was among the big league leaders in batting average (.330), OPS (1.109), home runs (42) and runs scored (118) while playing improved defense in the outfield.
"I voted for Bryce Harper as Best Major Leaguer based upon his remarkable 2015 season," former big league general manager and MLB.com analyst Dan O'Dowd said. "His OPS was 100 points higher than the next closest player. Though all the players nominated had great seasons, for me, none approached the consistent dominance Bryce demonstrated in 2015."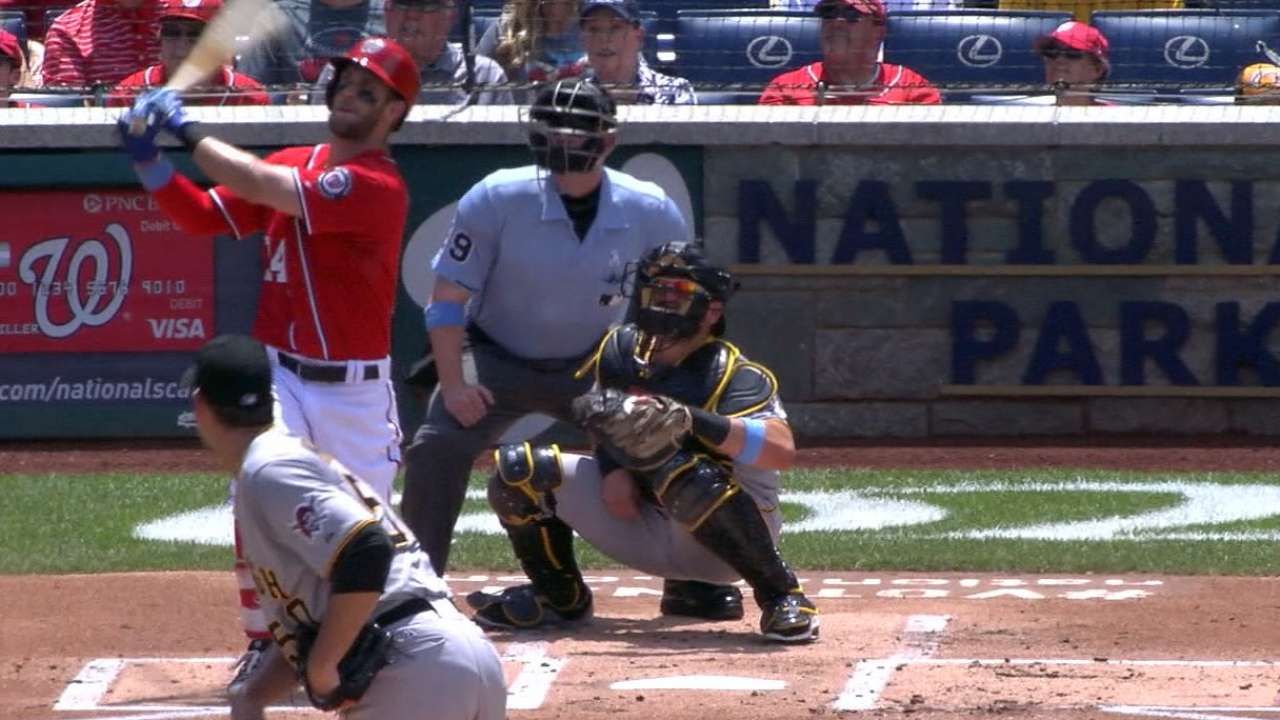 Harper beat out NL Cy Young Award winner Jake Arrieta (22-6, 1.77 ERA) and AL MVP Josh Donaldson (41 homers, .939 OPS) to win the Best Major Leaguer category. But unlike the NL MVP, this one wasn't unanimous.
"It was a tough decision, but Jake Arrieta meant more to his team than any other player on any team," said MLB Network analyst Sean Casey. "He was the biggest factor in the Cubs' success, more so than anyone on any other team. That's why I picked him as the Best Major Leaguer."
Former Mets GM and current MLB analyst Jim Duquette said the Best Major Leaguer selection was a particularly tough one, considering all the qualified candidates.
"While it was clear that [Harper] had the best overall year, it was still a difficult choice when comparing his season to some of the other dominant pitchers and players on the list," Duquette said. "In the end, I chose Harper for his all-around play and hustle, and for finding a balance between all-out effort and staying healthy."
Other players dominated in other categories, and there seemed to be an appropriate MLB Esurance Award for every player and moment that defined 2015.
Arrieta, who became the ace of a resurgent Cubs team that made it all the way to the NL Championship Series, joined Harper as the only other play to win a pair of MLB Esurance Awards: Best Starting Pitcher and Best Breakout Player, while his teammate, third baseman Kris Bryant, parlayed his NL Rookie of the Year honor into the overall MLB Esurance Award for Best Rookie.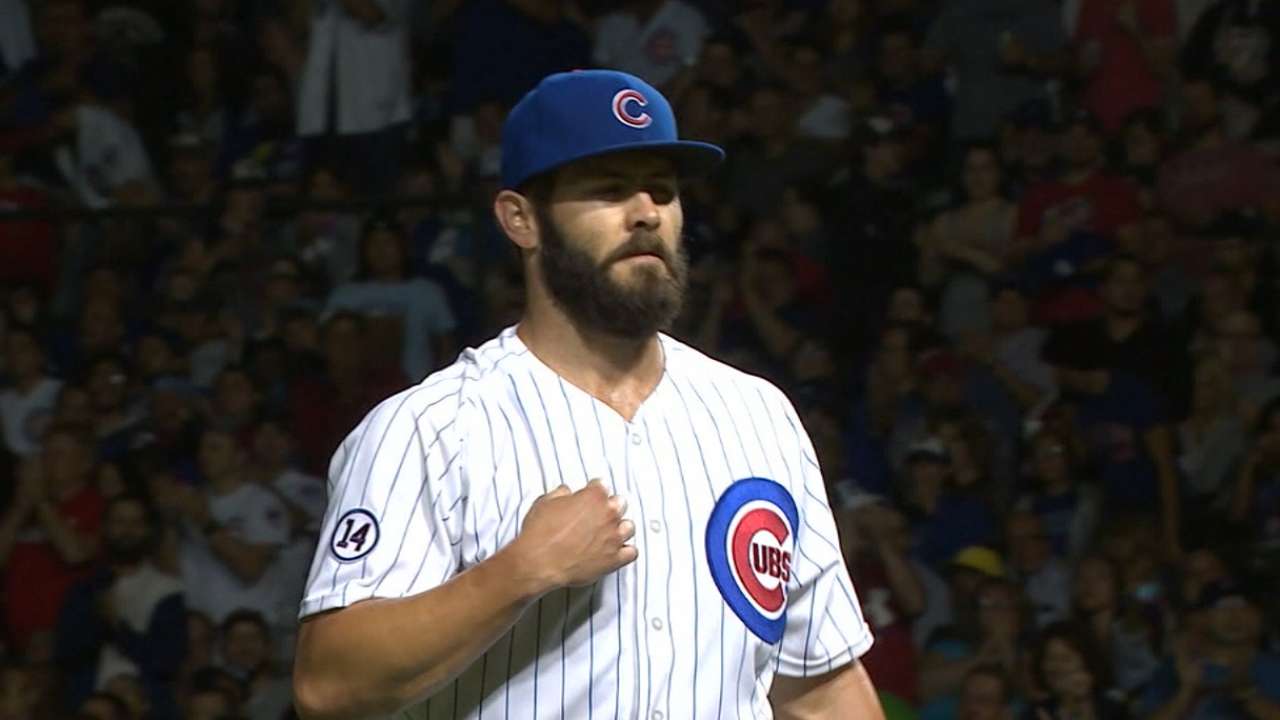 The MLB Esurance Awards, after all, are unique in the sense that they are overall honors, not league-specific, and they take into account the entire season, from Opening Day through the end of the playoffs.
Kevin Kiermaier, the spectacular center fielder for the Tampa Bay Rays, won the MLB Esurance Award for Best Defensive Player, and Prince Fielder of the Rangers was named Best Bounceback Player. And, yes, the Royals were well-represented, with closer Wade Davis being named Best Major Leaguer, Postseason, and first baseman Eric Hosmer taking home Best Moment for his daring dash home from third base in the top of the ninth inning in Kansas City's World Series-clinching Game 5 win over the Mets.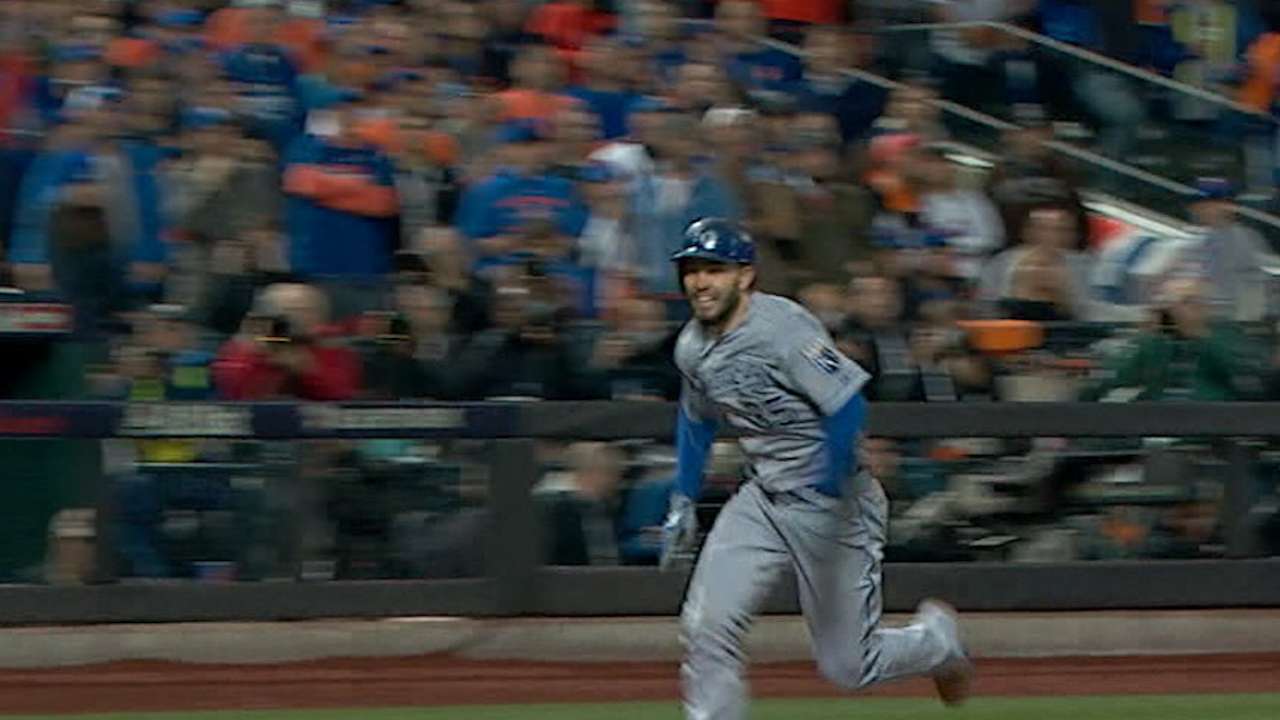 The Esurance MLB Awards annually honor Major League Baseball's greatest achievements as part of an industry-wide balloting process that includes five components, each of which accounts for 20 percent of the overall vote: media, front-office personnel, retired MLB players, fans at MLB.com and Society for American Baseball Research (SABR) voters.
Individual awards went to the Best Major Leaguer in addition to the winners in the following categories: Best Everyday Player, Starting Pitcher, Rookie, Defensive Player, Breakout Player, Bounceback Player, Social Media Personality and Postseason Performer.
Winners were also recognized for the year's Best Offensive Play, Defensive Play, Moment, Single-Game Performance, Social Media Post, Celebrity Fan, Fan Catch, Interview, TV Call, Radio Call, Player-Fan Interaction, Video Board Moment and Trending Topic.
Winners of the Best Manager and Best Executive categories will be announced at the Winter Meetings in Nashville, Tenn. All winners receive a Greatness in Baseball Yearly (GIBBY) trophy.
Other Esurance MLB Awards, even the ones that weren't given for on-the-field exploits, were hotly contested, too. They included Best Play, Offense, which was given to Blue Jays slugger Jose Bautista's epic bat-flip home run in Toronto's Game 5 triumph over the Rangers in the AL Division Series, and Best Play, Defense, for Donaldson's incredible dive into the stands to catch a foul ball -- and temporarily preserve a perfect game -- in the eighth inning of a June 24 contest vs. the Rays.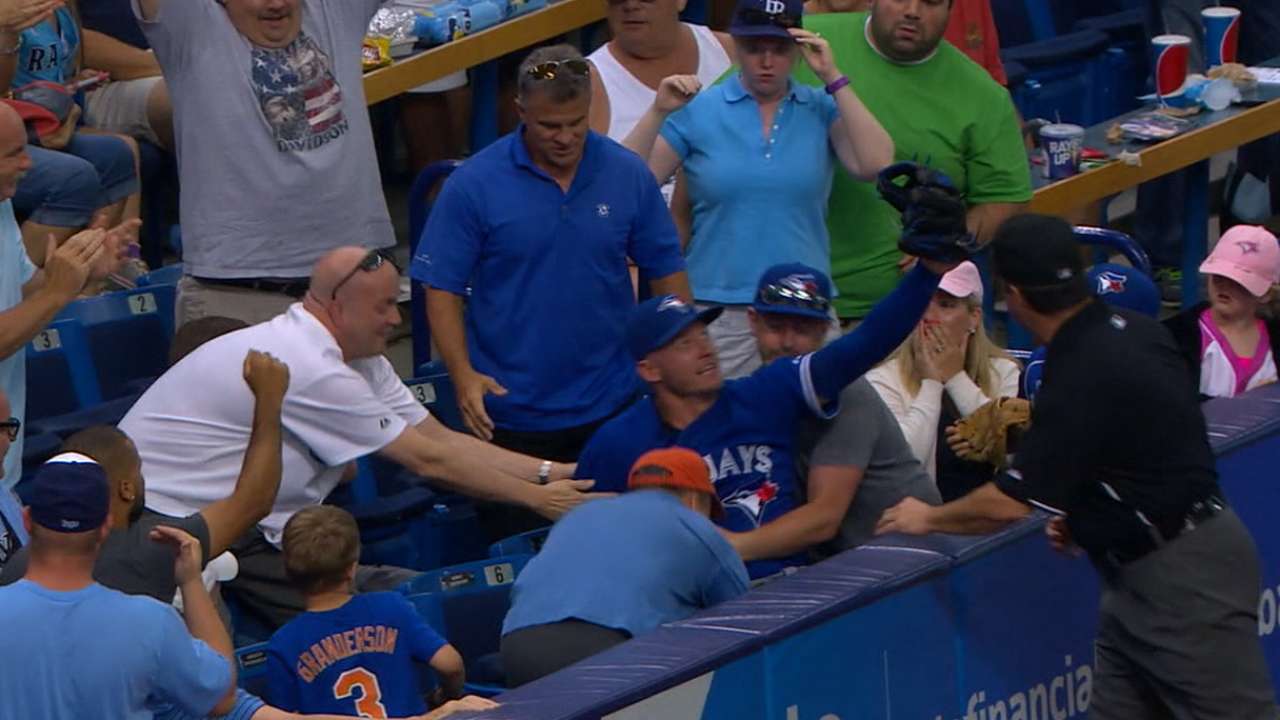 Comedian and Mets fan Jerry Seinfeld was associated with the Mets' award for Best Social Media Post for his tweet that welcomed outfielder Yoenis Cespedes to New York, and Will Ferrell's awesome day playing Spring Training baseball helped earn him Best Celebrity Fan honors.
Spectator involvement continued to reach new heights in 2015, and Best Fan Catch honored a truly impressive "catch 'n' chug" at a Cubs game. Pirates center fielder Andrew McCutchen usually isn't left off this list, and he came through again, with a typical gesture of generosity garnering him Best Player-Fan Interaction honors.
The Best Trending Topic, not surprisingly for anyone who watched postseason baseball, was the incredible seventh inning between the Blue Jays and Rangers in Game 5 of the ALDS that was capped by Bautista's long ball and bat flip. Other Esurance MLB Awards went to A's catcher Stephen Vogt for Best MLB Interview and Rays starter Chris Archer for Best Social Media Personality.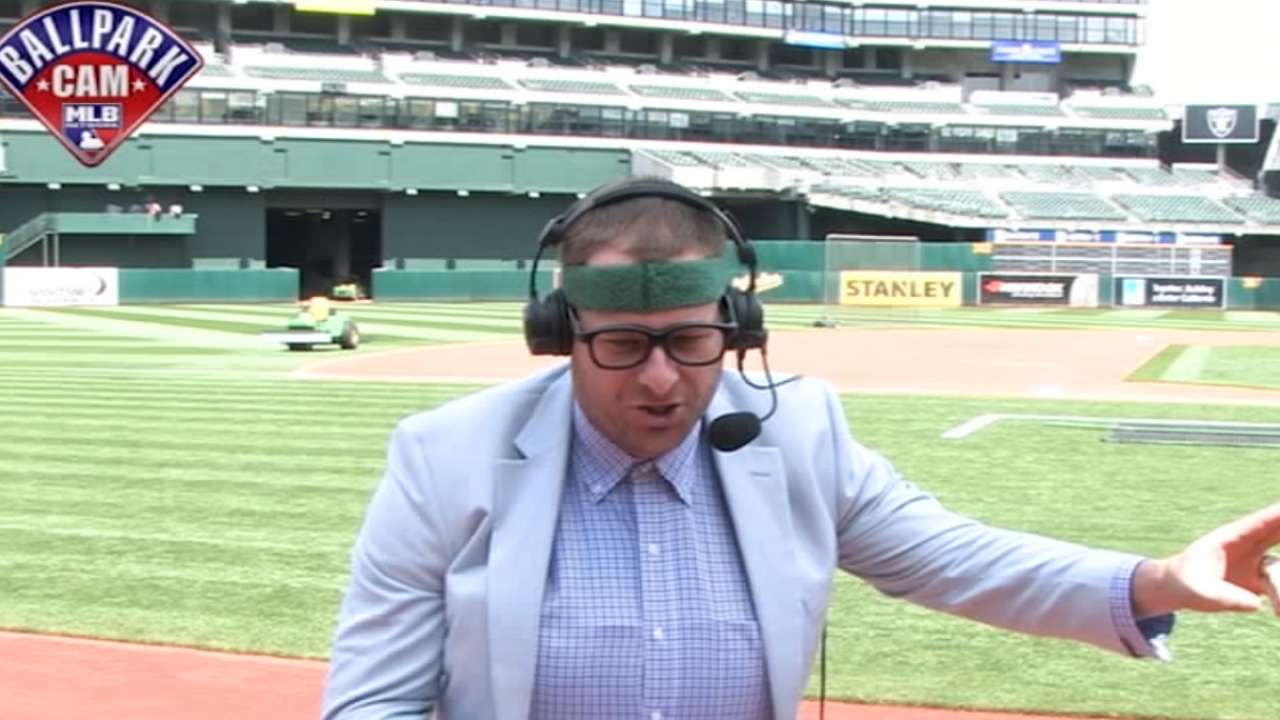 Below is a full list of the winners:
Best Major Leaguer: Harper, Nationals
Best Everyday Player: Harper, Nationals
Best Starting Pitcher: Arrieta, Cubs
Best Rookie: Bryant, Cubs
Best Defensive Player: Kiermaier, Rays
Best Breakout Player: Arrieta, Cubs
Best Bounceback Player: Fielder, Rangers
Best Major Leaguer, Postseason: Davis, Royals
Best Play, Offense: Bautista, Blue Jays
Best Play, Defense: Donaldson, Blue Jays
Best Moment: Hosmer, Royals
Best Performance: Max Scherzer, Nationals
Best Social Media Post: Jerry Seinfeld
Best Celebrity Fan: Will Ferrell
Best Fan Catch: Catch 'n' chug, Cubs
Best Player-Fan Interaction: McCutchen, Pirates
Best Call, TV: Vin Scully, Dodgers
Best Call, Radio Howie Rose, Mets
Best Video Board Moment Magic Johnson and Jimmy Kimmel, Dodgers
Best Trending Topic: An inning for all time, Blue Jays
Best MLB Interview: Vogt, A's
Best Social Media Personality Archer, Rays
Doug Miller is a reporter for MLB.com. Follow him on Twitter @DougMillerMLB. This story was not subject to the approval of Major League Baseball or its clubs.