Royals protect Starling, Zimmer from Rule 5
Top prospects, four other players added to club's 40-man roster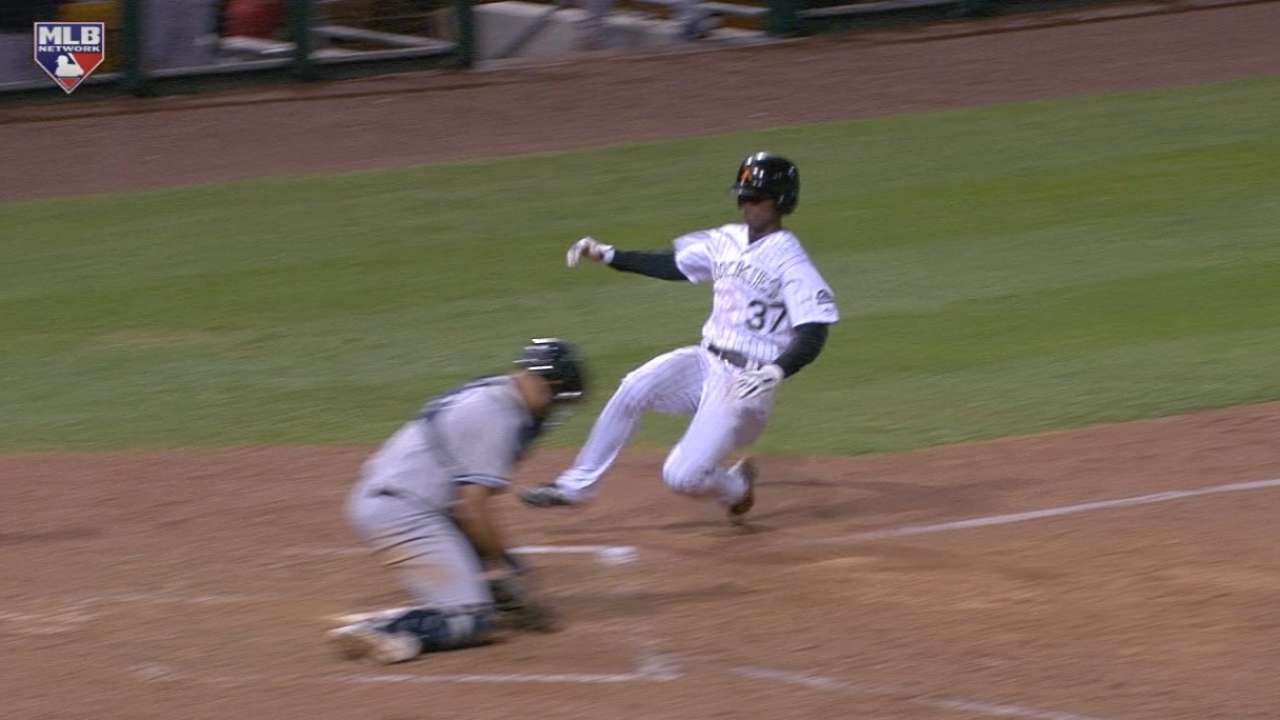 KANSAS CITY -- The Royals added former first-round MLB Draft picks right-hander Kyle Zimmer and outfielder Bubba Starling to their 40-man roster, thus protecting them from exposure to the Rule 5 Draft next month.
Also added to the 40-man were left-hander Matthew Strahm, right-hander Alec Mills, outfielder Brett Eibner and middle infielder Ramon Torres.
The Royals also designated for assignment right-hander Michael Mariot, meaning their 40-man roster stands full. Only teams under the 40-man limit can participate in the Rule 5 Draft on Dec. 10.
In parts of two seasons with the Royals, Mariot had a 6.11 ERA in 19 games.
MLB requires teams to add players who signed at age 18 or younger to 40-man rosters within five professional seasons, or those who signed at 19 or older within four seasons, or they become available to other organizations through the Rule 5 Draft. Clubs pay $50,000 to select a player left exposed -- if that player doesn't stay on the 25-man roster for the full season, he must be offered back to his former team for $25,000.
Some of the top Royals' prospects left unprotected included first baseman Balbino Fuenmayor, right-hander Christian Binford, left-hander Sam Selman, right-hander Brooks Pounders and outfielder Elier Hernandez.
The Royals are gambling that teams may pass on Fuenmayor, who was the club's Player of the Year at Double-A Northwest Arkansas, where he hit .354 with 15 homers, because he is coming off ACL surgery on his left knee. Fuenmayor, 25, is expected to be ready for Spring Training.
Pounders, 25, recently threw 12 shutout innings in the Arizona Fall League and also could draw interest in the Rule 5 Draft.
Binford, 22, rose quickly through the system with outstanding control, but hit a wall last year at Triple-A Omaha (5.86 ERA) and eventually was demoted to Double-A.
But the Royals clearly put a priority on Starling (No. 5 overall in the 2011 Draft) and Zimmer (No. 5 overall in 2012 Draft), both of whom should start the 2016 season at Triple-A Omaha. The Royals also expect both to make their Major League debuts next season. Zimmer is ranked as the Royals' No. 3 prospect and Zimmer is No. 5, according to MLB.com.
There was some internal debate on whether to gamble on Eibner, 26, who is playing for Team USA and who had a career year at Omaha in 2015, posting an .878 OPS with 19 homers and 81 RBIs. But Eibner was deemed too important to risk losing -- he could be a candidate for one of the vacant corner outfield spots in '16.
Mills, 23, is ranked as the club's No. 15 prospect and had a 3.02 ERA at Class A Advanced Wilmington with 111 strikeouts in 113 1/3 innings. He has a 95-mph fastball with excellent command.
Strahm, 24, at times was dominant at Wilmington and had a 2.78 ERA with a 0.985 WHIP in 15 games, including 11 starts. He struck out 83 in 68 innings.
Torres, 22, is a versatile middle infielder who also switch-hits. He had a .740 OPS at Northwest Arkansas in 51 games.
Jeffrey Flanagan is a reporter for MLB.com. Follow him on Twitter at @FlannyMLB. This story was not subject to the approval of Major League Baseball or its clubs.