Bryant wins MLB Award for Best Rookie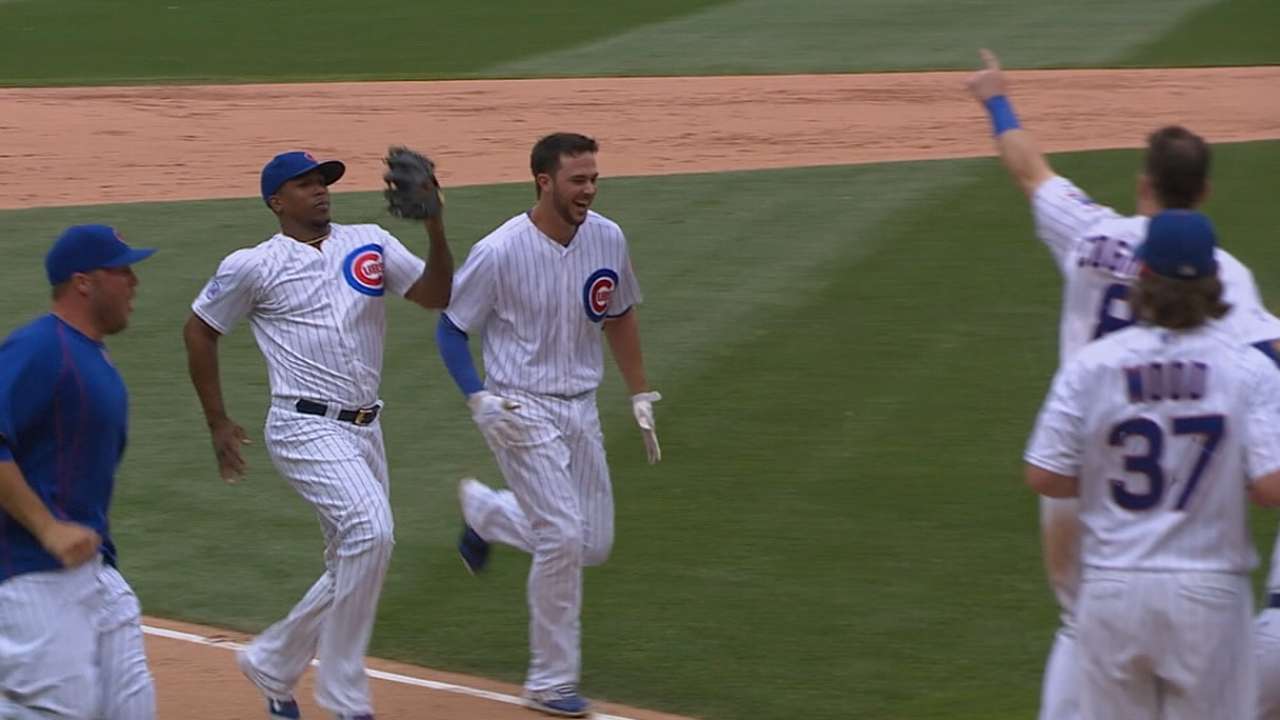 The Baseball Writers' Association of America's pick for National League Rookie of the Year was the rest of baseball's choice, too.
Cubs third baseman Kris Bryant was honored Friday as Best Rookie as part of the Esurance MLB Awards, which annually honor Major League Baseball's greatest achievements as part of an industry-wide balloting process that includes five components, each of which accounts for 20 percent of the overall vote: media, front-office personnel, retired MLB players, fans at MLB.com and voters from the Society for American Baseball Research (SABR).
• Complete awards coverage
• Arrieta adds 2 MLB Awards to offseason haul
• Best Fan Catch goes to member of Cubs Nation
Bryant, who beat out fellow finalists Carlos Correa (Astros) and Francisco Lindor (Indians), previewed his terrific rookie season when he smacked nine home runs in only 14 Spring Training games, a power surge that continued after a mid-April callup to the Majors. In 151 games, Bryant led Major League rookies in RBIs (99), doubles (31), runs scored (87) and wins above replacement (6.5 per the FanGraphs measure, and 6.0 per Baseball-Reference.com). He tied the Dodgers' Joc Pederson for the most homers among Major League rookies with 26, and he finished second to Pederson's 77 walks. The only other player in MLB history to reach at least 26 homers, 99 RBIs, 31 doubles, 87 runs and 77 walks in his rookie season was Hall of Famer Ted Williams, for the Red Sox in 1939.
Bryant also had 17 game-winning RBIs. Since the turn of the century, only two rookies reached that number: Albert Pujols (21 in 2001) and Hideki Matsui (17 in '03).
"He's one of the better young baseball players I've had. Period," Cubs manager Joe Maddon said of Bryant.
What stood out?
"That he gets it," Maddon said, way back in February. "Of course, he's talented, great body, great power, wonderful arm, good third baseman, good outfield. He's a lot of good things, and he gets it. I think he understands the work involved necessary to be great. He's rather humble for me. He's not outgoing in a sense in a negative way. He knows he's good. There's also a humility about him, too."
Individual Esurance MLB Awards awards were presented for 22 categories, including Best Major Leaguer, Everyday Player, Bounceback Player, Social Media Personality and Postseason Performer. Winners were also recognized for the year's Best Offensive Play, Defensive Play, Moment, Single-Game Performance, Social Media Post, Celebrity Fan and Fan Catch.
Manager and Executive winners will be announced at the Winter Meetings in December.
Nominees were judged on their bodies of work from the entire year -- from Opening Day through the postseason -- and selected after a careful review of all 30 clubs. Winners in all 24 categories receive a Greatness in Baseball Yearly (GIBBY) trophy.
Adam McCalvy is a reporter for MLB.com. Follow him on Twitter @AdamMcCalvy, like him on Facebook and listen to his podcast. This story was not subject to the approval of Major League Baseball or its clubs.