Rose captures Colon's rumble, earns Esurance Award
Mets announcer's description of pitcher's RBI double deemed best radio call of 2015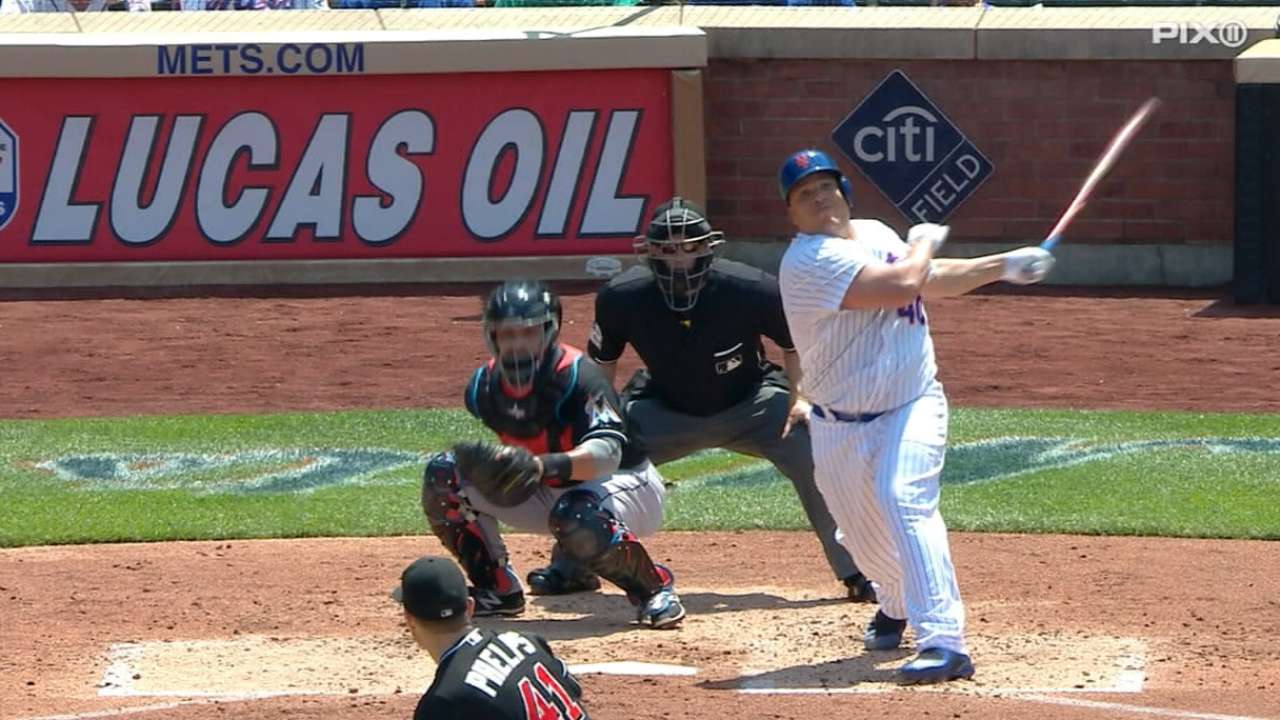 NEW YORK -- As far back as Spring Training, the Mets and their fans lavished attention upon Bartolo Colon's offense. When new hitting coach Kevin Long told Colon he wanted the pitcher to increase his 2014 hit total from two to four, Colon shot back: "How about three?"
It was with that as a backdrop that Colon racked up perhaps the most memorable hit of his 18-year career on May 31, doubling home a go-ahead run against the Marlins to collect his first RBI in a decade. As Colon chugged into second base, WOR broadcaster Howie Rose quipped that "they're timing Colon with a sundial!" to earn the Esurance MLB Award for Best Call, Radio.
• Complete Esurance MLB Awards coverage
The Esurance MLB Awards annually honor Major League Baseball's greatest achievements as part of an industry-wide balloting process that includes five components, each of which accounts for 20 percent of the overall vote: media, front-office personnel, retired MLB players, fans at MLB.com and Society for American Baseball Research (SABR) voters.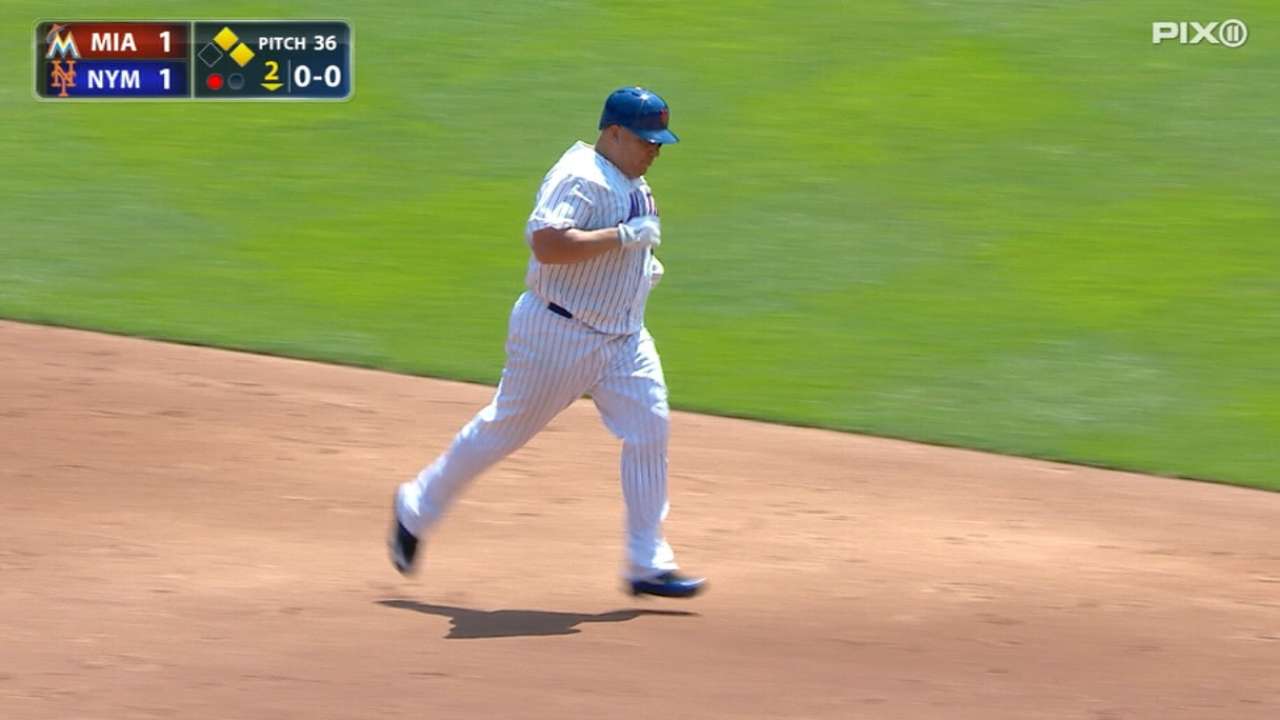 Individual awards were presented for 22 separate categories, including Best Major Leaguer, Everyday Player, Bounceback Player, Social Media Personality and Postseason Performer. Winners were also recognized for the year's Best Offensive Play, Defensive Play, Moment, Single-Game Performance, Social Media Post, Celebrity Fan and Fan Catch.
• Seinfeld's tweet about Cespedes wins Esurance MLB Award
Manager and executive winners will be announced at the Winter Meetings in December.
Nominees were judged on their bodies of work from the entire year -- from Opening Day through the postseason -- and selected after a careful review of all 30 clubs. Winners in all 24 categories receive a Greatness in Baseball Yearly (GIBBY) trophy.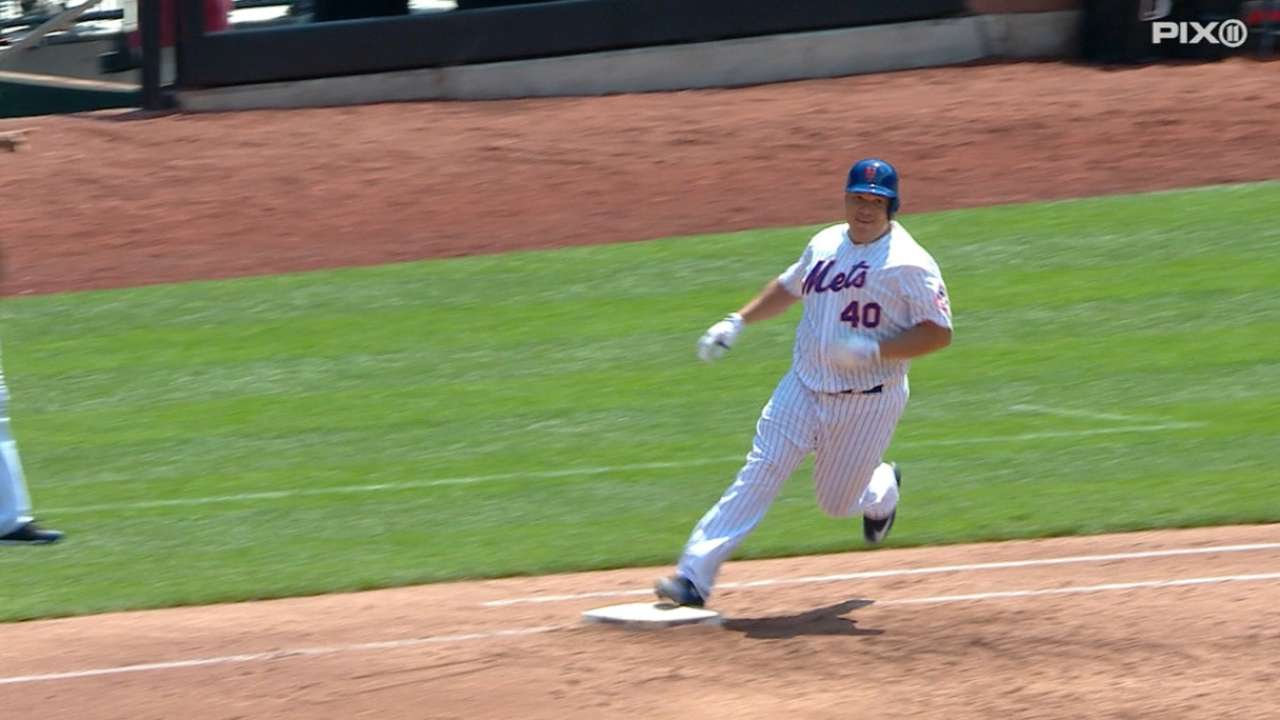 Many of Rose's competitors for Best Call, Radio came in more impactful games. Greg Brown's call of Andrew McCutchen's 14th-inning homer occurred during a key divisional game against the Cardinals, for example, but wound up being the runner-up in MLB Esurance voting. Third-place finisher Robert Ford made his call on a Jed Lowrie three-run homer that helped the Astros advance toward an American League Wild Card berth in September.
Rose's call, by contrast, came in a plain-old May matinee against the Marlins. But support for Colon's offense had reached such a level by that point that when he doubled past Marlins center fielder Ichiro Suzuki, who was understandably playing in, Rose could hardly contain his excitement.
"Full swing, he lines it to left-center, that's a base hit," came the call from the Mets' longtime radio voice. "It's going to roll to the warning track! Holy smokes! Recker scores from second."
Then, as Colon rumbled into second base, Rose put a memorable twist on his phrasing.
"They're timing Colon with a sundial!" he said. "He just now pulls into second with a double! His third hit of the year, he has met the challenge of hitting coach Kevin Long. He drives in a run and it is 2-1, New York."
Rose struggled to contain his laughter as color commentator Josh Lewin chimed in: "We can say, and it's true, anybody else in the league is at third base right now. But who cares? That was awesome."
The double wound up becoming Colon's third hit en route to a career-high eight hits, and his first RBI on the way to a career-best four. And it produced, according to MLB Esurance voting, the most memorable radio call of the 2015 season.
Anthony DiComo is a reporter for MLB.com. Follow him on Twitter @AnthonyDiComo and Facebook, and listen to his podcast. This story was not subject to the approval of Major League Baseball or its clubs.