MLB.com Columnist
Richard Justice
Awards shutout won't diminish Trout's greatness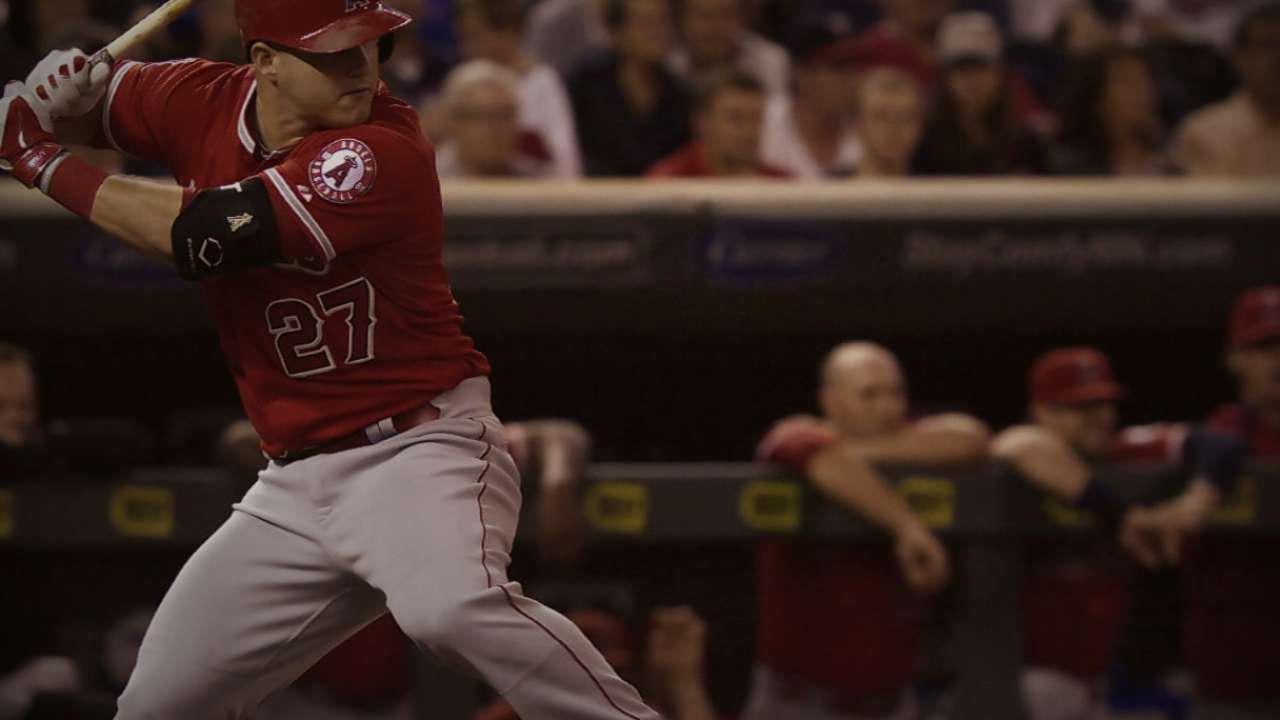 Mike Trout is the best baseball player on the planet. That's one of the things of which this season reminded us. Was he baseball's best player in 2015? No, probably not.
Bryce Harper was plenty deserving of the Best Major Leaguer Award (and National League Most Valuable Player Award), and Josh Donaldson was a worthy American League MVP.
But …
Had Trout won the AL MVP Award, no one would have blinked. His numbers were slightly better than Donaldson's in some areas -- he led the league in Wins Above Replacement and was only slightly behind Harper -- but voters historically have tended to favor guys whose teams made the postseason.
I've done this in the years when I had an MVP vote and spoken to plenty of my peers who have done the same. This might be a mistake, because it diminishes the accomplishments of players on teams that win fewer games.
Sometimes, those players have had even better seasons, and many times they're doing it without nearly as much help. Trout was in the middle of a lineup that Angels manager Mike Scioscia scrambled to piece together down the stretch.
The Angels fought their guts out to stay in the race before finally being eliminated on the final day of the regular season in what might have been Scioscia's finest managing job.
And Trout's body of work was tremendous. He and Donaldson hit 41 home runs apiece. Donaldson had more doubles and RBIs, while Trout had a higher OBP and a slightly higher OPS.
Donaldson got first-place votes on 23 of 30 ballots, and he was second on the other seven. Trout got seven first-place votes, 22 second-place votes and one third-place vote.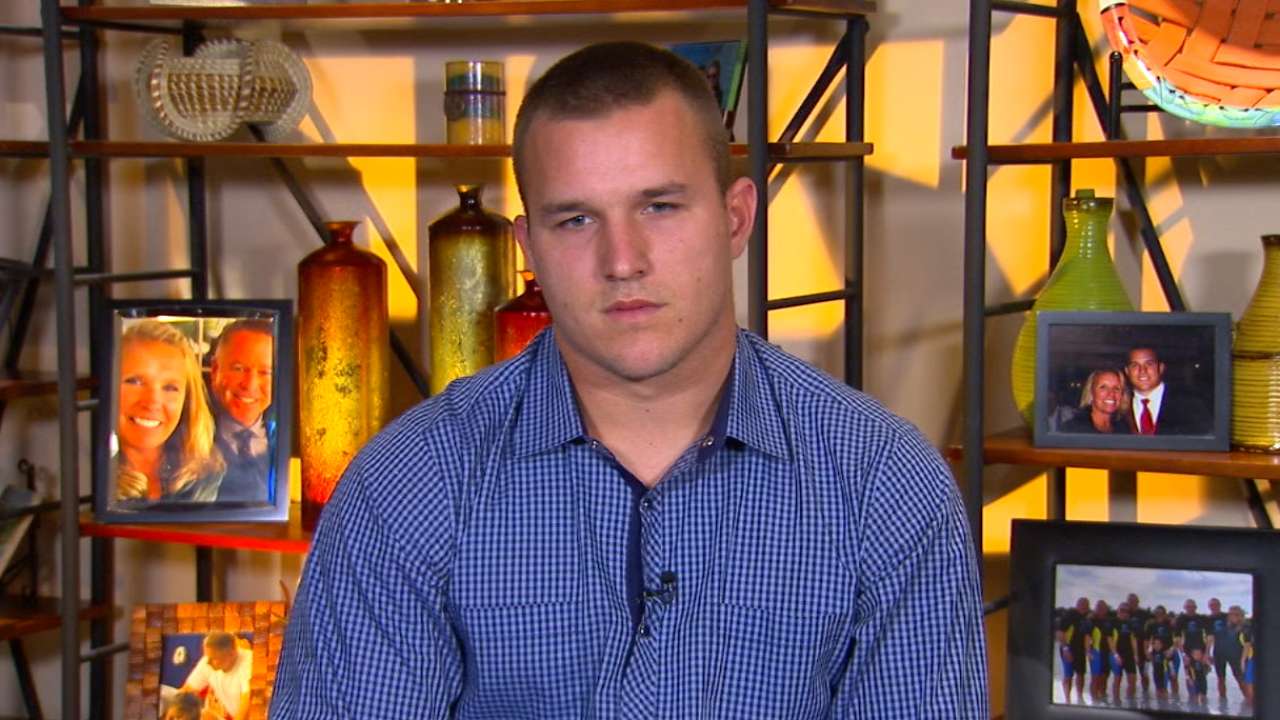 In the end, one difference for many voters might have been that Donaldson's Blue Jays won 93 games and a division championship while Trout's Angels won 85 games and missed the postseason.
Toronto won 42 of 56 games during a nine-week stretch to go from eight games out of first place to a six-game lead in the AL East. During those nine weeks, Donaldson had a .417 on-base percentage with 17 home runs, 55 RBIs and a 1.070 OPS.
Edwin Encarnacion and Jose Bautista also had great numbers during this stretch, but that hot streak, along with Toronto's record and Donaldson's entire season -- 41 doubles, 41 home runs and 123 RBIs -- surely was the tipping point for many voters.
Here's the other side of that argument: Rather than deducting points for Trout playing on a worse team, should we maybe give him a bonus for shouldering more of the offensive load?
In the end, a vote for either Donaldson or Trout was easily defensible. But from a larger perspective, this was a season that only enhanced Trout's reputation.
Trout is like Harper in that he was hyped like crazy before he even put on a big league uniform for the first time. When they both made the 2012 All-Star Game, it felt like a coming-out party for the new faces of baseball.
Harper took a bit longer to become a dominant player, but 2015 seemed to establish his greatness once and for all. Given his age (23) and his relentless drive, it's easy to think we haven't yet seen the best of Bryce Harper.
That's also true of Trout, who is a year older. He has been historically good. In four full seasons, he has won an AL MVP Award and finished second three times. As ESPN's Jayson Stark pointed out, only three other players have four straight top two finishes: Barry Bonds, Yogi Berra and Stan Musial.
That's the company Trout is keeping. In four seasons, his name is dotted across the Major League leaderboard: first in runs and triples, second in OPS, fourth in home runs, fourth in OBP, fifth in hits, sixth in RBIs, 11th in stolen bases and 12th in doubles.
Angels fans show up at the ballpark knowing there's a decent chance Trout will do something that brings them out of their seats. That might be his leaning over the wall to bring a home-run ball back into the park or flying around the bases for a three-bagger.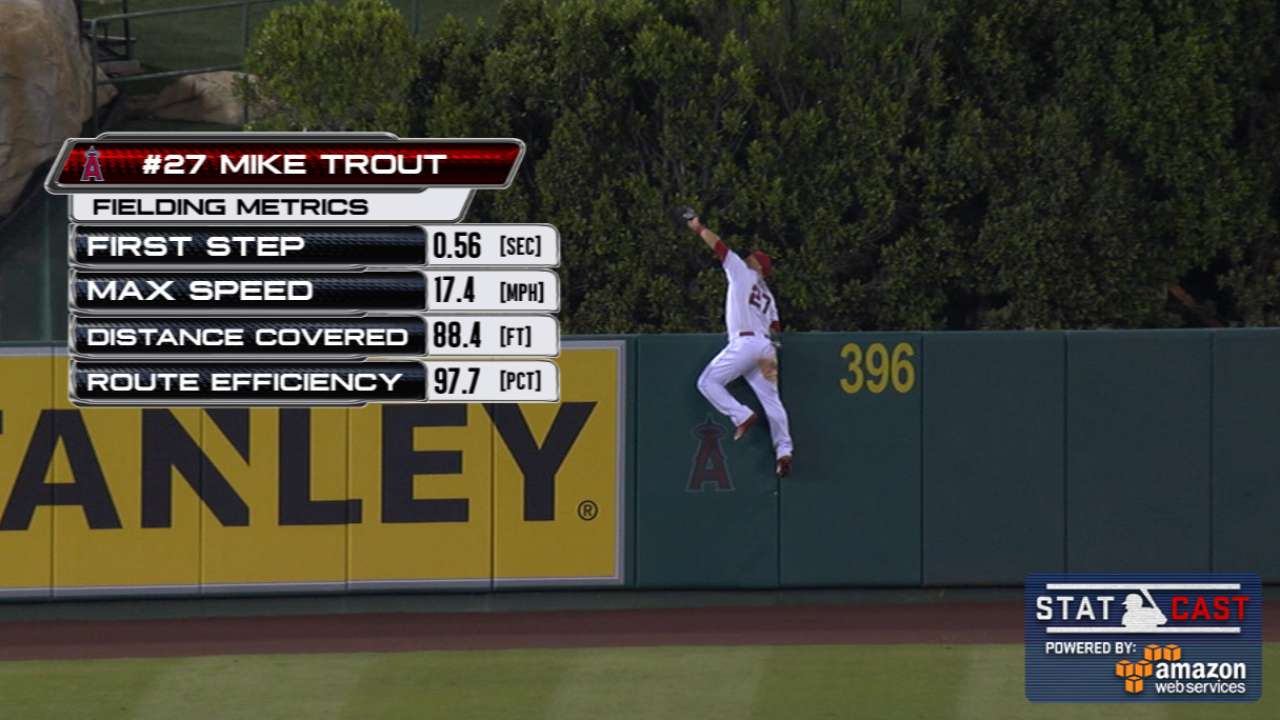 If there's something he doesn't do better than almost anyone, we haven't seen it yet. Because he has done all of this at such a young age and because he may be playing at a high level for a long time, we have a chance to appreciate that we're seeing something special.
In that way, finishing without winning a major award seems like more of an affirmation than a disappointment.
Richard Justice is a columnist for MLB.com. Read his blog, Justice4U. This story was not subject to the approval of Major League Baseball or its clubs.