Kiermaier nets Best Defensive Player honor
Rays center fielder made excellent plays look routine during the season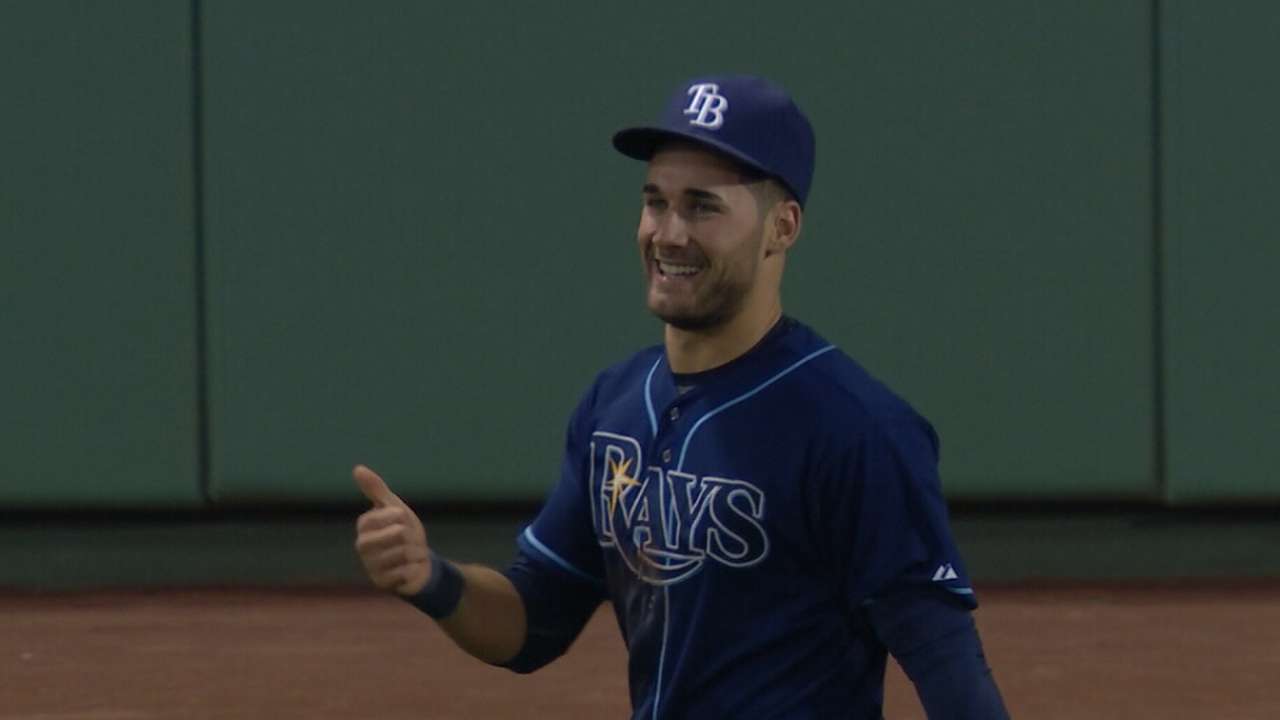 ST. PETERSBURG -- Rays center fielder Kevin Kiermaier has always wanted to be the best fielder in baseball, and this offseason, he has been hailed accordingly.
Already a Gold Glove Award and Platinum Glove Award winner, Kiermaier won the Best Defensive Player Esurance MLB Award on Friday night.
In doing so, Kiermaier beat out Rockies third baseman Nolan Arenado, who finished second, along with former Braves shortstop Andrelton Simmons, who finished third.
Kiermaier joined fellow Rays winner Chris Archer, who claimed a Best Social Media Personality win, which was announced on MLB Social earlier Friday.
The Esurance MLB Awards annually honor Major League Baseball's greatest achievements as part of an industry-wide balloting process that includes five components, each of which accounts for 20 percent of the overall vote: media, front-office personnel, retired MLB players, fans at MLB.com and Society for American Baseball Research (SABR) voters.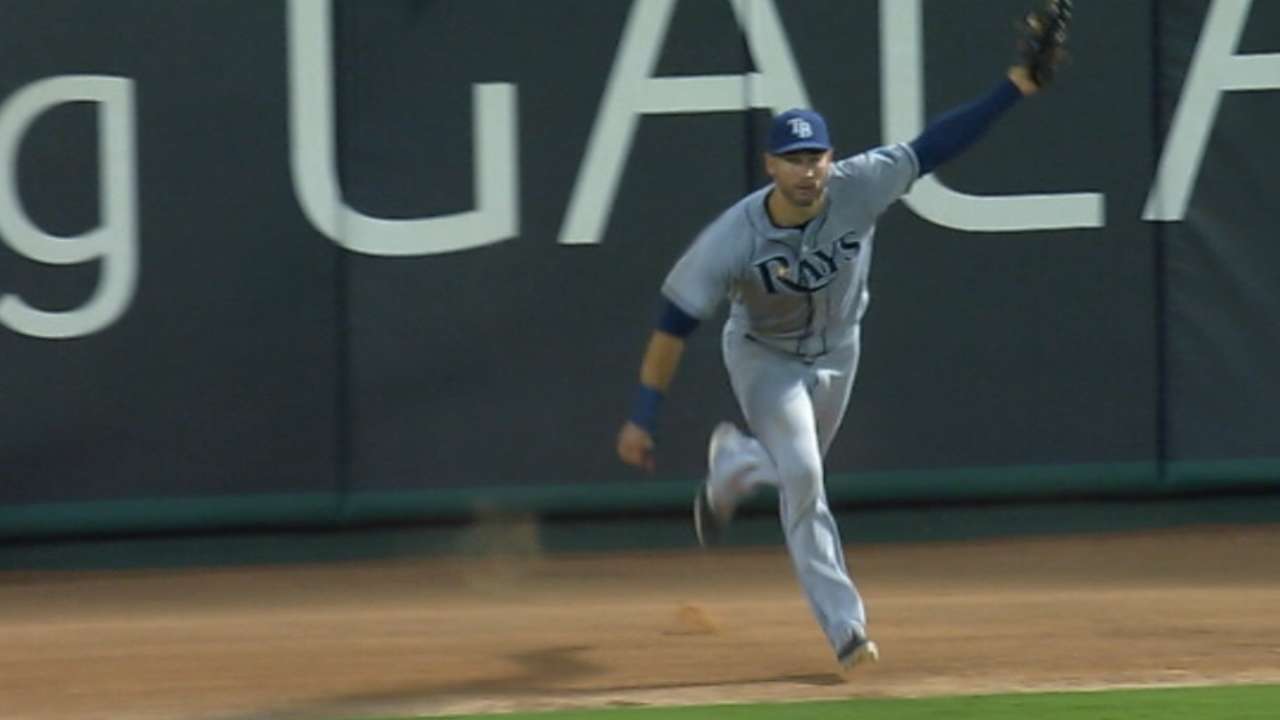 Individual awards were presented for 22 separate categories, including Best Major Leaguer, Everyday Player, Bounceback Player, Social Media Personality and Postseason Performer. Winners were also recognized for the year's Best Offensive Play, Defensive Play, Moment, Single-Game Performance, Social Media Post, Celebrity Fan and Fan Catch.
Manager and Executive winners will be announced at the Winter Meetings in December.
Nominees were judged on their bodies of work from the entire year -- from Opening Day through the postseason -- and selected after a careful review of all 30 clubs. Winners in all 24 categories receive a Greatness in Baseball Yearly (GIBBY) trophy.
How good is Kiermaier? Here's what Yankees manager Joe Girardi said about him after he robbed Brett Gardner of extra bases late in the season:
"He's an amazing center fielder. I almost feel like he knows where the ball is going to be hit. We were talking about it. You watch him go get balls, he's as good as I've seen."
Rays manager Kevin Cash allowed that he didn't know what other teams said about Kiermaier, but, he added: "I can only imagine that he's frustrated a lot of hitters when balls go up in the air and they're thinking double off the bat. And sometimes homer off the bat, and he's up there snagging it out of the air. It's not like a team game plans, 'Don't hit it to K.K.,' but it is amazing the notoriety that he's gotten for making tremendous plays over and over."
Kiermaier wasn't penciled in as an automatic starter in center field heading into this past Spring Training. But it didn't take Cash long to realize he had a weapon in center field.
"We saw it the first day," Cash said. "He looked like a shortstop in center field on the run throwing a guy out at second base, and then he went into the gap and caught a ball. So, yeah, we saw it right away. A lot of guys can do that play a couple of times a year. He does it a couple of times a series."
When asked if making Kiermaier the Rays' center fielder was an easy decision, Cash offered a chuckle.
"Yeah. I mean, that was a no-brainer," Cash said.
Cash had a high opinion of Kiermaier heading into the season, and he noted that Kiermaier actually managed to show improvement.
"I remember early on he would get ultra aggressive on coming in on balls and trying to make a throw and kind of a bobble there," Cash said. "Him and [outfield coach] Rocco [Baldelli] have worked really well on don't let things speed up on you. You do a lot of things fast, you get to the ball quick, you have a great arm, don't rush what doesn't need to be rushed.
"He's done a tremendous job on that. As far as following Rocco in the game on positioning, he's very receptive to moving and kind of playing throughout the outfield shifts. I don't know if you can take better routes than him. His routes are incredible."
Bill Chastain is a reporter for MLB.com. This story was not subject to the approval of Major League Baseball or its clubs.