MLB.com Columnist
Tracy Ringolsby
Preller refreshing farm with chosen prospects
After making deals for vets last offseason, Padres GM continues to rebuild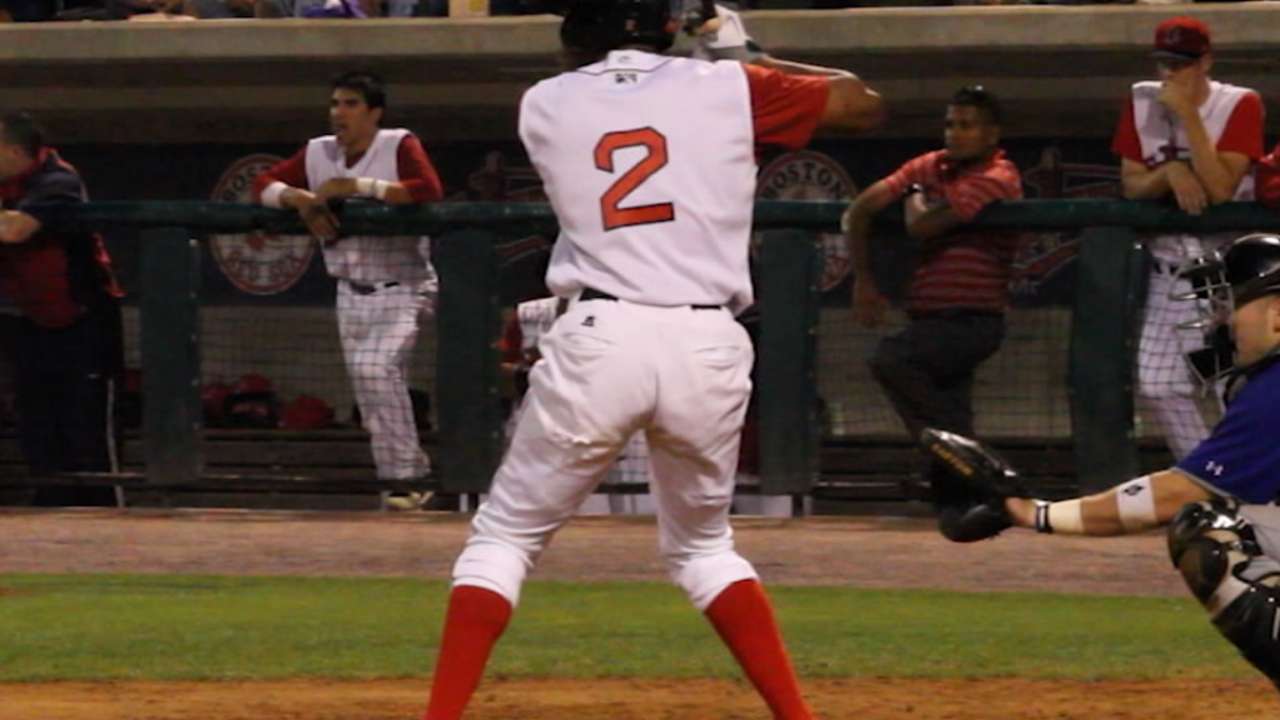 Don't be fooled. Padres general manager A.J. Preller had a plan for rebuilding the organization when he took the job a year ago, and he hasn't deviated from it.
Yes, he took a gamble last offseason, trading prospects for veterans, looking to see if he could provide a spark to the franchise and stir up fan interest. It didn't work. But it was a calculated gamble. It wasn't one in which he mortgaged the future.
Truth be told, the moves of a year ago actually were a down payment for a Padres revival.
Confused? Don't be.
The key is not to get caught up in an isolationist mentality of dissecting each move separately, or for that matter, each offseason separately. In a long-range plan, there's not time for short-term focus.
In the week leading up to Christmas a year ago, Preller went on a shopping spree that brought in catcher Derek Norris, third baseman Will Middlebrooks, left fielder Justin Upton, center fielder Wil Myers and right fielder Matt Kemp. Then he added right-hander James Shields as a free agent on Feb. 11 to provide an anchor for the rotation, and the GM followed on April 5 by trading for Braves closer Craig Kimbrel.
Preller gave up veterans Yasmani Grandal and Cameron Maybin, as well as 12 prospects, but only two whom MLB.com ranked among the Top 100. Those were shortstop Trea Turner (No. 62) and right-hander Matt Wisler (No. 69).
The Padres got sidetracked. The parts didn't fit. They went 74-88 and finished fourth in the National League West.
Now here they are, about to enter that holiday season again, and the bottom line is they are no worse for the wear. In a long-range view, they could even be ahead of schedule.
Consider that the Padres' farm system Preller inherited was considered middle of the pack at best. Given his role in the Rangers' front office before joining San Diego, Preller had first-hand evaluations of virtually all the amateur players the Padres had signed.
Preller wasn't impressed, according to those who have been close to him over the years. So his idea was to move the prospects along, roll the dice that the team could get lucky and perk up in the NL West in 2015, knowing that the worst-case scenario was he could replenish the farm system with prospects he liked better this winter.
So far, so good.
With the moves to free agency by Upton, Ian Kennedy, Brandon Morrow, Clint Barmes and Josh Johnson, the Padres have opened up $50 million from the past season, which gives Preller payroll flexibility.
Kennedy and Upton declining qualifying offers of $15.8 million for 2016 means the Padres will receive compensation picks in the 2016 Draft if the players sign elsewhere in the offseason. Combined with their own first- and second-round picks, along with a competitive balance pick after the second round, San Diego could potentially have five selections before the third round.
And now comes the shuffling of players that will allow Preller to receive prospects who better fit the mold he has in mind than the players he inherited. With the shipping of Kimbrel to the Red Sox on Nov. 13, he acquired four prospects who are ranked by MLB.com among the Top 20 in the Padres' organization.
Outfielder Manuel Margot, who Boston signed for an $800,000 bonus four years ago, immediately moved to the top spot on the Padres list, with shortstop Javier Guerra ranking third, left-hander Logan Allen at No. 18 and infielder Carlos Asuaje at No. 19. Margot, who reached Double-A last year at the age of 20, is rated the No. 25 overall prospect, and Guerra is No. 76.
And after exercising the club option on reliever Joaquin Benoit, Preller traded him for two prospects, including right-hander Enyel De Los Santos, who slipped into the No. 14 spot among Padres prospects. Two deals this offseason, and the GM already has added five prospects in San Diego's Top 20.
And it's not even Thanksgiving yet.
Keep an eye on the Padres.
Preller had his fling at trying to attain instant success a year ago. It didn't happen. Most importantly, though, he did not set back a rebuild of the organization.
And this winter, given the tools to add prospects that fit his mold, he figures to actually accelerate the long-range process.
Tracy Ringolsby is a columnist for MLB.com. This story was not subject to the approval of Major League Baseball or its clubs.