Vogt's Farley impression proves award-worthy
A's catcher gave 'motivational' interview to drum up All-Star support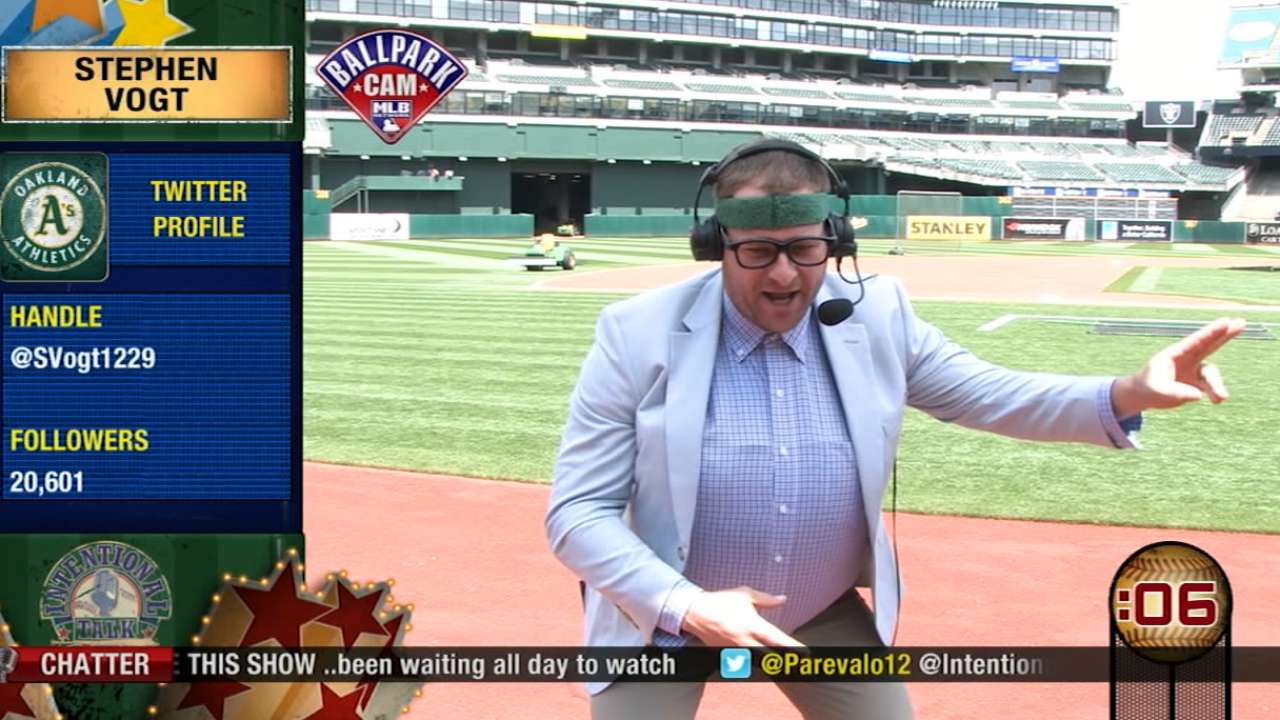 A hilarious impression this season has earned Stephen Vogt an Esurance MLB Award.
Vogt took home one of the first awards of the day on Friday, when it was revealed on social media that he was the recipient of this year's Best MLB Interview Award.
Vogt earned recognition for his impression of the late Chris Farley's Saturday Night Live character, motivational speaker Matt Foley. Vogt dressed as Foley and did an impression as he explained in May why he should make the American League All-Star team.
• Complete 2015 awards coverage
And after all that, it worked. Vogt was named to his first career All-Star Game this year. For his efforts, Vogt will receive a Greatness in Baseball Yearly (GIBBY) trophy.
Toronto's David Price (who did an interview featuring a question from former teammate Chris Archer) and Washington's Max Scherzer (who had four bottles of chocolate syrup dumped on him after a June no-hitter) were the other finalists.
Once the first four winners of the 24 awards were unveiled on Facebook, Twitter, Instagram and MLB Fans during the day Friday, all attention turned to MLB Network.
Brian Kenny and Dan Plesac hosted the MLB Awards show, announcing the next 18 trophy winners. Two final categories -- Best Manager and Best Executive -- will be announced at the Winter Meetings in Nashville, Tenn.
The Esurance MLB Awards annually honor Major League Baseball's greatest achievements as part of an industry-wide balloting process that includes five components, each of which accounts for 20 percent of the overall vote: media, front-office personnel, retired MLB players, fans at MLB.com and Society for American Baseball Research (SABR) voters.
Individual awards went to the Best Major Leaguer, in addition to the winners in the following categories: Best Everyday Player, Starting Pitcher, Rookie, Defensive Player, Breakout Player, Bounceback Player, Social Media Personality and Postseason Performer.
Winners were also recognized for the year's Best Offensive Play, Defensive Play, Moment, Single-Game Performance, Social Media Post, Celebrity Fan, Fan Catch, Video Board Moment, TV Call, Radio Call, Player-Fan Interaction and Trending Topic.
Joey Nowak is a reporter for MLB.com. Follow him on Twitter at @joeynowak. This story was not subject to the approval of Major League Baseball or its clubs.