Rays add Snell, 5 others to 40-man roster
No. 2 prospect among group of Minor Leaguers protected from Rule 5 Draft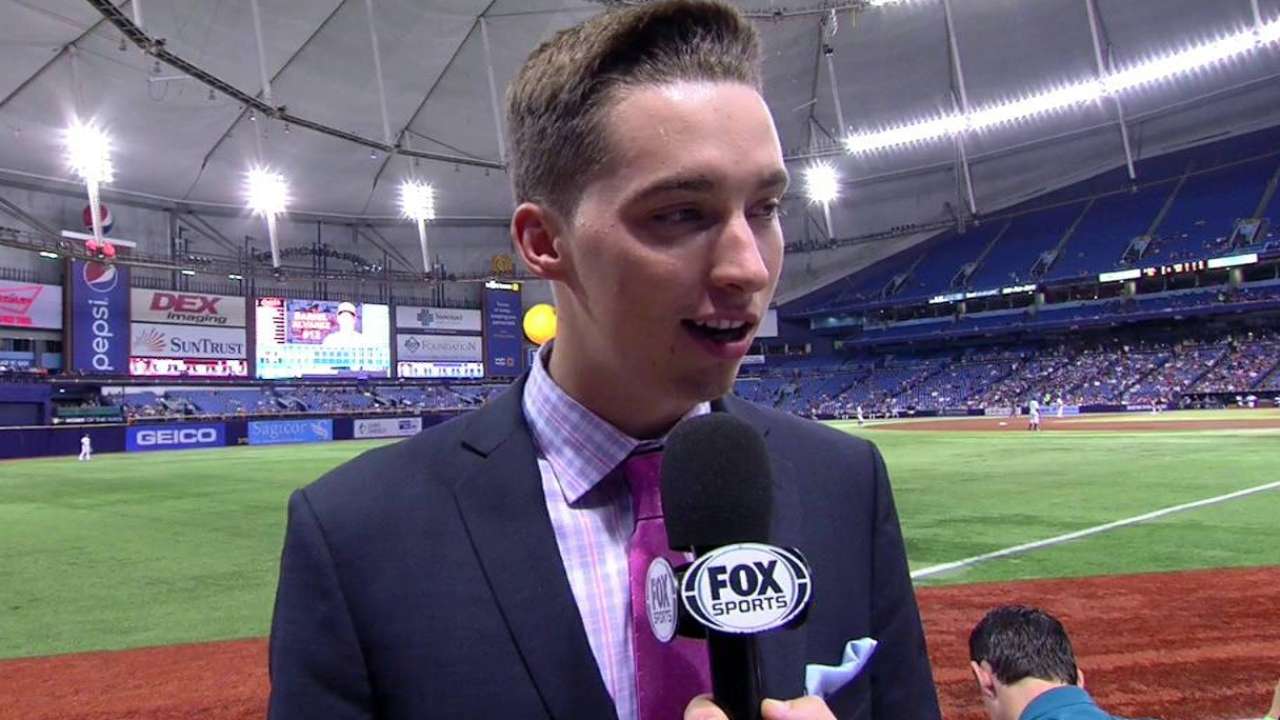 ST. PETERSBURG -- The Rays completed a busy day on Friday by announcing they have added six players to their 40-man roster, thereby meeting Major League Baseball's deadline for teams to set their 40-man rosters.
The Rays selected right-handers Jacob Faria, Taylor Guerrieri and German Marquez, infielder/outfielder Taylor Motter and left-hander Blake Snell. They also added right-hander Chase Whitley, who was claimed off waivers from the Yankees earlier in the day.
Rays president of baseball operations Matt Silverman spoke on a conference call after the moves were announced and first addressed the pitchers.
"All homegrown arms, three of them through the Draft and one of them through our international signings," Silverman said. "These are the next wave of Rays pitchers who will come up through our system and be a big asset for us for the Major League club.
"There are different points of development. Different ages. With Marquez, younger and a little further behind Blake Snell with the Triple-A experience that he got last year. But four really good, quality arms that have become the hallmark of the Rays' system."
Snell is ranked by MLBPipeline.com as the Rays' No. 2 prospect. Guerrieri and Marquez are ranked No. 6 and No. 25, respectively.
"[Snell] accomplished a lot and he's a great prospect," said Silverman, who noted that he "wouldn't be surprised" if Snell made an impact at the Major League level in 2016.
Motter will be an intriguing piece this spring given his positional flexibility and the success he's enjoyed.
"He had a great year in [Triple-A] Durham," said Silverman, who noted that Motter "loves to play baseball," pointing out that he's playing winter ball. "And playing well there, too. His versatility is a real asset.
"... He opened a lot of eyes this year with the way he played, with his attitude, with the power, and he's one of those players that forced himself into the conversation and forced himself onto the roster and we're very excited."
As for Whitley, Silverman said he's on roughly the same schedule as Alex Cobb for when he will return from Tommy John surgery.
"He can be a good arm for us," Silverman said.
To make room on the 40-man roster, the club outrighted left-hander Grayson Garvin and right-hander Burch Smith to Durham and designated for assignment catcher J.P. Arencibia, outfielder Daniel Nava and right-handers Brandon Gomes and Kirby Yates.
The Rays selected Arencibia from Durham on Aug. 26, and he hit six home runs in 71 at-bats. Silverman noted that the decision regarding the veteran was a tough one, but the Rays felt they were "better served" with the other catching candidates they have. However, he did not rule out bringing Arencibia back, though he allowed it will be a tougher endeavor to do so.
Silverman cited Gomes for being a "very difficult call" due to what he has done for the club and "especially because of the kind of teammate" he's been. But he noted that Gomes is out of options and he's arbitration-eligible, which made some of the other bullpen candidates more attractive.
The Rays needed to clear roster space for their prospects to protect them from being selected in the Rule 5 Draft, which takes place in December at the Winter Meetings.
Bill Chastain is a reporter for MLB.com. This story was not subject to the approval of Major League Baseball or its clubs.