Yanks GM Cashman sleeps outside for charity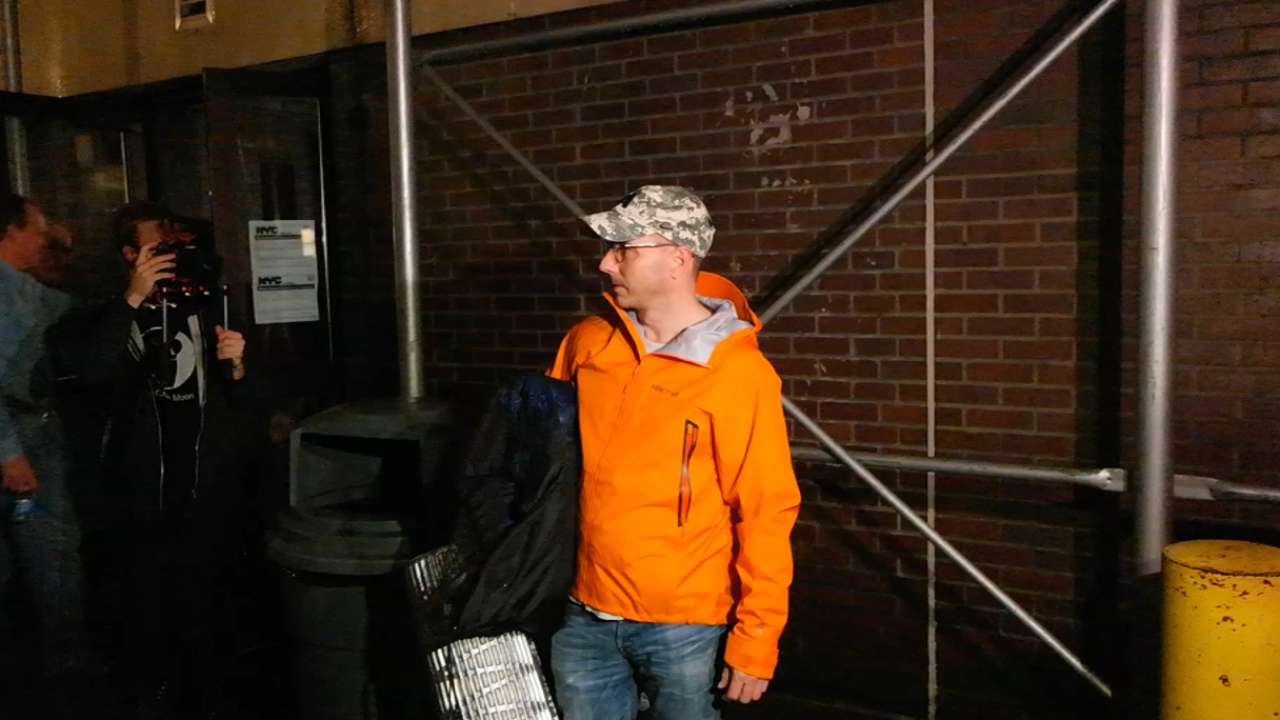 NEW YORK -- The phone conversation concluded as Brian Cashman pulled his vehicle, windshield wipers whipping, into the Covenant House parking area along Manhattan's West 41st Street. He promised that, from there, whatever ground was to be covered in trade talks would literally take place from the ground.
For the fifth consecutive year, the Yankees' general manager participated in the nationwide "Sleep Out" to raise awareness for the plight of homeless children, joining 700 leaders in business, government, media and sports in sleeping out on the streets of 15 cities in the United States and Canada.
"The very first time I ever did this, I could not operate the next day," Cashman said. "I had a sleeping bag and they give you a slab of cardboard to sleep on. I got no hours of sleep that night. I don't know how anybody gets up and has to do this every day and try to decide where to lay their head at night, feel like they're safe, actually get any sleep."
#Yankees GM Brian Cashman prepares for tonight's Sleep Out for homeless youth. @CovenantHouse pic.twitter.com/mvVN3NVaei

— New York Yankees (@Yankees) November 21, 2014
Cashman, who serves on Covenant House's board of directors, said that he will keep his mobile phone in action on Thursday evening, continuing his 24/7 availability in discussions to improve the Yankees' on-field product. He said that it is even possible something could be completed before sunrise.
"I think there are some things in play that if some teams say yea to the positions I've taken, then yeah," Cashman said. "There's been some time that's developed between the last deal and the current status, but I can honestly tell you I was on the phone with a general manager as I was pulling in to the parking garage, so you never know."
Cashman met the organization's future president, Kevin Ryan, while they were students at the Catholic University of America. Audra McDonald, a six-time Tony Award winner, also participated in Thursday's candlelight vigil and Sleep Out, which aimed to raise $6 million to benefit those in need.
"No one is saying sleeping out for one night is comparable to what homeless kids go through," Ryan said. "But our vigil and our Sleep Out will raise awareness and funds needed to save the lives of kids who are right now living and dying on our streets. It will be a powerful night of hope for our kids."
In past years, Cashman said he bundled up in ski gear, which provided layers of cushion against the unforgiving concrete. Mother Nature tossed a curveball on Thursday, offering warmer temperatures in the mid-60s but pounding rainfall.
"This will be a challenge tonight, more than any other ones, because of the rain," Cashman said.
The most meaningful part of the annual event, to Cashman, has been having the opportunity to meet with some of the individuals that Covenant House has helped over the years.
"They have so much potential, so much opportunity," Cashman said. "They were just dealt a bad hand on the front end of their lives. A place like this, the personnel working it are really doing tremendous work to put them in a better position to get along with a life and build a life."
Bryan Hoch is a reporter for MLB.com. Follow him on Twitter @bryanhoch, on Facebook and read his MLBlog, Bombers Beat. This story was not subject to the approval of Major League Baseball or its clubs.