MLB.com Columnist
Richard Justice
Fans win by seeing Harper, Donaldson play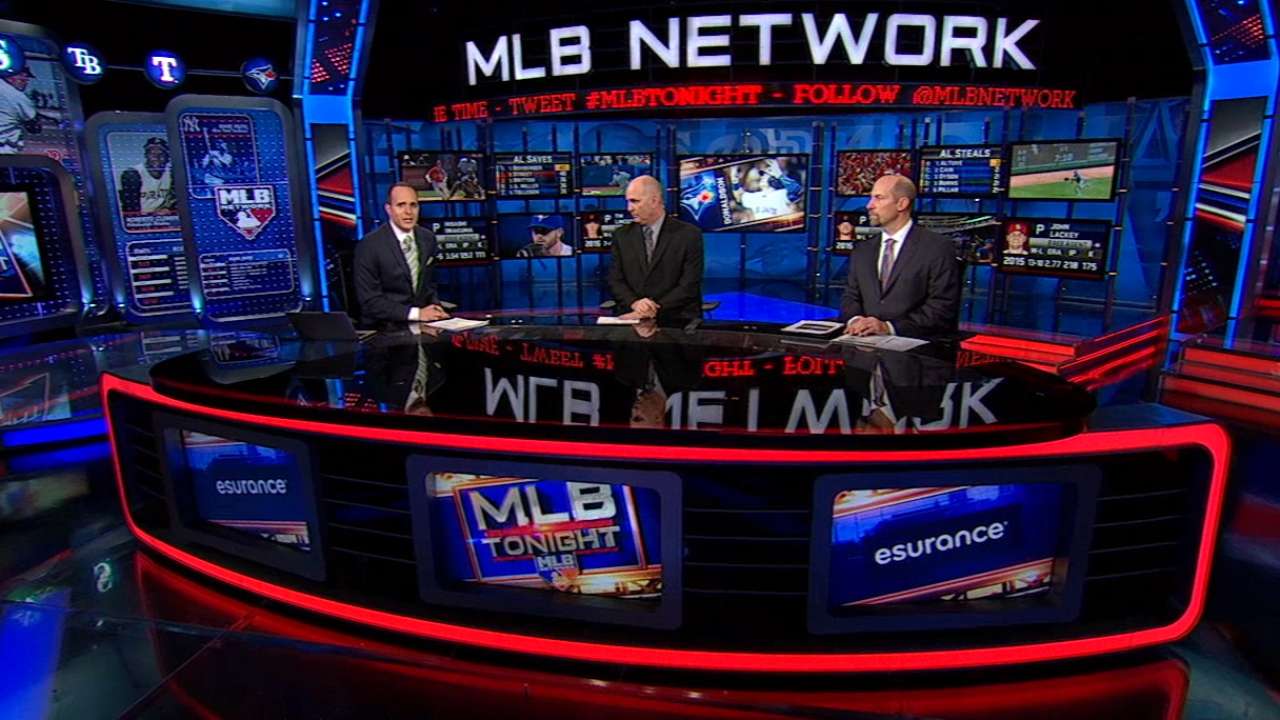 • Harper unanimous choice for NL MVP; Donaldson wins in AL
This is our generation of stars -- a few of them anyway. Twenty or 30 years from now, we'll look back at this list and be reminded how good we had it as fans.
Depending on your age, you can do this for other years. For instance, in the 1959 NL MVP voting, the top three finishers were Ernie Banks, Eddie Mathews and Hank Aaron. Willie Mays finished sixth that season, Frank Robinson ninth.
If you love this sport, you wish you'd seen Aaron and Mays at their best. Can you imagine how cool that would have been?
And that's why we love this stuff.
First, a tip of the hat to the two runners-up. If we do look back at this list, Trout's name could be the one that sticks in our hearts and minds. In four seasons he has finished first once and second three times. This may yet be remembered as the Mike Trout Era.
And there's the other runner-up, Goldschmidt.
Goldschmidt is the face of the D-backs on the field and off, and the living, breathing definition of a superstar. He was second in the NL in OPS and RBIs, third in walks and fifth in home runs. But he's the best defensive first baseman on the planet and may be the best baserunner in baseball.
He has a relentless work ethic, a desire to be great. That drive has defined him since the D-backs took him in the eighth round of the 2009 Draft. When a player is taken that low, he has to do a little more to prove he belongs. Goldschmidt has long since shown his greatness in ways large and small.
Now about the winners. These were not difficult decisions. Had anyone else won either award, it would have been a huge upset.
But they're not parallel story lines. Harper has been famous since before high school, when scouts began telling stories of his otherworldly skill set. He made his Major League debut three years ago at the age of 19 after playing one full season in the Minors.
Yet he never once looked overwhelmed. He was a bundle of nerves who put on incredible displays of power during batting practice. At times he played too hard and rubbed some people the wrong way, but there was little question that he was headed for greatness.
And this was the season when his whole incredible game was put on display: 81 extra-base hits, a .460 on-base percentage, a 1.109 OPS. He did all of this at the age of 22 -- he turned 23 last month -- and the scary part is, he's likely to keep getting better.
Donaldson, a catcher and third baseman at Auburn, was the 48th pick of the 2007 Draft, and he made his debut three years later. He was traded from the Cubs to the A's, then to the Blue Jays last winter. In Oakland he made a seamless transition to full-time third baseman. OK, he did more than that. He's so gifted physically he could probably play any position. He's probably the best third baseman in baseball.
Offensively, this was the season when he made the most difficult game on earth look easy: 41 doubles, 41 home runs, 123 RBIs, .939 OPS.
When the Blue Jays were winning 42 of 56 to take control of the AL East, Donaldson did a good imitation of the happiest man on earth. He was surrounded by other great offensive players, and he would be the first to point out that every thing is connected to every other thing.
But this was his MVP Award, his alone. He worked relentlessly for it despite some disappointment along the way. And when he was done, he had joined Harper as two of the faces of this sport. And on Thursday he celebrated a moment he'll remember for the rest of his life.
We should celebrate, too, because we're also lucky. We're the generation of fans who get to see these guys play.
Richard Justice is a columnist for MLB.com. Read his blog, Justice4U. This story was not subject to the approval of Major League Baseball or its clubs.