Honeycutt: Greinke can be like Maddux
Coach believes free-agent pitcher will continue to dominate into his 40s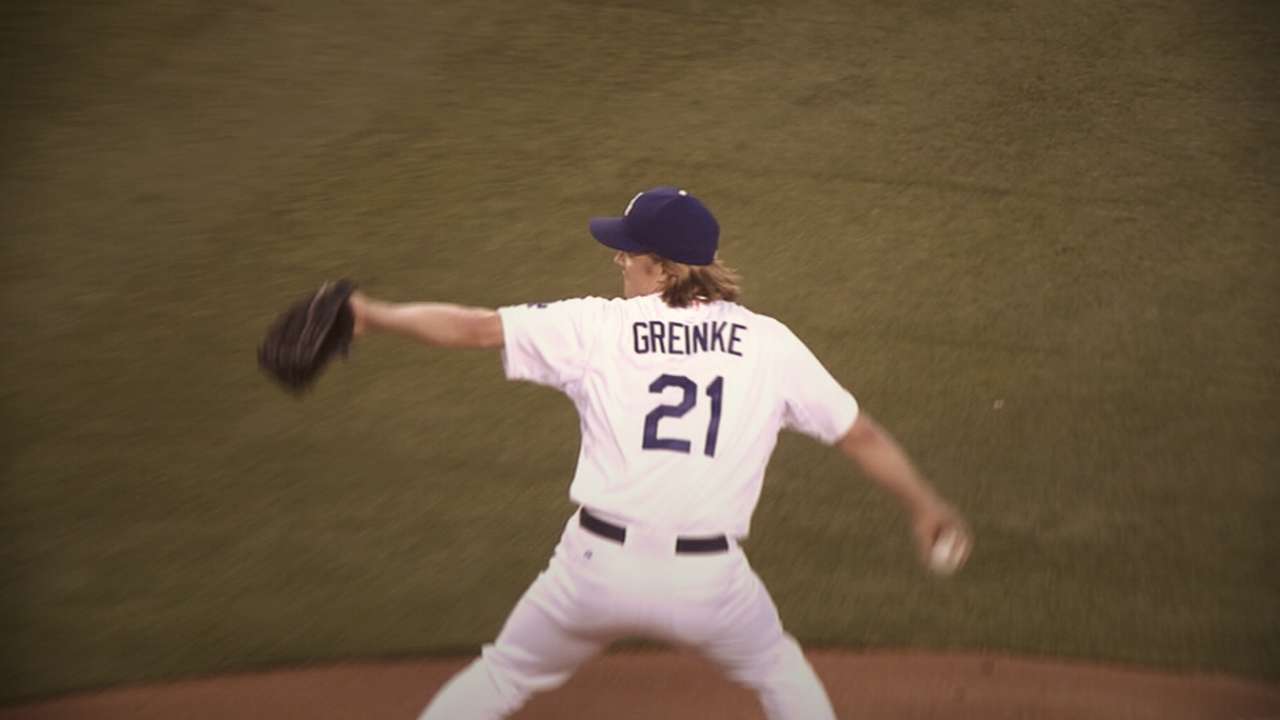 LOS ANGELES -- Rick Honeycutt said he was "a little bit shocked" that Zack Greinke didn't win the National League Cy Young Award on Wednesday, but he is convinced the free-agent pitcher "can continue to pitch just like Greg Maddux into his 40s."
Honeycutt made the comments on the Dodgers' SportsNet LA, which still referred to Honeycutt as the club's pitching coach. The Dodgers, who have yet to hire a manager, haven't confirmed any coach hirings either, although Honeycutt reportedly has agreed to a multiyear deal.
Honeycutt's comparison of Greinke to Maddux no doubt has been passed along to the front office, which some reports claim is reluctant to extend the 32-year-old Greinke a long-term deal because the preponderance of evidence indicates a significant drop-off in performance for most pitchers in their late 30s.
Honeycutt, however, doesn't view Greinke like most pitchers.
"You've seen him each year we've had him, and each year he gets better as the season goes on," Honeycutt said of Greinke. "He's in great shape, he adds and subtracts to his pitches when he wants to. He can continue to pitch just like Maddux into his 40s. He has that ability, because he has the pitches already and makes the adjustments with the pitches he has.
"There's no doubt in my mind he can go as long as he wants to go. For five years, I don't see him having any issues after being with him the last three years. He's very intelligent, he takes care of himself. A lot of guys have talent, but you have to have the smarts to go with it, and he certainly has that. He's got a lot of game."
Honeycutt said Cy Young Award voters seemed to miss the fact that, while winner Jake Arrieta of the Cubs had a phenomenal second half, so did Greinke and teammate Clayton Kershaw.
"They were all dominant, an unbelievable season by the three guys," he said. "But from Day 1 to the end of the season, Zack was the most consistent out of all of them. Kershaw finished his usual self, super dominant; Arrieta was, too. I know Arrieta had a few more wins, but the winning percentage and the ERA? I was surprised that Zack got three third-place votes. I felt that was a little out of character."
Honeycutt praised Greinke's varied pitch repertoire and his ability to adjust it during a game. He said Greinke is "extremely intelligent," and that he and Kershaw "thrive off each other."
Honeycutt defended Kershaw's early-season inconsistency, blaming some of it on bad luck.
"When he got command of the slider, he just showed again he's one of the best, and over the last five years, he's been the best in baseball," said Honeycutt. "I'm extremely proud of him. Coming off the Cy Young and MVP, there was just no letup in him. Maybe there was extra stuff going on early, I couldn't really tell you, but when he got things figured out he was just as dominant down the stretch as anybody."
Ken Gurnick is a reporter for MLB.com. This story was not subject to the approval of Major League Baseball or its clubs.