Manaea dominates in final Fall League start
Oakland's No. 3 prospect moves into first in strikeouts in Fall League regular season finale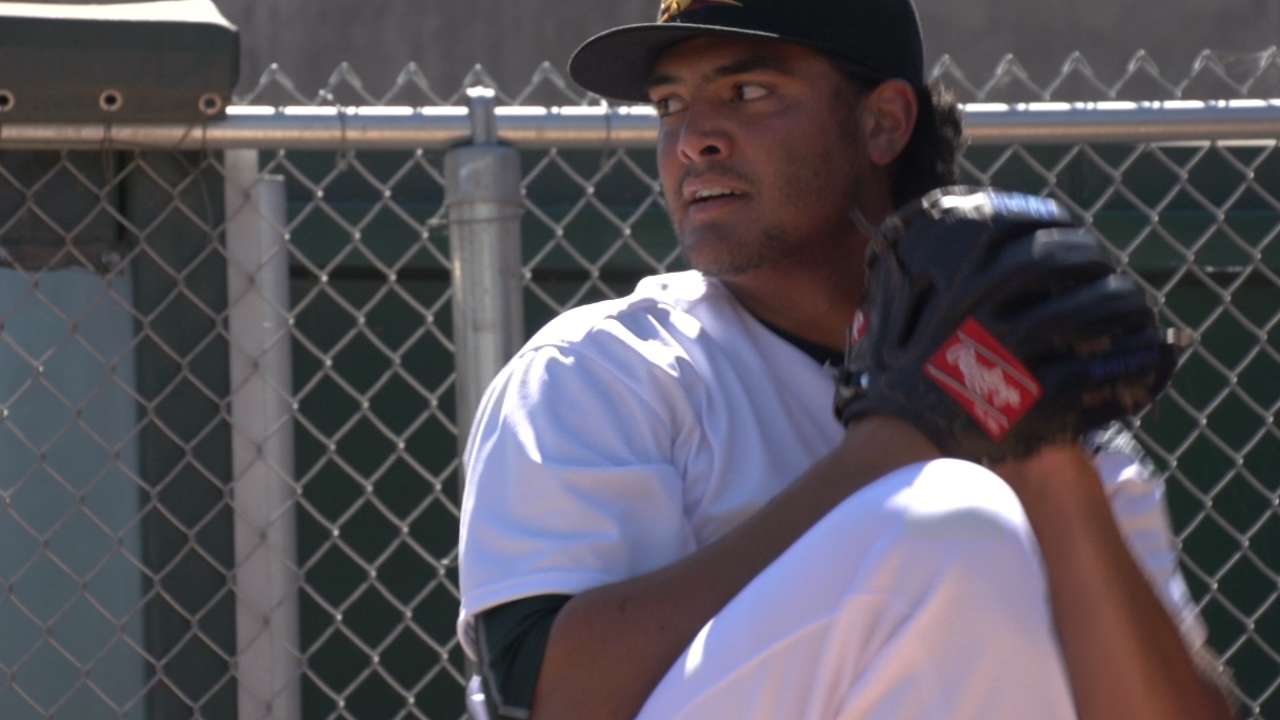 Sean Manaea tied a bow on his impressive Arizona Fall League campaign with one last dominant outing.
After a nine-strikeout performance in his last start, the Mesa Solar Sox left-hander fanned seven batters Thursday in a 5-1 loss to Glendale, pushing his Fall League total to 33 and moving him into sole possession of first place on the final day of the Fall League's regular season.
"Strikeouts have been big for me [in the Fall League]. My slider is a swing-and-miss pitch and I've done a good job keeping it down in the zone, especially against right-handed hitters," Manaea said after the game. "I've been able to set them up with a fastball away or up in the zone and then pound their back leg with the slider."
But strikeouts were only part of the story, as Manaea allowed an unearned run on three hits and one walk over 4 2/3 innings, throwing 51 of his 74 pitches for strikes.
The A's No. 3 prospect finished the Fall League with a 3.86 ERA, allowing six walks and zero home runs in 25 2/3 innings (six starts). Opposing hitters, meanwhile, batted just .224 against the 23-year-old.
It took Manaea a few starts to shake some transitional rust before things clicked. After his first three starts, he pitched to a 2.64 ERA with 20 strikeouts in 13 2/3 innings -- and that doesn't include his impressive start (2 IP, 4 K) in the Fall Stars Game.
"Being able to throw my slider for a strike. More so, having hitters know that I can throw it for a strike," Manaea said of how he wrote his strong finish in the Fall League. "The way I was holding it in my hand felt weird during my first couple starts. But I did a lot of tinkering around and finally was able get the right mindset for how I wanted to throw it and how I wanted it coming out of my hand.
"The big turning point was in the Fall Stars Game. It was the first time I was able to throw it for a strike. Since then, it's been about having the confidence to keep throwing it in different counts, and I feel like I did that well toward the end."
Manaea was viewed as a potential No. 1 overall Draft pick in 2013 before suffering a hip injury as a junior at Indiana State. He ultimately fell down the board to No. 34, where he was selected by the Royals and subsequently signed for a supplemental first-round record $3.55 million. In July, he was dealt to the A's as part of the Ben Zobrist deal.
Manaea was nothing short of dominant after the trade: in seven starts for Double-A Midland over the final weeks of the regular season, the southpaw went 6-0 with a 1.90 ERA and 51 strikeouts in 42 2/3 innings. He also played a major role in helping Midland win its second straight Texas League title as he allowed only two earned runs and struck out 15 batters in 15 innings in a pair of postseason starts.
With his AFL season now in the books, Manaea can't help but look ahead toward 2016 -- a year which, if all goes as planned, could see him get his first taste of the Major Leagues.
"[The A's front office] knows what they're doing. So whenever they think I'm ready to move up a level, I'll be ready," Manaea said. "But just knowing I can get these guys out is a really big confidence booster for me. These guys are extremely good, so having success against them has been huge in terms of my mentality and how I take care of business."
Other top performers
• White Sox No. 17 prospect Adam Engel -- who was out of the lineup Thursday for Glendale -- finished his impressive Fall League campaign with a .403 average to claim the EyePromise Vizual EDGE PRO Batting Title Award. With only the AFL Championship remaining on the schedule, the 23-year-old outfielder leads the league with a .523 OBP and .642 slugging percentage and ranks second with nine doubles and 10 steals.
• Trey Michalczewski, the No. 6 prospect in the White Sox system, extended his hitting streak to six games in the win, tallying a triple and two RBIs. The 20-year-old third baseman hit .244 in 10 games for the Desert Dogs.
• For Mesa, Rays No. 23 prospect Jake Bauers collected three hits in four at-bats, giving him a .353 average (12-for-34) over his final 10 games. Overall, the 20-year-old posted a .254/.342/.403 batting line over 18 games despite being the youngest everyday player in the Fall League.
Mike Rosenbaum is a reporter for MLB.com. Follow him on Twitter at @GoldenSombrero. This story was not subject to the approval of Major League Baseball or its clubs.