Awards Week finale tonight: Best Major Leaguer is ...
Honors to be announced at 8 ET on MLB Network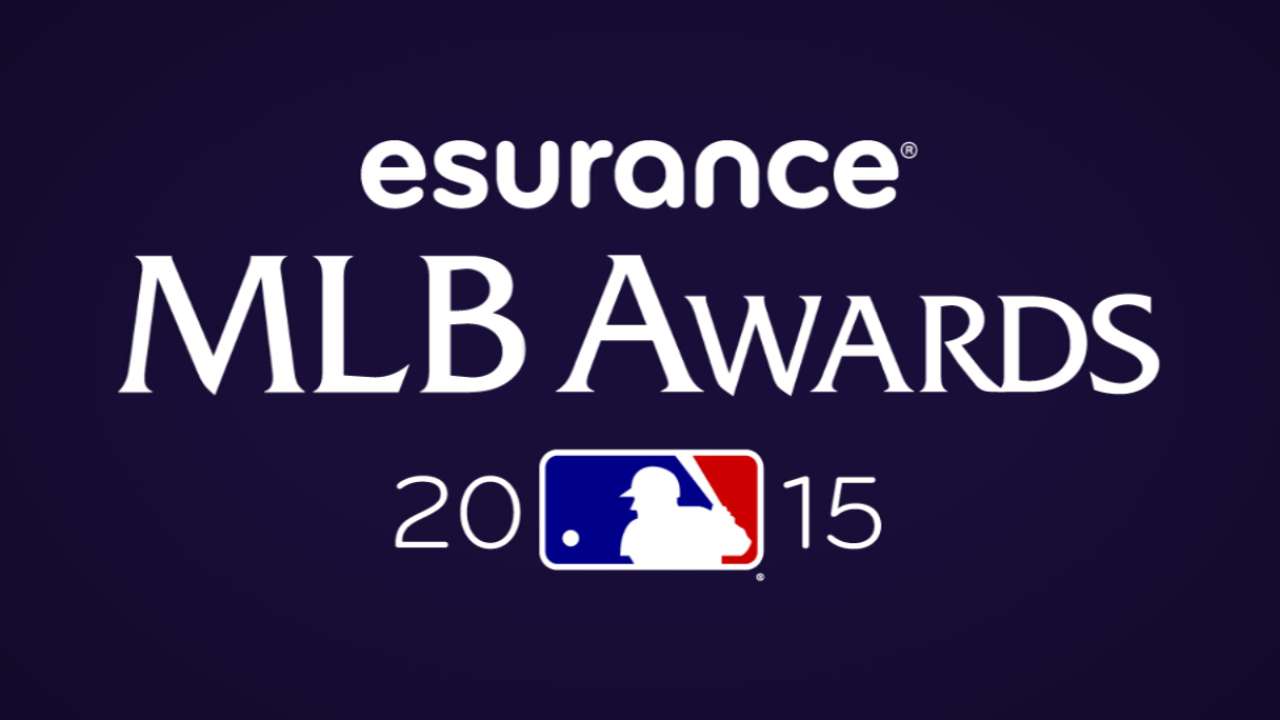 Going into the 2015 season, anyone who'd paid attention to Major League Baseball knew that Josh Donaldson and Bryce Harper had MVP-caliber talent.
By the end of the season, both players had lived up to it, and on Thursday night, both were officially etched into the history books as winners of the American and National League MVP honors.
• Esurance MLB Award finalists named, winners unveiled today
Tonight, we'll find out if Blue Jays third baseman Donaldson or Nationals right fielder Harper will add the Esurance MLB Award for Best Major Leaguer.
For the first time in their careers, Donaldson won AL MVP and Harper took the NL honor, given by the Baseball Writers' Association of America. But only one player can win the Esurance MLB Award, which is not league-specific and rewards the best of the best from Opening Day through the end of the World Series.
Donaldson and Harper have plenty of competition from all over the rest of the Major Leagues.
Awards season will come to a dramatic and fitting close today with the first edition of the Esurance MLB Awards, broadcast live on MLB Network at 8 p.m. ET and hosted by Brian Kenny and Dan Plesac.
In the case of Best Major Leaguer, it's a choice from a ridiculously gifted group of players that hit for power and average, field their positions with aplomb, run the bases with measured aggression and shut down the best hitters in the game from the mound.
In addition to Donaldson and Harper, there's something for everyone in the list of nominees: the usual suspects such as Angels center fielder Mike Trout, Pirates center fielder Andrew McCutchen and D-backs first baseman Paul Goldschmidt, plus veteran hitters Joey Votto of the Reds and Yoenis Cespedes, who went from the Tigers to the Mets and helped get New York all the way to the World Series.
Brilliant pitchers on the list include both Cy Young Award winners in Dallas Keuchel of the Astros and Jake Arrieta of the Cubs along with Dodgers aces Zack Greinke and Clayton Kershaw and Blue Jays left-hander David Price.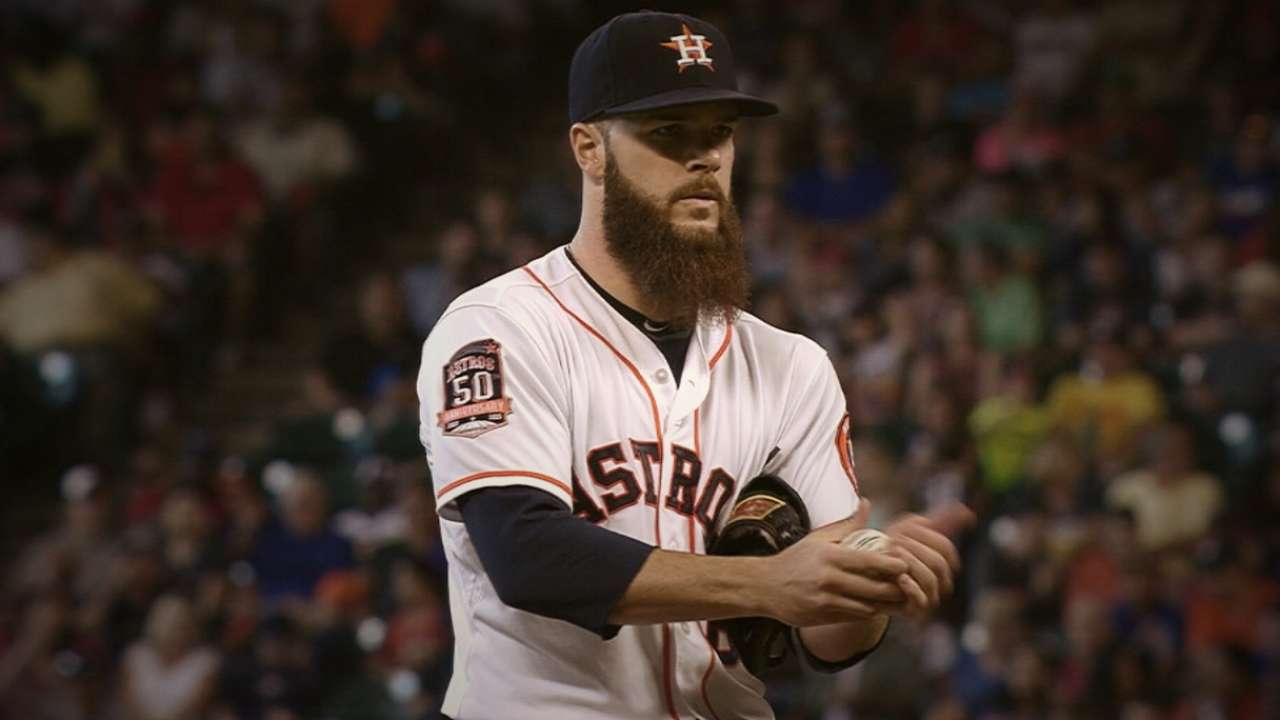 The Esurance MLB Awards honor Major League Baseball's greatest achievements as part of an industry-wide balloting process that includes five components, each of which accounts for 20 percent of the overall vote: media, front-office personnel, retired MLB players, fans at MLB.com and Society for American Baseball Research (SABR) voters.
Individual awards will go to the Best Major Leaguer in addition to Best Everyday Player, Starting Pitcher, Rookie, Defensive Player, Breakout Player, Bounceback Player, Manager, Executive, Social Media Personality and Postseason Performer.
Winners will also be recognized for the year's Best Offensive Play, Defensive Play, Moment, Single-Game Performance, Social Media Post, Celebrity Fan, Fan Catch, Interview, TV Call, Radio Call, Player-Fan Interaction, Video Board Moment and Trending Topic.
Harper, who turned 23 on Oct. 16, was among the big league leaders in batting average (.330), OPS (1.109), home runs (42) and runs scored (118) in a historic campaign for a player of his age.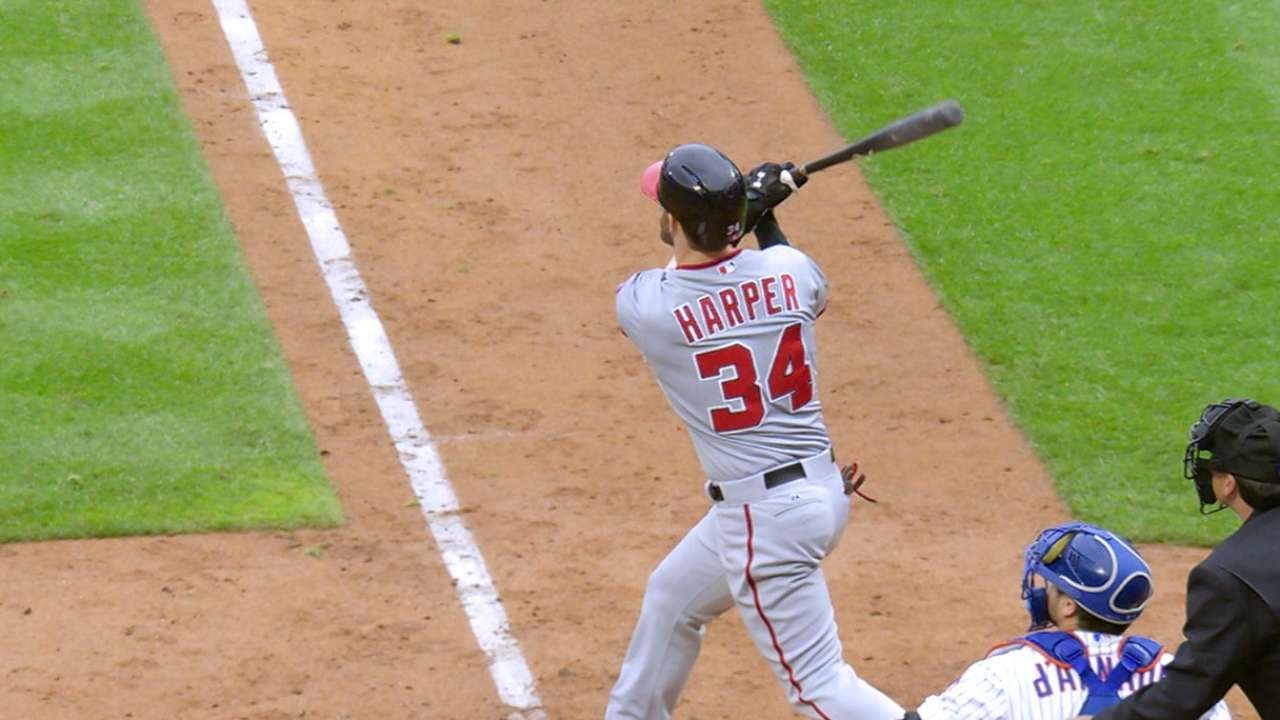 Donaldson also made a huge statement to be Best Major Leaguer. He finished the regular season with a line of .297/.371/.568, 41 homers and 123 RBIs for a Toronto team that made its first postseason appearance since 1993, and he also played excellent defense at the hot corner.
"We count on him, and he knows that," teammate R.A. Dickey said. "He never changes. That's what's so fun to watch about Josh. Regardless if he's been 0-for-3 that night with three punchouts or he's hit three home runs, he's the same guy in that batter's box, and he wants to win that battle every time."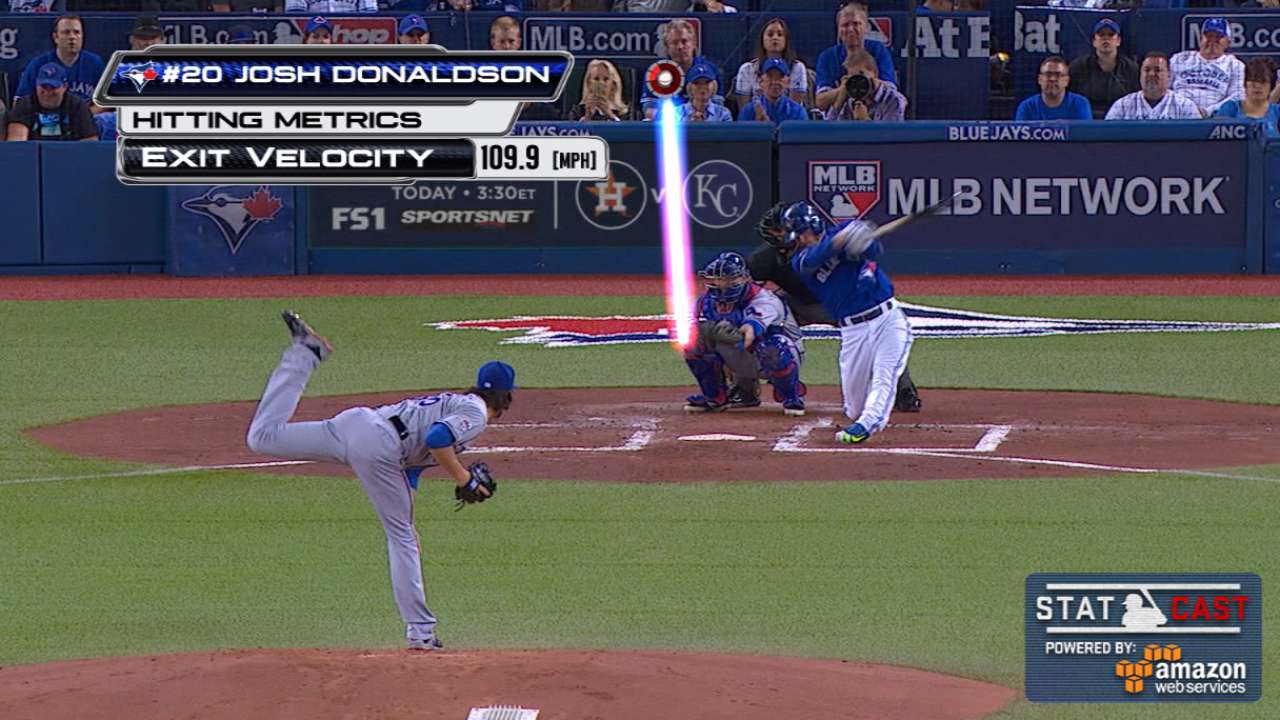 Cespedes won a lot of those battles after coming over to the Mets from the Tigers, and he helped power New York all the way to the World Series, hitting a combined .291 with 35 homers and 105 RBIs.
Then there's Goldschmidt, who quietly continued to pile up monster numbers, including a batting average (.321) and OPS (1.005) that were the best of his already-brilliant career.
On the pitching side of things, Keuchel and Arrieta were the only 20-game winners in the Major Leagues. Arrieta's Major League-record 0.75 ERA in the second half of 2015 had a lot to do with him winning the Cy Young and could go a long way toward his candidacy for Best Major Leaguer as well.
Doug Miller is a reporter for MLB.com. Follow him on Twitter @DougMillerMLB. This story was not subject to the approval of Major League Baseball or its clubs.