Tilson leads Saguaros to victory on final day
Trio of Cardinals prospects contribute at plate as Saguaros wrap up regular season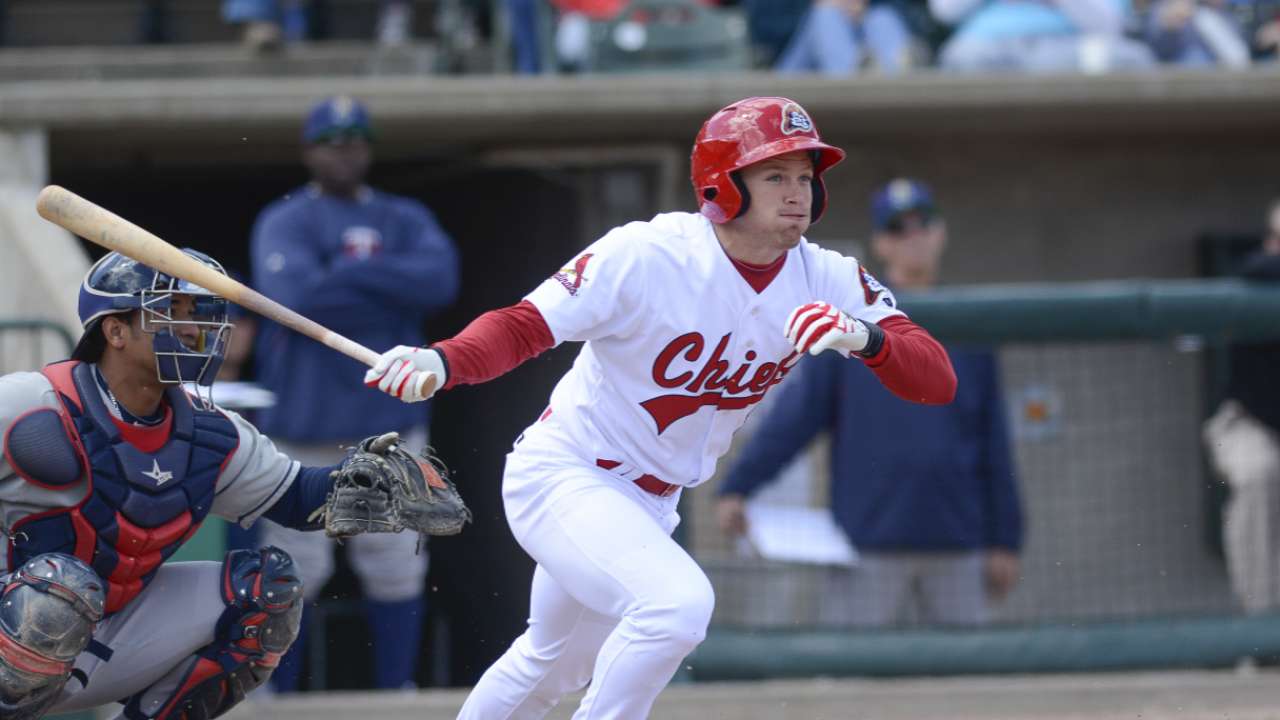 PEORIA, AZ -- The final day of the Arizona Fall League's regular season had a Cardinals stamp affixed to it. Three St. Louis prospects -- Charlie Tilson, Patrick Wisdom and Michael Ohlman -- combined for two home runs and five RBIs in a 7-4 victory for Surprise over Peoria on Thursday afternoon.
Tilson rapped a two-run single late in the game that provided the final margin, and Surprise can now move on to Saturday's championship game against Scottsdale. Tilson, the No. 7 prospect in the Cardinals' organization according to MLB Pipeline, said it was a fitting end to the AFL's regular season.
"It's been awesome. I'm incredibly fortunate just to be given the opportunity," he said. "I think our coaching staff is awesome and I've met some great guys. It's been a good opportunity for me, especially being able to get off the taxi squad at the end and get in more games. It's been an absolute blast."
Peoria led for most of the game on Thursday before the Cardinals contingent did the heavy lifting. Wisdom pounded a two-run homer in the fifth inning to pull Surprise within one run, and then Ohlman homered to tie the game. Tilson's two-RBI hit in the eighth helped swing the game for the road team.
"Those are my roommates. It was fun to watch them go back-to-back today," said Tilson. "We played a couple years together. Wisdom works really hard. It's good to see it come together for him."
Tilson, a second-round selection in the 2011 MLB Draft, had a successful year for Double-A Springfield this season, where he batted .295 and stole a career-high 46 bases. The 22-year-old also played in a personal-best 134 games before heading out to Arizona, where he started off as a part-time player.
"Starting off, playing twice a week, I think it was a good challenge for me to try to stay engaged and take on that role as a bench guy," said Tilson. "You find different ways to keep yourself game ready despite only being out there twice a week. I've done some good work in the cage, and I think a big thing for me with the limited playing time early was just trying to lay off off-speed pitches and simplify things."
Tilson, a career .296 hitter in the Minor Leagues, batted just .202 in AFL play, but he said he was thrilled to have the chance to come out and work on his game against upper-level pitching. And now, he'll have a chance to play for the league's championship on national television on Saturday.
"It's going to be a blast," he said. "We've had the opportunity to play some TV games, which is a pretty incredible experience for us as players. To be out here with some of the best players in Minor League baseball, playing a championship game, it's pretty exciting in itself. We're going to enjoy it."
Spencer Fordin is a reporter for MLB.com. This story was not subject to the approval of Major League Baseball or its clubs.