No back-to-back MVPs, but Trout makes history
Angels star first to finish in top 2 in MVP voting in each of his first 4 full seasons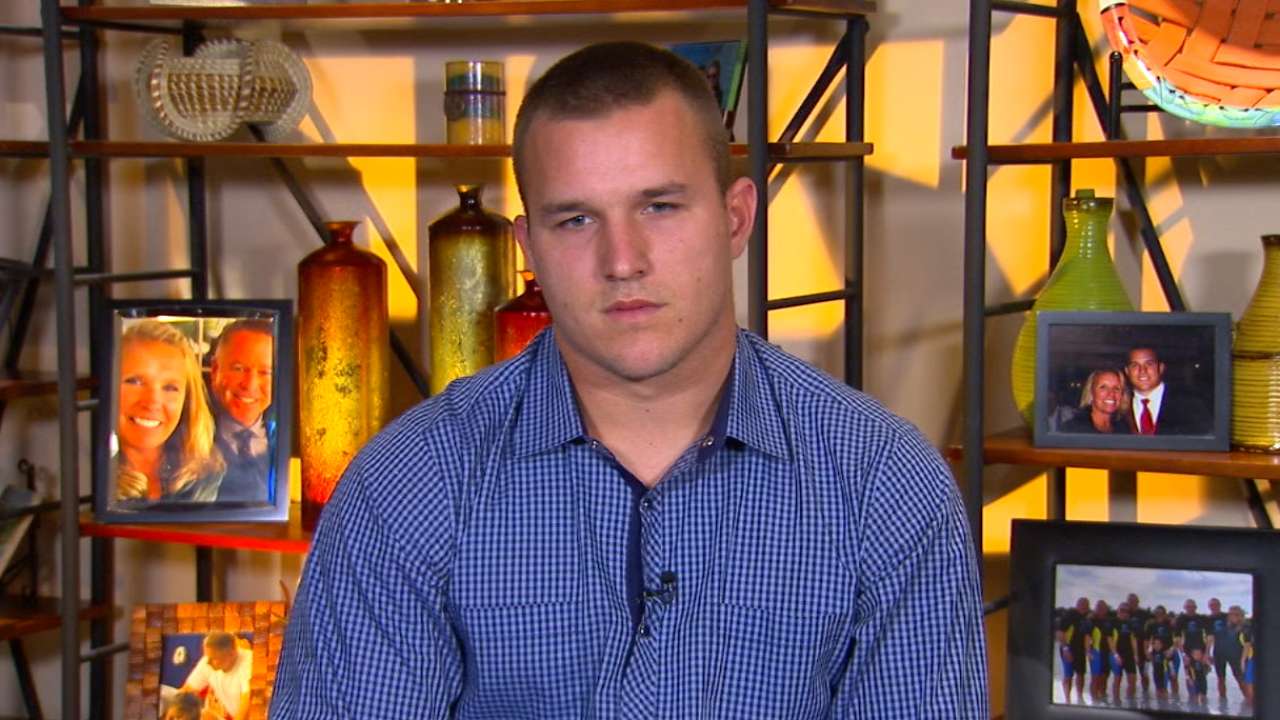 ANAHEIM -- Angels center fielder Mike Trout didn't win the American League Most Valuable Player Award on Thursday, but he could have. And that alone says so much. You can make the case, without exerting much effort, that Trout could have four AL MVP Awards, even though he's barely two months removed from his 24th birthday.
It's not that Blue Jays third baseman Josh Donaldson wasn't a deserving winner this year; it's that even in a loss, Trout achieved unprecedented success.
• Complete 2015 Awards coverage
Until now, no player had finished in the top two in MVP voting in each of his first four full seasons in the Major Leagues. The only players who did so over any four-year stretch were Stan Musial, Yogi Berra and Barry Bonds. Trout -- the runner-up to Miguel Cabrera in 2012 and '13, a unanimous choice for the AL MVP Award in '14 and the runner-up to Donaldson in '15 -- is now a part of that group.
Donaldson captured 23 of the 30 first-place votes from the Baseball Writers' Association of America and Trout picked up the rest, with results announced live on MLB Network. Trout previously captured six first-place votes in 2012, five in '13 and all 30 in '14, a year that by many accounts was his least successful to date.
AL MVP VOTING
| Player, Team | 1st | 2nd | 3rd | 4th | 5th | Points |
| --- | --- | --- | --- | --- | --- | --- |
| Josh Donaldson, TOR | 23 | 7 | | | | 385 |
| Mike Trout, LAA | 7 | 22 | 1 | | | 304 |
| Lorenzo Cain, KC | | | 20 | 8 | | 225 |
| Manny Machado, BAL | | | 4 | 11 | 5 | 158 |
| Dallas Keuchel, HOU | | | | 3 | 8 | 107 |
| Nelson Cruz, SEA | | 1 | 1 | 1 | 4 | 94 |
Like in 2012 and '13, Trout was largely a victim of his circumstances this season. He led the AL in FanGraphs Wins Above Replacement (9.0), Weighted Runs Created Plus (172) and OPS (.991), but he did it for a team that fell just short of the postseason. The fact Donaldson basically matched Trout's offensive production, greatly impacted the game on defense and starred for the AL East champions ultimately swayed the vote.
But that didn't alter the big picture: Trout remains on pace to be one of the greatest ever.
His career 38.5 FanGraphs Wins Above Replacement (fWAR) is the highest for a player through his age-23 season (2015 counts as Trout's age-23 season because he didn't turn 24 until August). The five behind him: Ted Williams (36.4), Ty Cobb (36.2), Mel Ott (33.2), Mickey Mantle (29.5) and Ken Griffey Jr. (28.1).
Trout's 37.8 fWAR in his first four full seasons (discounting a 2011 campaign in which he only appeared in 40 games) is on par with anybody's best four-year peak. Only nine players compiled more than 37 fWAR in any four-year stretch, and they're all among the best this game has ever seen -- Babe Ruth, Willie Mays, Rogers Hornsby, Lou Gehrig, Joe Morgan, Jimmie Foxx, Bonds, Mantle and Williams.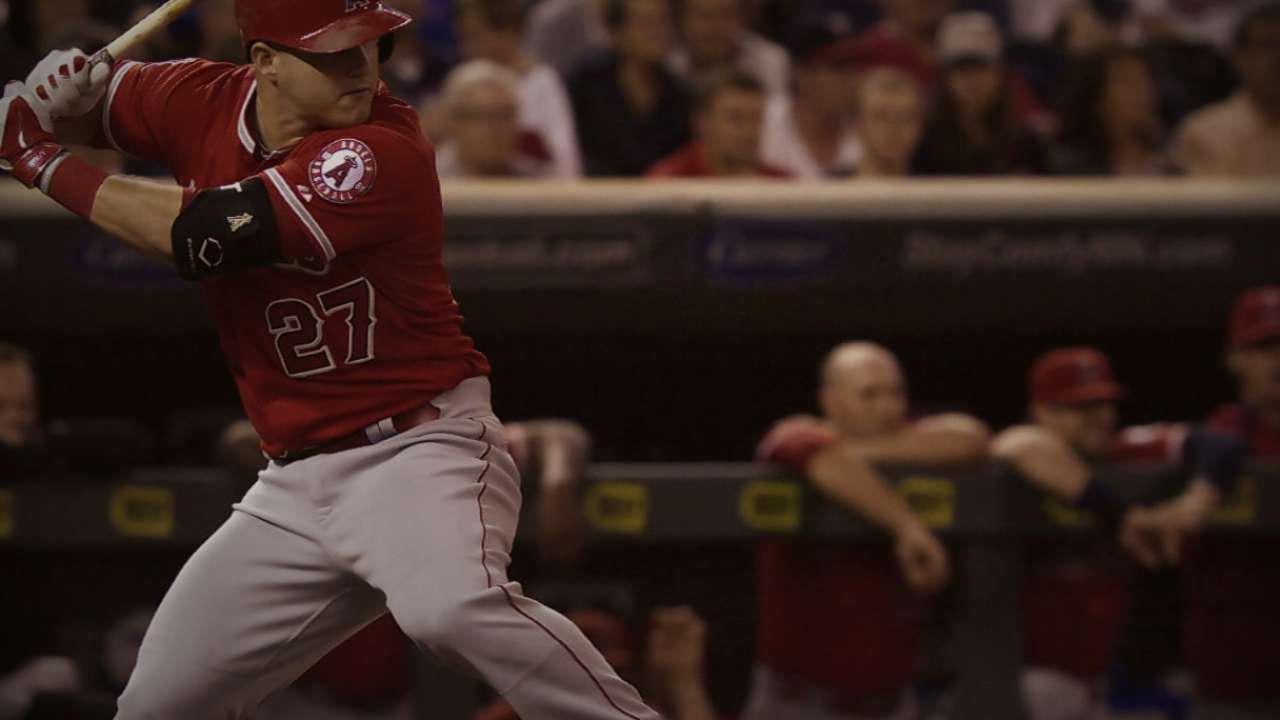 Trout won the AL Rookie of the Year Award unanimously and redefined the leadoff spot in 2012, batting .326/.399/.564 with 30 home runs (in addition to four robbed homers) and a Major League-best 49 stolen bases. He was barely pitched to the following year, especially when Albert Pujols missed the final two months due to complications with plantar fasciitis. So Trout took his base an AL-best 110 times and batted .323/.432/.557, with 27 homers and 33 steals.
Then his power became more pronounced.
Trout hit a career-best 36 homers in 2014, drove in an AL-high 111 runs and batted .287/.377/.561 for a team that won a Major League-leading 98 games. His stolen bases dropped to 16 and his strikeouts jumped to 184, the most in the AL, but nobody even came close in the MVP race.
This year, Trout batted .299, belted 41 homers, drove in 90 runs, scored 104 others and finished with a career-best .590 slugging percentage. With runners in scoring position, he posted a Major League-best 1.201 OPS. With the Angels fighting for a spot in the playoffs, he batted .385/.500/.692 after Sept. 1. And throughout the summer, he impacted several games with his defense.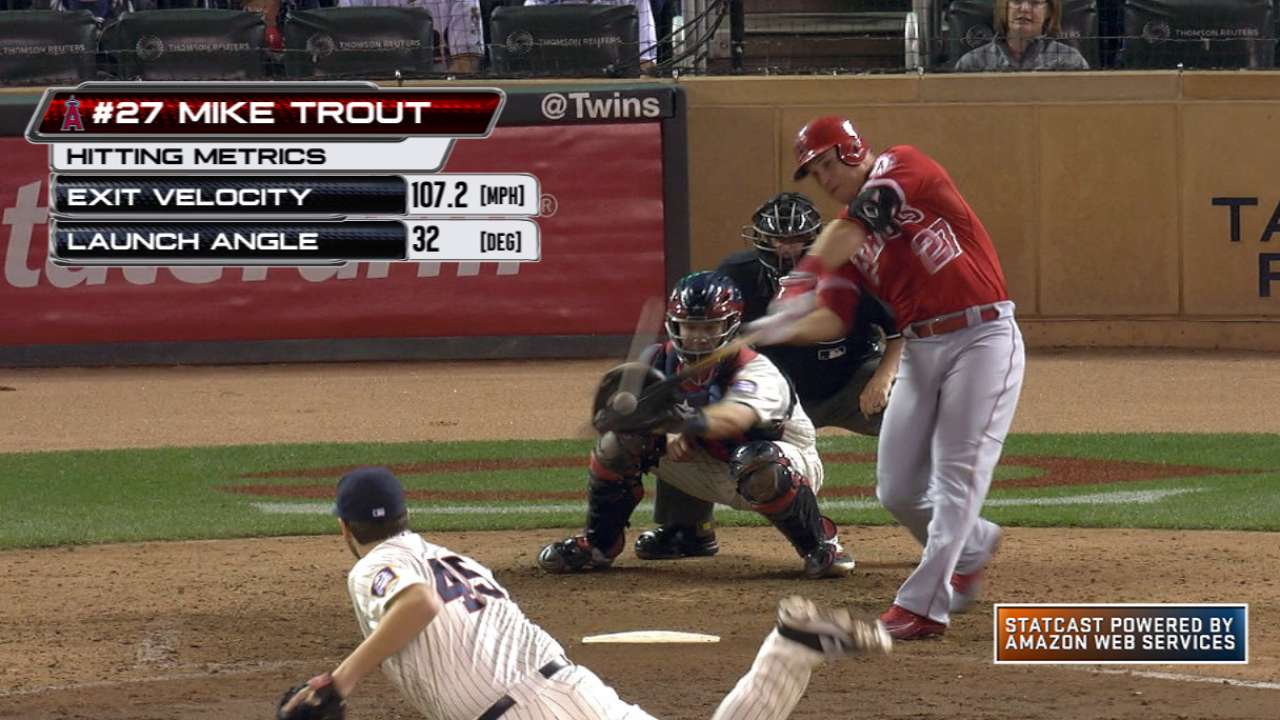 On April 30, Trout recorded the final out in Oakland -- with the tying run on third and the winning run on second -- by leaping against the fence and stretching his left arm behind his head for a catch.
On May 13, he casually took away a homer from Troy Tulowitzki in the 10th and sparked an inning-ending double play in the 11th, making a shoestring catch and firing a perfect strike home for one of his career-high seven outfield assists.
On Sept. 26, he made quite possibly the best catch of the year, reaching about four feet over the fence to take away a three-run homer from Jesus Montero and spark a victory that his Angels desperately needed.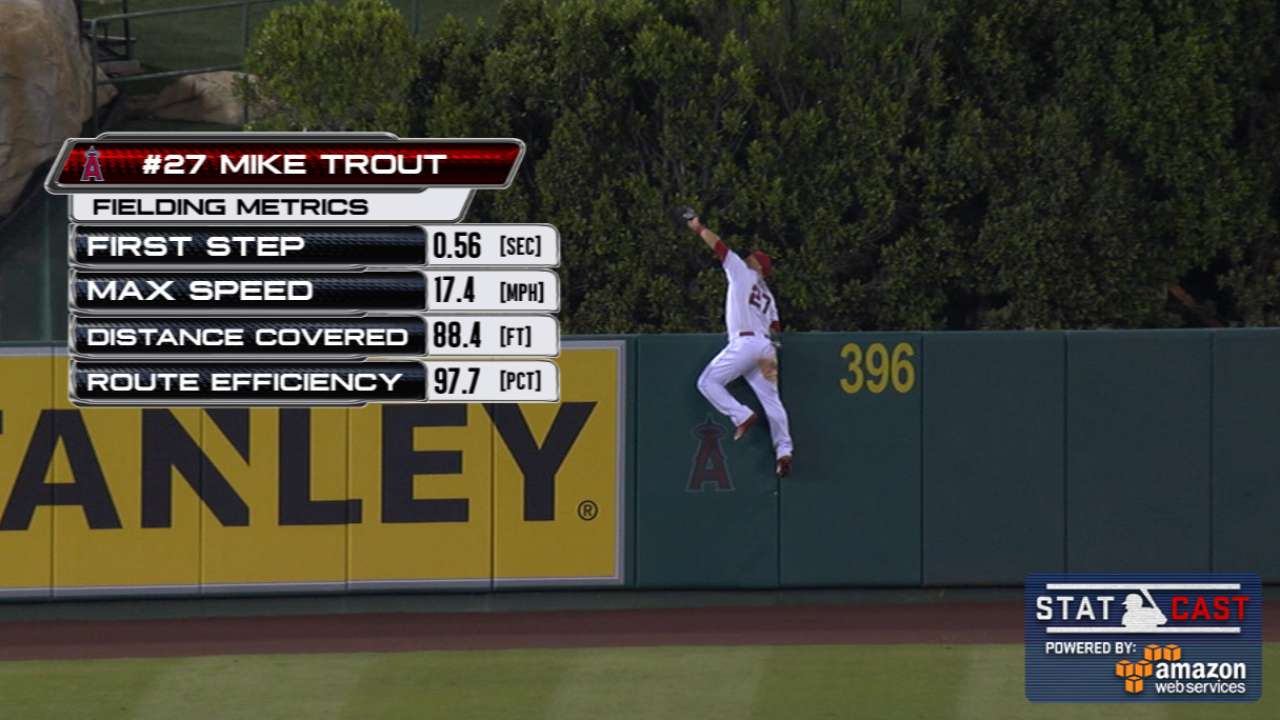 Had Trout not slumped to a .689 OPS in August, a month many believe was impacted by a tender left wrist, perhaps the AL MVP results are vastly different. And if Trout played half his games at the launching pad that is Rogers Centre, as opposed to the fly-ball graveyard that is Angel Stadium, perhaps his numbers are even greater.
But Donaldson tied Trout with 41 home runs and posted a .297/.371/.568 slash line that was awfully close. The Toronto star drove in an AL-best 123 runs, notched 11 Defensive Runs Saved and, unlike Trout, did it all for a team that won its division. Donaldson put together a special season for a special team, just like Cabrera did for the Tigers twice before, so Trout once again had to settle for second place.
That alone made him special.
Alden Gonzalez is a reporter for MLB.com. Follow him on Twitter @Alden_Gonzalez and Facebook , and listen to his podcast. This story was not subject to the approval of Major League Baseball or its clubs.