Naquin among prospects eligible for Rule 5 Draft
Other candidates for Indians 40-man roster spot include Ramsey, Clevinger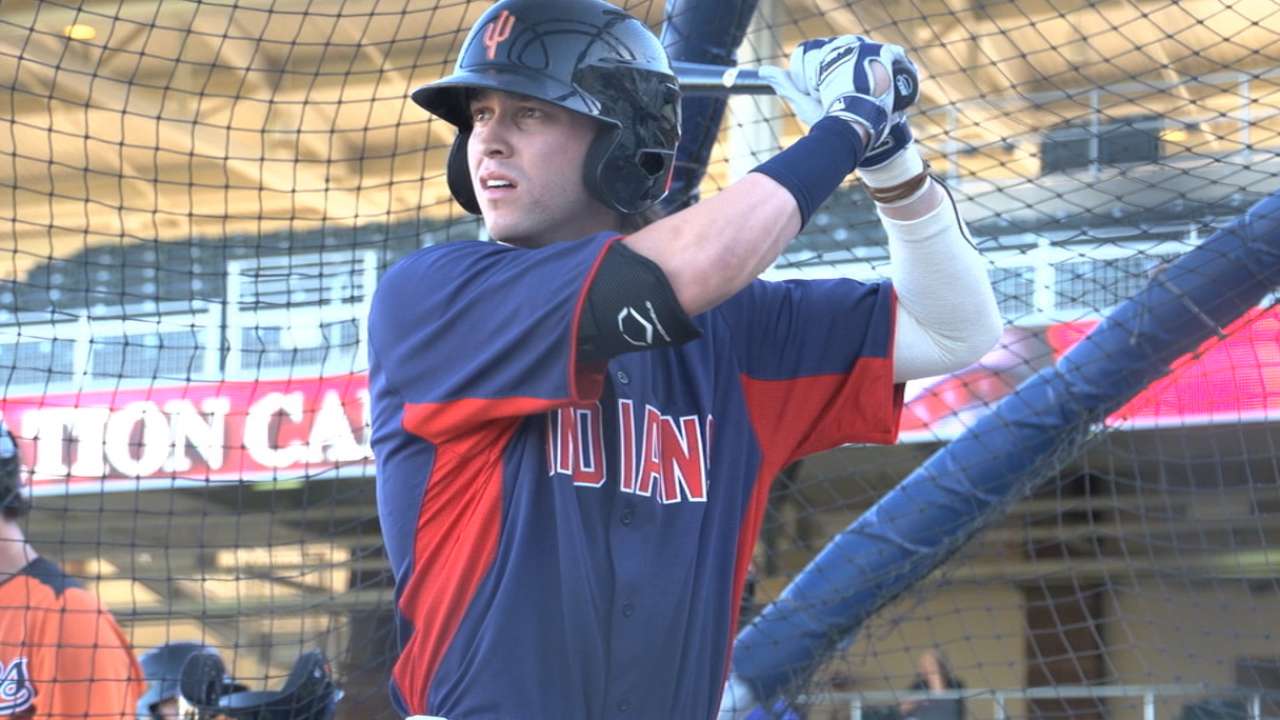 CLEVELAND -- Tyler Naquin's steady and successful ascent in the Indians' Minor League system has put him on the cusp of reaching the big leagues. Given Cleveland's need at the moment for outfielders, the prospect could very well be in the Majors this season.
The next step in Naquin's journey to Cleveland is expected to arrive on Friday, when teams face the deadline for protecting exposed players from the annual Rule 5 Draft. The outfielder (ranked as the Tribe's fifth-best prospect by MLB.com) is eligible for selection, making him a virtual lock to be among the players the Indians add to their 40-man roster.
Naquin enjoyed a strong showing between Double-A Akron and Triple-A Columbus last season.
"He certainly put up some big numbers," said Carter Hawkins, the Indians' director of player development. "He was really kind of coming into his own. It's just been a shame that he hasn't been able to get the consistency that we would've hoped because of injuries. But overall, we're really encouraged by what he was able to do."
Naquin, 24, was hit on the right hand by a pitch on June 27, 2014, while at Double-A, sustaining a right hand fracture that required surgery and ended his season. The outfielder did not get his '15 campaign going until April 24, but he thrived at Double-A, earning a promotion to Columbus in June. On July 29, Naquin crashed into a wall on a catch attempt, sustaining a concussion that warranted a trip to the disabled list and kept him off the field until Aug. 16.
Between the health woes, Naquin turned in a .300/.381/.446 slash line to go along with seven homers, 25 doubles, 27 RBIs, 50 runs and 13 stolen bases in 84 games combined with Akron and Columbus last season. Hawkins said Naquin continued to play solid defense as well, and he continued to display the kind of arm that could play in center or right field.
"There were definitely a lot of positives," Hawkins said. "He absolutely is the type of player that could be impacting us in the big leagues pretty soon."
That is why it makes sense for the Indians to use a 40-man roster spot on Naquin, who was the team's first-round selection in the 2012 First-Year Player Draft.
The Rule 5 Draft allows teams to select unprotected players from other organizations, but the drafted players must remain on the selecting team's Major League roster for a full season. Drafting a player comes with a $50,000 fee, and the team must offer the player back to his old team for half the cost if the player is removed from the active roster at any point during the season.
Eligible players include those who signed before turning 19 years old and have been in an organization for five years, or older signees who have been in an organization for four years. This year's Rule 5 Draft will take place on Dec. 10 in Nashville, Tenn., during MLB's annual Winter Meetings.
Cleveland currently has four open spots on its 40-man roster and a handful of intriguing candidates. Six of MLB.com's Top 30 Indians prospects -- Naquin (No. 5), outfielder James Ramsey (No. 12), righty Mike Clevinger (No. 15), lefty Shawn Morimando (No. 16), lefty Luis Lugo (No. 18) and outfielder Luigi Rodriguez (No. 22) -- are currently exposed for Rule 5 selection.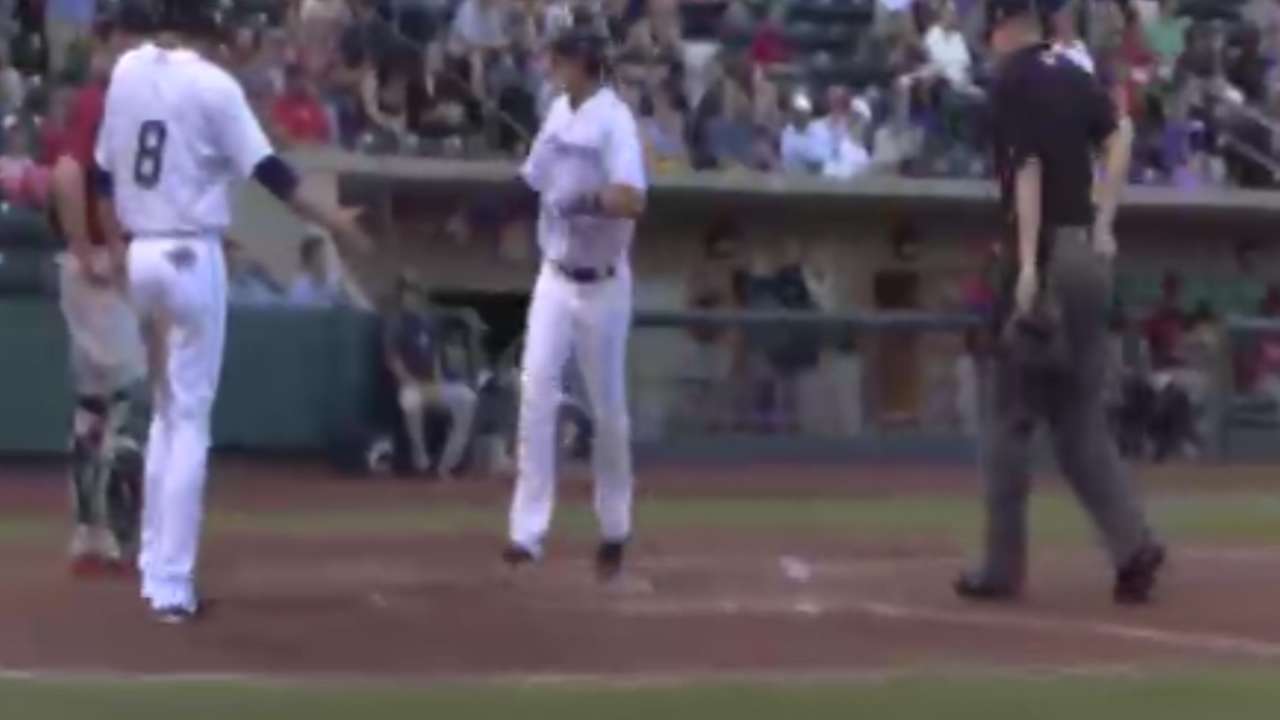 Standouts among Cleveland's 48 Rule 5-eligible players include: Clevinger (2.73 ERA, 145 strikeouts in 158 innings at Double-A in '15); righty Jeff Johnson (1.05 ERA, 56 strikeouts, 27 saves in 51 1/3 innings at Double-A); righty Josh Martin (2.27 ERA, 80 strikeouts in 67 1/3 innings at Double-A); Morimando (3.18 ERA, 128 strikeouts in 158 2/3 innings at Double-A); righty Enosil Tejeda (1.25 ERA in 43 1/3 innings at Double-A and Triple-A); infielder Ronny Rodriguez (.806 OPS at Double-A); and Ramsey (.709 OPS at Triple-A), among others.
"It's a very tough decision," Hawkins said. "Not only are we looking at how we value the players internally, but we're also trying to predict how other teams value the players externally. And then there's also just the mechanics of the selections where these players have to be on our Major League roster for essentially the entire season.
"That adds that extra variable into the decision and makes it a lot harder as well. It's not necessarily always who we like the most. Sometimes, it's who we think who would get picked the most. Obviously, there's a correlation there, but it's not an easy decision for us to make by any means."
Jordan Bastian is a reporter for MLB.com. Read his blog, Major League Bastian, follow him on Twitter @MLBastian and listen to his podcast. This story was not subject to the approval of Major League Baseball or its clubs.