MLB.com Columnist
Bernie Pleskoff
Scouting profile: Mike Yastrzemski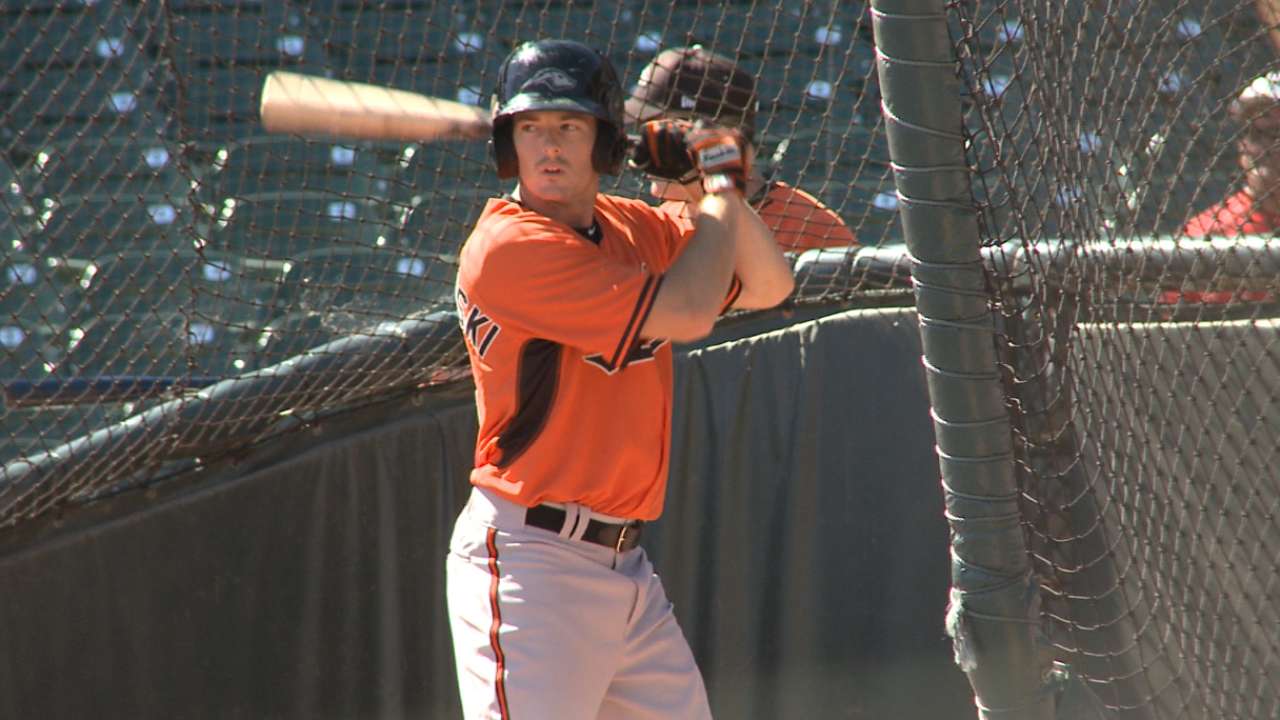 Background
Not many young men have the great Hall of Famer Carl Yastrzemski as their high school hitting coach. Mike Yastrzemski did. Mike, the son of former Florida State and Triple-A Chicago White Sox player Michael Yastrzemski (who went by his middle name) and grandson of the Boston Red Sox legend Carl Yastrzemski, is trying to become a big league outfielder in the Baltimore Orioles organization. Not because of his name, because of his skills.
Mike went to St. John's Prep High School in Danvers, Mass. His grandfather's Red Sox selected him in the 36th round of the 2009 Draft, but he chose to attend Vanderbilt University on a baseball scholarship. After his junior year, the Mariners picked Yastrzemski in the 30th round of the 2012 Draft. Instead of signing, Yastrzemski went back to Vanderbilt for his senior year. After being named to the All-Southeastern Conference team, the Orioles signed the left-handed-hitting and throwing Yastrzemski after picking him in the 14th round of the 2013 Draft.
Yastrzemski is ranked No. 13 on the Orioles Top 30 Prospects list.
At 5-foot-11, 180 pounds, Yastrzemski has completed parts of three seasons in the Orioles organization, playing this past year at Double-A Bowie, where he hit .246 in 536 plate appearances.
Hitting
Watching Yastrzemski play in the Arizona Fall League, I couldn't help notice he uses a long bat, similar in style to his grandfather.
It's interesting to note that Yastrzemski played at three classifications in 2014. He went from Class A Delmarva to Class A Advanced Frederick to Bowie during the course of the season. He hit very well until he scuffled a bit at Bowie, finishing that season hitting .250 in 43 games. As I saw in the Fall League, advanced pitching gives Yastrzemski a few issues.
Yastrzemski is an intelligent hitter. He knows the strike zone well, is patient, has very good pitch recognition and he makes the most of his ability. In the Fall League, while he didn't hit for average, he got on base. He has double-digit walks and works pitchers to deep counts.
Yastrzemski has a measured swing and he uses the whole field in his approach.
Defense
Yastrzemski is a solid, dependable outfielder. His good arm strength and above average accuracy, his outstanding baseball instincts and his ability to get a good read of the ball off the bat make him reliable at any of the three outfield positions. He takes good routes, gets himself in good throwing position and does everything needed to succeed as a big league outfielder.
Strengths
A good athlete, Yastrzemski doesn't have any standout tool. Rather, he's a good baseball player with a feel for the game and the skills to do everything well, but not great.
He can take the ball up the middle well, hit the gaps with hard-hit line drives and stretch a single into a double or a double into a triple with good baserunning and speed.
Weaknesses
I have seen Yastrzemski scuffle against sharp breaking balls and he has difficulty with deceptive pitchers. In 2014, he hit right-handed pitchers for a .295 batting average in 433 plate appearances. He hit .268 against lefties. This year, it was a different story. Including four weeks of his Fall League statistics, he has hit righties at a .238 clip and batted .268 against left-handed pitching.
Yastrzemski has shown little to no power in his career. He has hit only 23 home runs in his 1365 plate appearances.
I find this interesting
When he was in eighth grade, Mike lost his dad. His father had a heart attack following hip surgery. While he had other role models in his life, Mike and his grandfather Carl grew closer. Carl was given the key to a baseball academy and when Mike was in high school, Carl worked privately with him as a personal baseball instructor.
The future for Yastrzemski
Much will depend on the progress he makes this coming season. It's possible he could be a solid fourth outfielder when he gains more confidence hitting quality pitching.
Yastrzemski in a word
Savvy
Bernie Pleskoff has served as a professional scout for the Houston Astros and Seattle Mariners. Follow @BerniePleskoff on Twitter. This story was not subject to the approval of Major League Baseball or its clubs.