Votto finishes third in NL MVP balloting
2010 winner agrees with choice of Harper as unanimous selection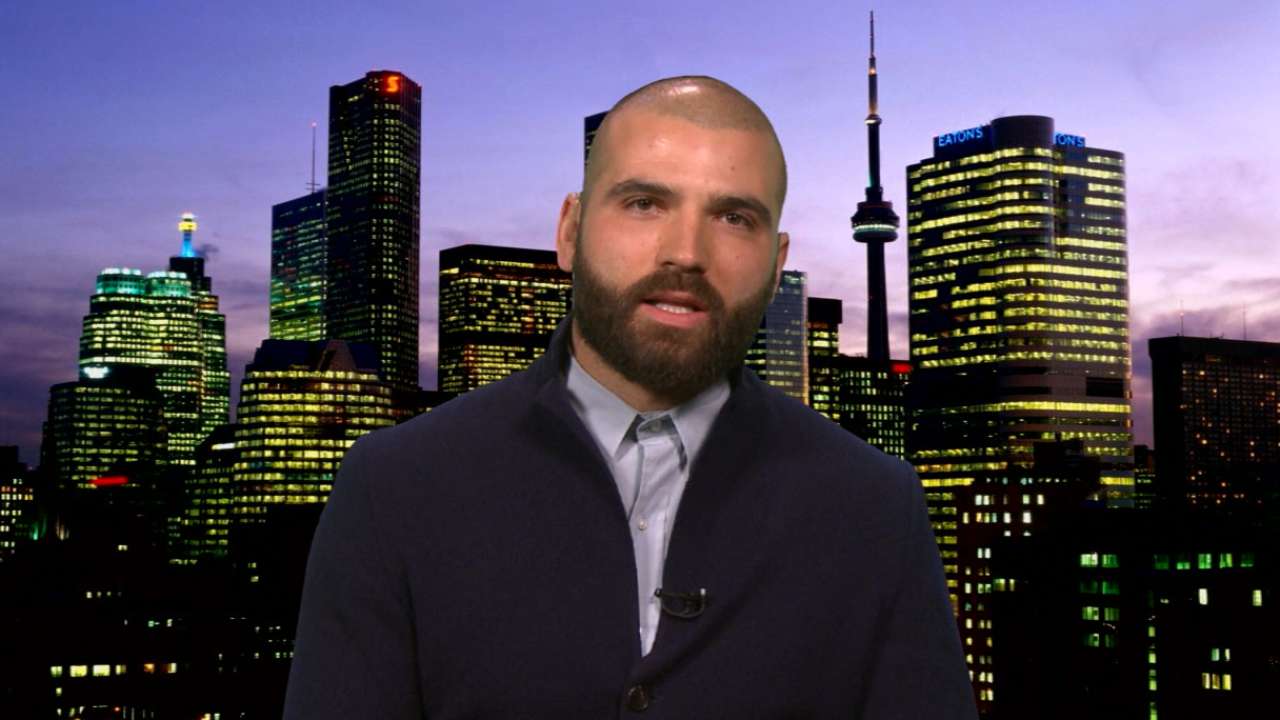 CINCINNATI -- Even though Joey Votto did not win his second National League Most Valuable Player Award, the Reds first baseman was convinced beyond a doubt that the right person received the recognition.
The Baseball Writers' Association of America named Nationals outfielder Bryce Harper as its unanimous winner of the NL MVP on Thursday night.
"I was not surprised. I thought it was very deserving," Votto said shortly after the announcement. "I would have been surprised had it not been unanimous. It's not my place to talk about the way writers vote, but with a year like that, it just felt like one of those fantastic years in the history of baseball."
Harper, 23, was the first-place vote on all 30 BBWAA ballots -- two from each NL market -- for 420 points. D-backs first baseman Paul Goldschmidt, 28, finished second with 18 second-place votes and three for third place while tallying 234 points.
Votto, 32, received one second-place vote, six votes for third place, six votes for fourth, nine for fifth, four for sixth and two more for 10th for 175 points.
NL MVP VOTING
Player, club
1st
2nd
3rd
4th
5th
Points

Bryce Harper

, WSH
30
420

Paul Goldschmidt

, ARI
18
3
1
3
234

Joey Votto

, CIN
1
6
6
9
175

Anthony Rizzo

, CHC
3
4
7
4
162

Andrew McCutchen

, PIT
1
4
3
4
139

Jake Arrieta

, CHC
5
3
2
134

Zack Greinke

, LAD
2
5
4
1
130
The 2010 NL MVP, Votto batted .314/.459/.541 with 29 home runs and 80 RBIs in 158 games this season. His 1.000 OPS was third in the Majors behind Harper and Goldschmidt. Votto was also ranked fifth in the Majors with a value of 7.4 wins-above-replacement (WAR).
Harper batted .330/.460/.649 in 153 games for the Nationals with 42 homers, 99 RBIs and 9.9 WAR. He led the league in on-base percentage, slugging, OPS and runs scored with 118.
Votto didn't post as robust first-half numbers, but came on strong down the stretch. After the All-Star break, he led the Majors in hitting (.362) and on-base percentage (.535). He also broke Pete Rose's 1978 club record by reaching base safely in 48 consecutive games.
Despite hitting .324/.424/.600 with 37 homers and 113 RBIs in 2010, Votto considered the 2015 season the best of his career.
"It's tougher to hit now for sure," Votto said. "I think there's a gap in pitching talent and the way defense laid out. It's more difficult, for one. Second of all, I'm older. I felt like I did more with less. I don't drive the ball quite as far as I used to and couple of other things. Third of all, I played 158 games.
"Being able to play every day and then perform on a relatively consistent basis throughout the year, I felt like this year was my best year. It's mostly because I played every day."
Votto played his best baseball as the Reds careened to 98 losses and a last-place finish. It might have put him under the radar for many, but he has come to expect that over the years.
"It's tough being a Pittsburgh, a Milwaukee, a Cincinnati, a Kansas City. It's tough to evaluate whether or not you're getting the attention you think is fair or unfair or if you think you're being over- or underrated," said Votto, who was sixth in MVP voting in both 2011 and '13. "I don't do a lot of things that stand out. I'm not going to hit 50 homers. I'm not going to drive in 150 runs. I think my style of play, combined with our market, makes it a bit difficult. If we win 100 games, it's the same story, I think."
Mark Sheldon is a reporter for MLB.com. Read his blog, Mark My Word, follow him on Twitter @m_sheldon and Facebook and listen to his podcast. This story was not subject to the approval of Major League Baseball or its clubs.