Inbox: Besides rotation, what's on O's to-do list?
Beat reporter Brittany Ghiroli answers Orioles fans' questions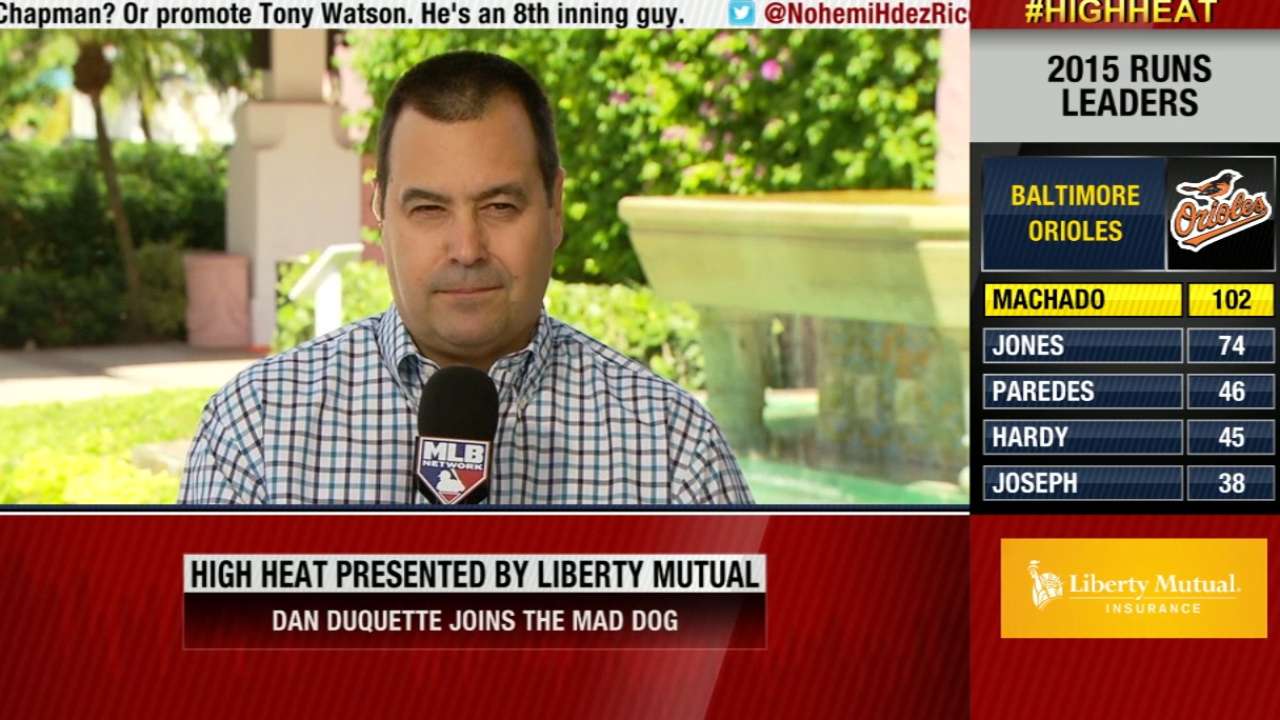 With the Winter Meetings less than three weeks away, let's take a look at your most common and pressing Orioles questions.
If starting pitching is the top priority -- and assuming Dan Duquette addresses that -- what does the rest of the to-do list look like?
-- Scott L., Falls Church, Va.
Duquette was pretty clear on a conference call earlier in the week about his priorities: pitching, the outfield and a continued interested in Chris Davis. And while the Orioles are already working to upgrade their rotation, there's no specific order for how Duquette's list will be fulfilled, particularly considering the team has just one outfielder slotted in: center fielder Adam Jones. The corner-outfield positions were a sore spot in 2015, as manager Buck Showalter rotated players, trying to get some production a year removed from losing Nelson Cruz and Nick Markakis.
• Hot Stove Tracker: Free agents and trades
Davis remains a top priority, but it would be hard to envision his potential signing coming at the expense of adding a starter, particularly since the Orioles missed out on the postseason this year without a good rotation, but with Davis in the lineup. The key is the pitching and finding a way to add another dimension to the offense, which is why Duquette has stressed the importance of finding hitters with strong on-base capabilities.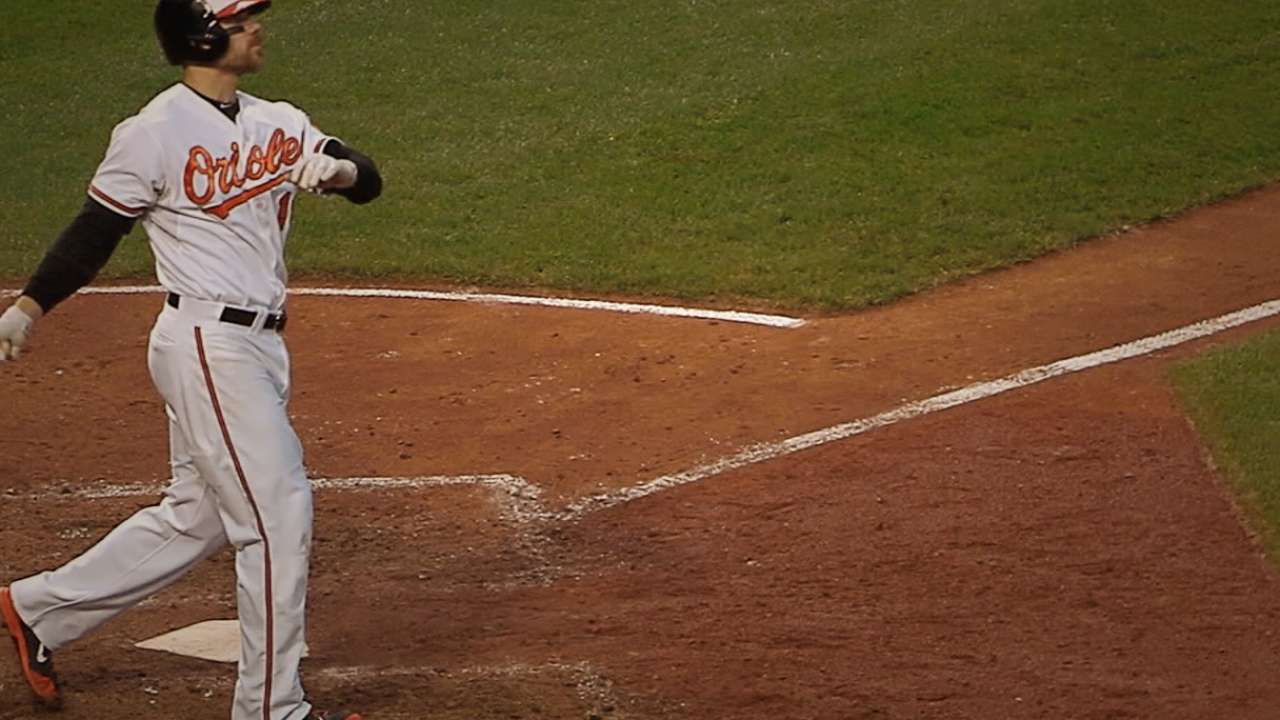 I read that the Orioles have interest in trading for second baseman Neil Walker. What does that mean for Jonathan Schoop?
-- Chris M., Columbia, Md.
The O's are set at second base with Schoop, but their interest in the Pirates' Walker (reported by MASNSports.com) poses an interesting question. From the Bucs' point of view, it makes sense: General manager Neal Huntington has said Pittsburgh will consider trading all its players with one year of control left, including Walker. On Wednesday, Huntington said Walker's availability isn't related to whether or not injured Bucs infielder Jung Ho Kang will be ready to start the year.
So we know Walker is out there, if the offer's right. But the Orioles would be an odd fit since they have -- and like -- Schoop at second base. Perhaps Baltimore could use Walker as a first baseman/designated hitter, and he would provide insurance in the event that the O's don't re-sign Davis.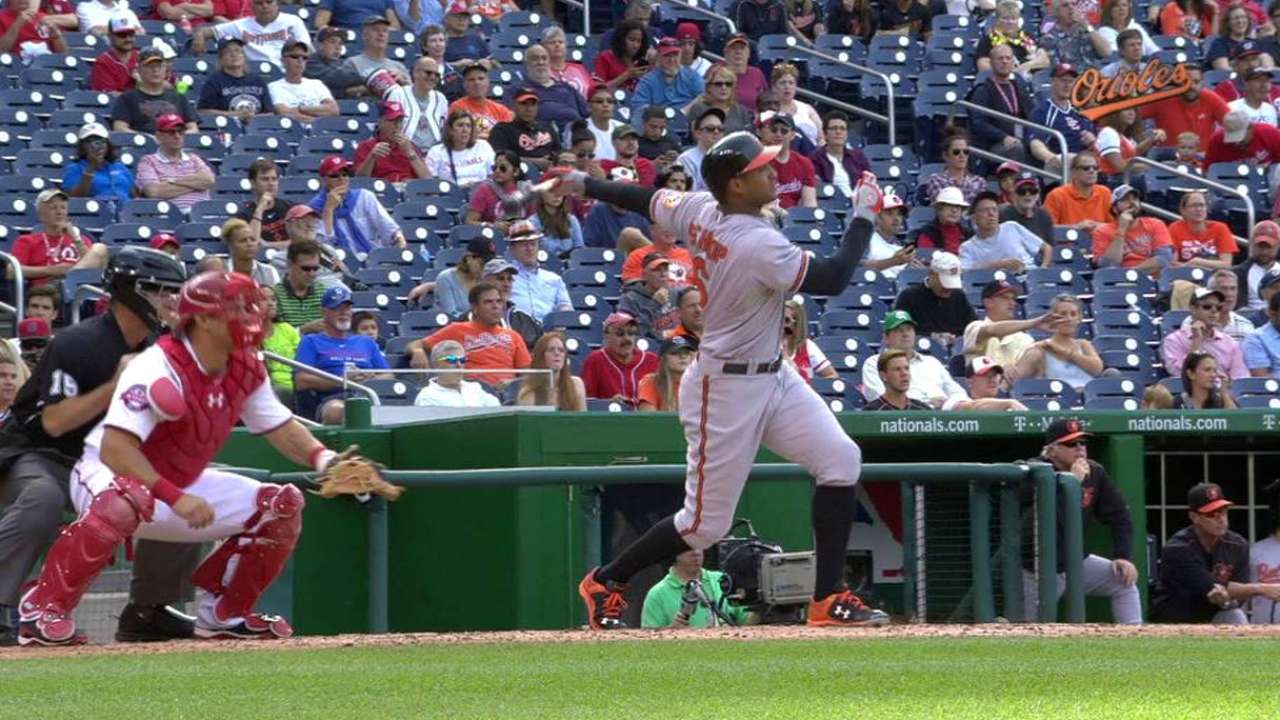 With Dylan Bundy being shut down early from the Arizona Fall League, what are your expectations of him helping the team in 2016?
-- Dan R., Washington, D.C.
Bundy will get every opportunity to be part of the Orioles' 25-man roster next spring. I've written this several times, but here it is again: If the right-hander doesn't make the Major League team, he'll risk being lost on waivers since he's out of options.
How is Bundy already out of Minor League options? Because he was added to the 40-man roster upon signing as part of his contract, a move that handcuffs the Orioles. The best-case scenario is that Bundy arrives a full-go in Spring Training and makes the team as a bullpen piece. The O's hope shutting him down in the AFL (forearm muscle strain) will allow him enough time to rest and recover.
What are your thoughts on Jake Arrieta winning the National League Cy Young Award?
-- Kara M., Baltimore
I don't get a vote, but I was happy to hear the news. Arrieta was always friendly and approachable, and there's not much more you can ask for as a beat reporter. His success has been hard earned and, as tough as it is for O's fans to swallow, probably wasn't going to happen in Baltimore. Some guys need a fresh slate, and Arrieta got that. I think if some of the Orioles' younger pitchers -- and the rotation as a whole -- had performed better last season, Arrieta's success would be less of a thorn.
Brittany Ghiroli is a reporter for MLB.com. This story was not subject to the approval of Major League Baseball or its clubs.