Arrieta's Cy Young gives Cubs a BBWAA trifecta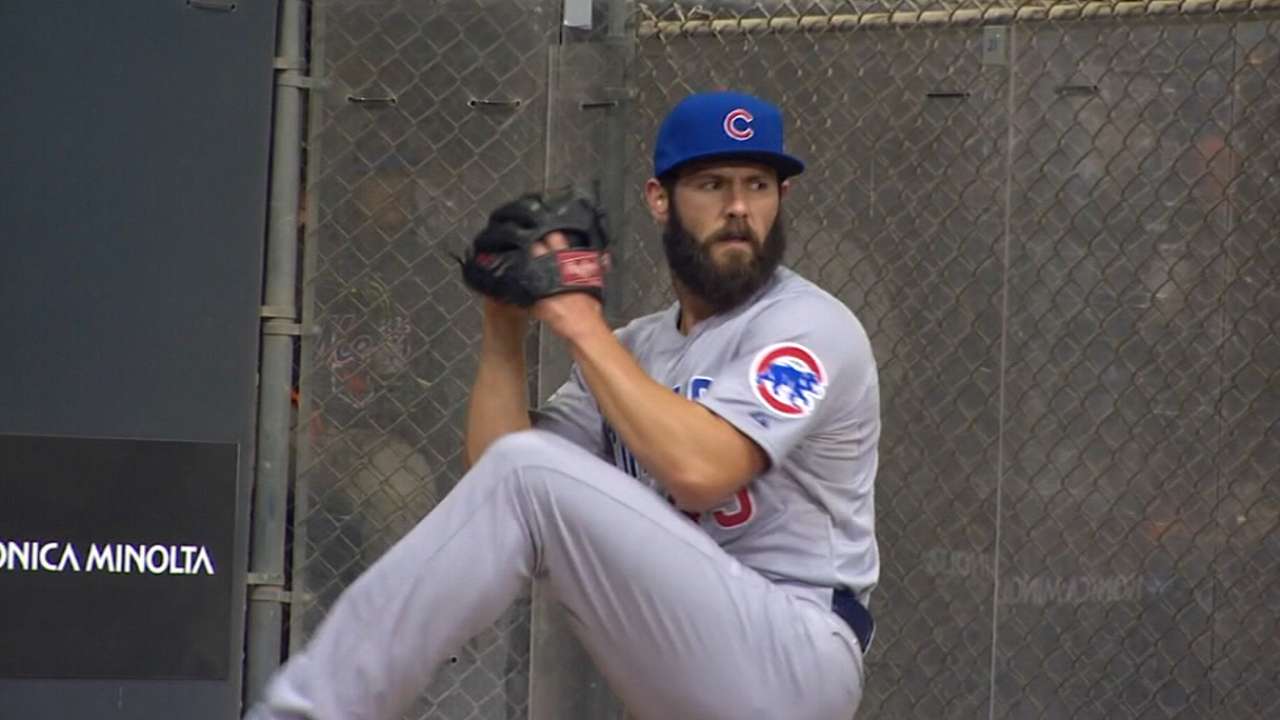 Cubs win! Cubs win! Cubs win! Jake Arrieta and Co. are 3-for-3 this week in Baseball Writers' Association of America Awards.
Following NL Rookie of the Year honors for Kris Bryant on Monday and a Manager of the Year nod for Joe Maddon on Tuesday, Arrieta was recognized as the best of a terrific crop of NL pitchers on Wednesday when he edged Dodgers co-aces Zack Greinke and Clayton Kershaw to win the BBWAA NL Cy Young Award.
The Cubs are the first team since the 2001 Mariners to win three of the four BBWAA Awards, and the first NL team since the 1991 Braves. Since the Baseball Writers added Manager of the Year to the awards slate in 1983, only 13 teams have won three of the four honors. No team has ever swept all four, and that streak will continue, as the Cubs do not have a finalist for the BBWAA NL Most Valuable Player Award, which will be announced on Thursday at 5 p.m. CT on MLB Network.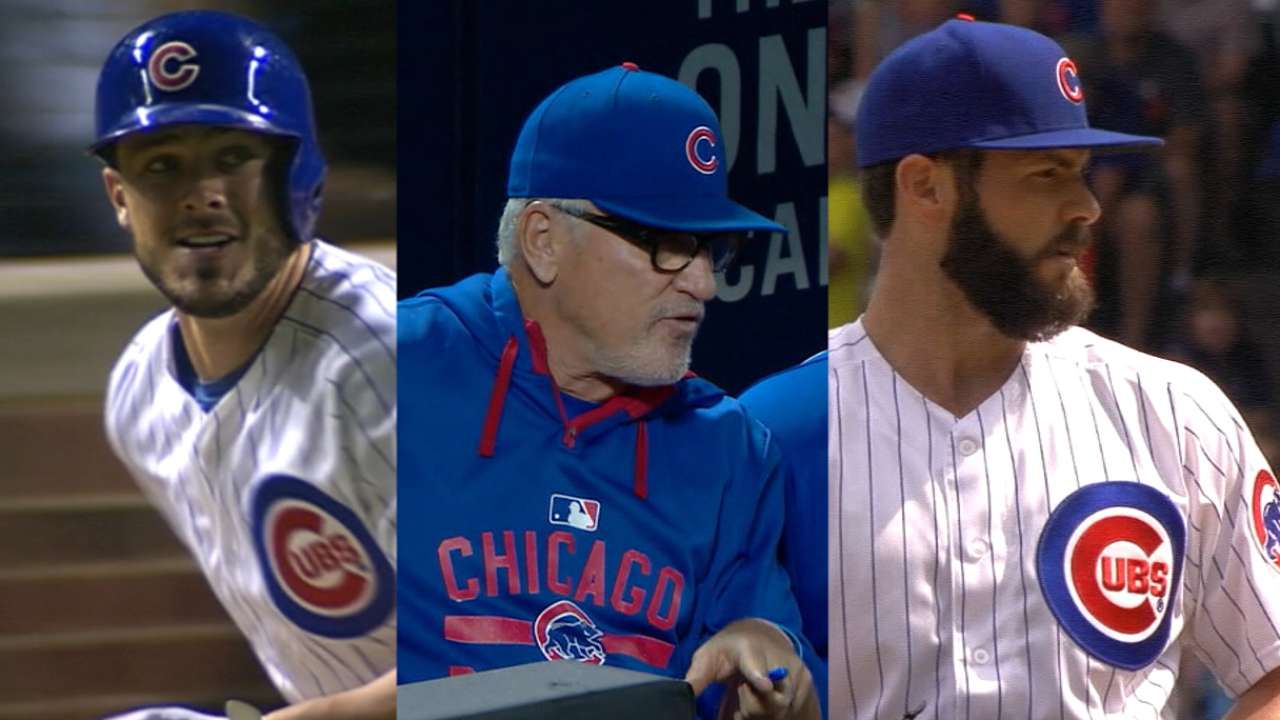 Arrieta is the fifth Cubs pitcher to win a Cy Young Award. The others are Fergie Jenkins (1971), Bruce Sutter ('79), Rick Sutcliffe ('84) and Greg Maddux ('92).
"There was some anxiety involved, some nervous anxiety, but on a positive level," Arrieta said on a conference call with reporters. "It was something we had been anticipating for a while now."
• Maddon wins NL Manager of the Year
NL Cy Young Award Voting
| Pitcher, Team | 1st | 2nd | 3rd | 4th | 5th | Points |
| --- | --- | --- | --- | --- | --- | --- |
| Jake Arrieta, CHC | 17 | 11 | 2 | | | 169 |
| Zack Greinke, LAD | 10 | 17 | 3 | | | 147 |
| Clayton Kershaw, LAD | 3 | 2 | 23 | 1 | 1 | 101 |
| Gerrit Cole, PIT | | | 2 | 13 | 8 | 40 |
| Max Scherzer, WSH | | | | 13 | 6 | 32 |
| Madison Bumgarner, SF | | | | 1 | 6 | 8 |
| Jacob deGrom, NYM | | | | 2 | 3 | 7 |
| Mark Melancon, PIT | | | | | 5 | 5 |
| John Lackey, STL | | | | | 1 | 1 |
It played out just as expected, with a close race between three worthy finalists. Arrieta garnered 17 of 30 first-place votes and tallied 169 points in a system that awarded seven points for a first-place vote, four points for second, three points for third, two points for fourth and one point for a fifth-place vote.
Greinke, with statistics stunningly similar to Arrieta's, finished second with 10 first-place votes and 147 total points. Kershaw, who had won the award in each of the previous two seasons and three of the past four years, garnered the other three first-place votes and tallied 101 points to finish third.
• Bryant sweeps NL Rookie of the Year vote
Arrieta, referring to the awards for Bryant and Maddon, said, "To be a part of that with those guys, and do what we did as an organization this year, it's really incredibly special.
"This award has been a long time coming."
Arrieta enjoyed a breakthrough in his age-29 season, going 22-6 with a 1.77 ERA and closing on the Cubs' first Cy Young Award in 23 years like a champion racehorse. After finishing the first half with a complete-game two-hitter against the White Sox, Arrieta went 12-1 with a 0.75 ERA in 15 starts after the All-Star break, with two shutouts, including an Aug. 30 no-hitter at Dodger Stadium. It was the lowest second-half ERA since the All-Star Game was instituted in 1933. His 0.41 ERA from Aug. 4 through the end of the season was the lowest mark over the final two months of a season since ERA became an official stat.
"I was locked in. My timing and my tempo and my delivery was as close to perfect as I feel like I could have possibly been," Arrieta said. "There were times throughout the stretch where I expected to go out there and throw a shutout or throw eight, seven innings scoreless. ... That's how locked in I really was."
In the Majors, only Greinke had a better ERA (Greinke's was 1.66) or allowed fewer walks and hits per inning pitched (Greinke edged Arrieta, 0.84 to 0.86). In the NL, only Kershaw and Max Scherzer had more strikeouts than Arrieta's 236.
"I feel like the things that have transpired, especially this season, are just a byproduct of finally being able to put all the small things in place," Arrieta said.
The basis of those adjustments, Arrieta said, was reverting to his boyhood mechanics.
"I tried to build off that," Arrieta said. "Make some slight adjustments, make some tweaks, and see where I ended up after that point. It turned out pretty well."
BBWAA members considered only regular-season performance, so Arrieta gained no extra credit for his defining performance in the NL Wild Card Game. In the wake of Arrieta's five-hit, 11-K shutout of the Pirates, Maddon was asked whether he'd seen anything like Arrieta's sprint to the finish.
"I have. Bob Gibson," Maddon said, referring to the notoriously fiery Cardinals Hall of Famer. "I was a Gibson fan growing up, and I hate to disappoint the Cub Nation, but I was a Gibson fan growing up ... so I would say in my experience as a kid growing up, I saw Mr. Gibson out there tonight."
"It's hard to put into perspective," added Arrieta. "I see the numbers on TV; people bring it up to me quite a bit. It's kind of crazy to even think about, with the names like Bob Gibson, Sandy Koufax and some of these other guys who were greats in this game. To be in a sentence with them, it really makes you step back and really appreciate that you're in the history books with people that are Hall of Famers."
Adam McCalvy is a reporter for MLB.com. Follow him on Twitter @AdamMcCalvy, like him on Facebook and listen to his podcast. Adam Berry contributed to this report. This story was not subject to the approval of Major League Baseball or its clubs.